Activities & Experiences
Okinawan Cuisine Market Tour and Cooking Class
There's no better way to learn about Okinawan cuisine than to try your hand at making it
Although I had not been in Okinawa long, I found myself time and again visiting small neighborhood restaurants so I could get my fill of the local noodles and various champuru stir-fry dishes. Not wanting to be deprived of my newly found favorite dishes, I decided to learn how to cook some Okinawan food so I could have it whenever I felt like it.

With a little web searching I came across a cooking experience class run by Taste of Okinawa in central Naha. They offer two classes, both in which you get to prepare (and then eat!) four-course traditional Okinawan meals. The morning class offers a course featuring the iconic goya champuru, with its base ingredient of bitter melon mixed with vegetables and tofu, and the star of the afternoon class is my latest addiction, Okinawa soba. Promising myself I would do the champuru class next time, I jumped at the chance to learn how to make soba.

After going deep into the shopping arcades of Makishi, I found myself at Taste of Okinawa, a very fashionable restaurant stocked with an enticing menu and a wide selection of craft beers. After longingly eyeing the craft beer list, I got down to the business of registering for my class. I wasn't alone in wanting to learn the local cuisine and was joined by seven classmates; we were four from the USA, two from France, and two from Australia.
A cuisine rich in history and flavor
While we enjoyed a beer, our instructor for the day, Mr. Minato, filled us in on the history of Okinawan cuisine. The longer I spend in Okinawa, the more it becomes apparent these islands are a natural mixing ground for the best of everything from surrounding countries. My favorite, Okinawa soba, has its roots in chuka soba (Chinese soba), which is most commonly known as ramen now in Japan. This accounts for the soba part of the name, and Mr. Minato dug a little deeper to clear up the differences with Japanese soba, which uses buckwheat instead of flour. There is more to it than just naming though; Okinawa soba uses a distinct blend of pork and bonito stock, and toppings such as soki (stewed) pork spareribs, kamaboko (fish cake), chopped scallion, and pickled red ginger. All very interesting, but this talk of food was starting to generate some hunger within the crowd, and we wanted to make a start on our journey to eating the fruits of our labor.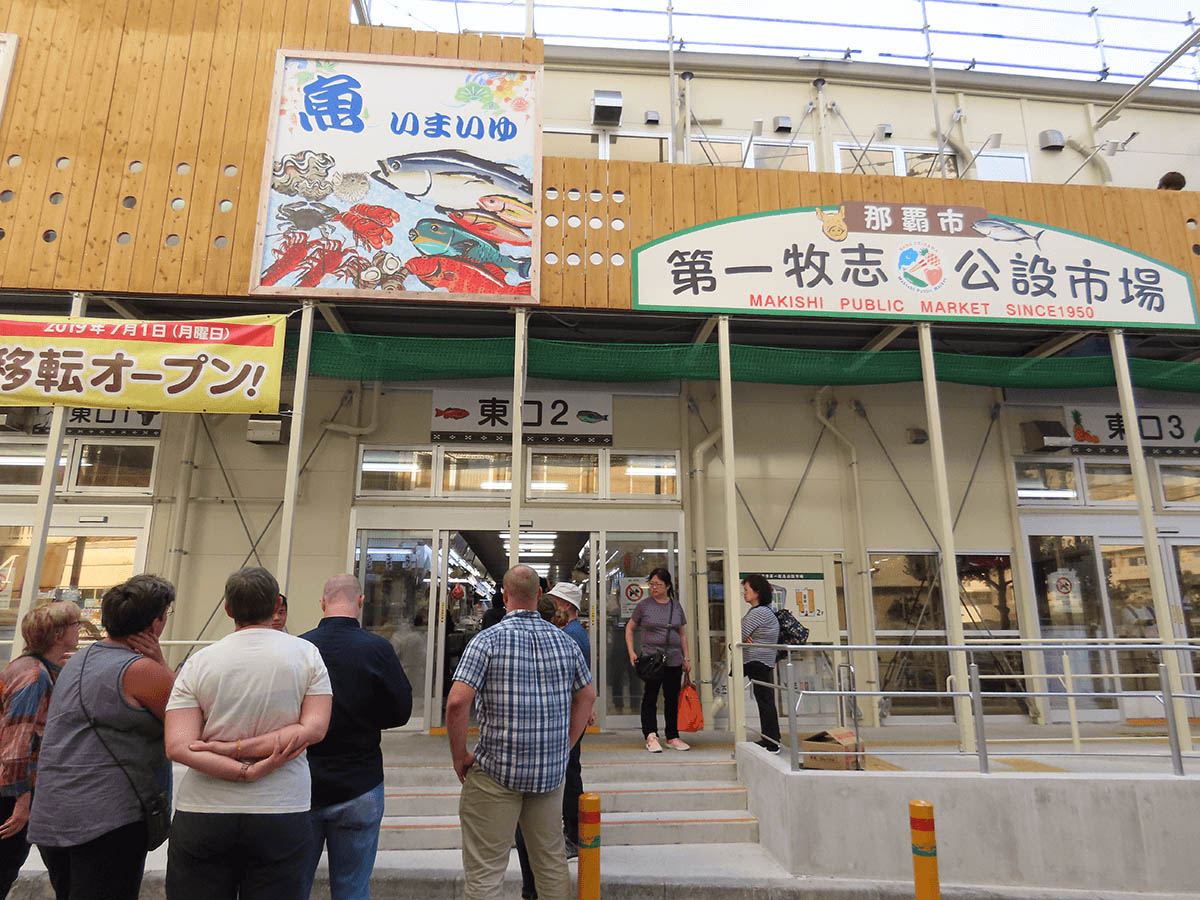 The first thing on our agenda was a short walk to Makishi Public Market to buy ingredients for our dishes. In the aftermath of the destructive fighting of WWII, when Naha was in ruins, it was the Makishi area that recovered the quickest. Starting as a black market, it soon became a center of commerce helping people to buy hard-to-get items so they could restart their lives. The aura of its historical importance remains to this day, and the slightly aged feel of the narrow streets helps conjure an image of what it was like in its post-war heyday.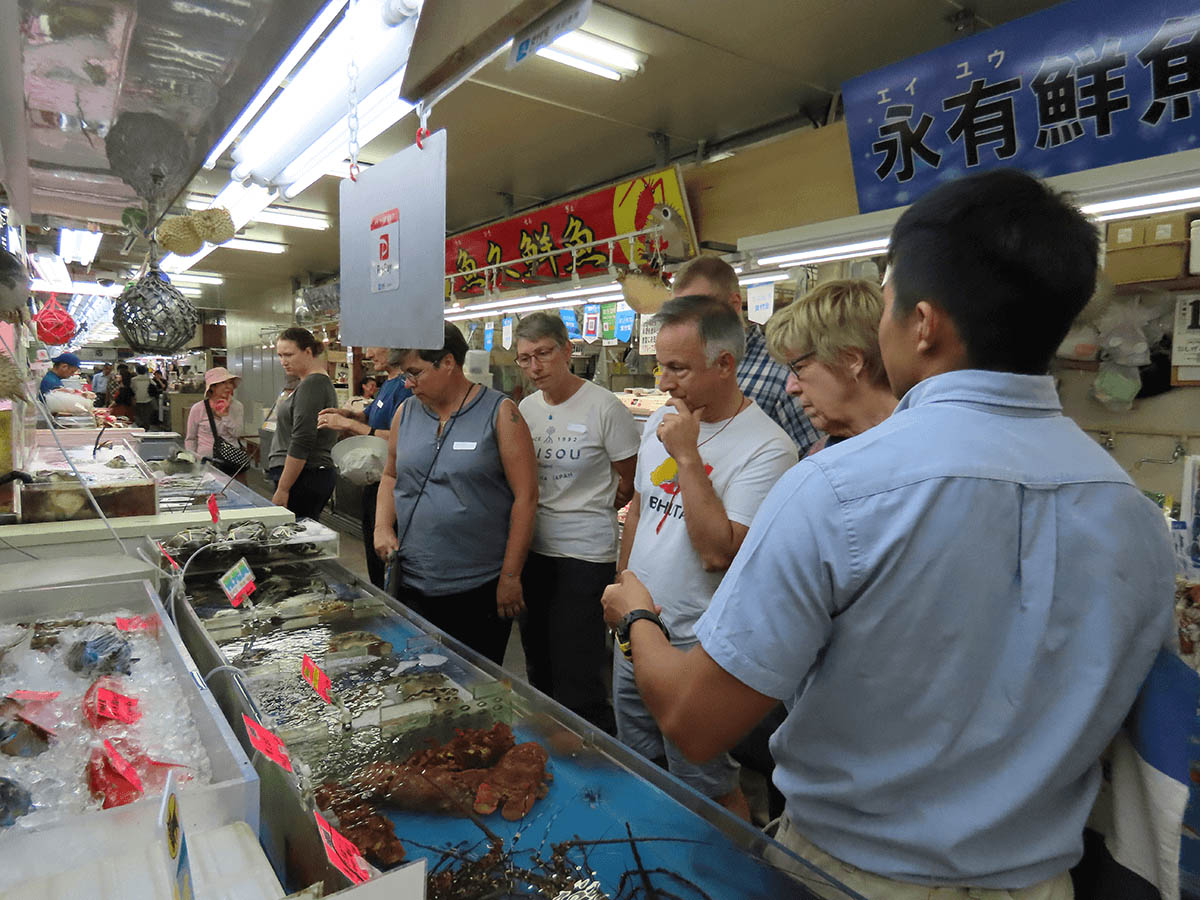 Once again Mr. Minato was a font of knowledge, not only elaborating on the history of the area, but he also gave us a condensed course in the core ingredients of Okinawan cuisine, and how best to identify the tastiest selection of fresh fish, meats, veggies and dry goods. He also introduced us to a number of uniquely Okinawan interpretations of Japanese favorites, such as fish cake and tempura, and backed up his recommendations with some lovely samples from the local vendors. The shop attendant's friendly smiles and eagerness to introduce us to various products was a highlight of the tour, and I promised myself to visit again before my time in Naha was up. After 40 minutes or so we had all that was needed for our cooking class, so it was back to the restaurant and down to the serious stuff.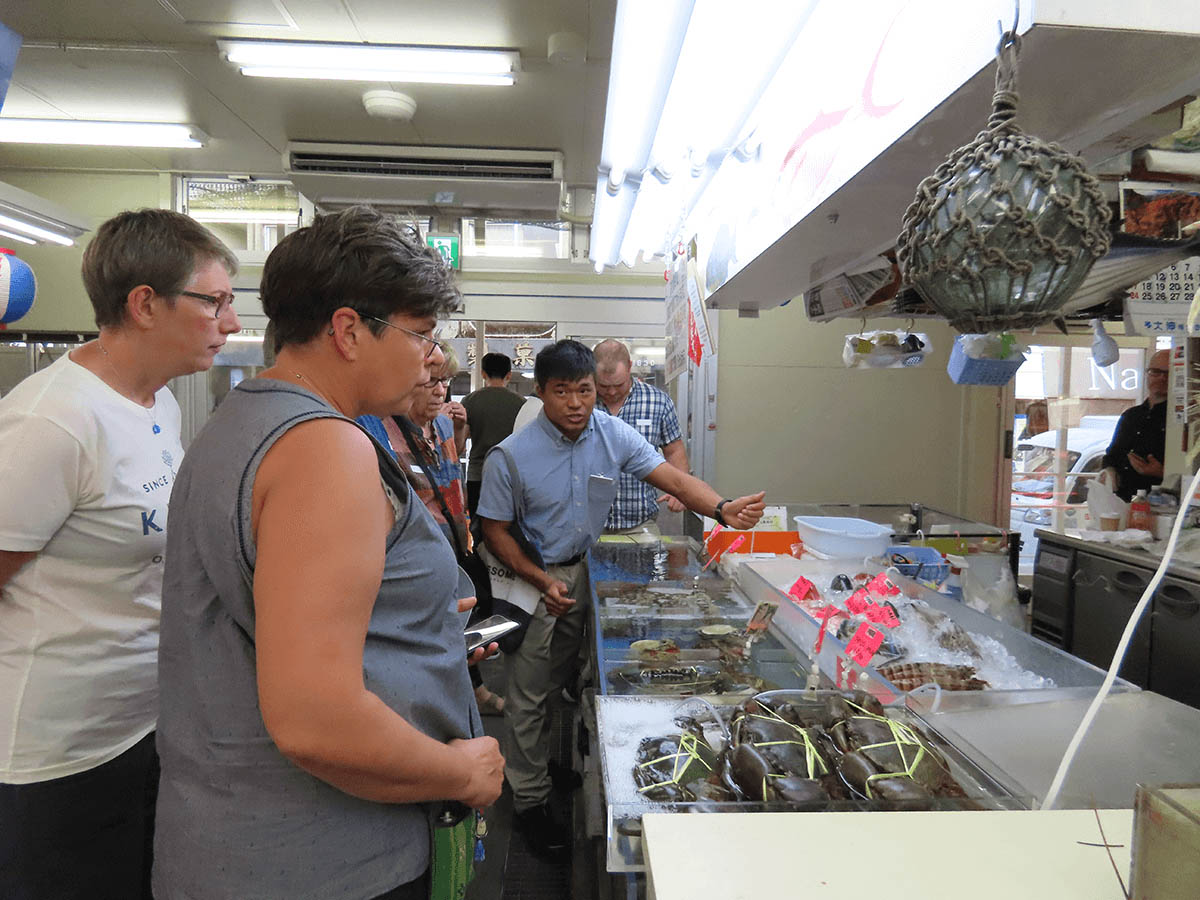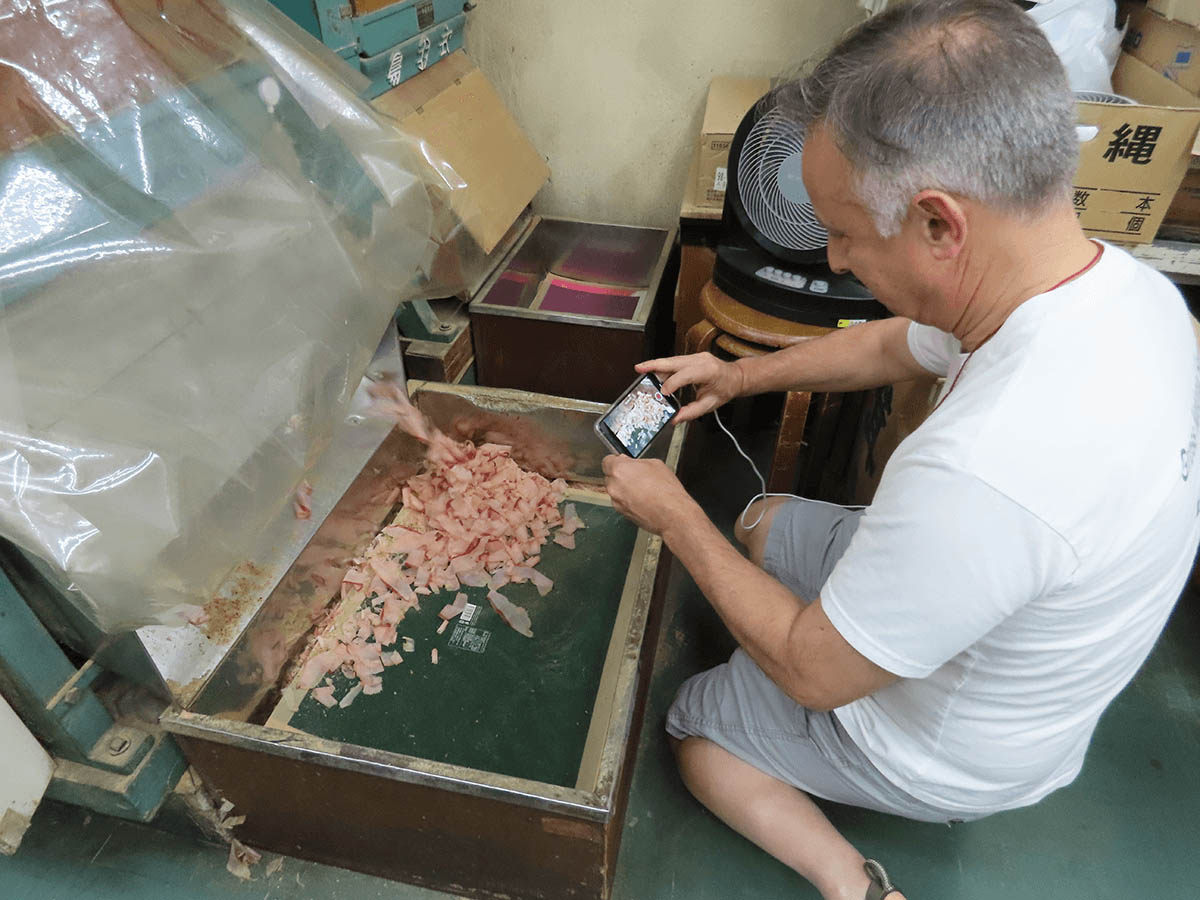 A diverse and healthy meal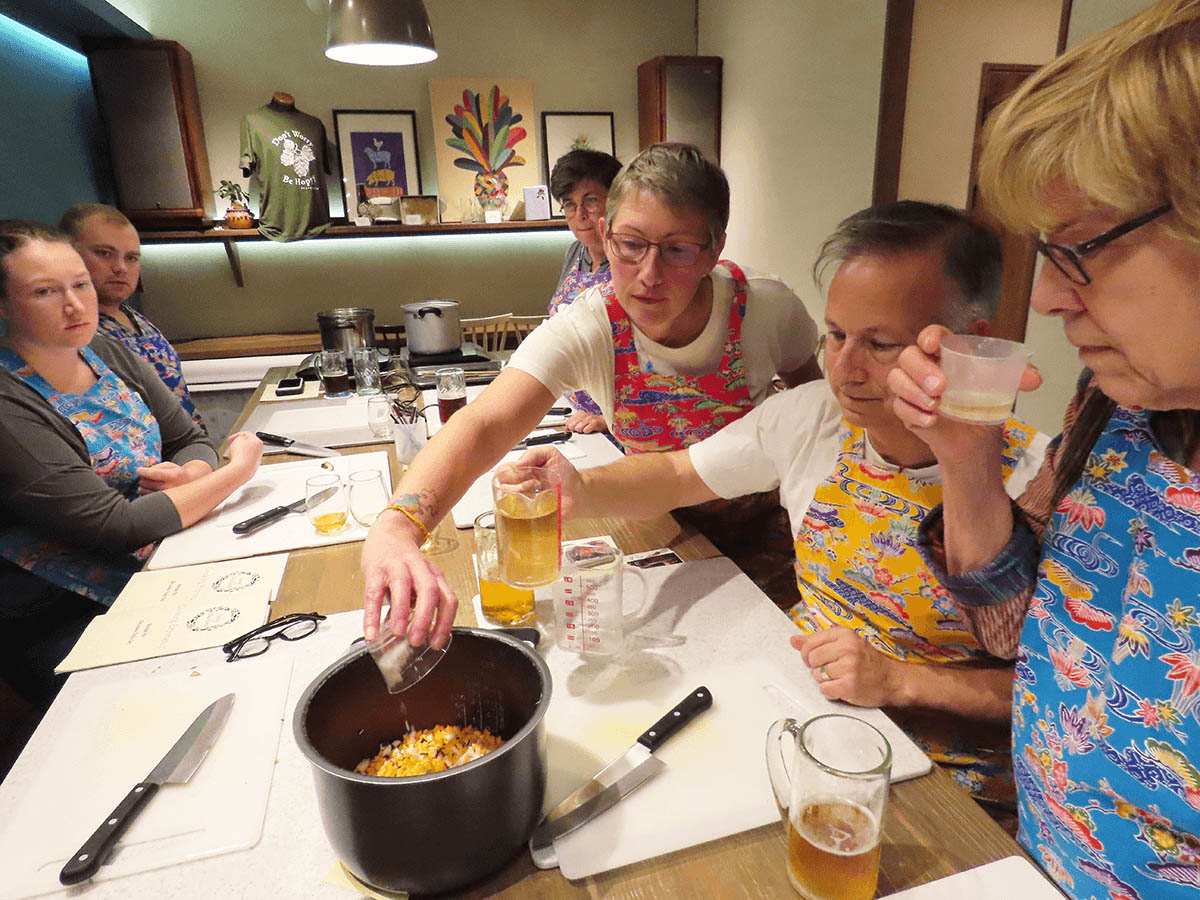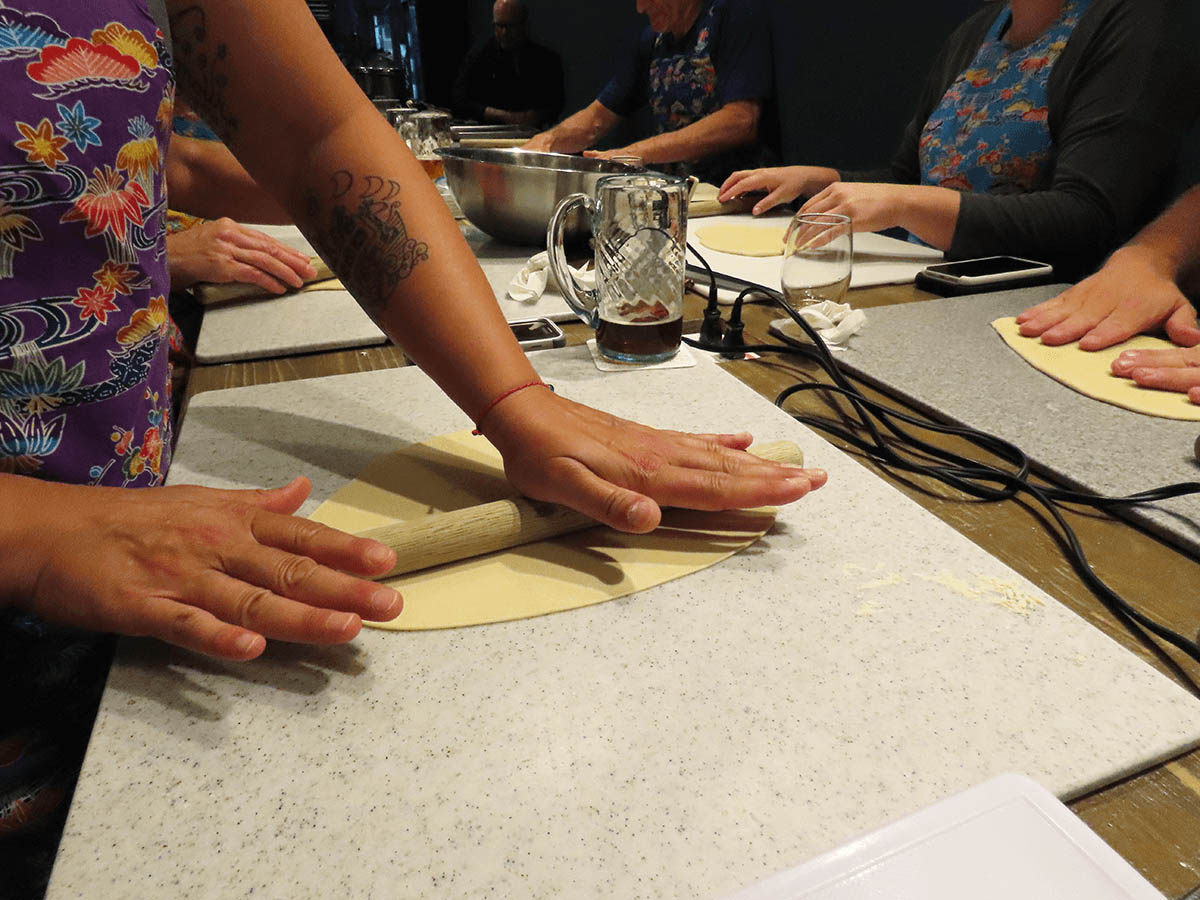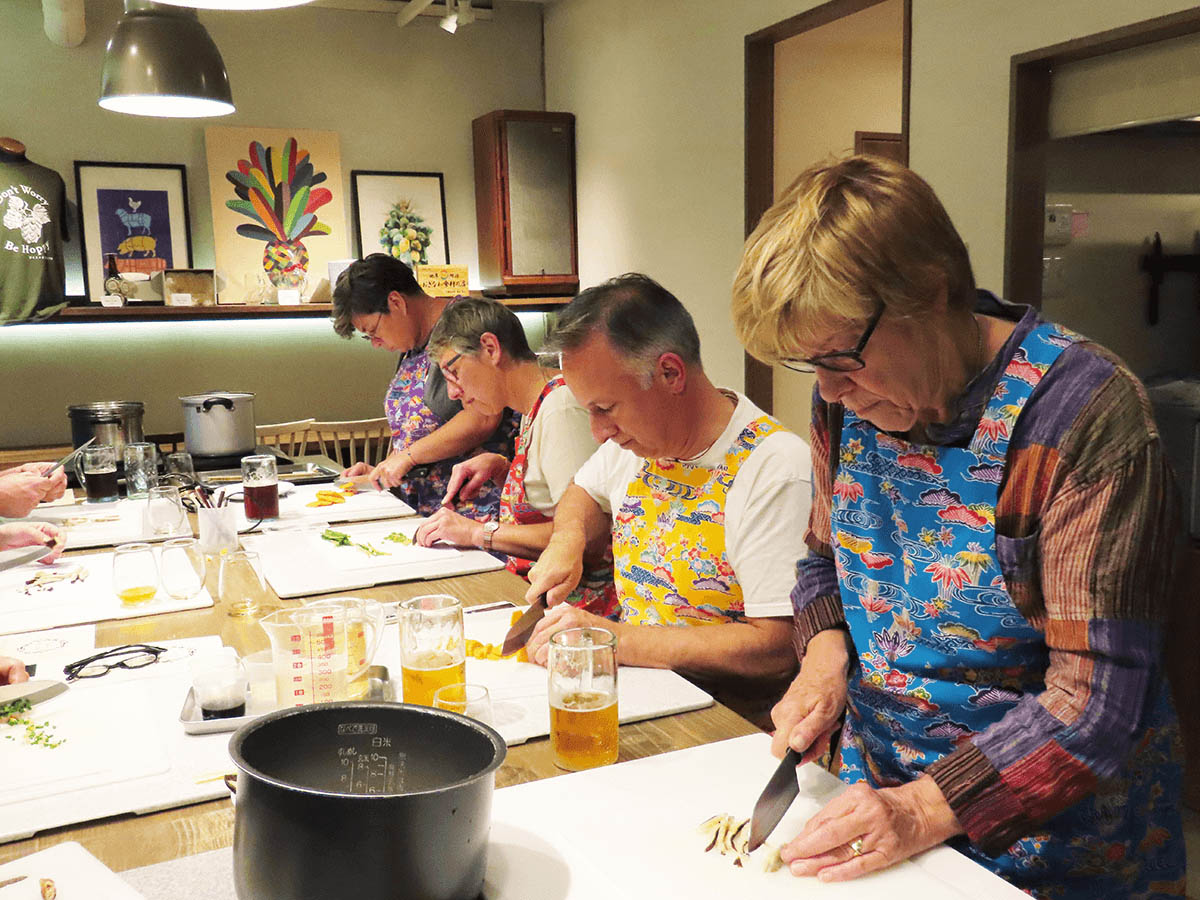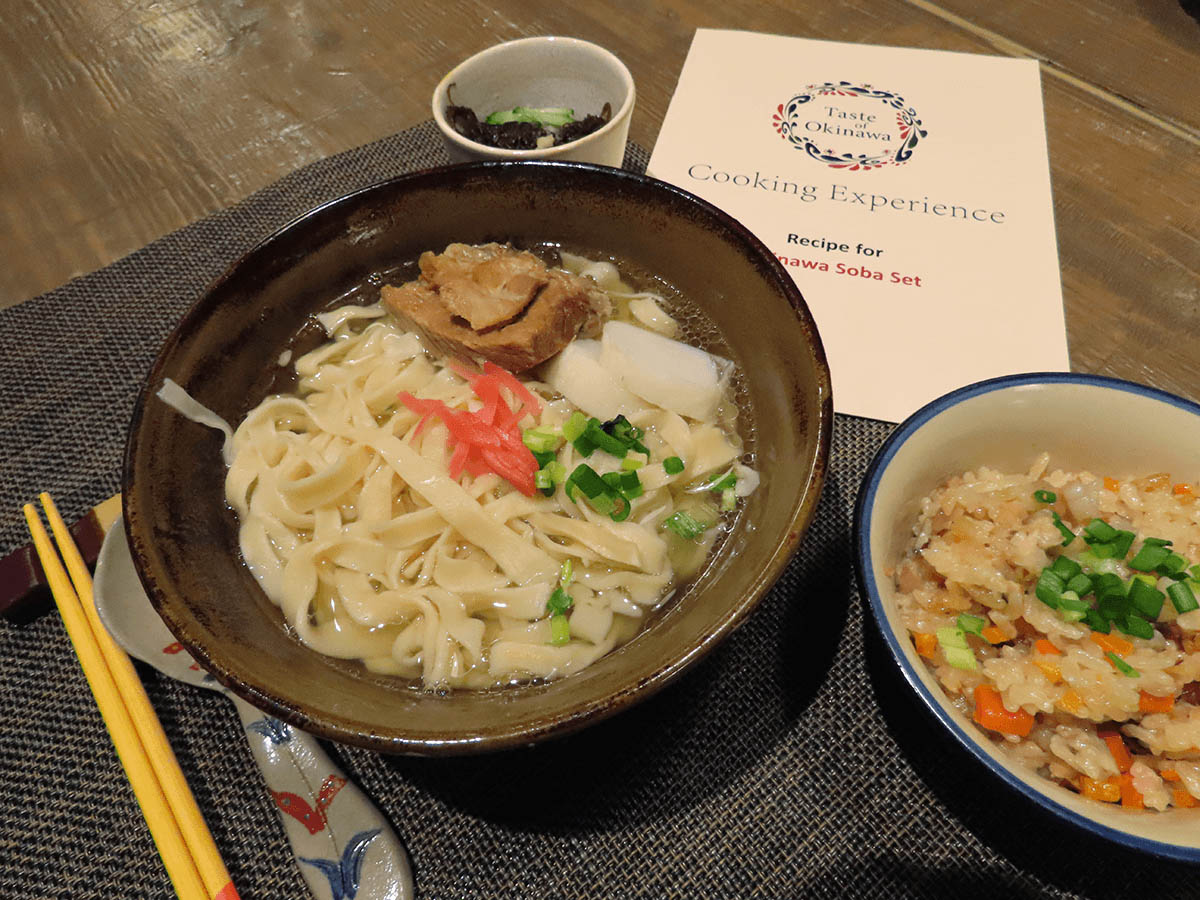 Our menu for the day was soba, fresh sashimi, the super healthy (but slightly slimy) mozuku seaweed, and jushi, a kind of mixed vegetable and meat rice that is made in a rice cooker. While each dish had a breakdown in our complementary recipe book, our path to the perfect dish was smoothed by Mr. Minato as he walked us through the various stages of preparation with precision and care. Undoubtedly, we looked forward to eating the final result, but getting to know the other class members while cutting, measuring, mixing, and (endlessly) kneading dough, was a pleasant bonus. Our merriment enhanced by a glass or two of fine ale.

Under the careful guidance of Mr. Minato, the four dishes we prepared all reached perfection at the same time. Our appetites were well and truly primed, and we were eager to put our efforts to the taste test. While there was still some room for improvement, I was happy with the result. Judging by the smiles around the table I wasn't the only one pleased, and in a fitting conclusion to a very pleasant three hours, another drink, exchange of some contact details, and we were on our separate ways to further explore this fascinating city.
Posted on 2019/12/27
Last updated 2021/12/20
Text by Steve Jarvis
Steve Jarvis is a long-term resident of Japan who has recently relocated to the Okinawa Prefecture.