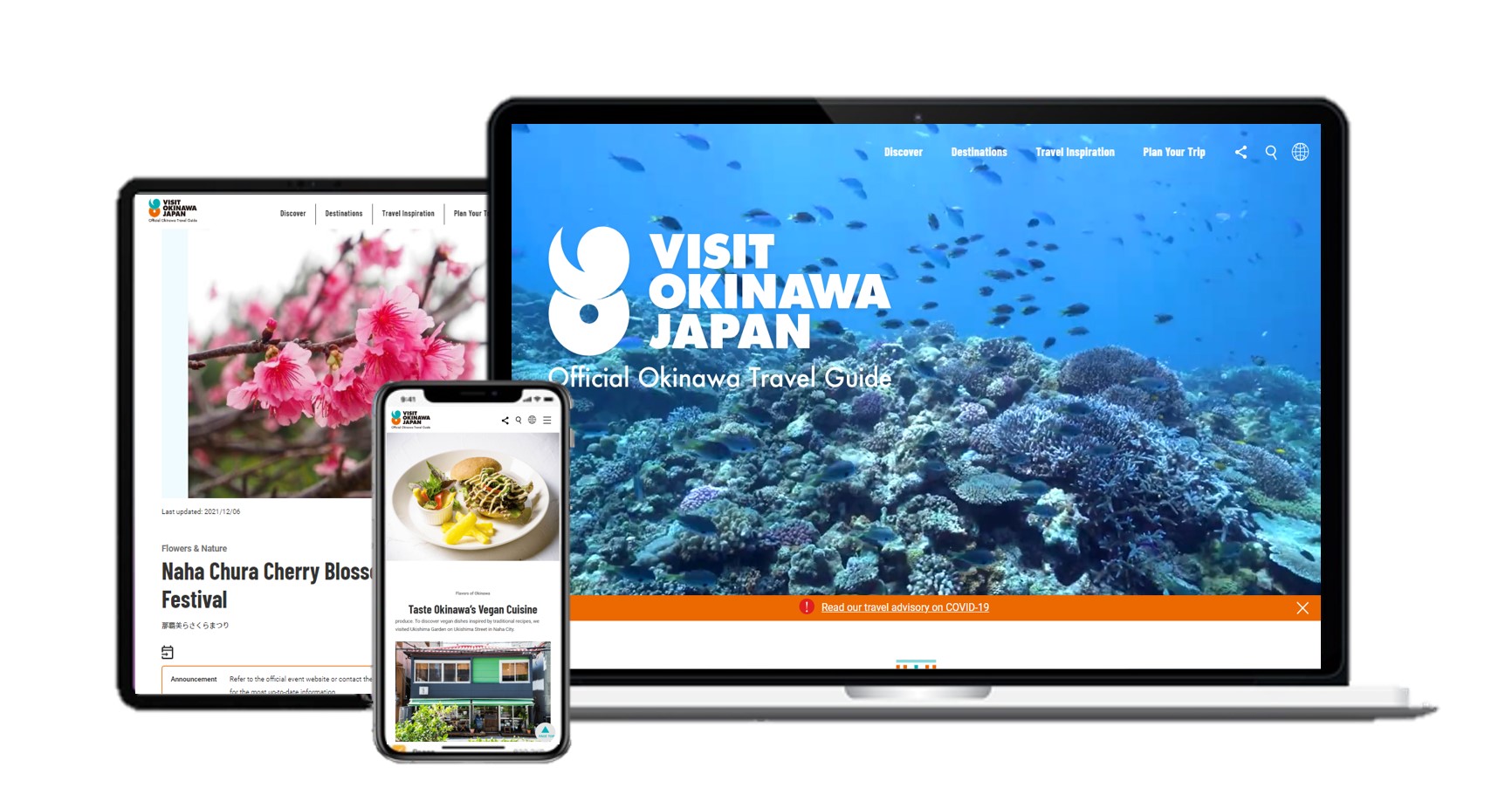 Okinawa Convention & Visitors Bureau (OCVB; chaired by Shimoji Yoshiro) has relaunched Visit Okinawa Japan with renewed English content. The website, managed and operated by OCVB on behalf of the Okinawa Prefectural Government, is Okinawa's global tourism portal, and the renewal aims to create additional value for users, and position Okinawa as a leading international resort destination.
The new site is redesigned to encourage users to experience Okinawa at a relaxed, leisurely pace. Improvements make the site easier for users to navigate and find information, before and during their visit to Okinawa. More than 70 percent of traffic to the original site was from mobile devices. As such, a mobile-first approach was adopted for the renewal. The site architecture, screen design, and usability consider mobile users and their operating environments. The result is a stress-free browsing experience. Users can also now find a broader range of information more easily than before—through new features such as tag search functionality and context links, as well as improvements to the site search function.
Increasing demand in the North American, Oceania, and European markets is essential to Okinawa's tourism strategy, and the renewal this year prioritizes the English-language site which targets these markets, as well as English-speaking Asian countries. Next year, 2022, will see the relaunch of the Traditional Chinese site. Other languages are under review and will follow suit.
■ New site name: Visit Okinawa Japan
■ New domain name: https://visitokinawajapan.com/
■ Launch date: 2021/12/20
【 Site operation and outlook】
The new site will be updated with the latest tourism information, and new content will consider market trends and user needs. It will also be a platform to promote safe travel in Okinawa. Fourteen articles relating to the coronavirus pandemic were posted on the previous site between February 2020 and November 2021. During that period, the site received around 89,000 page views, and had nearly 62,000 unique users. Around 70 percent of access was to pages with information about Covid-19 countermeasures and guidelines, temporary business closures, and  hotlines for visitors.
Considering the access data to date, the site will continue to be updated with information on the coronavirus situation in Okinawa, including countermeasures and prefecture-led initiatives. Information will be updated as the situation changes and as border control restrictions are lifted. The site will provide information to meet the needs of a broader range of visitors, which ties into the prefecture's Sustainable Development Goals (SDGs) initiatives. New content will include LGBTQ information, and cover topics such as responsible tourism and accessible travel.
We sincerely hope you enjoy the new site.
【NEW SITE DESIGN】
◆Compelling images create interest.
◆Digestible paragraphs make for easy reading, and the visual design is evocative of a gentle island breeze.
◆Generous amounts of white space allow for a relaxed browsing experience.
◆Featured content blocks drive traffic to other pages.
【NEW SITE FUNCTIONS】
◆ Quick tips 
Tips give an overview of key highlights introduced in articles and guides.
◆ Context links 
Context links give users quick access to related pages.
◆ Tag search 
Users can search for a particular type of content by clicking on tags.