Fresh from the Sea—Seafood in Okinawa
Dive into Okinawan food culture and savor the flavors of the islands through freshly caught fish and deliciously nutritious aquatic plants
Seafood plays an important part in the diets of the Okinawan people, and remains one of the islands' key industries. Surrounded by coral reefs and nutrient-rich waters, the islands are well-positioned for all types of fishing and aquaculture. A very broad selection of seafood lines the stalls of Okinawan fish markets and features on the menus of restaurants across the islands, from plump tiger prawns and skipjack tuna to delicate sea grapes, or green caviar, known locally as umibudo. Savor the flavors of the islands through ocean-fresh seafood and unique aquaculture delicacies on your visit to Okinawa.
Grouper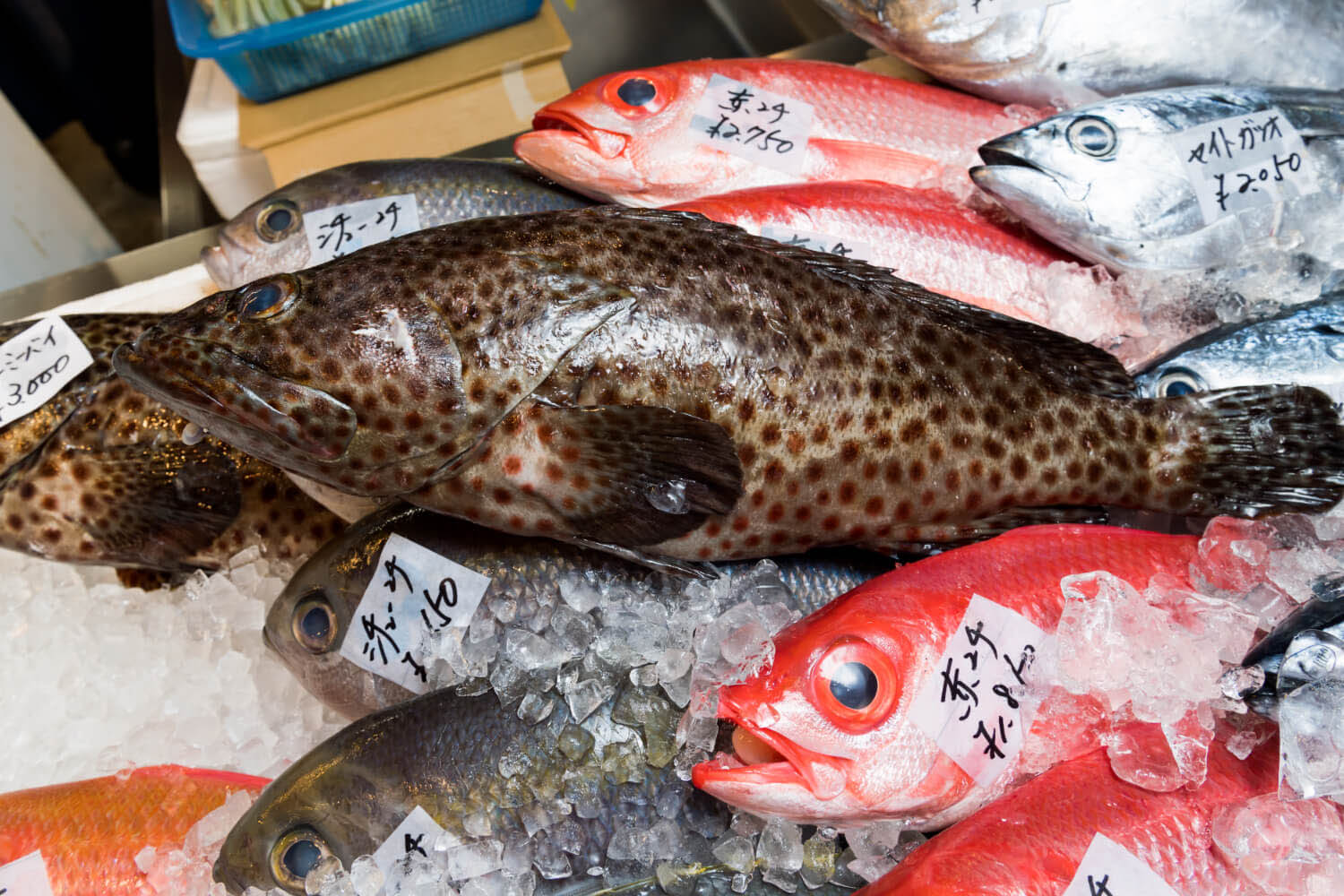 Known as mibai in the Okinawan dialect, groupers have succulent white flesh and a mild, delicately sweet flavor. Grouper is a very versatile fish and goes well with dishes cooked in Japanese, Chinese, or European styles. The waters around Okinawa are home to many different species of grouper, but the malabar grouper is the most widely enjoyed. It can often be found in soups and nabe hotpot dishes and can also be served as sashimi.
Tuna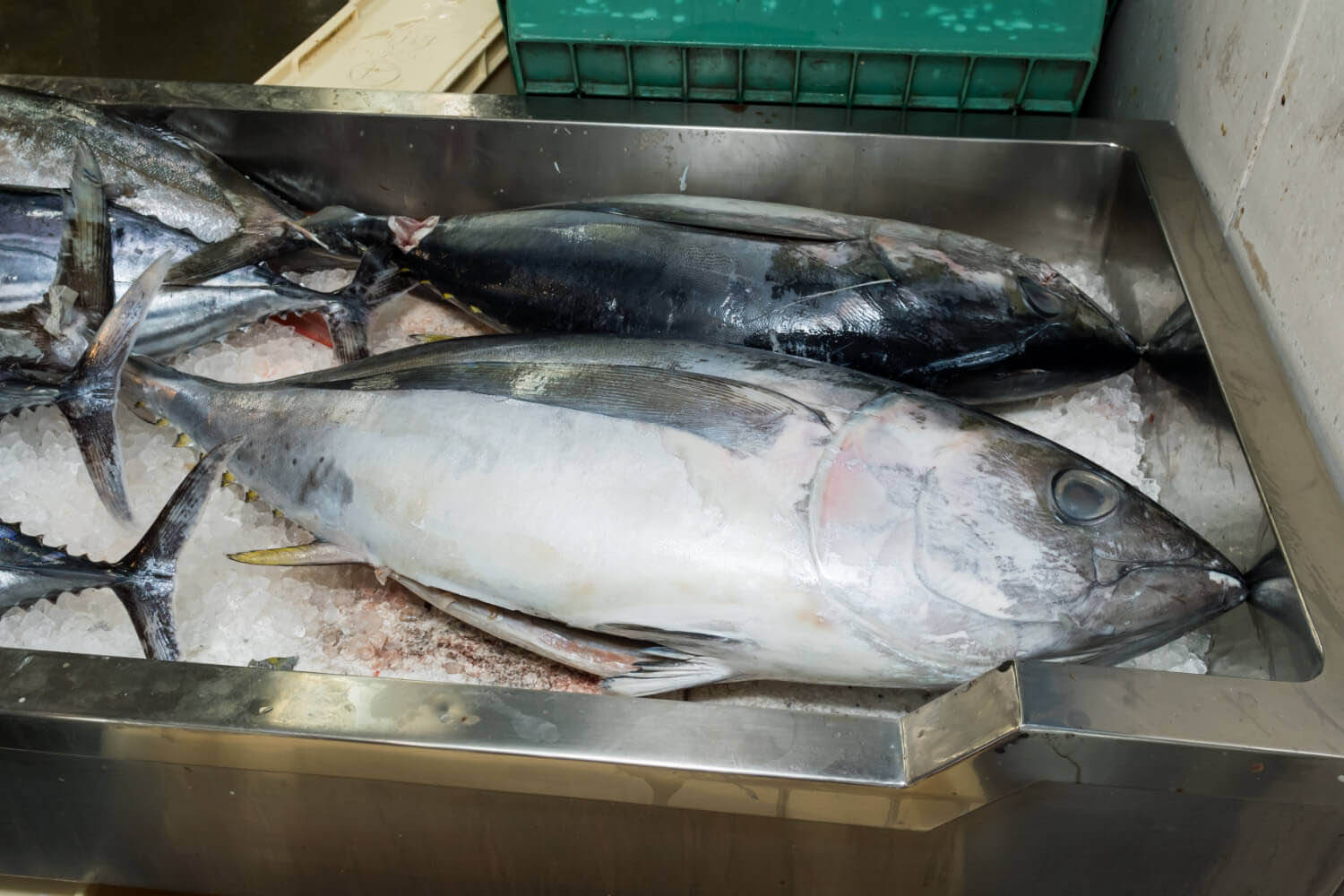 Tuna farmed in Okinawa accounts for around half the yield of all fish and shellfish landed across the islands. Bluefin, yellowfin, albacore, and many other types of tuna are available fresh from the ocean at restaurants around Okinawa. Availability of different varieties varies with the season, but tuna is considered king and can be found on most menus. Tuna from the waters around Okinawa is characterized as having lean flesh with a lighter, more refreshing flavor than commonly associated with the fish.
Skipjack Tuna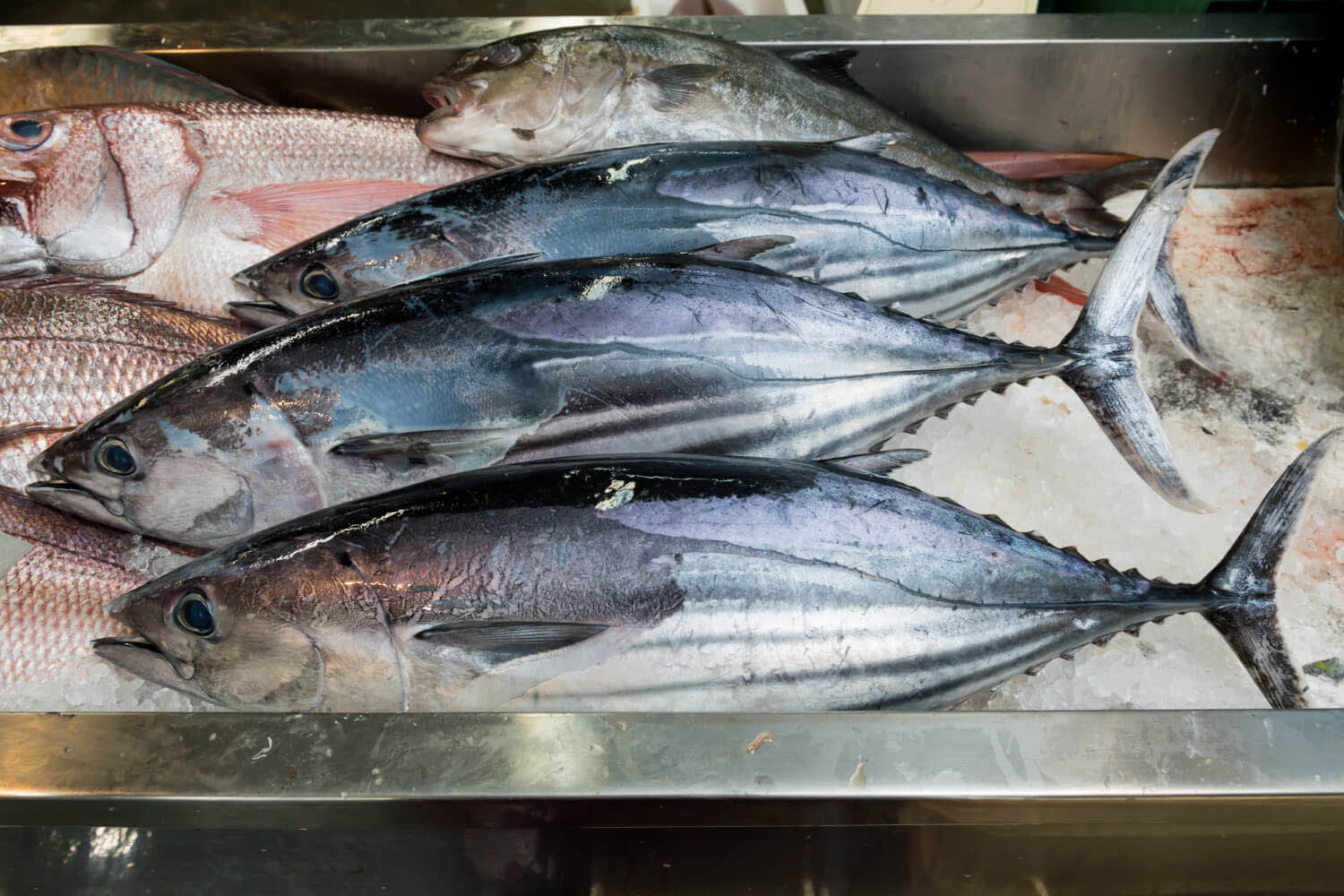 Skipjack tuna is widely consumed throughout the islands of Okinawa. It is a staple of Okinawan cuisine and used across a wide range of dishes from soups to champuru stir-fries. In Okinawa, skipjack tuna heralds the arrival of summer and is fished from late March to October. Ikema and Irabu, small islands surrounding Miyako Island, and Motobu, in the north of the main island, are the key centers of Okinawa's skipjack tuna industry. Try exquisitely fresh sashimi or tataki (lightly seared on the outside and sliced) at a local restaurant. It is commonly served with ponzu, a citrus condiment, or dressed in vinegar and miso.
Japanese Tiger Prawns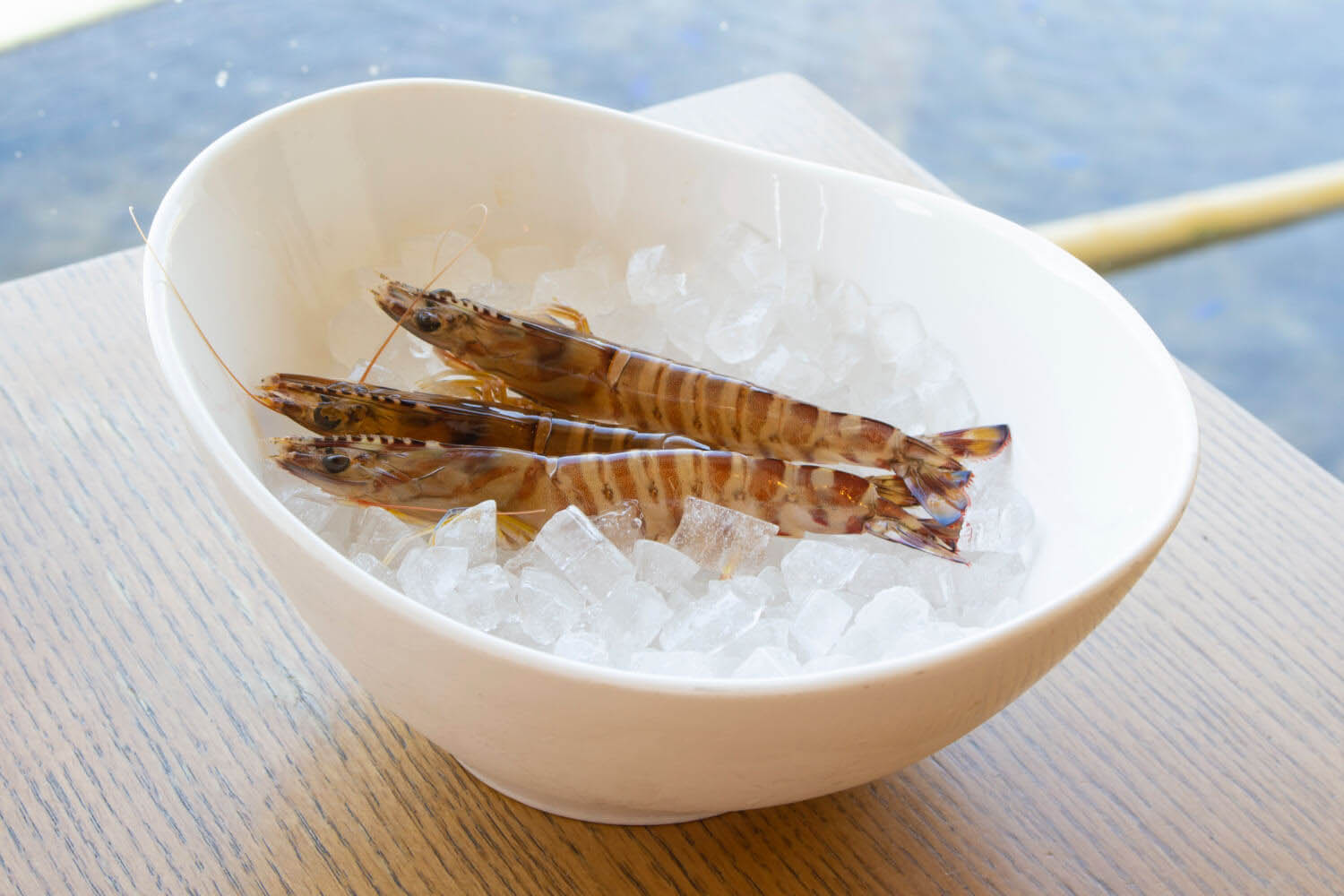 Sweet and tender, the Japanese tiger prawn is a joy to eat. High in protein and low in fat, the entire prawn is packed with nutritious value; the flesh contains taurine which helps lower cholesterol while the soft shell is rich in calcium. Okinawa is renowned for having the best and most-delicious tiger prawns in Japan. Kume Island yields the most Japanese tiger prawns and has extensive aquaculture farms that use mineral-rich deep-sea water to raise the prawns. Miyako and Ishigaki islands, Nanjo in the south of the main island, and Ginoza in the north, are all also key tiger prawn farming regions. Japanese tiger prawns are typically bred for five months starting in summer, meaning winter is the prime season to enjoy them. They can be eaten raw as sashimi because of their incredible freshness, or eaten fried, which brings out the sweetness of the flesh.
Umibudo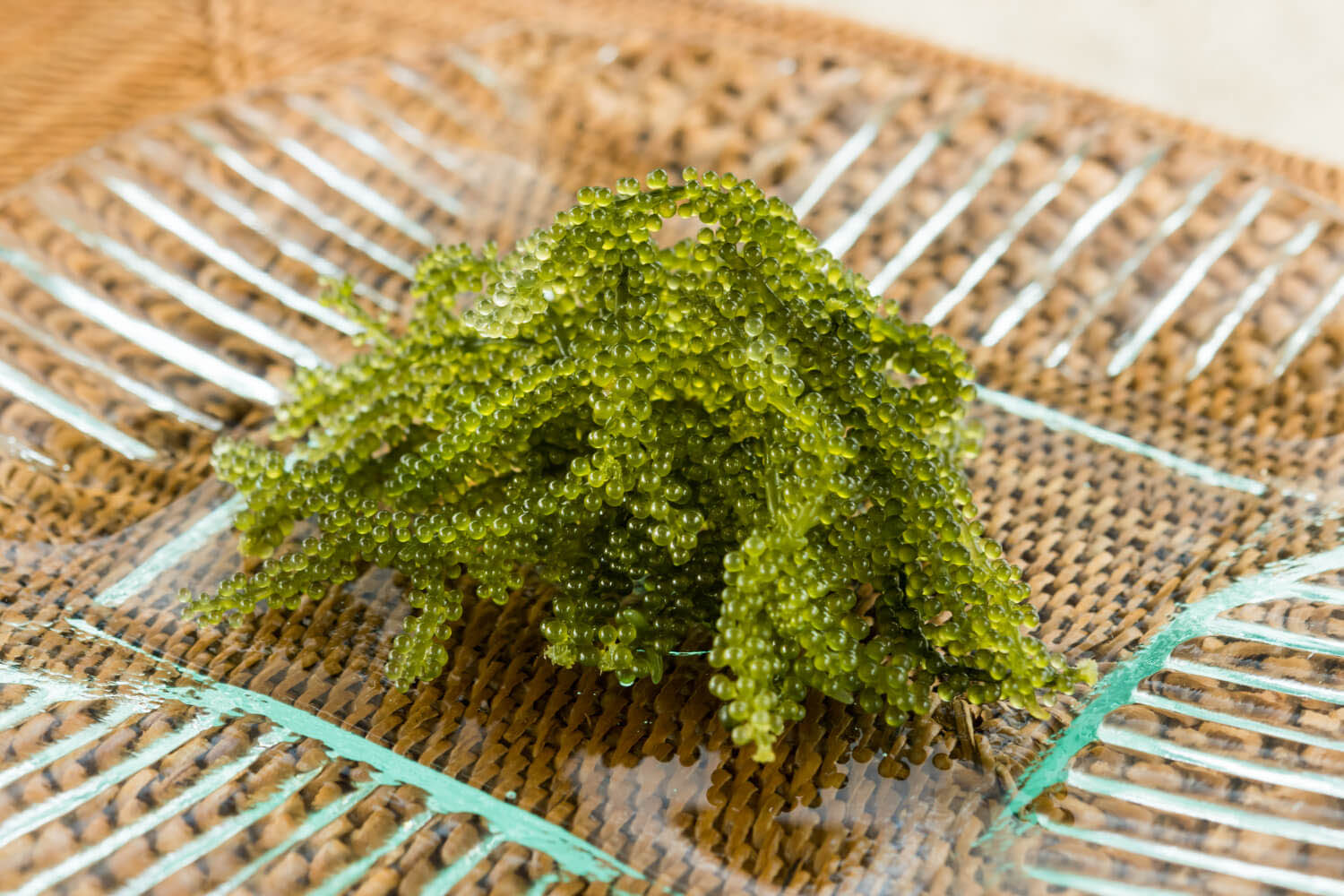 Also known as green caviar, or sea grapes, this edible type of seaweed is iconically Okinawan. They are cultivated and harvested in coastal waters and aquaculture farms across the broad width of the islands, and appear in supermarkets, on market stalls, and on menus at restaurants and izakaya bars everywhere. They can be enjoyed exactly as they are, in salads, or served on a bed of rice together with sea urchin and other seafood in dishes like umibudo-don. They have a slightly crunchy texture and pop in the mouth, similar to the sensation of eating grapes and caviar. Umibudo are low in calories and rich in vitamins and minerals, and have become popular as a health food. Onna Village in the north of the main island is one of Okinawa's prime umibudo regions.