Heritage & Tradition
Preserving and reviving Okinawa's traditional houses kominka
Stay or dine in Okinawa's renovated kominka
A resurgence in Japanese craftsmanship is breathing life into the country's architecture and communities, as entrepreneurs repurpose traditional homes that have fallen into disuse. In Okinawa, skilled builders are restoring the islands' old private houses, known as kominka, whose roofs are traditionally made of red tiles. Like the iconic stone shisa lion dogs that guard the homes, these artisans protect Okinawa's rich heritage. At the same time, they are cultivating new opportunities for business, travel, and leisure.

Alex Kerr, an American author and restorer of traditional Japanese houses, describes the renovation of historic homes as a "recycling of countryside," a process of renewal of both the physical structures and the places they inhabit. On Taketomi Island, residents have preserved these dwellings and upgraded them with modern amenities, creating a thriving neighborhood of restaurants, galleries, and guesthouses. Here, visitors can enjoy luxurious island life while exploring and experiencing Okinawa's cultural and natural treasures.
Characteristics of Okinawan kominka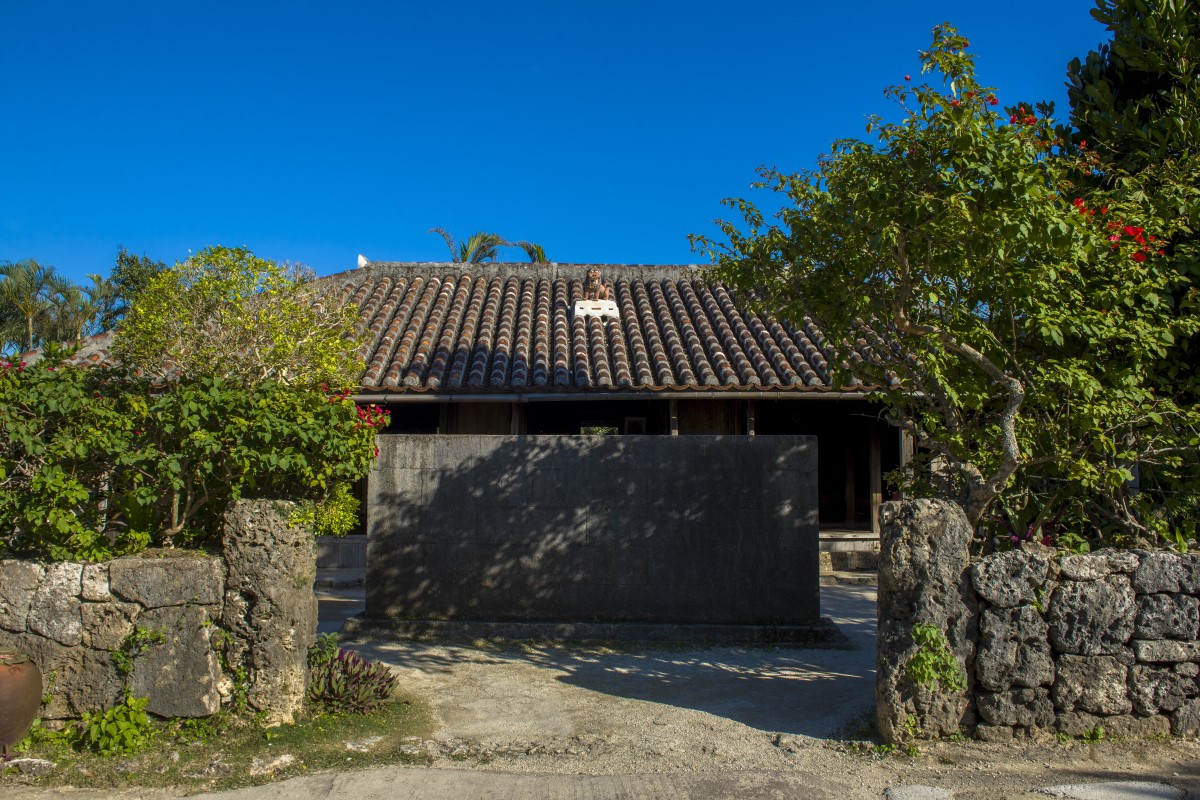 A traditional Okinawan kominka sits within a garden courtyard surrounded by a limestone wall lined with fukugi trees to protect it from typhoons. A barrier separates the main gate from the residence, offering privacy while warding off evil spirits. The house's main rooms open into the courtyard, with wide eaves sheltering them from direct sunlight and rain. Okinawa's kominka exist in harmonious balance with their subtropical environment, reducing industrial waste and conserving the islands' resources.

Thus, the old houses are built without the use of nails, made of wood from locally sourced trees. Whole tree trunks set on stone serve as columns, providing the structure with stability in the face of typhoons and earthquakes. In addition, the wood gains strength as it ages, remaining unchanged for two or three hundred years, so this valuable timber can also be reused in the restoration process.
Restoring Okinawan homes and culture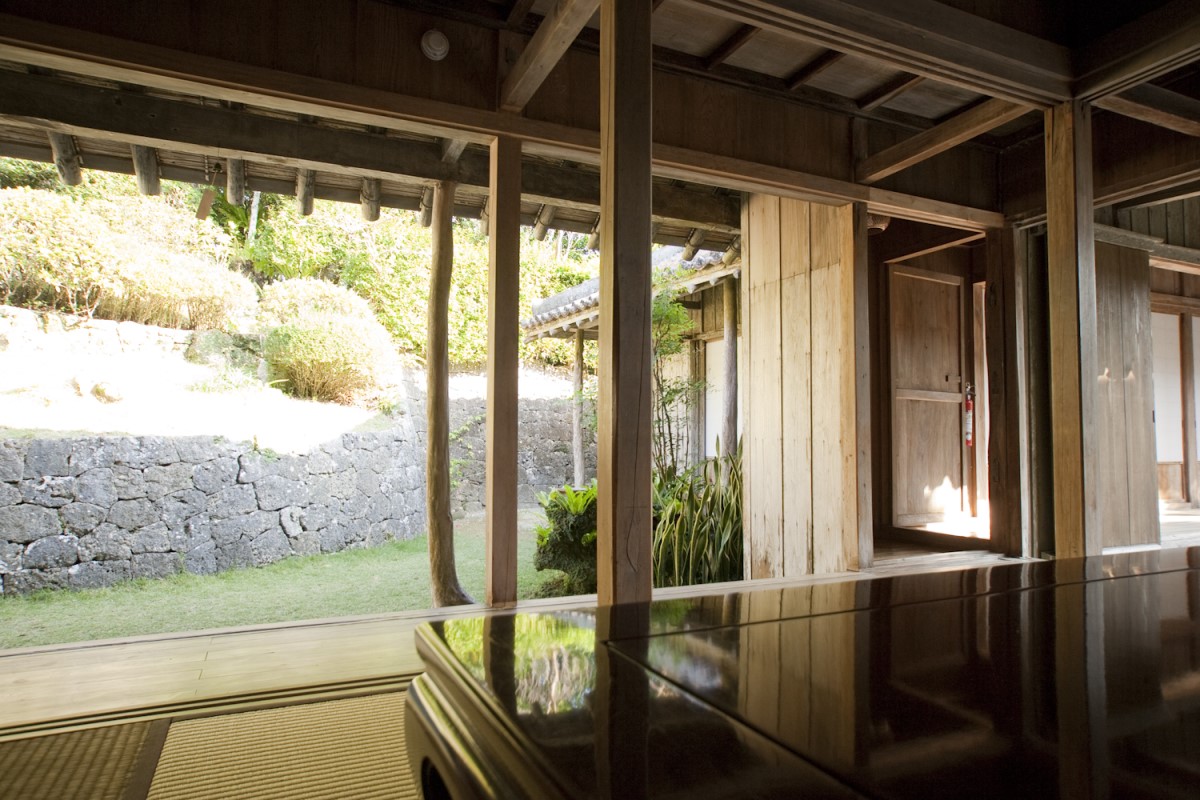 These shiny black wooden beams serve as a tangible connection to the past and are themselves a beautiful attraction. Restoration of Okinawa's kominka requires precise techniques in woodworking, tile-making, and other building trades. Just like the ancient wood and other natural resources used in the homes' construction, skilled craftsmanship is an important asset that must be preserved.

The Shuri Castle fire of 2019 acutely demonstrated this need. When the 500-year-old UNESCO World Heritage site was consumed by flames, reconstruction suffered from the lack of skilled lacquerware and tile artists. Since then, local governments and organizations have poured resources into training people in these traditional crafts, while the general public has shown renewed interest in Ryukyuan architecture and other inherited culture.
Preservation of Taketomi Island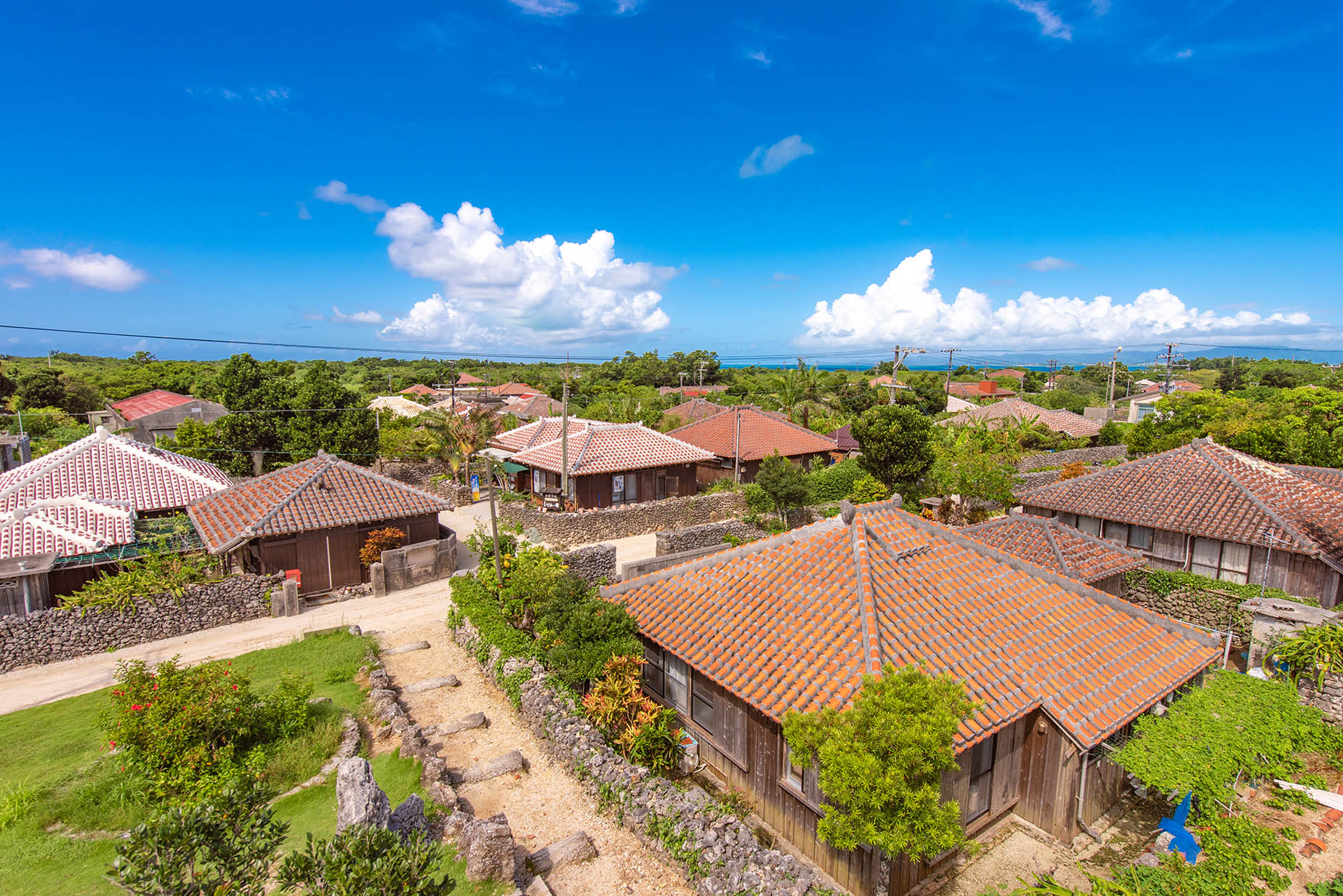 The rehabilitation of traditional homes not only revives a community but also reshapes neighborhoods. Some Ryukyuan villages are actively preserving traditional kominka, along with limestone walls and white coral roads.

In Okinawa's Yaeyama Islands, Taketomi Island is an example of an entire village being preserved as traditional architecture as residents maintain cultural traditions, and aim to sustain the local economy through tourism. The people of Taketomi Island value their Ryukyu cultural heritage and community so much that they organized themselves to protect it without relying on the government to intervene. As a result, to this day, there is no end to the number of tourists who come to seek out the original landscape of Okinawa.
Successful kominka renovations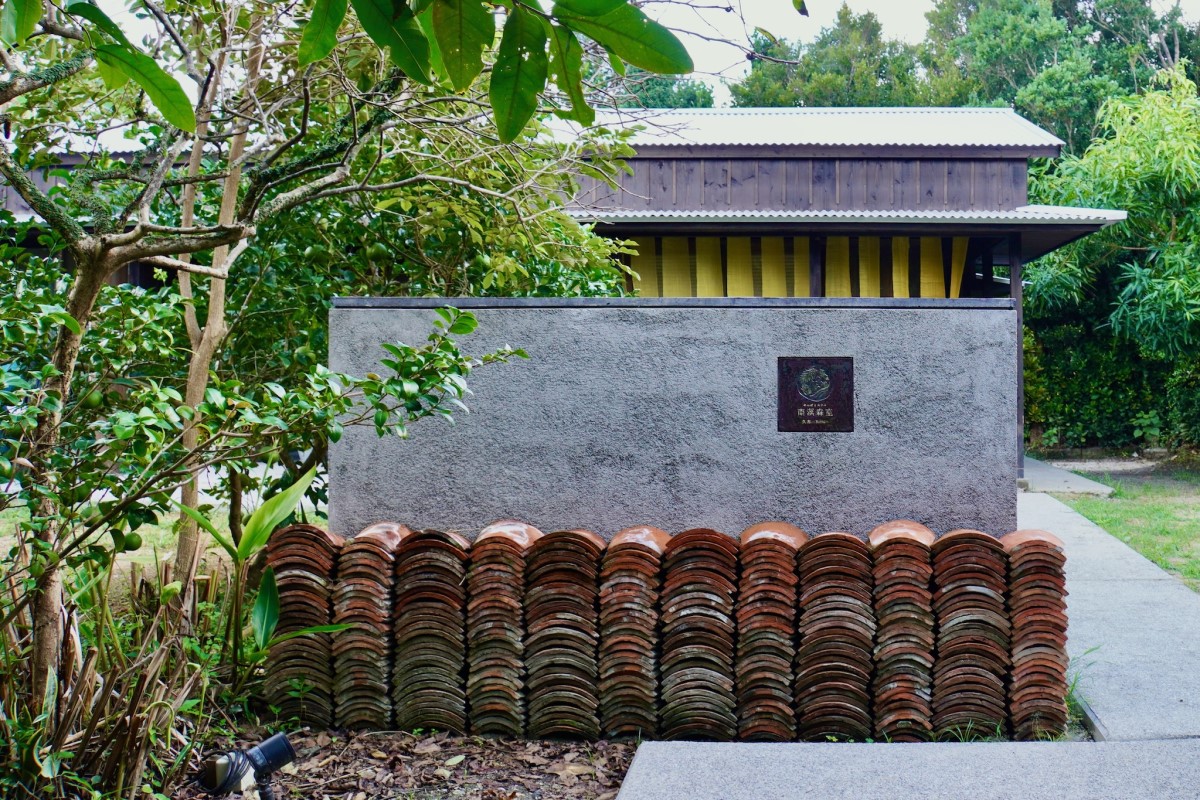 Thanks to reusable materials, a growing number of skilled craftspeople, and active involvement at multiple levels, recent years have seen an increase in restored Okinawan kominka serving as tourist accommodations and restaurants.

In the 400-year-old village of Jashiki in the north of Okinawa's main island, Yambaru Hotel Nammei Shinshitsu is taking advantage of this restoration trend to create new business that involves the local community. Each of their acquired homes has been gracefully renovated into a luxury villa, fully equipped with modern facilities while preserving its wooden structure, reinforced with concrete walls.

But as Alex Kerr pointed out, it's "not as simple as just fixing the building". In "recycling community", Nammei Shinshitsu has considered the local environment as a whole. Their personal guides curate a customized program for each of their guests, involving cultural experiences, outdoor activities in the surrounding nature, encounters and exchanges with village residents and their trades.
Chula Minka holiday accommodation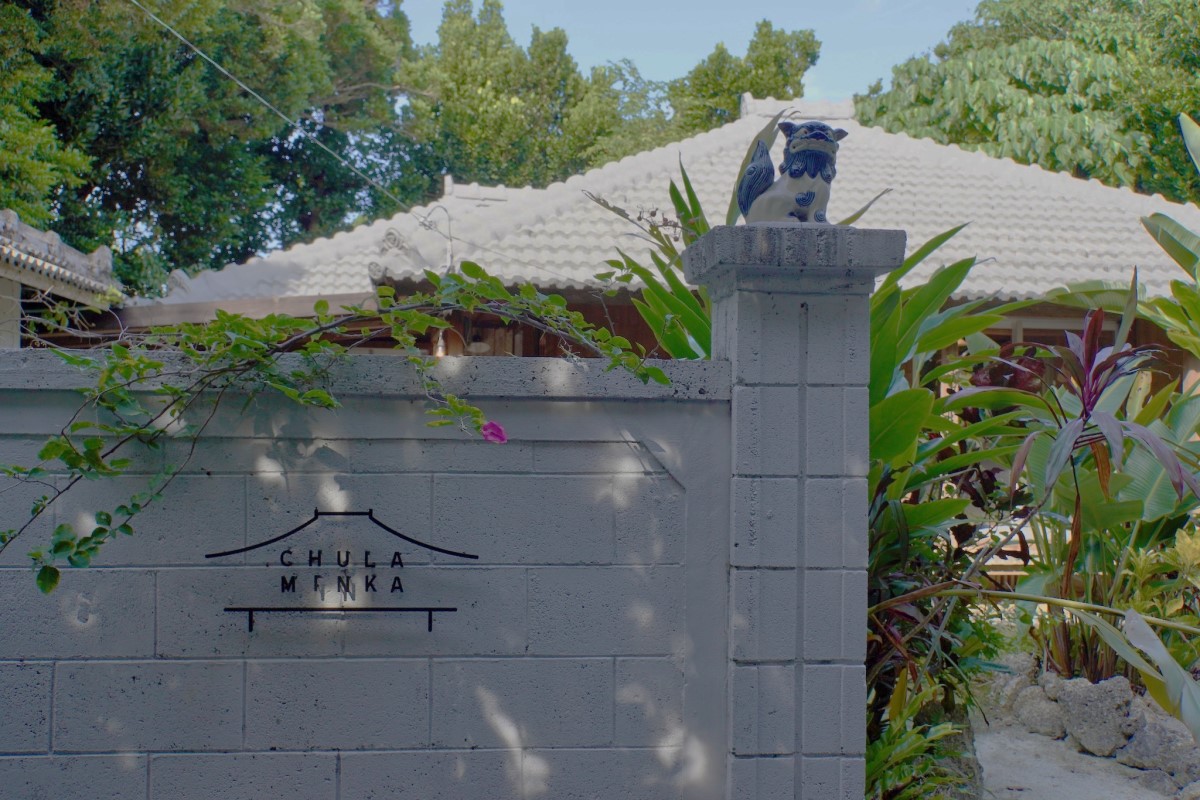 Chula Minka is a fashionably restored 60-year-old Ryukyu house that has been refurbished with modern amenities and casual style in a quiet residential neighborhood in the north of Sesoko Island. Its name and logo are mounted on a new stone wall under porcelain shisa, giving the place an atmosphere of understated vintage chic. The structure combines concrete walls for its fully equipped kitchen and warm wooden interiors for the main tatami room. This entirely private space offers you the full Okinawa kominka experience by inhabiting the house itself.
Shimujo soba shop in Naha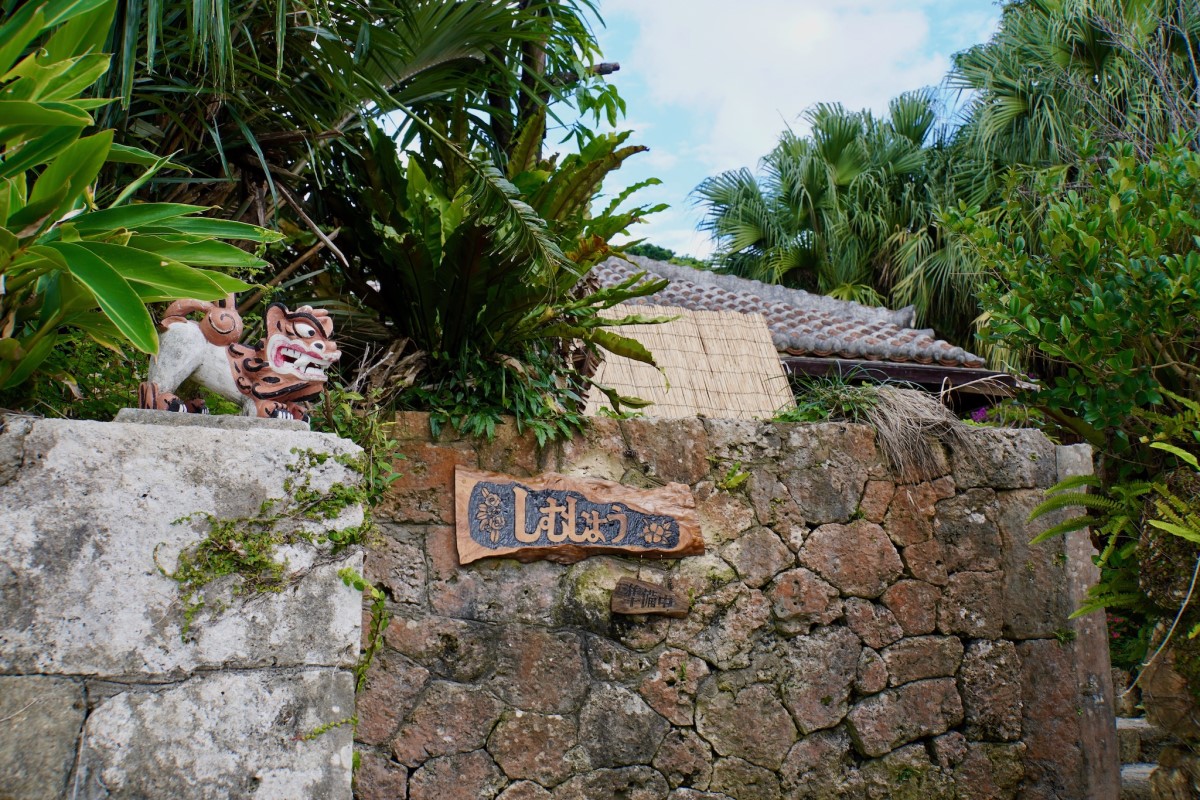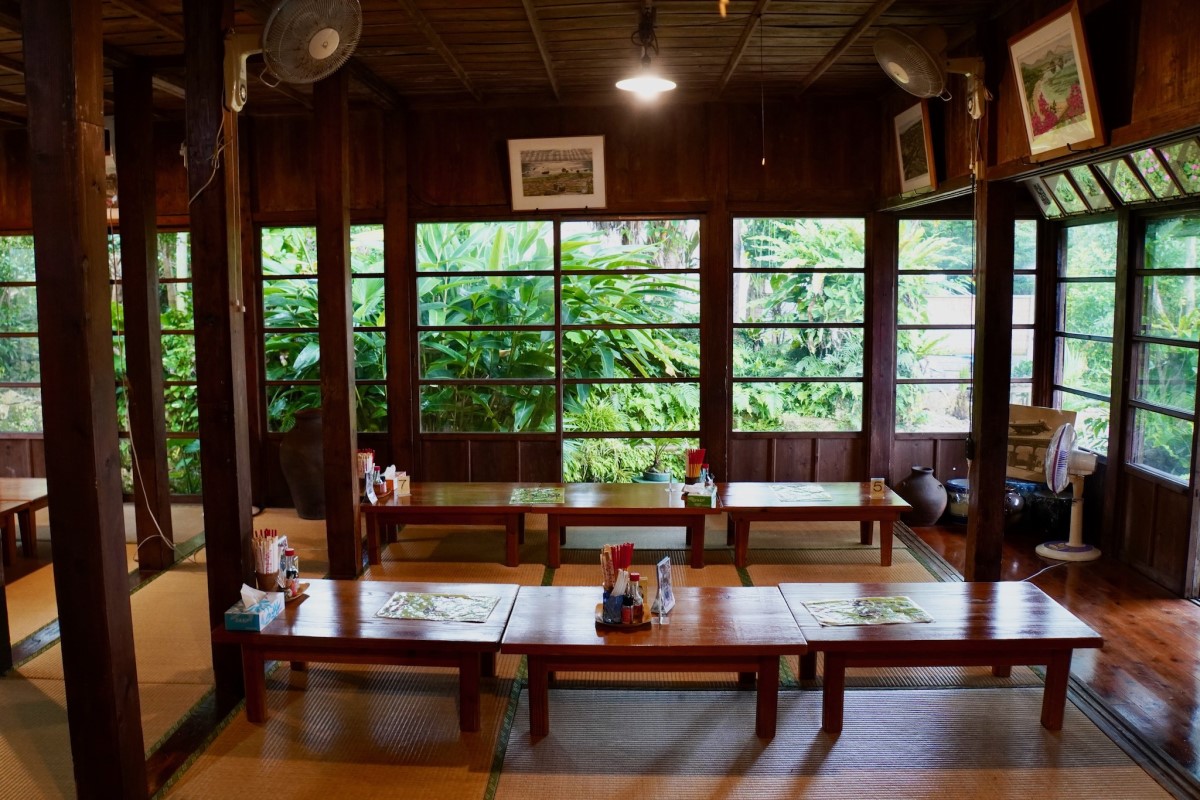 Shimujo is perched on a hill not far from Shuri Castle, nestled in its own little garden behind a pair of primitively fierce shisa. The elegant wooden house preserves photographs, illustrations, and other artifacts from the past decorating its interior, including large yachimun pottery jugs in the corners of the main room. In this nostalgic atmosphere, you can eat the house specialty of traditional Okinawa soba. The intimate tatami dining room is entirely open, with wide-paned sliding wooden doors offering a lush view of the private garden and stone wall. These traditional objects and original landscaping, combined with the peaceful atmosphere of the exterior and interior of the preserved house, further enhance this kominka's unique charm.
Over 100-Year-Old Folk House UFUYA in Nago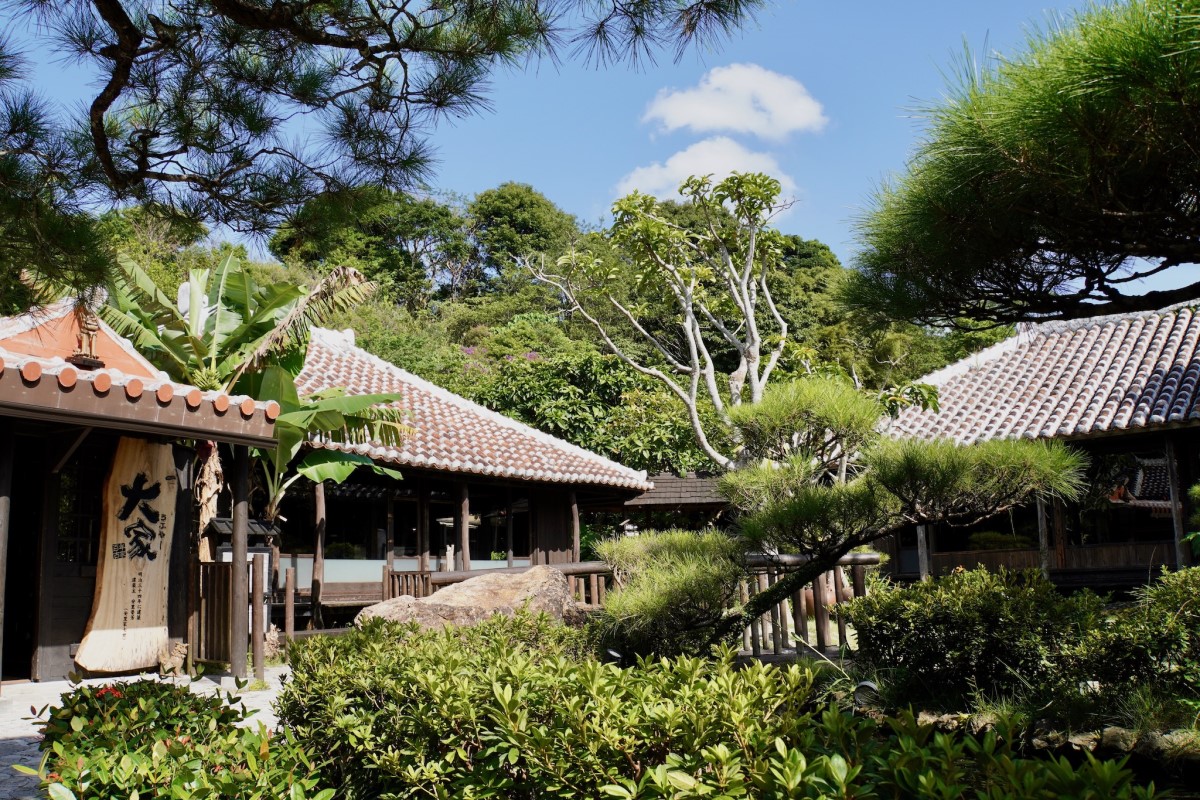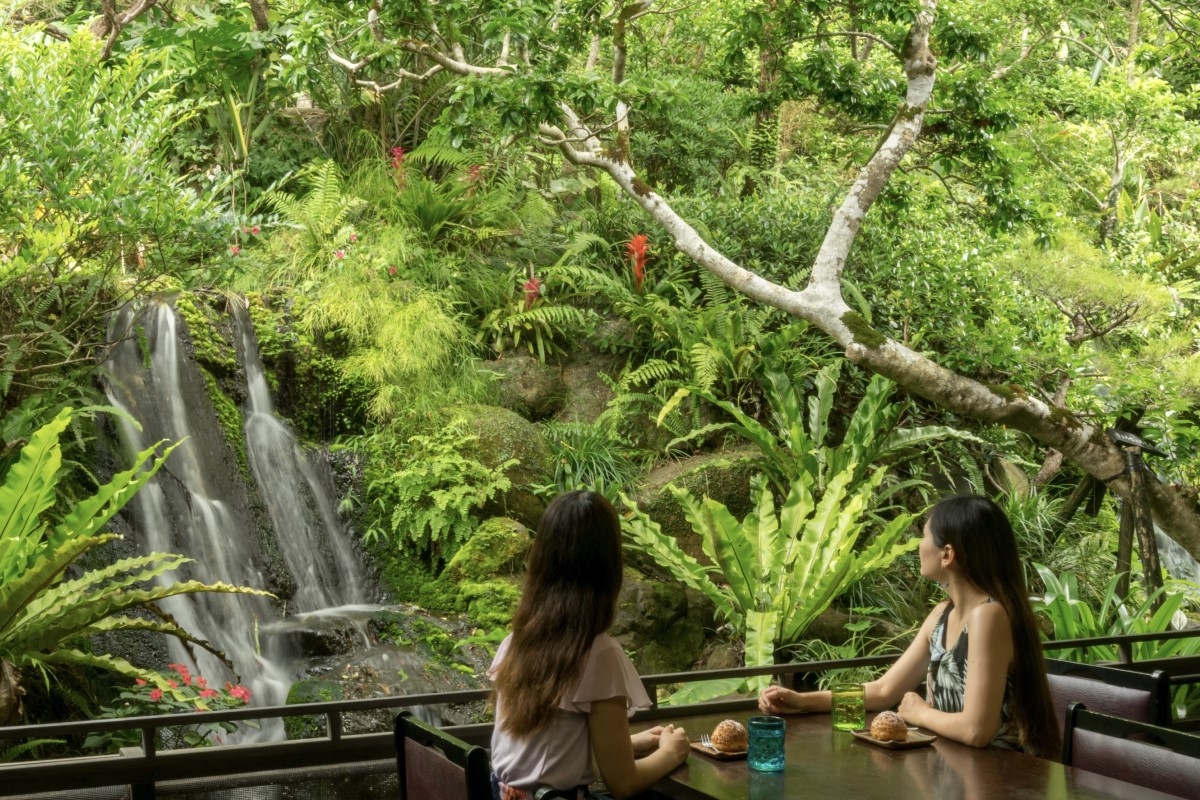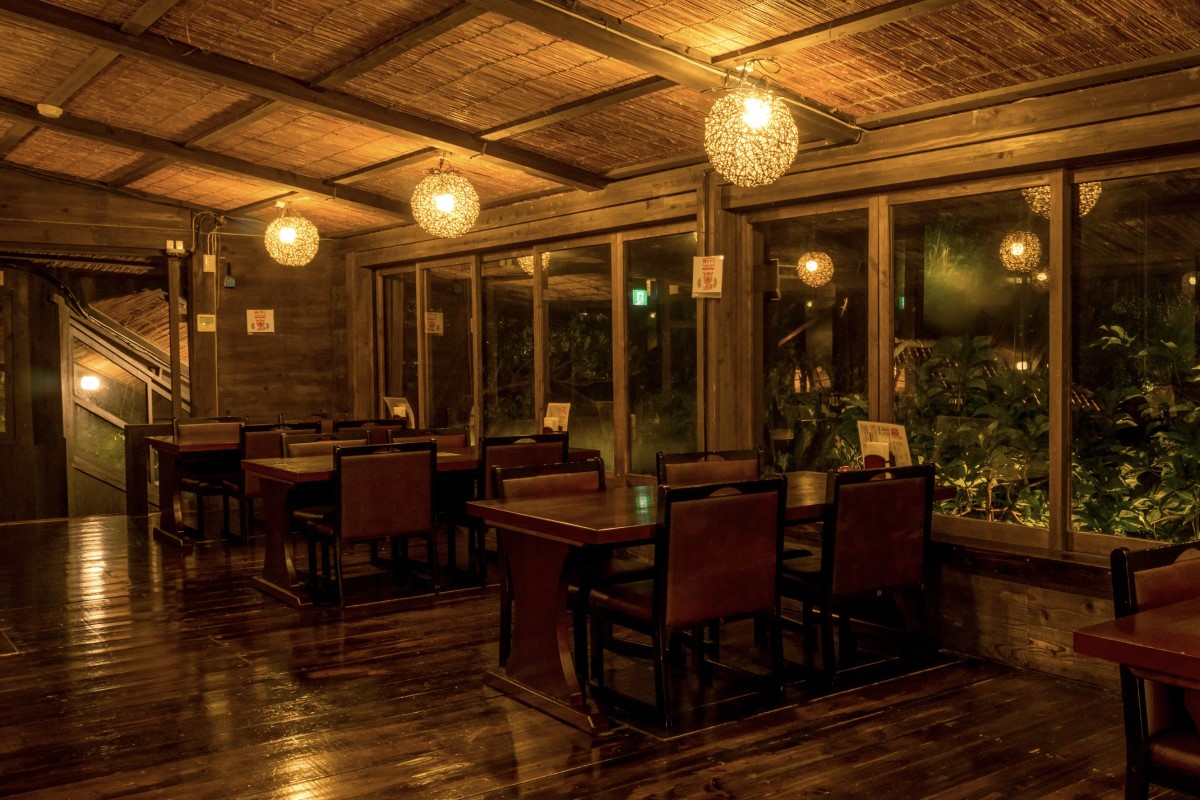 Ufuya is a place in the Nakayama valley of Nago, where several Ryukyuan architectural and historical houses of the Asato, Aragusuku, Takushi, and Nakama families have been relocated and preserved. The landscaped garden includes a hilltop shrine, restaurants, a shop, and fermenting jars of pineapple vinegar for an old-fashioned atmosphere of a nostalgic past. The main restaurant is set in a traditional Ryukyuan house built over a hundred years ago next to a splashing rocky waterfall and serves traditional Okinawa soba, specializing in gourmet agu pork, a rare Okinawan pig breed. Outside the village, among limestone walls and paths, bright hibiscus bloom beside chirping birds and trickling water, setting the scene to better appreciate the natural and historical context of these artfully preserved kominka.
As a new generation of artisans, trained in age-old building techniques, are restoring and renovating Okinawa's traditional houses, these renewed kominka are revitalizing local culture, community, and economy. Old private homes that have been lovingly transformed into renewed spaces across Okinawa offer visitors the chance to dine, drink, and stay in comfort — to experience the "real Okinawa" while helping to preserve Ryukyuan heritage.
Posted on 2023/2/24
Text by Ben Weller
Ben Weller has lived in Japan since 2015 as a photojournalist and writer documenting Japanese customs and architecture.