Shikinaen Royal Garden
識名園
A cultural landscape fit for royalty
Shikinaen was constructed in 1799 as a villa for the royal family of the Ryukyu Kingdom. In addition to entertainment, the garden played an important role in diplomacy. At the time, China had a huge influence over the kingdom, both as a trade partner and a foreign power. Whenever a new king took the throne, the emperor of China would send envoys to formally authorize their ascension, a ceremony essential for maintaining trade relations. Large banquets were held at Shikinaen to host the envoys.
Features of the garden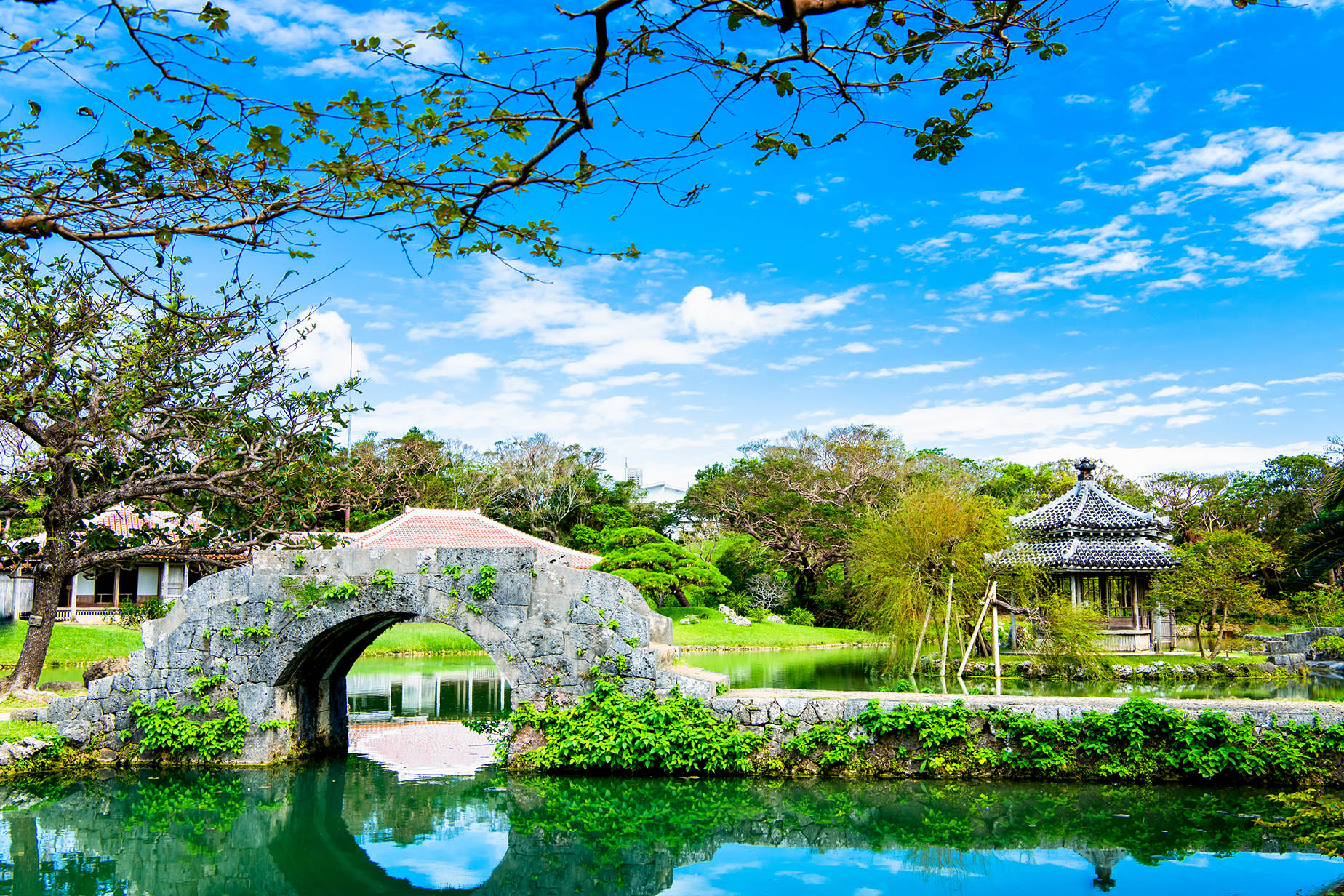 Like many aspects of culture in the Ryukyu Kingdoms, Shikinaen contains many architectural and design elements borrowed from both Japan and China. Shikinaen is a circuit garden, a traditional Japanese layout centered on a pond. The pond is fed by a spring known as Ikutokusen, enclosed by low, curved walls of coral limestone. Two stone monuments near the spring are engraved with commemorative messages from two envoys from China. A Chinese-style arched bridge crosses over the pond, and a smaller bridge leads to the Rokkakudo, a hexagonal, Chinese-style pavilion. The Udun, a statehouse with a traditional red-tiled roof, is on the opposite side of the pond.
Seasonal flora
Shikinaen has many seasonal plants to admire throughout the year. Highlights include delicate, pink apricot and cherry trees that bloom in spring, vivid wisteria around early summer, and purple balloon flowers in fall. There are also plants that are endemic to the islands, such as Ryukyu island pine and sago palm.
Restoration
Shikinaen was badly damaged in WWII, but a decades-long, large-scale restoration took place from 1975 to 1996. Many of the garden facilities were faithfully restored by consulting pre-war photos. Visitors can enjoy free guided tours of Shikinaen conducted in Japanese on the third Sunday of odd numbered months. Find more information here (*only in Japanese).
Transportation information

Shikinaen can be accessed by car or bus. It takes about 30 minutes by bus from Naha Bus Terminal. Visit Transport Navi Okinawa for specific route information.
Contact information

Shikinaen Royal Garden

421-7 Maji, Naha City, Okinawa Prefecture

098-917-3501