Sonohyan Utaki Stone Gate (Sacred site)
園比屋武御嶽石門
A prayer spot and a testament to Ryukyuan architecture
The Sonohyan Utaki Stone Gate is a stone gate outside a sacred forest, Sonohyan Utaki, on the grounds of Shurijo Castle. It was built in 1519 by the third king of the second Sho Dynasty, Sho Shin (1477–1526). It was used as a prayer spot by the king, to pray for a safe journey when he left the castle. It was also the location of the inauguration ceremony to appoint a new kikoeokimi high priestess.
Elements of Ryukyuan design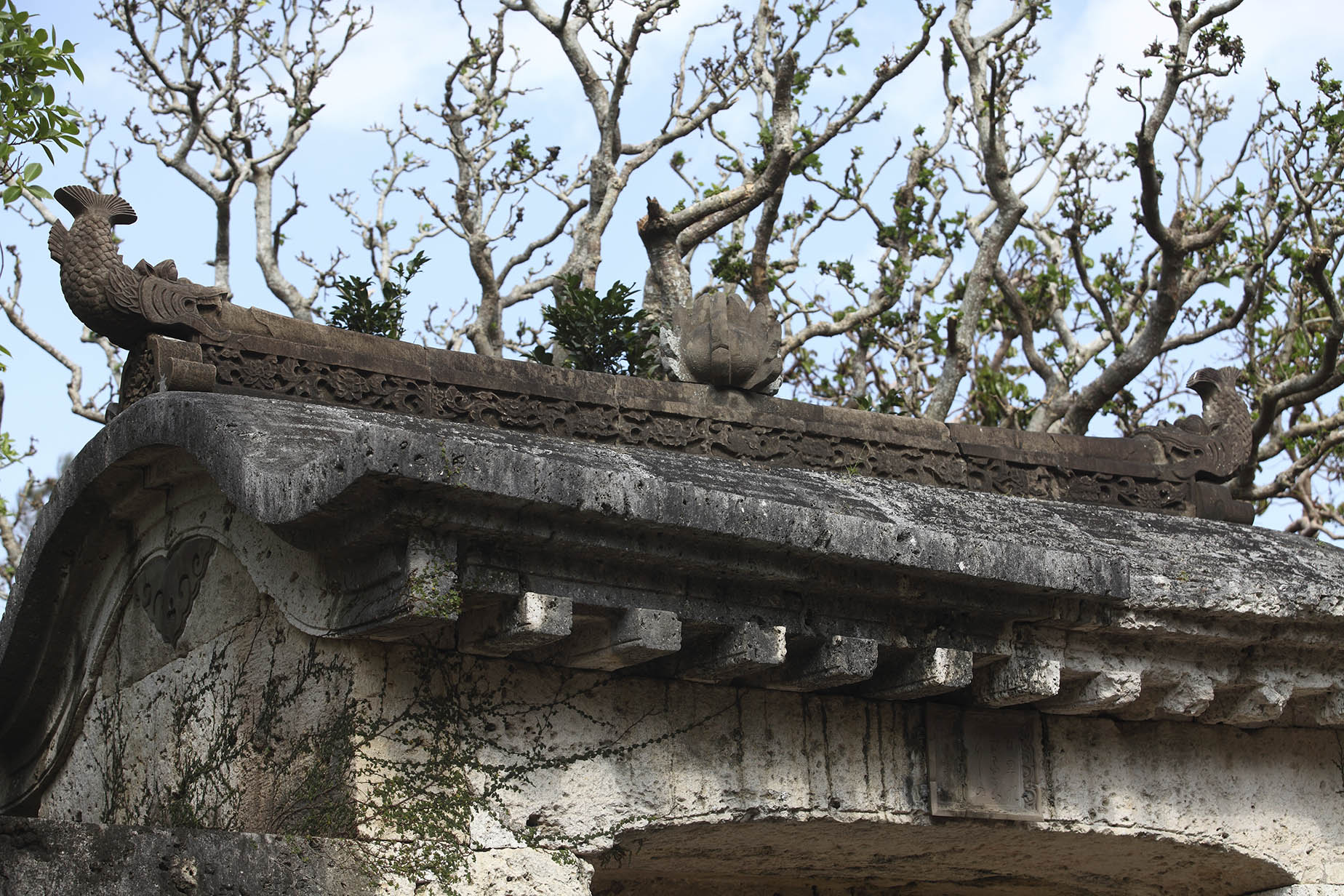 The Sonohyan Utaki Stone Gate is a Ryukyuan monument, and blends elements of both Japanese and Chinese architecture. Decorative motifs, typically seen in woodwork, have been masterfully rendered in stone, across the rafters and gables. The roof features ridge stones carved to resemble a flaming jewel and mythical fish. The main structure and roof were crafted from coral limestone, and sandstone was used for the roof ridges and other ornamentation.
The gate was damaged in WWII, but has undergone two separate rounds of repairs; once from 1956–1957, and again from 1981–1986. While Sonohyan Utaki still has a deep connection to Ryukyuan spirituality and the royal family, the gate itself has become the main attraction.
Transportation information

The Sonohyan Utaki Stone Gate is located in Shurijo Castle Park. Shurijo Castle can be conveniently accessed by bus and Yui Rail. The nearest Yui Rail station is Shuri Station; the castle is about 15 minutes from the station by foot. There are several bus routes that include Shurijo Castle. For more information on how to reach Shurijo Castle Park by public transportation, visit Transport Navi Okinawa and the Yui Rail website.
Contact information

Sonohyan Utaki Stone Gate (Sacred site)

1-7 Mawashi Shuri, Naha City, Okinawa Prefecture

098-917-3501