Experience the heritage and natural beauty of Kume Island
Kume Island is a jewel of white sand beaches, mountains and pristine streams, surrounded by coral reefs teeming with tropical fish. Swim with sea turtles, dive to see manta rays and hike to castle ruins. A leisurely boat ride or a 35-minute flight from Naha, Kume Island delights with its natural beauty and laid-back lifestyle.
Highlights
Spend a day on the pure white sands of Hatenohama, a 7-kilometer-long sandbar, accessible by boat through tours organized by local tour operators
Taste the local awamori, a distilled rice alcohol, and tour a distillery
Take a leisurely horseback ride along the beach
About Kume Island
Kume Island is around 100 kilometers west of the main island of Okinawa, just a boat ride or a short flight away from Naha. At 48 kilometers in circumference and covering 5,900 hectares, Kume Island is compact but rich in biodiversity, with Ramsar-registered wetlands and rare, endemic animal species.
Beautiful beaches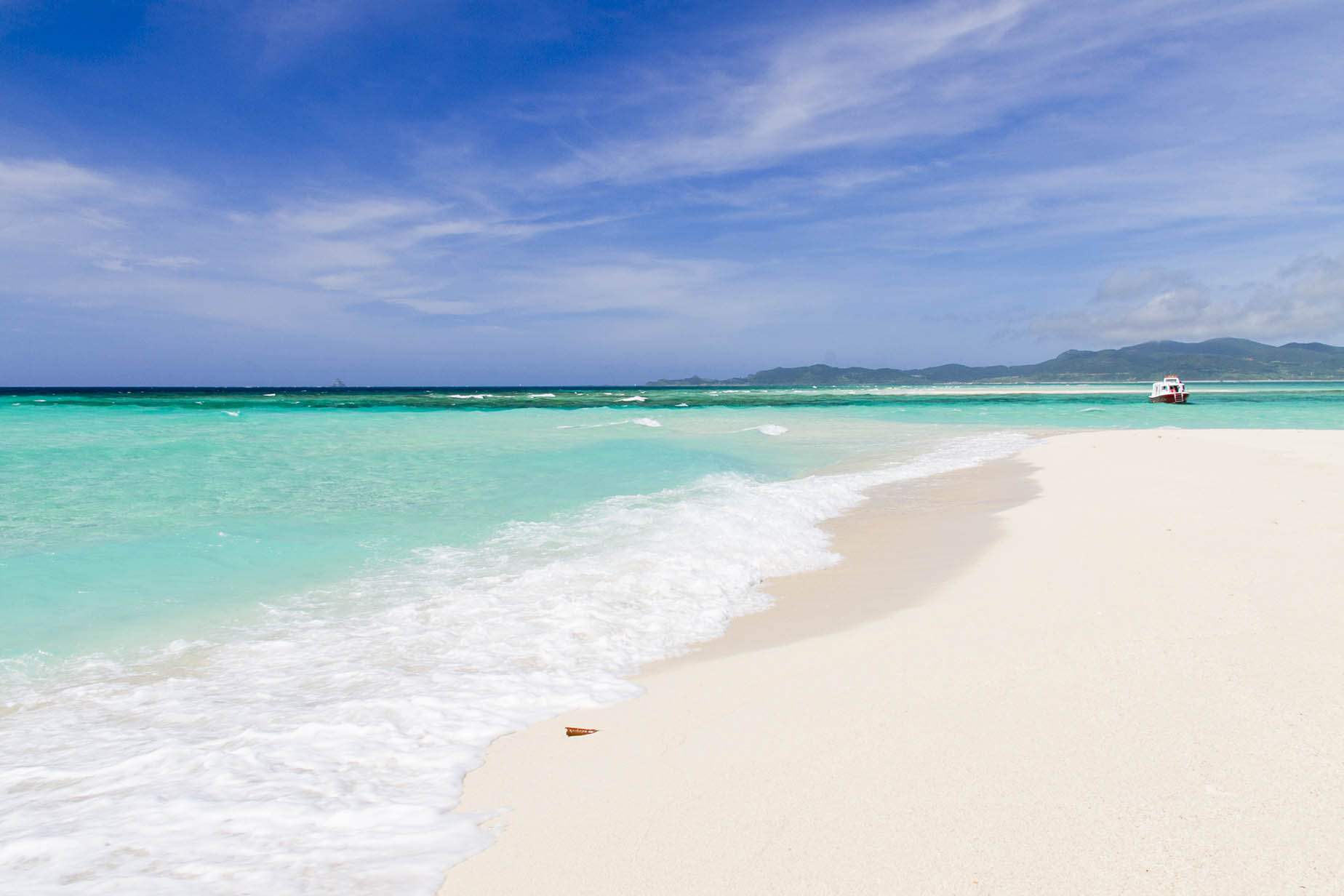 You will be spoiled for choice when it comes to the beaches of Kume Island. Hatenohama Beach is a long sandbar, famed for its white sand, and only accessible by boat. Enjoy snorkeling, or take a dive tour to see manta rays on the reef off of the beach.
Eef Beach on the east side is calm and ideal for swimming. Shinrihama Beach on the west side is a perfect spot to watch the sunset. Ojima Island is a short drive from Eef Beach, connected by a bridge. At low tide, you can see rocks (Tatami Ishi) worn flat by erosion in pentagonal and hexagonal shapes that resemble turtle shells.
Authentic experiences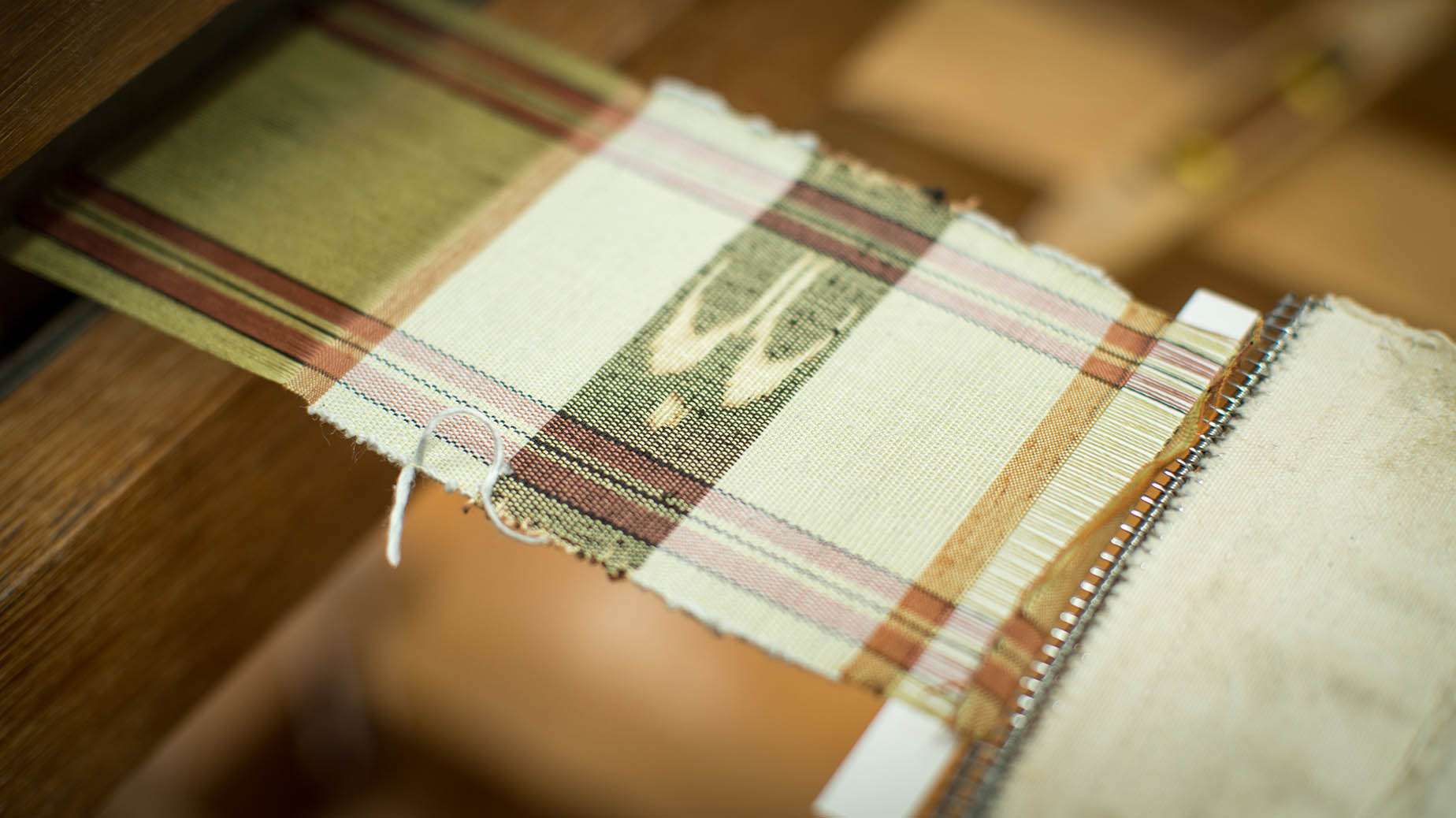 Island life is unhurried, inviting you to slow down and connect with the local culture. Watch local artisans weave traditional hand-made silk, called Kumejima tsumugi. Visit Kume Island's awamori distilleries and try brands that are almost exclusively available on the island. See one of the authentic local festivals, when the island's small population comes together in joyous music and dance.
History and culture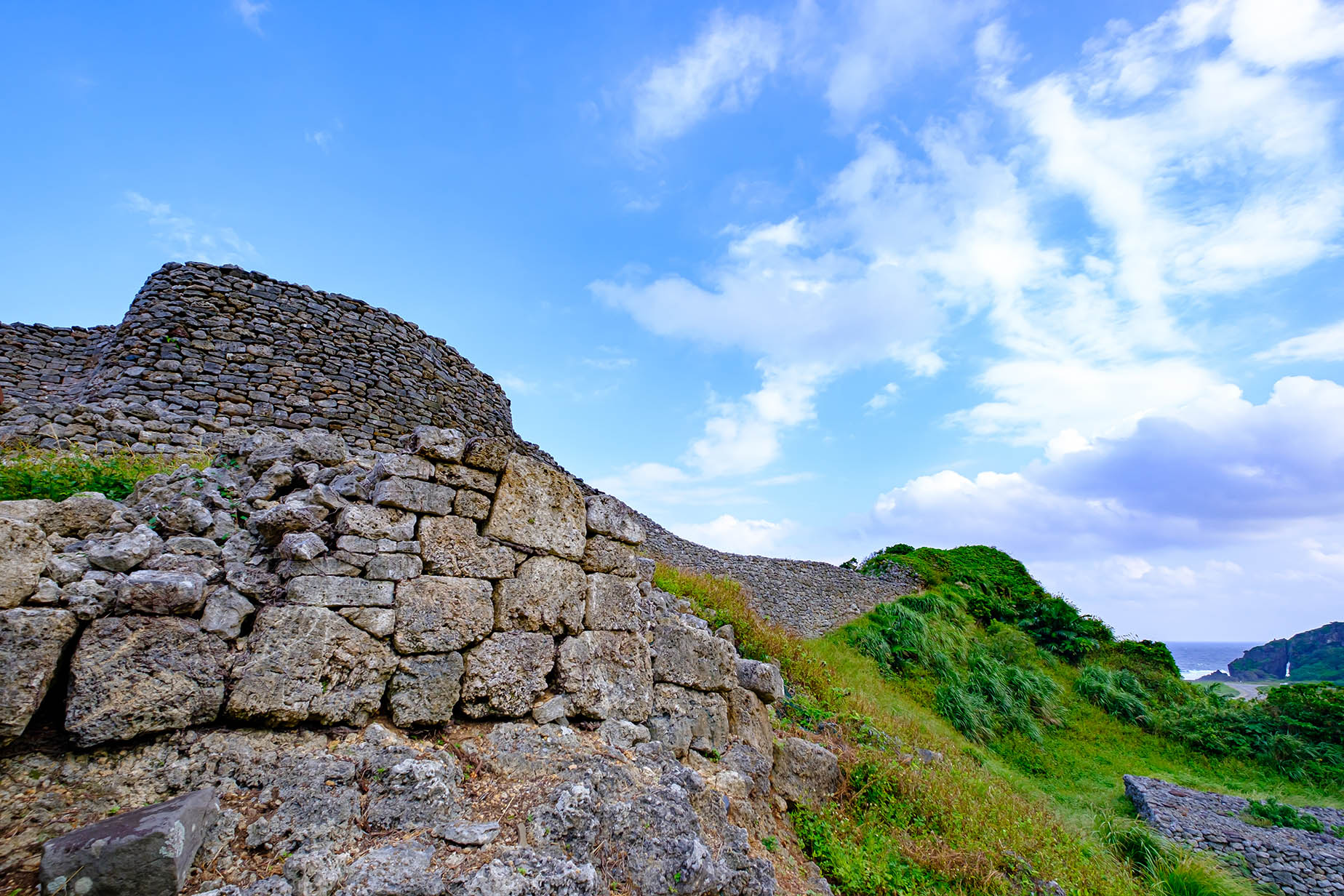 On Kume Island, you can visit the ruins of four pre-17th-century castles: Gushikawa, Ue, Tonnaha, and Chinaha. During the time of the Ryukyu Kingdom (1429–1879) trade flourished, and Kume Island prospered as a port of call on trade routes between China and the main island of Okinawa. Artifacts from China have been found at the sites of the castles indicating the strong trade connections between the Ryukyu Kingdom and China.
The Ue Castle Site (310 m) is the highest castle site in Okinawa, offering 360-degree views of the island. On a clear day, you can see Hatenohama.
Relax and recharge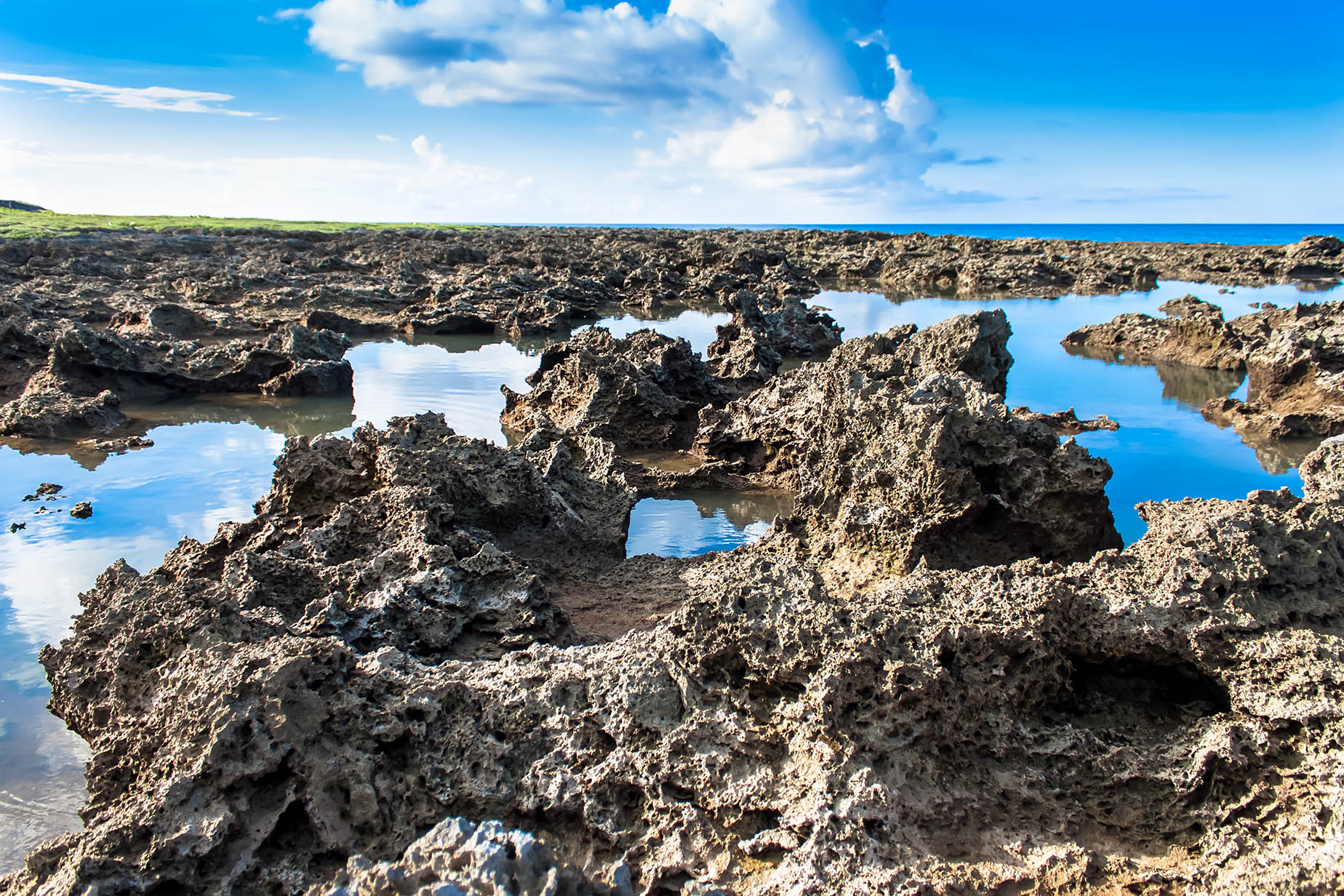 Stay on Kume Island to switch off and relax. Explore marine life in the tidal pools, hike mountain trails or wind down with yoga on the beach. Some resorts offer massages and spa treatments to help their guests relax and recharge. Non-guests can also make reservations at some facilities. For forest bathing and to discover the island's wildlife, take a guided tour of Nibuti Forest, part of the wetlands registered under the Ramsar Convention.
Fresh island flavors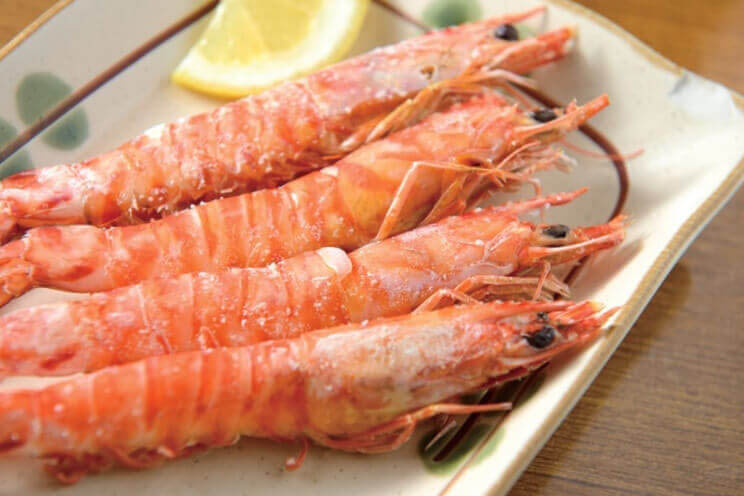 Mineral-rich waters mean delicious seafood. Foodies come to try umibudo (sea grapes or green caviar), which burst in the mouth. Kume Island is famous for kuruma ebi (Japanese tiger prawns), and you can enjoy the sweet, succulent shrimp at restaurants across the island. Kumejima Akadori chicken is another specialty, raised on a diet of nutrient-rich awamori lees. Experience fine dining at the island's resorts, or seek out a local izakaya for a casual meal.
Where to stay
There are accommodations on Kume Island to suit any travel style, from luxury resorts and beachside bungalows to cozy pensions (minshuku). Most accommodations are around Eef Beach on the east side, and some are on the west side of the island near the airport and the ferry terminal.
Getting to Kume Island
Kume Island is easily accessible by airplane and ferry.
There are several flights per day from Naha; flight duration is around 35 minutes. For a few weeks during the summer season each year, direct flights are operated from Tokyo's Haneda Airport. Flight duration is around two and a half hours. The return journey is via Naha and takes approximately four hours including transit time.
Ferries from Naha to Kume Island take between three and four hours. There are usually two roundtrips per day.