Yonaguni Island
Yaeyama Islands
Explore underwater megalithic structures on Japan's westernmost inhabited island
Centuries of isolation sets Yonaguni Island apart from the other Yaeyama Islands. Discover the distinctive crafts that have developed on the island, investigate some of the unique flora and fauna that call the island home, or dive below the water's surface to swim with hammerhead sharks and examine megalithic structures.
Highlights
View the latest sunset in Japan from Cape Irizaki
Dive to encounter hammerhead sharks and explore mysterious ruins
Let the kids saddle up one of the endemic Yonaguni horses
About Yonaguni Island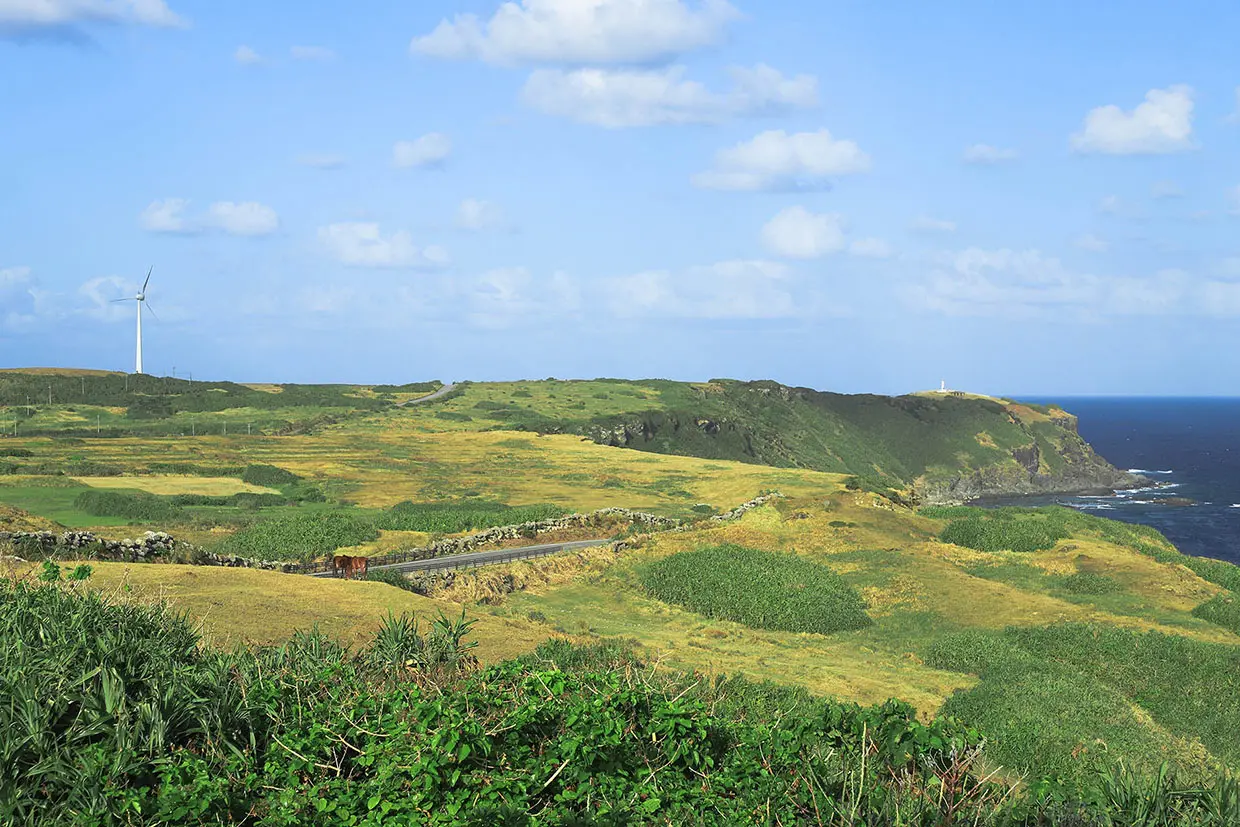 Yonaguni is the westernmost inhabited island of Japan, significantly closer to Taiwan (111 km away) than to Okinawa's main island (about 509 km away). The small island can be circumnavigated easily by car.
Captivating sunsets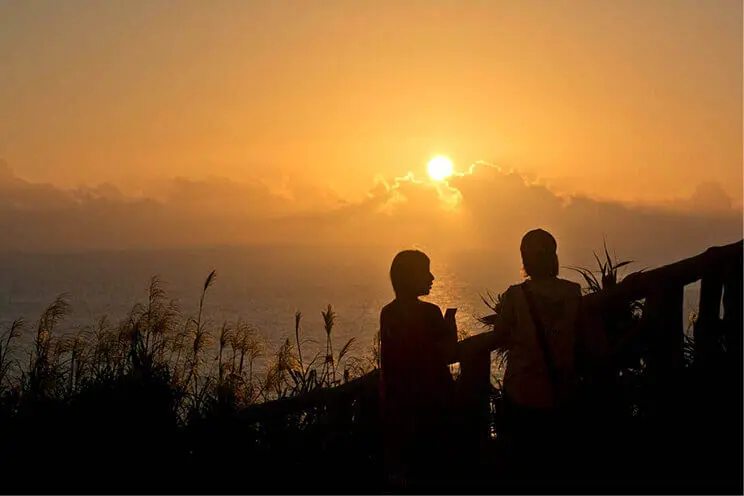 A stone monument at Cape Irizaki marks the westernmost point of Japan. The Kuburabari cliffs above Kubura Port are about a 15-minute walk from the monument, and an excellent vantage point from which to watch the latest sunset of Japan. On a clear day you can see the shadow of Taiwan set against the vivid red horizon as the sun slips away.
Hammerhead habitat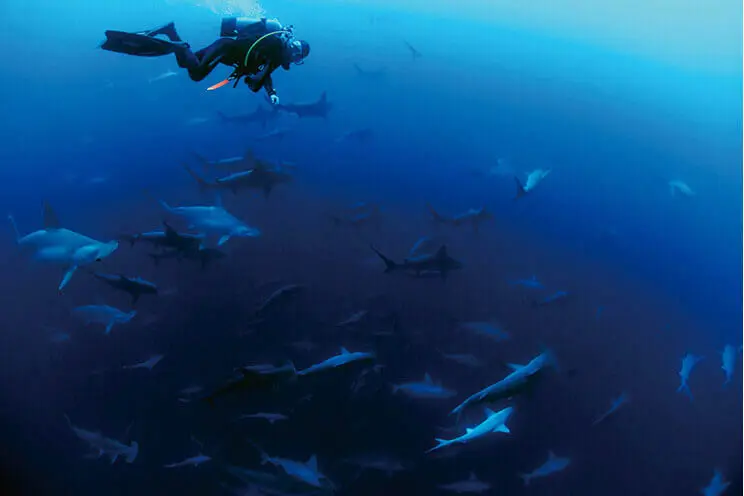 The waters of Cape Irizaki are one of a few places in the world where you can get close to hammerhead sharks. Divers come during the winter season, between November and April, for the chance to swim alongside large shivers of up to 100 sharks. In the warmer months conditions are favorable to dive Yonaguni Island's cave formations at the Palace of Light and Double Arch dive locations.
The island currents are strong as there is no surrounding reef for protection, so most of the dive sites are only for advanced divers. Discuss conditions and any other concerns in advance with a dive shop.
Underwater mystery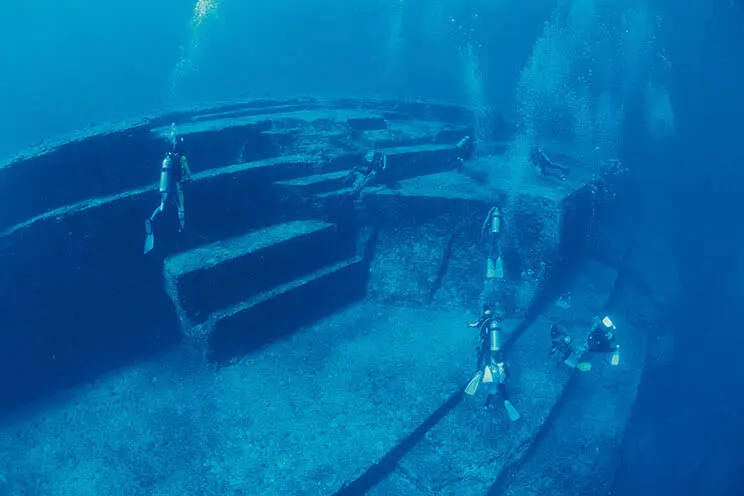 Arguably the biggest draw for divers is a group of apparent megaliths lying on the seabed to the south of Yonaguni Island. The mysterious 100-meter-long stretch of topography appears to be a series of steps and stone pillars, but debate still rages as to whether these are a man-made relic of a lost civilization or a natural occurrence. Experienced divers should book a tour at one of the local dive shops, which also run semi-submersible sightseeing boat tours for curious non-divers.
Preserved culture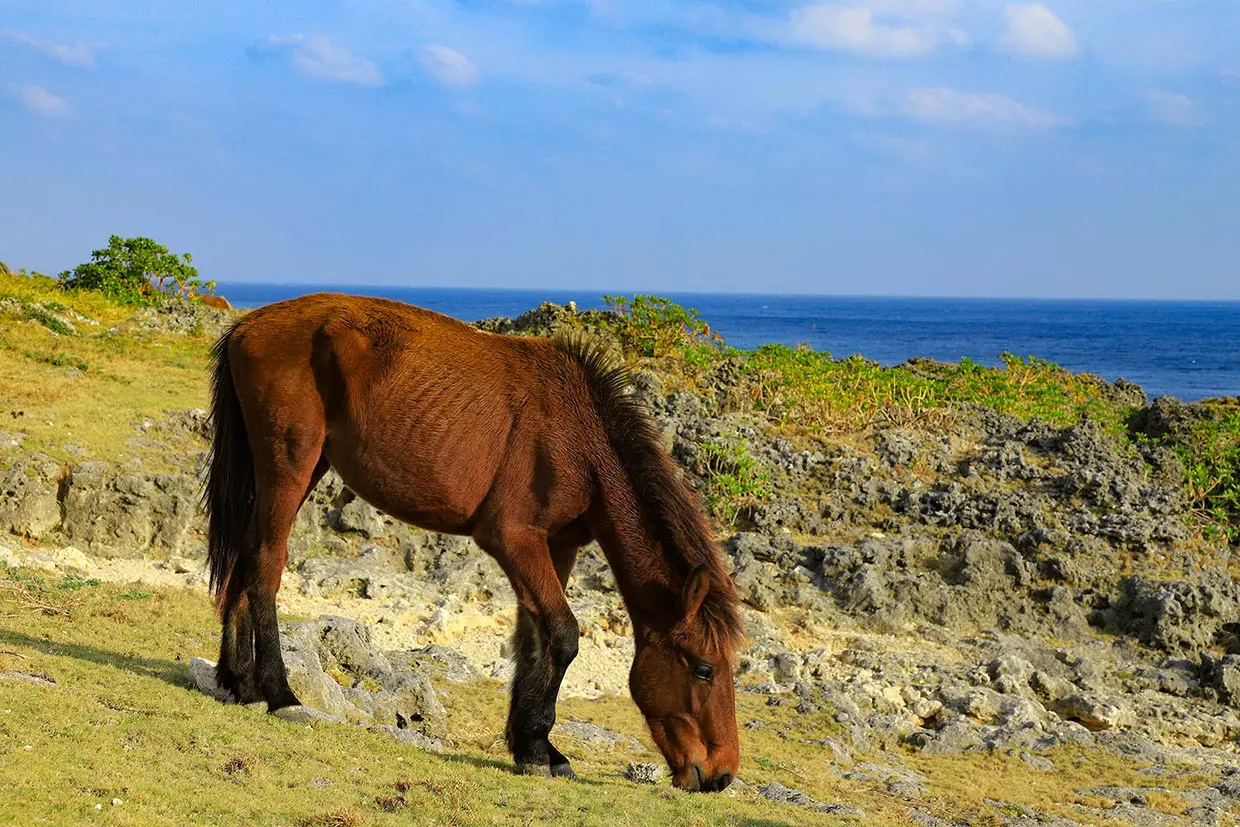 The diminutive pony-like Yonaguni horse is a rare breed native to Yonaguni Island. The horse played a historical role in island agriculture. Children can get hands-on with these animals by booking a riding course, with options ranging from a 30-minute excursion to a 2.5-hour beach trek.
Visitors can watch or experience Yonaguniori, a weaving technique using threads that have been dyed with plants, trees, and soil from the island. One person performs the whole process, from design to completion, with the most popular fabrics consisting of simple geometric patterns of stripes and small flowers.
Where to stay
Hotels and guesthouses offer a relaxing stay on the island. The properties are concentrated near the two ferry terminals: Sonai Port in the north and Kubura Port in the west. There are a couple of additional accommodation options at Hikawa Beach in the south.
Getting to Yonaguni Island
Yonaguni Island can be reached by air or sea. Flights on small, twin-propeller aircraft take 90 minutes from Naha Airport, or 30 minutes from Ishigaki Airport. A ferry from Ishigaki Port takes about four hours, and the service operates on Tuesdays and Fridays. Both flights and ferries can be cancelled at short notice due bad weather, particularly during typhoon season, and schedules are subject to change.