Yanbaru
Northern Okinawa Main Island
Explore lush forests, dramatic coastlines, and tranquil mangroves
Yanbaru's subtropical evergreen forests, mangroves, and limestone mountains are an important habitat for rare plants and animals, including the endemic Okinawa rail. This distinctive area in the northern part of the Okinawan mainland is a veritable playground for nature enthusiasts, with waterfall hikes, canoeing and kayaking adventures, excursions to secluded beaches, and wildlife watching.
Highlights
Exploring the fascinating rock formations at Daisekirinzan
Hiking through a lush subtropical forest to Hiji Waterfall
Canoeing downriver through the Gesashi Bay Mangrove Forest
About the Yanbaru Area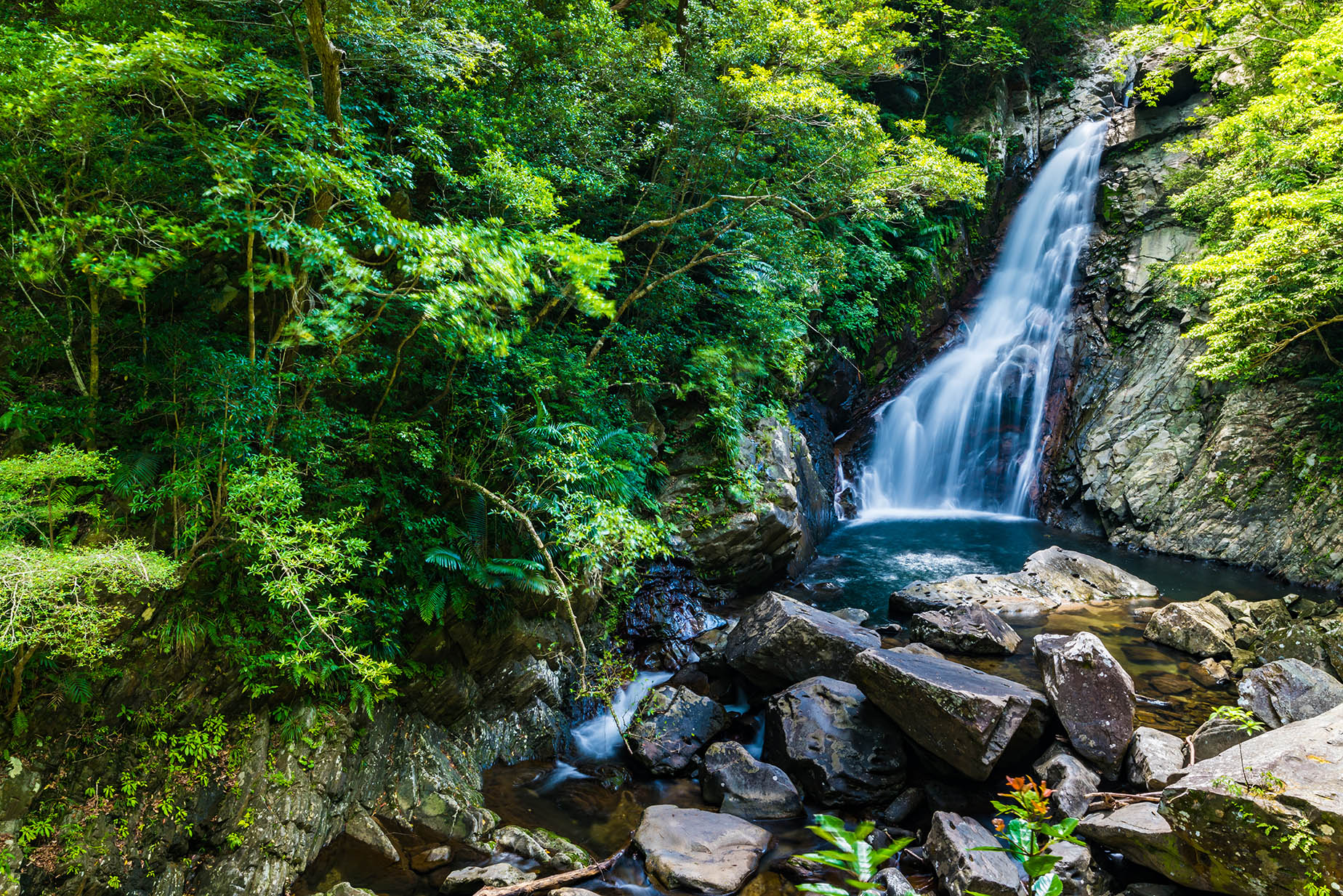 Yanbaru is the name of the northern area of Okinawa's main island and means "densely forested mountains." Much of this biodiverse region is protected within Yambaru National Park, which occupies an area of around 174 square kilometers. Traveling here by car will give you the most freedom and enjoyment.
Coastal views and Cape Hedo
Cape Hedo, the northernmost cape on the main island, offers panoramas of the South China Sea and Pacific Ocean, and views of jagged limestone cliffs. The otherworldly karst rock formations of Daisekirinzan are about a 5-minute drive inland from the cape. Here, you can walk along trails amid the uniquely shaped limestone karsts that formed around 200 million years ago.
For travelers based in Nago, a drive along the coast on Route 58 to Cape Hedo takes around an hour, with ocean views along the way. If returning via Higashi Village along Route 70, be sure to drive slowly as there are many bends, and Okinawa rails may be crossing the road.
Exploring forests and mangroves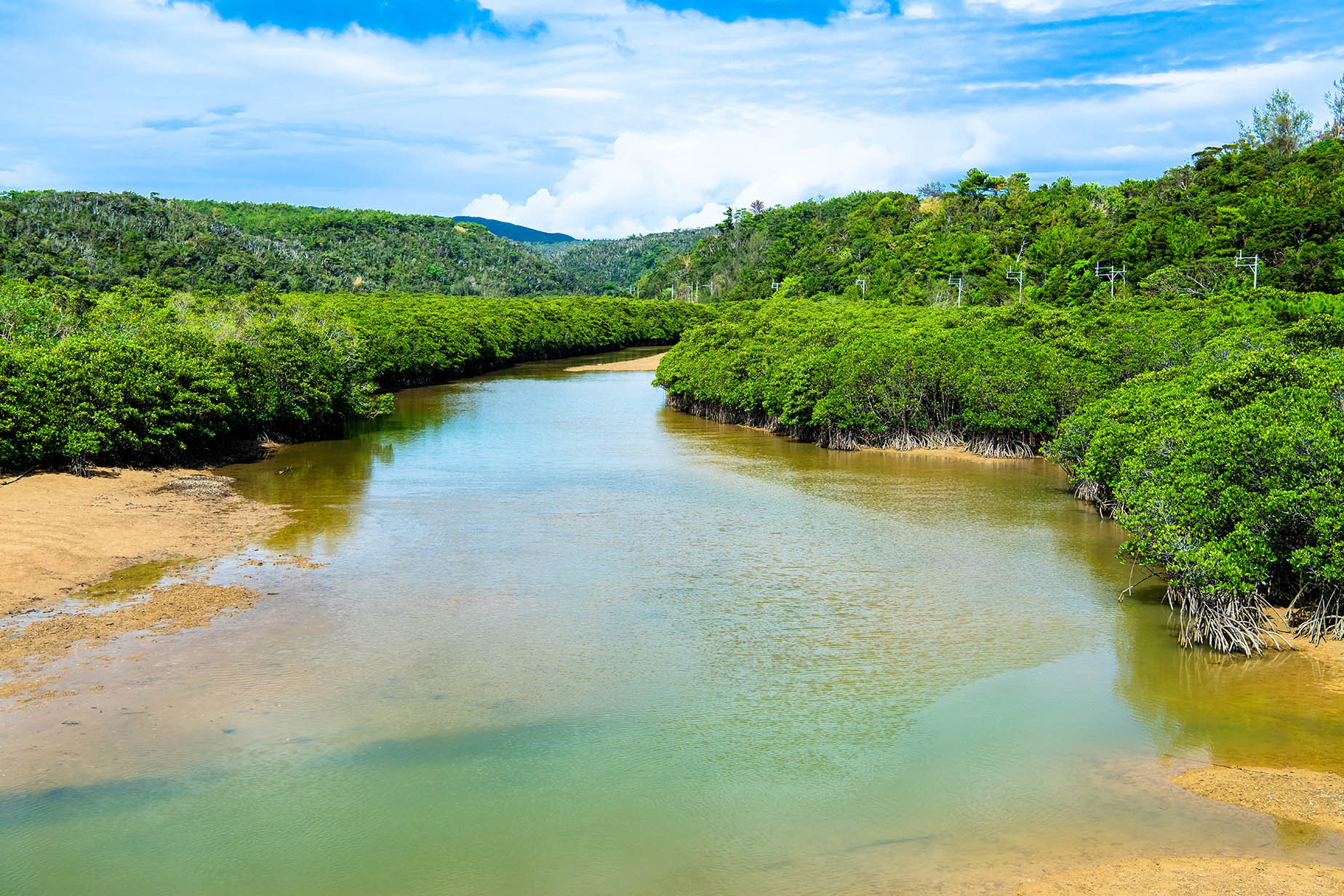 The subtropical forests of Yanbaru are home to thousands of plants and endemic animals. Visitors can experience this incredible environment on walks through the Kunigami Forest Park or to Hiji Waterfall. Along the promenade to the falls, take in the lush forest of indigenous tree ferns and vibrant flowering plants. Hiji Waterfall is the tallest waterfall on the main island of Okinawa, with a 25.7-meter drop.
Activity centers in the Kunigami area offer an array of activities within the forested landscape, including ziplining, kayak tours, guided walks, and night hikes.
The Okinawa Rail Learning Center, a 30-minute drive to the east of Kunigami Forest Park, offers visitors the chance to gain in-depth knowledge about the Okinawa rail, a flightless bird native to the area. Visitors can observe the birds behind a glass enclosure here.
At Gesashi Bay Mangrove Forest in southeastern Yanbaru, explore the 10 hectares of mangroves along wooden walkways, or by joining a guided paddling excursion.
Off-the-beaten-track beaches
Several quiet hidden beaches dot Yanbaru's eastern coastline. Some have showers, toilets, and camping facilities, but many are natural beaches without facilities. The beach at Fukuchi River Seaside Park, near Higashi Village, is well maintained and has canoe and stand up paddleboard rentals.
Where to stay
Yanbaru has a large variety of accommodations, with family-friendly hotels, private beach resorts, villas, guesthouses, and rental properties. Eco-friendly options include camping, auto camping, and bungalows.
Getting to Yanbaru
Driving is the best way to get to the Yanbaru area from Naha. Using the expressway, it takes about two hours and 30 minutes to Cape Hedo, Yanbaru's northernmost point. It is possible to visit the area using public transportation, but infrequent service makes renting a car a better option.