Domestic Flights
Okinawa is well connected by flights from major destinations across Japan
Direct flights operate to Naha from Narita International Airport, Tokyo International Airport (Haneda), and many other major airports around Japan. Some regions also offer direct flights to popular remote islands such as Miyako and Ishigaki. Both major airlines and budget carriers operate routes to Okinawa, so it is easy to find something to match your budget and schedule.
Discount fares for overseas visitors
Japan Airlines and All Nippon Airways offer domestic flights at discounted prices for visitors from overseas. Browse discount fares to Okinawa, and plan your trip today.
*As of July 2019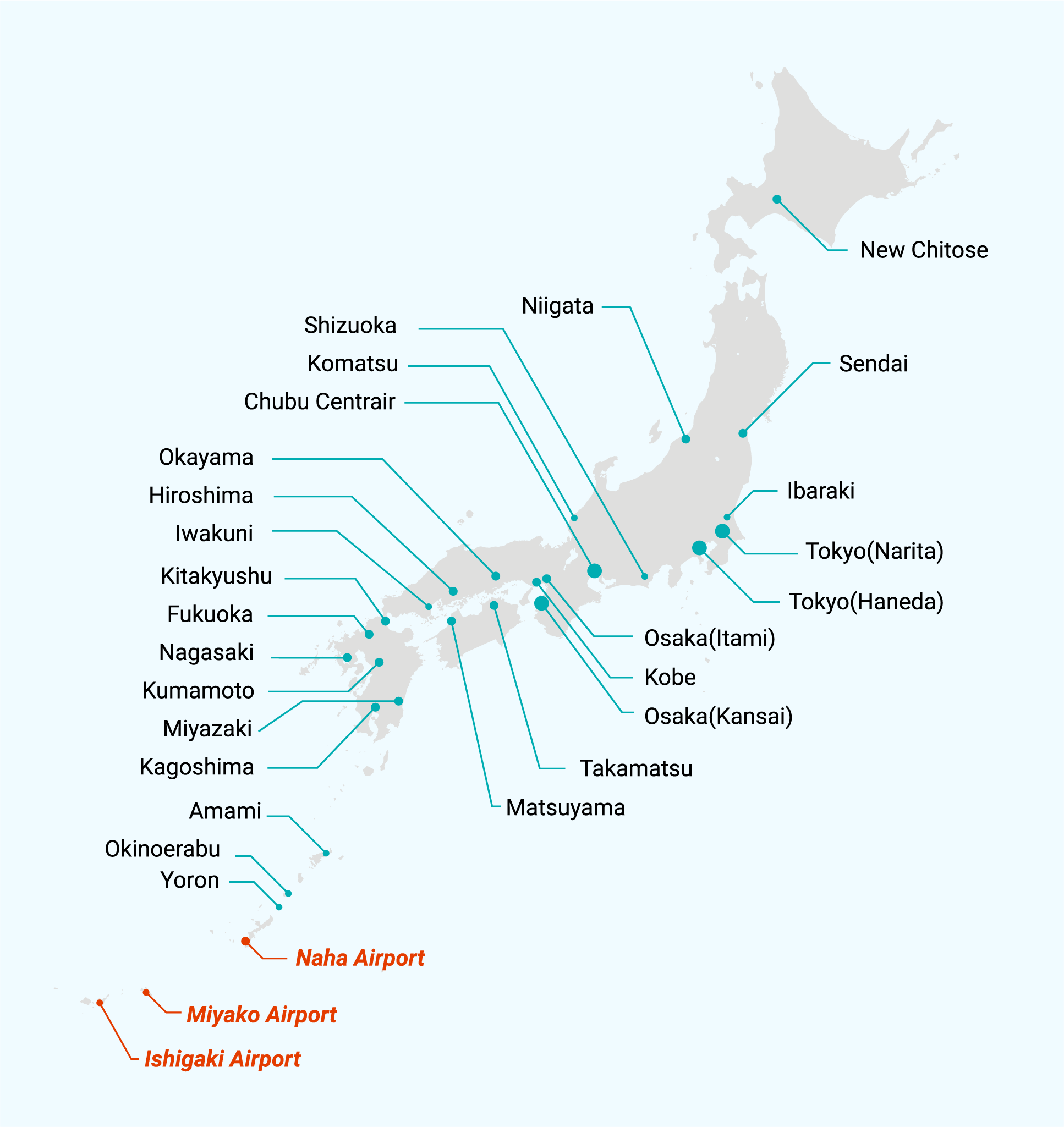 Direct Flights to Naha Airport
Direct Flights to Ishigaki Airport
| From | Flight Time | Airline |
| --- | --- | --- |
| Tokyo, Tokyo International Airport (Haneda) | About 3 hr 15 min | |
| Tokyo, Narita International Airport | About 3 hr 40 min | |
| Osaka, Kansai International Airport | About 2 hr 20 min | |
| Aichi, Chubu Centrair International Airport | About 2 hr 45 min | |
| Fukuoka, Fukuoka Airport | About 2 hr | |
Direct Flights to Miyako Airport
| From | Flight Time | Airline |
| --- | --- | --- |
| Tokyo, Tokyo International Airport (Haneda) | About 2 hr 55 min | |
| Osaka, Kansai International Airport | About 2 hr 15 min | |
| Aichi, Chubu Centrair International Airport | About 2 hr 30 min | |
| Fukuoka, Fukuoka Airport | About 2 hr | *Flights operate seasonally (4/27–5/6, 6/1–10/26) |
Direct Flights to Shimojishima Airport
2019/5/1–2019/10/26