Flavors of Okinawa
Dive Deep into Okinawa's Nightlife in Koza
Explore the unique nightlife in Koza, the epicenter of Okinawa-US fusion
There are many attractive night areas on Okinawa's main island, such as Naha's Kokusai Street and environs, and some areas around Chatan. But to get an authentic dose of Okinawa nightlife, it's impossible to overlook the old center of Okinawa City, commonly referred to by its traditional name of Koza. Focused mainly around Gate 2 Street leading to the Kadena US Air Force Base, this area has been a hub for music and nightlife since its heyday in the 1960s and 1970s. The rich legacy of music, food, and international culture perfectly captures the notion of champuru (meaning "mixed" in Okinawan) culture that emerged with the US influence on the islands.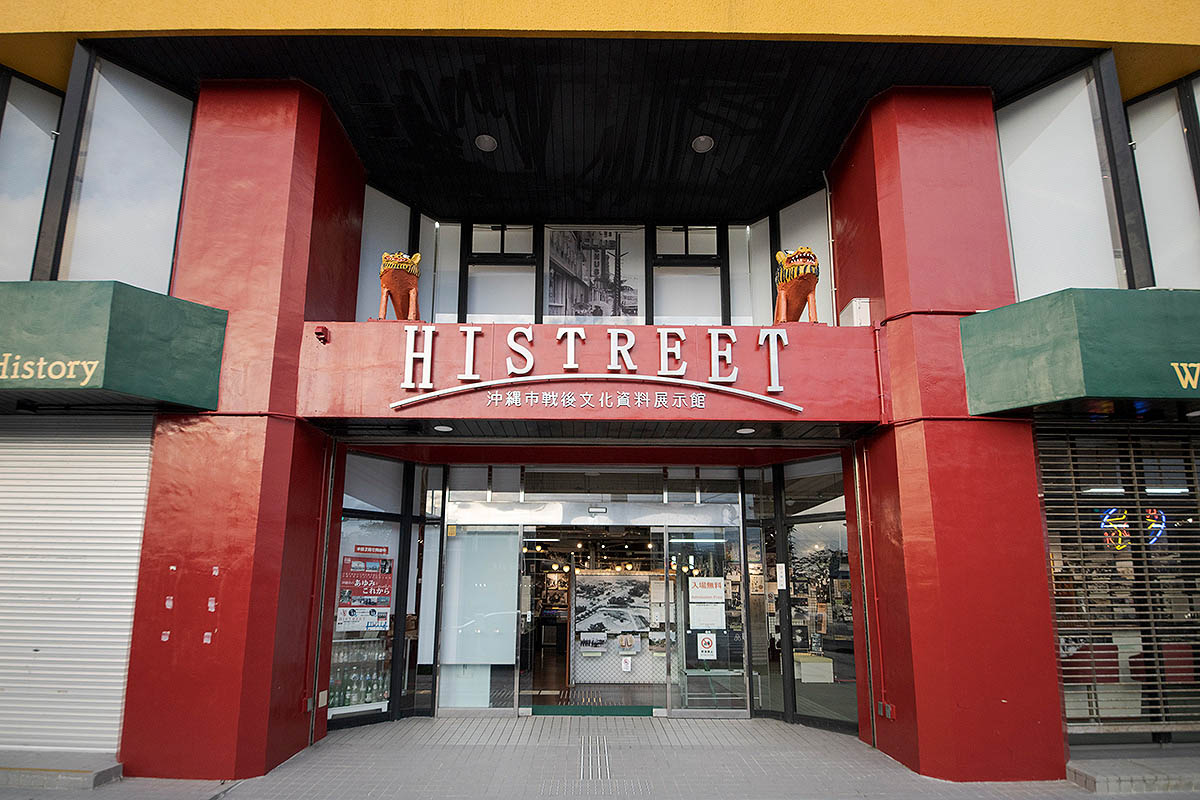 Although recent, the history of the Koza area is rich. For those interested in its history, it is worth visiting the very informative mini-museum Histreet on Koza Gate 2 Street before heading out to explore the nightlife. The 27 years when Okinawa was under direct US rule were turbulent in Koza. However, it was also an incredibly creative and dynamic era, giving rise to a strong music culture that blends the best of Okinawan folk music and American rock, something that remains vibrant to this day.

Located in the middle of the main island, it is easiest to get to the Koza area by bus from central Naha, or by taxi from other areas. As nightlife is the highlight of Koza and sampling the many types of food and drink is a big part of the pleasure, remember not to drive there if you intend to drink. Ideally, it is best to enjoy the night time activities to the fullest, and stay in one of the many boutique hotels that are located in the area. Below we introduce a range of nightspots that cover the spectrum of the many entertainment options available in this unique part of Okinawa.
Café Ocean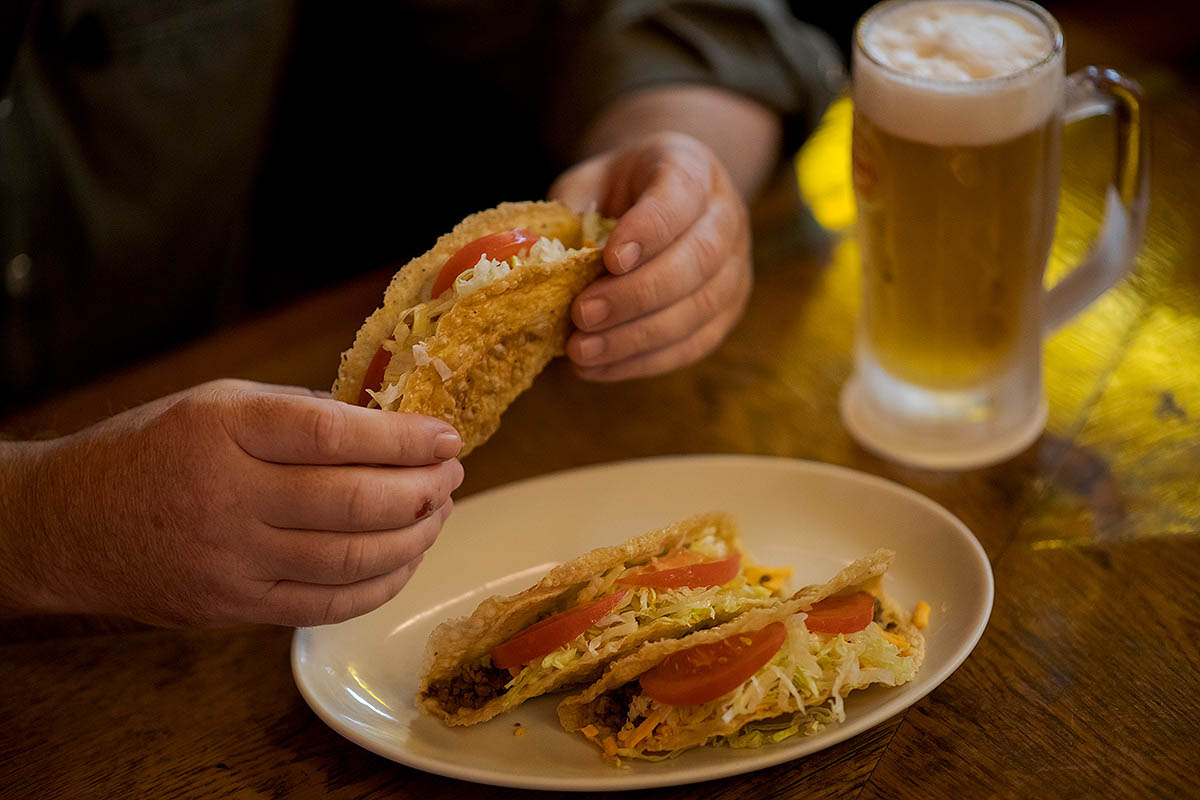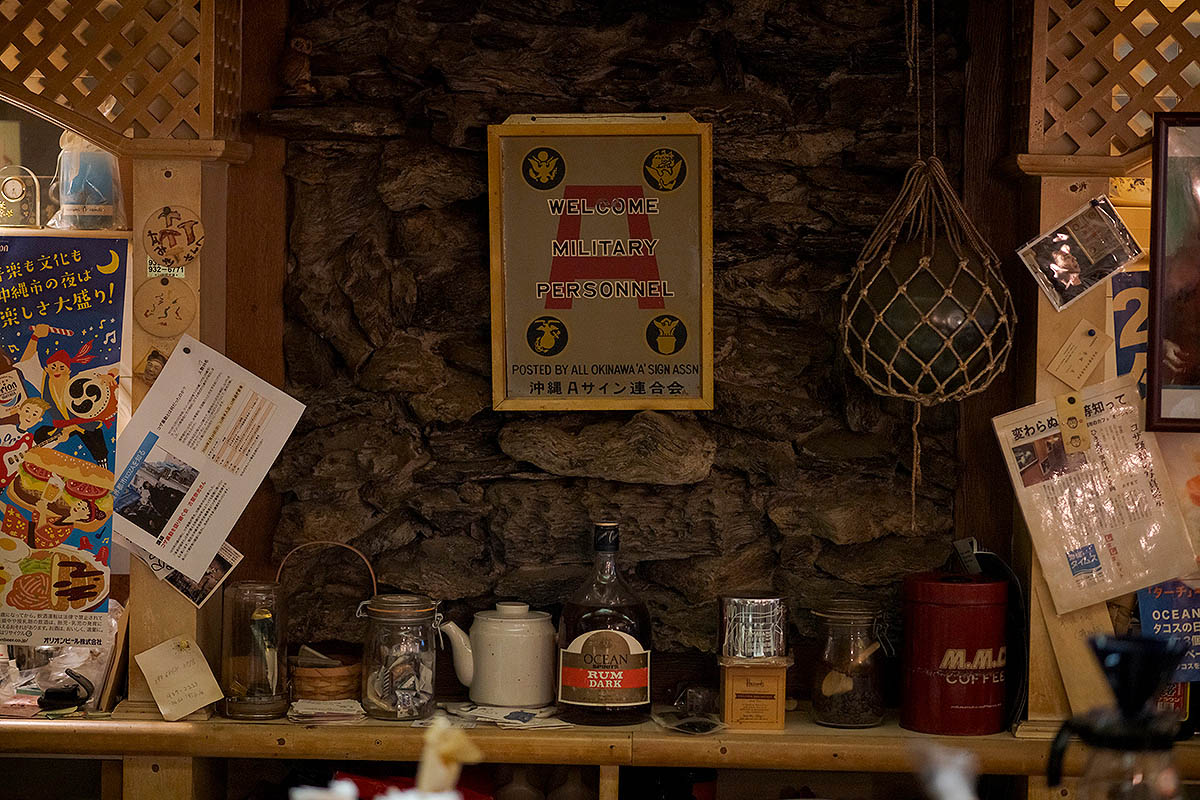 Café Ocean is one of a dwindling number of "A" sign establishments remaining in Koza. The "A" refers to "Approved" by the US military for servicemen to frequent, and in the heyday of Koza, they were issued to hundreds of nightlife venues, restaurants, and shops. Prepare for a trip back in time when you step into Café Ocean. Established 50 years ago at the height of the Vietnam War, the decor has changed little, and the walls are heavily decorated with nostalgia. For food, you can't miss the tacos. With its thin crispy shell, this dish is sure to delight. Café Ocean is also known for Japanese folk music and has regular live performances. If your visit doesn't coincide with a performance ask the owner Mr. Yara, an accomplished singer-songwriter, to roll out a tune for you. He's very good!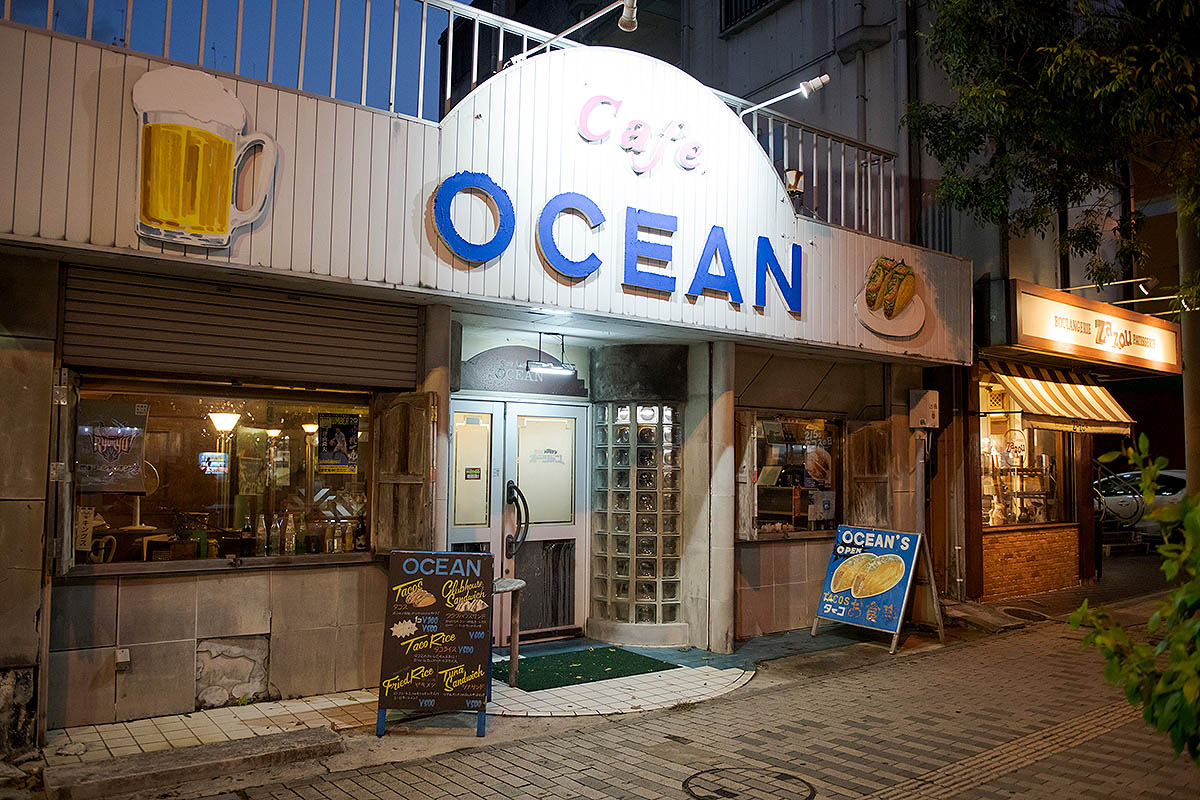 Red Kitchen & Café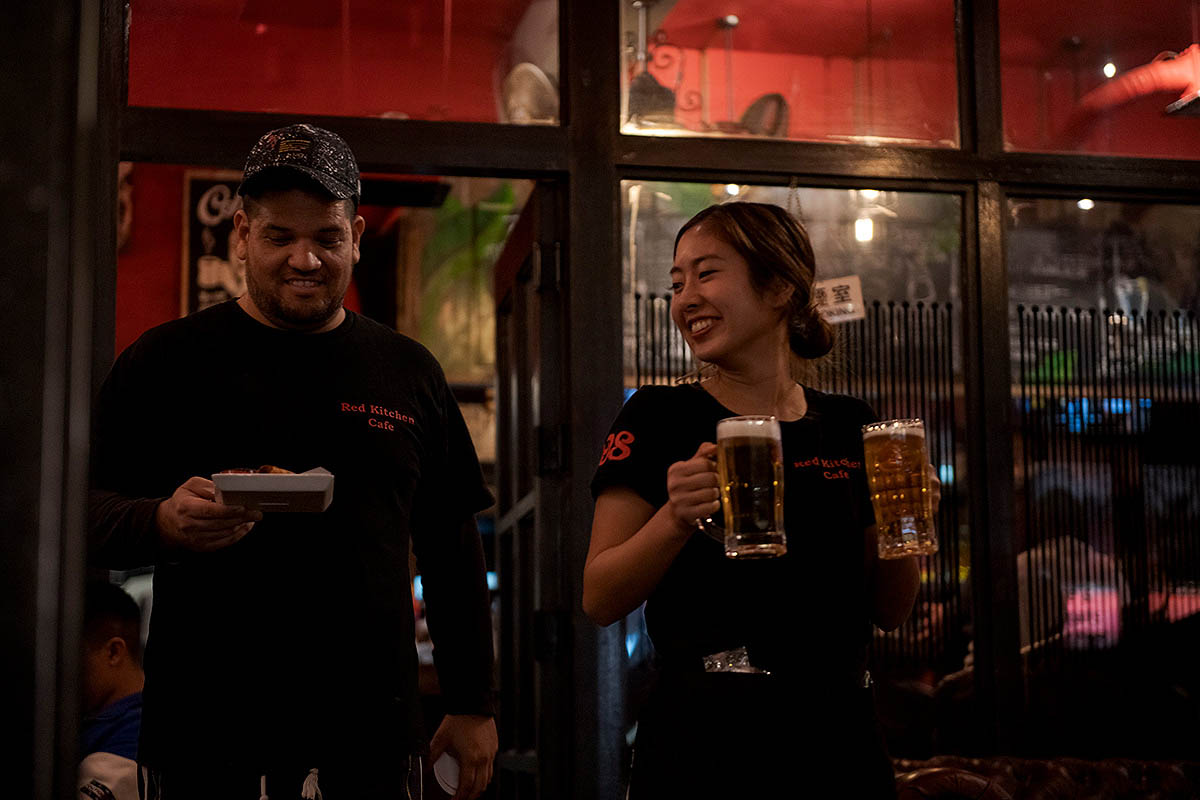 The ever-popular Red Kitchen & Café is located near the main intersection of Koza Gate 2 Street, opposite the landmark Koza Music Town (a must-visit destination in itself). It offers a very international menu, featuring Thai, Brazilian, and many other cuisines. One look at the interior and the name becomes self-explanatory, with the vibrant red color scheme perfectly contrasted by the plush leather couches. It's also a great place to try out special senbero deals, which are a feature of Koza nightlife. The deals allow you to get a combination of food and drink that will keep your stomach and wallet happy. There is a very international happening vibe here, and its location and great food make for an ideal place to meet friends before a big night out.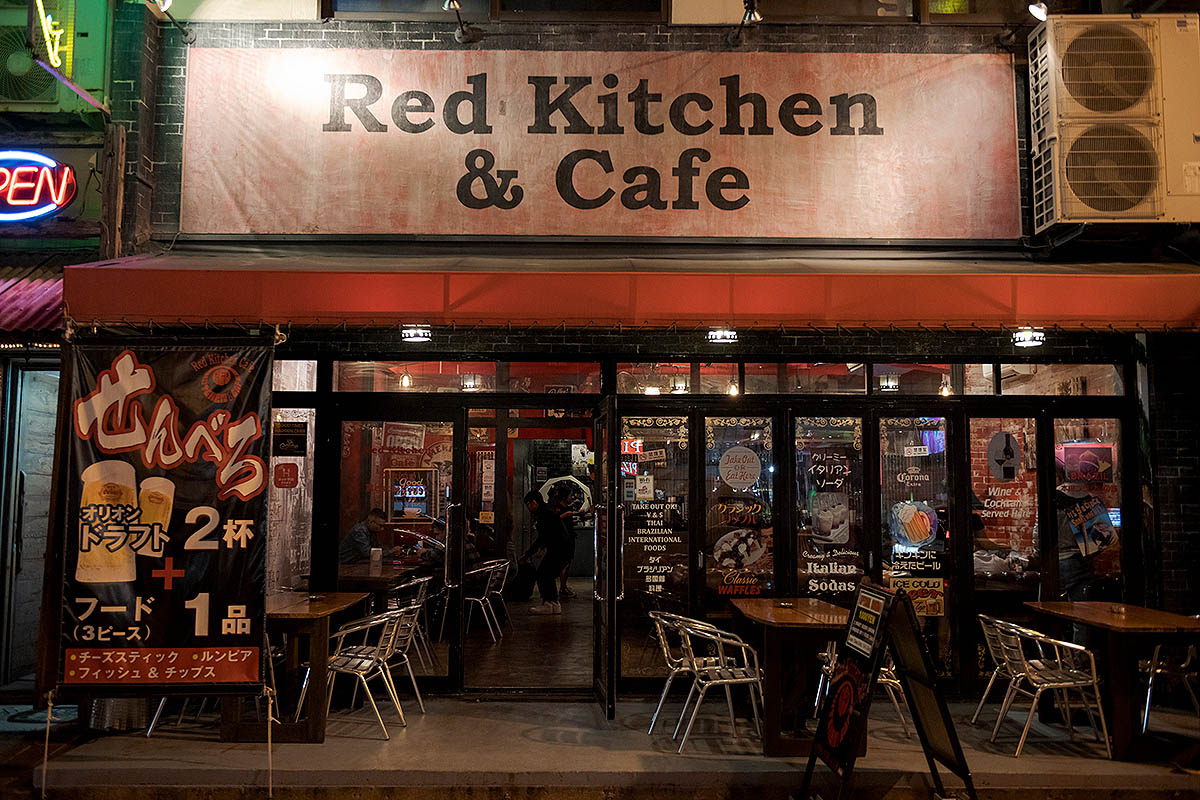 Gators Bar & Grill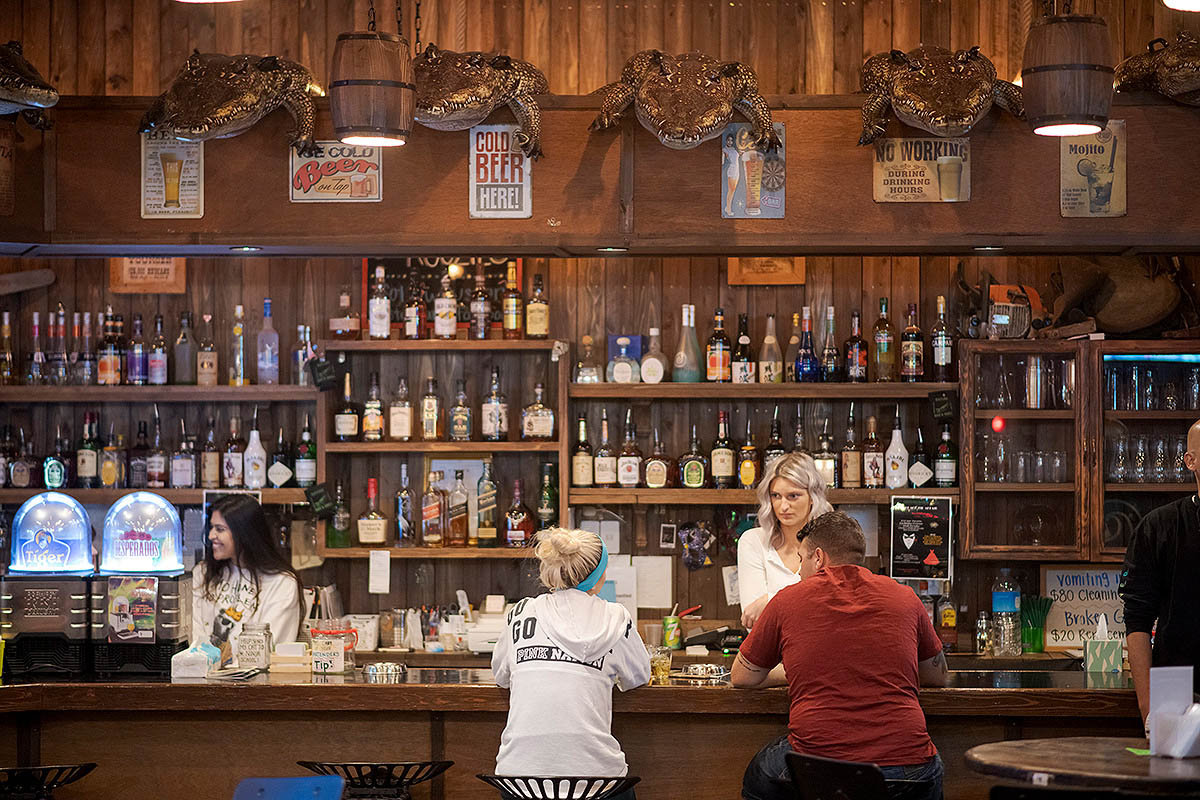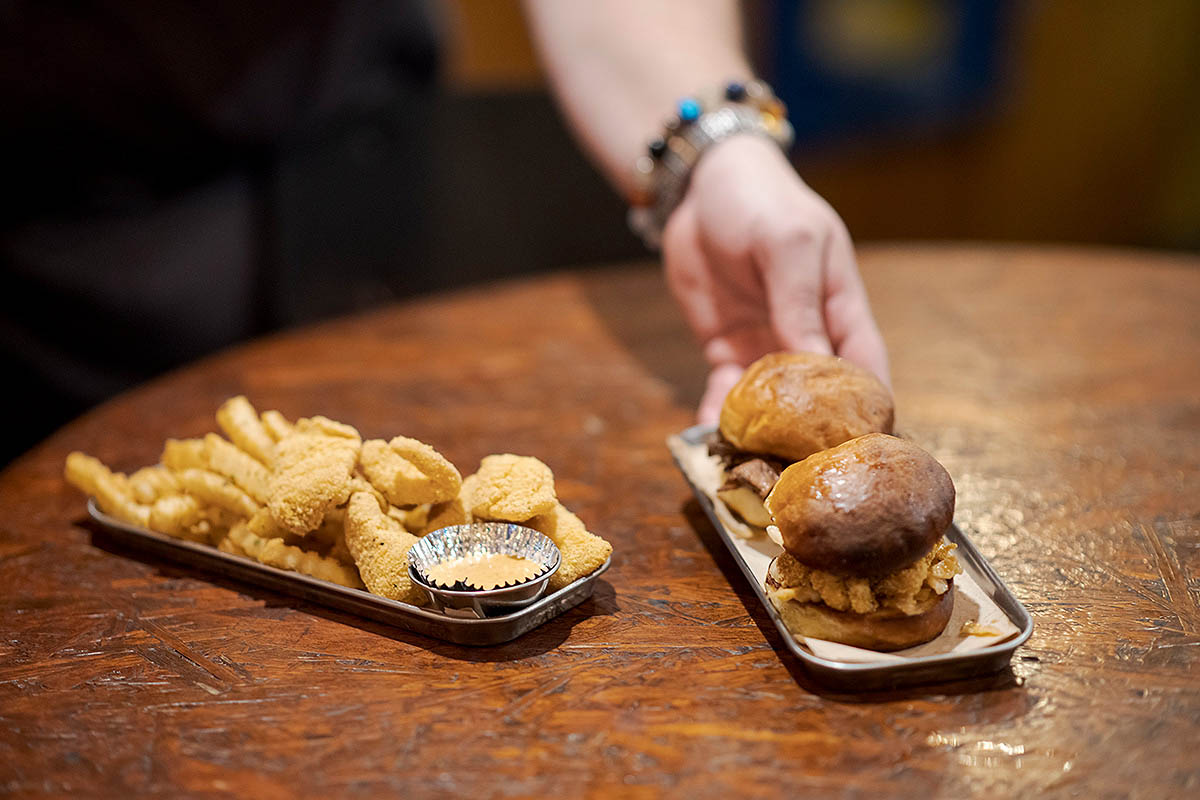 For those with a hankering for some cooking and country music from the American south, you can't go past Gators Bar & Grill on Gate 2 Street. The only southern themed bar in Koza, it comes complete with (inflatable) alligators overlooking all from the bar, and the real thing also features on the menu. There is a great selection of iconic southern food to choose from, including mainstays such as hamburger sliders and delicious catfish and chips. With country music on high rotation, a picture of John Wayne on the wall, and farm tools as decorations, the entire place seems as if transported from the other side of the world.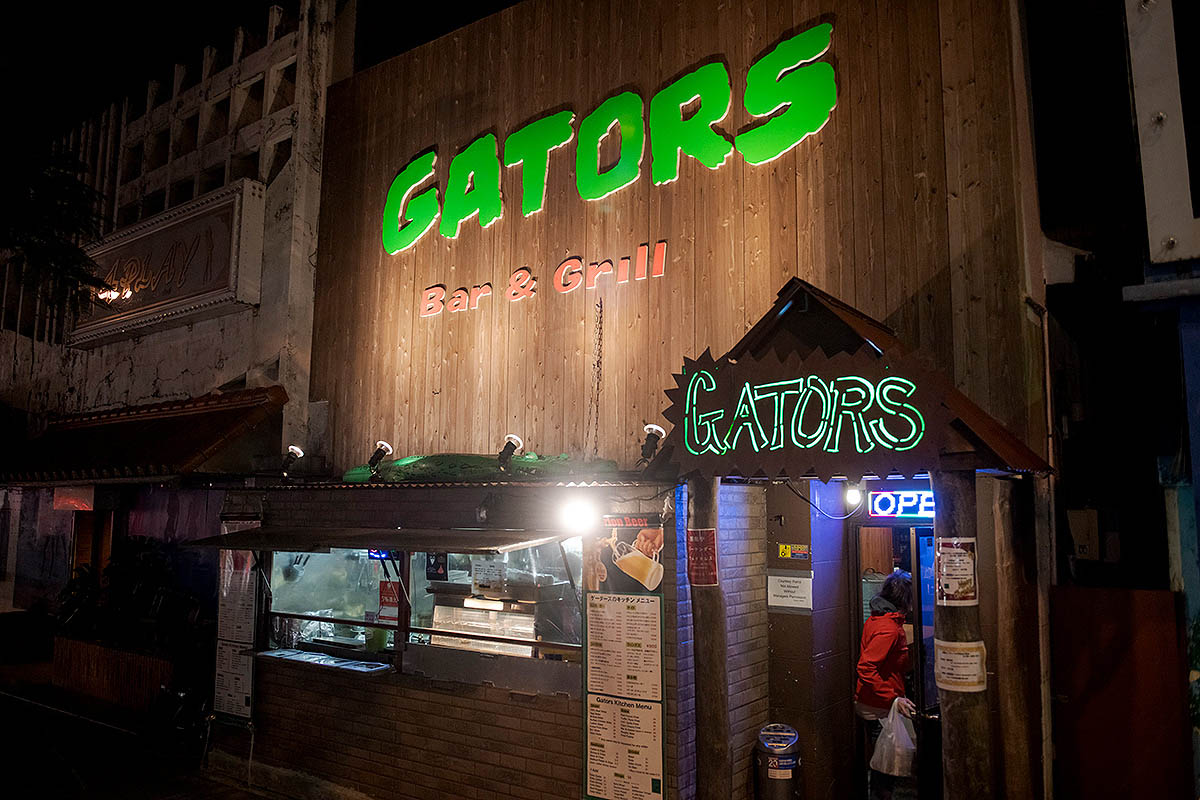 Bobby's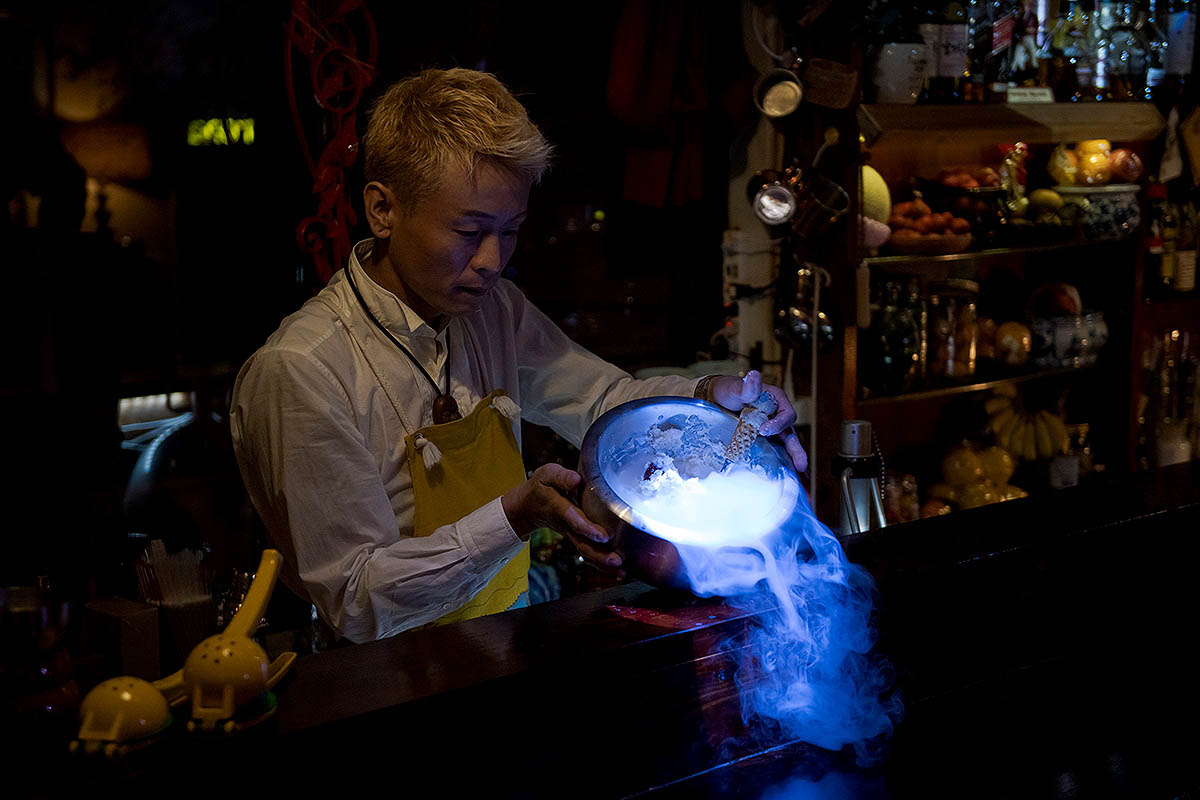 Tucked into an alley between the Ichibangai arcade (Okinawa's oldest arcade, also a lively evening destination) and Route 330, is Bobby's, a stylish cocktail bar on the second floor with big windows and an attractive view overlooking the busy street scene below. The pleasant aroma of the abundant fresh flowers gets your attention immediately, but that is just the start of the sensory pleasure in store. One look at the fresh fruit stacked up behind the bar and you know the cocktails are a treat. The owner-bartender, Mr. Tadaka, is a self-taught cocktail artist that creates both visual and tasty delights that never fail to impress. Every concoction is his creative expression, and he has the aura of a master artist whose canvas is a glass. This bar is a quiet oasis ,and the perfect place to take in the delightful music, sink into your chair, and marvel at the concoction sitting before you.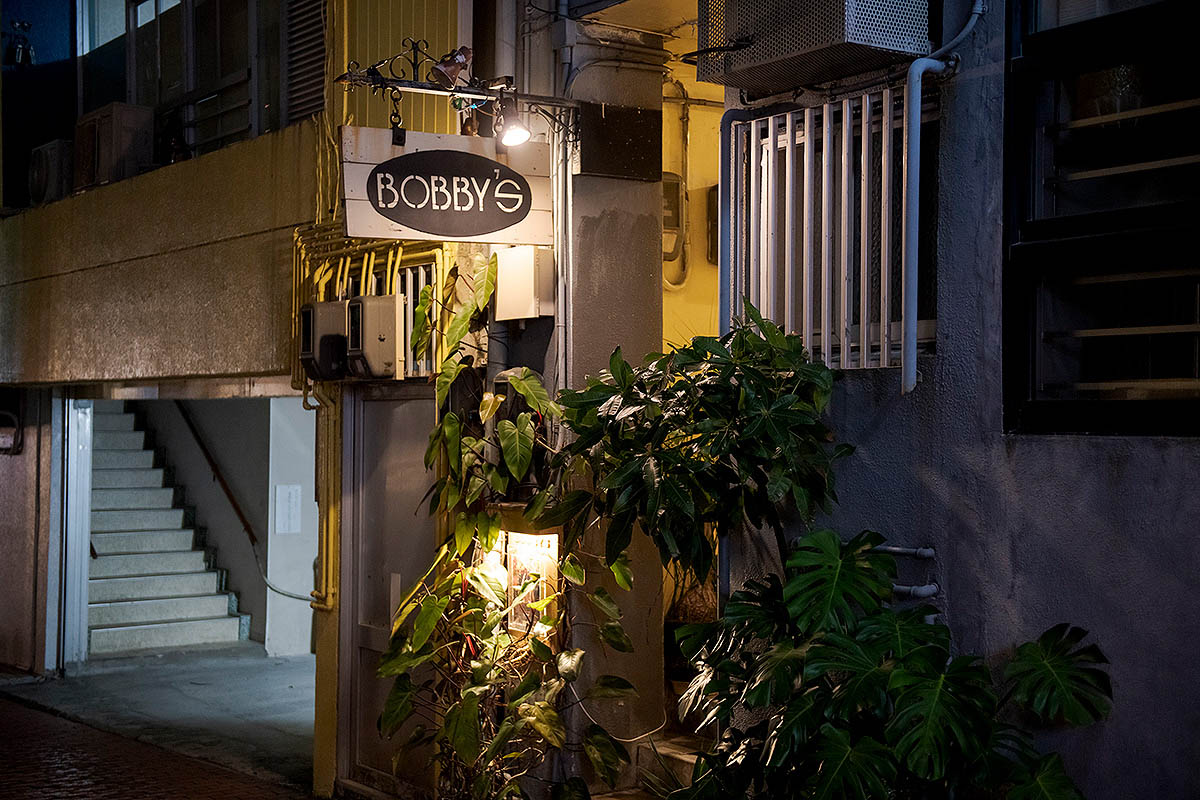 Gate 2 Garage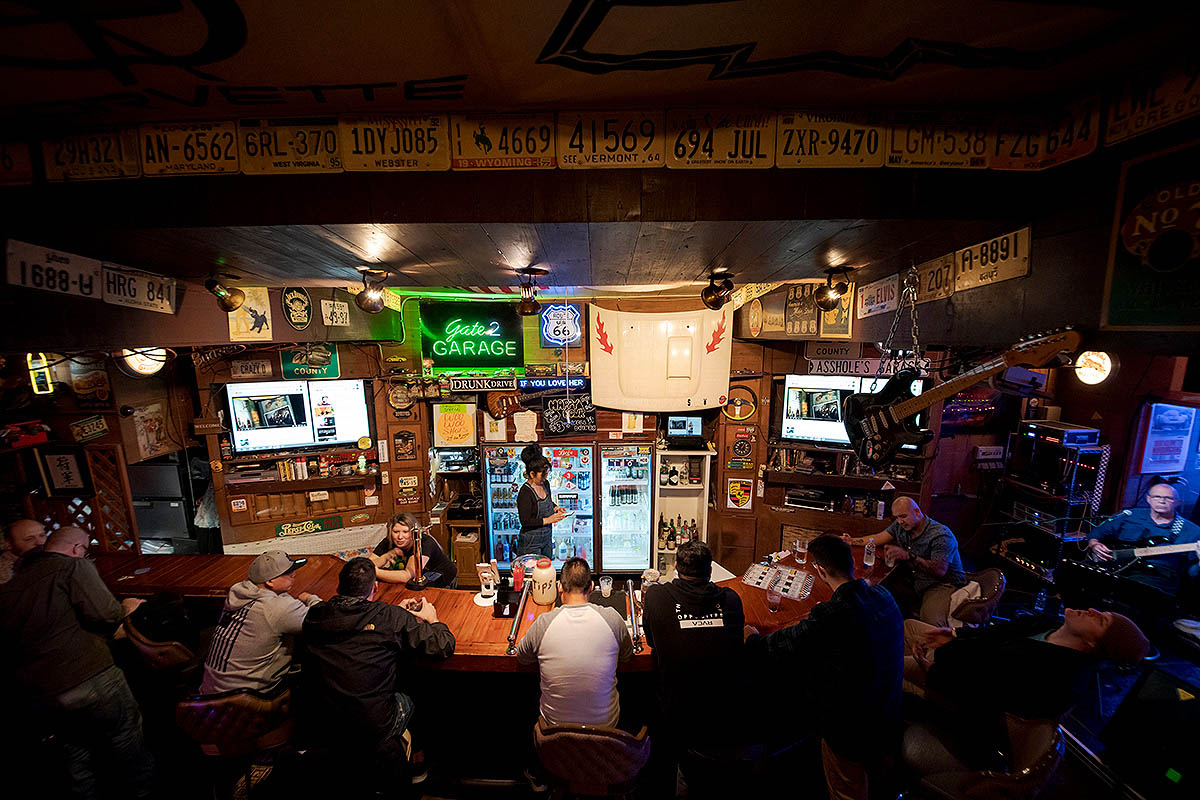 Koza is a music town, and the variety of live music spots and the sheer diversity of what can be seen in this little area will make your head spin. One place that has proved popular for more than 20 years is Gate 2 Garage, a smallish venue but one that has consistently high-quality acts. You are sure to get a good gig here on the weekends. The venue is decked out with car license plates which adds to the "garage" feel, as does the gasoline stand format of the drink menu, which guarantees you will stay well lubricated while enjoying the classic rock and blues music performances in this venue.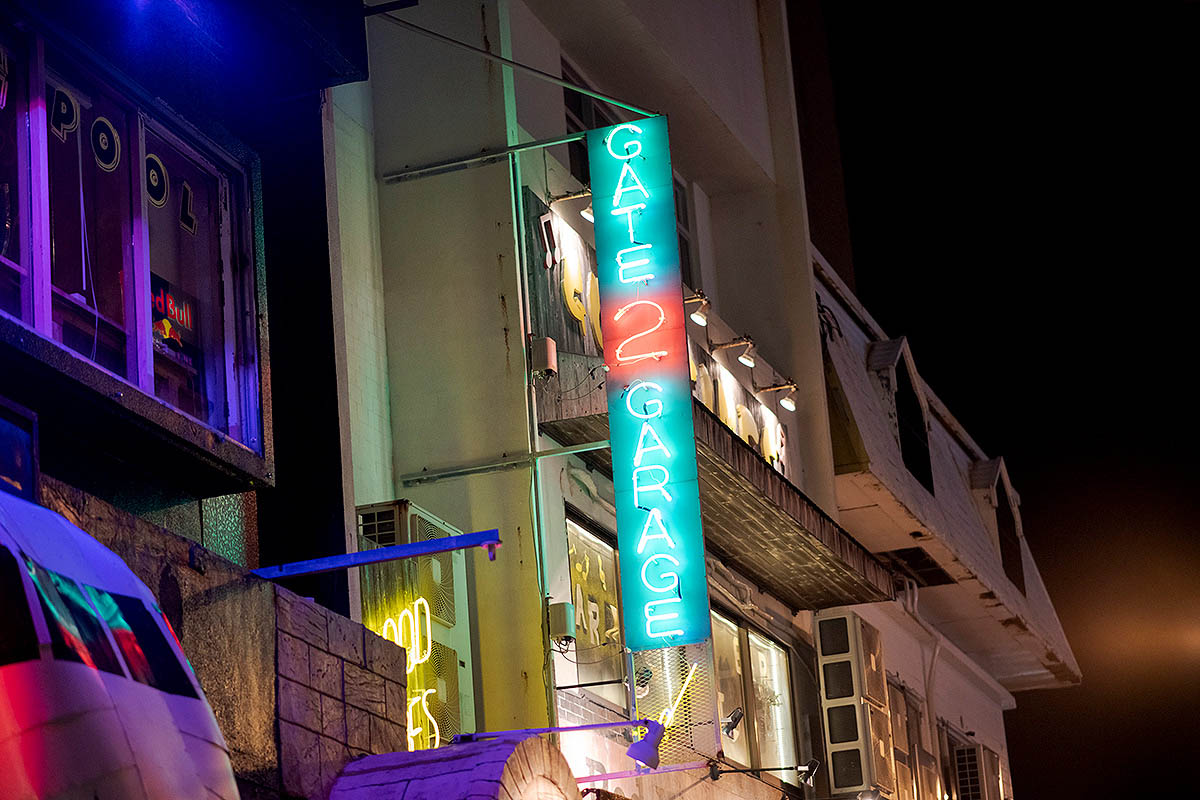 Player's Café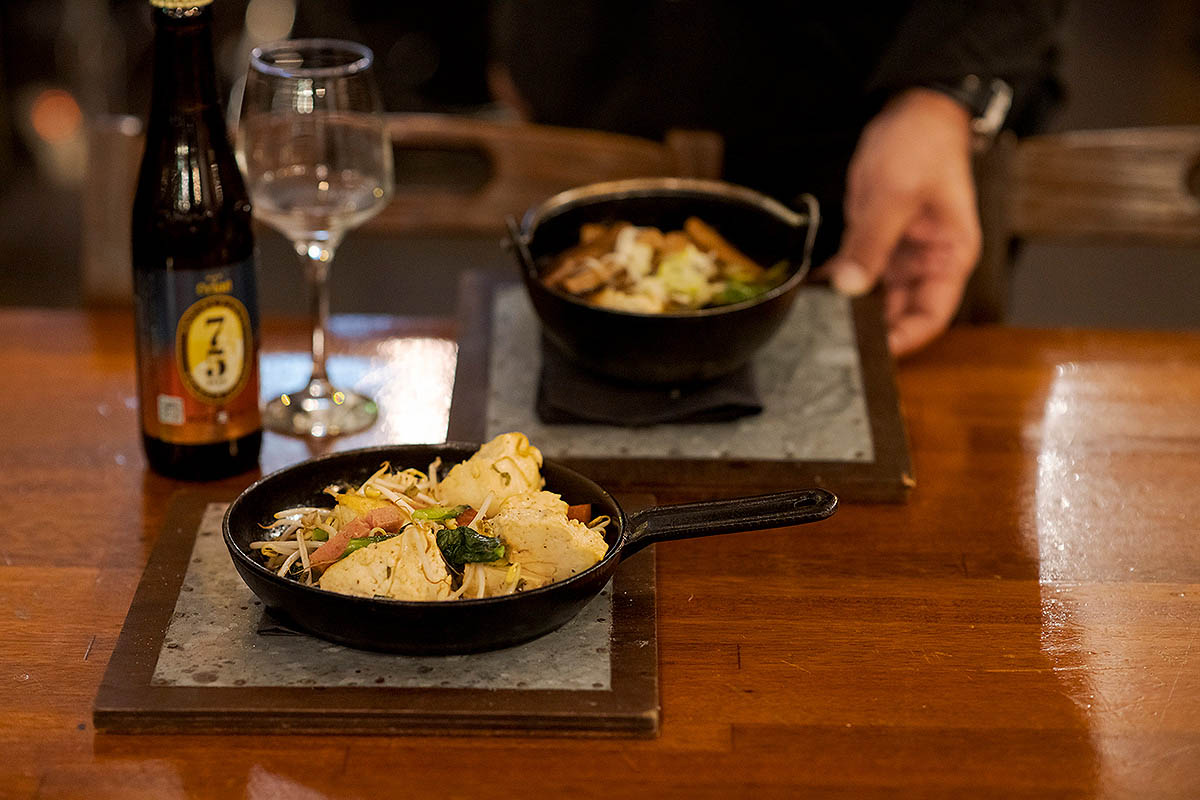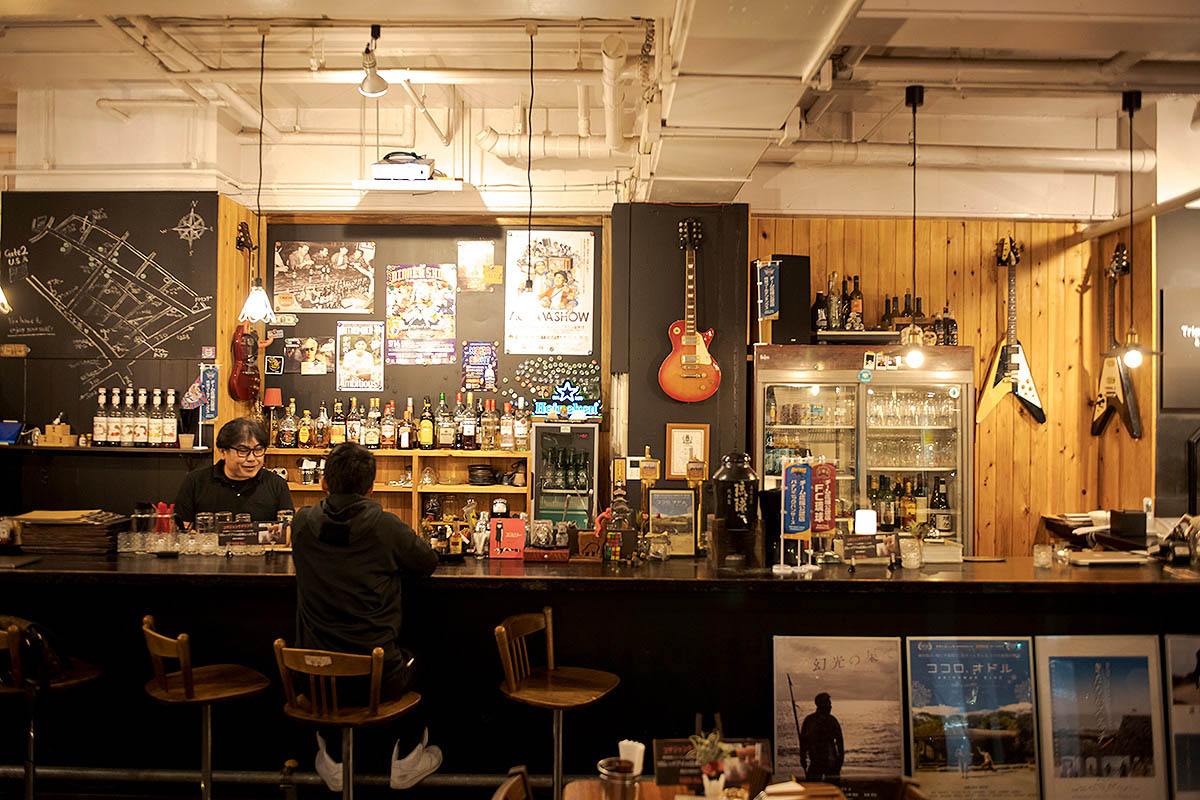 For an updated take on champuru culture, the Player's Café is well worth a visit. Located on historic Park Avenue, the spacious interior and outside seating has a European feel to it. It's ideal for a relaxing get together with friends, or some downtime after a busy day, or to get a dose of live music that seemingly covers all genres. The menu is inspired by the owner Mr. Kamiyama's memories of his mother's cooking in the 1970s. It was a time when local food in Koza was heavily influenced by canned products brought in by the US military, and his creative comfort food menu is sure to whet your appetite. As a bonus, the cafe is attached to Tripshot Hotels, a classy little boutique hotel that is ideal for a stay in the area.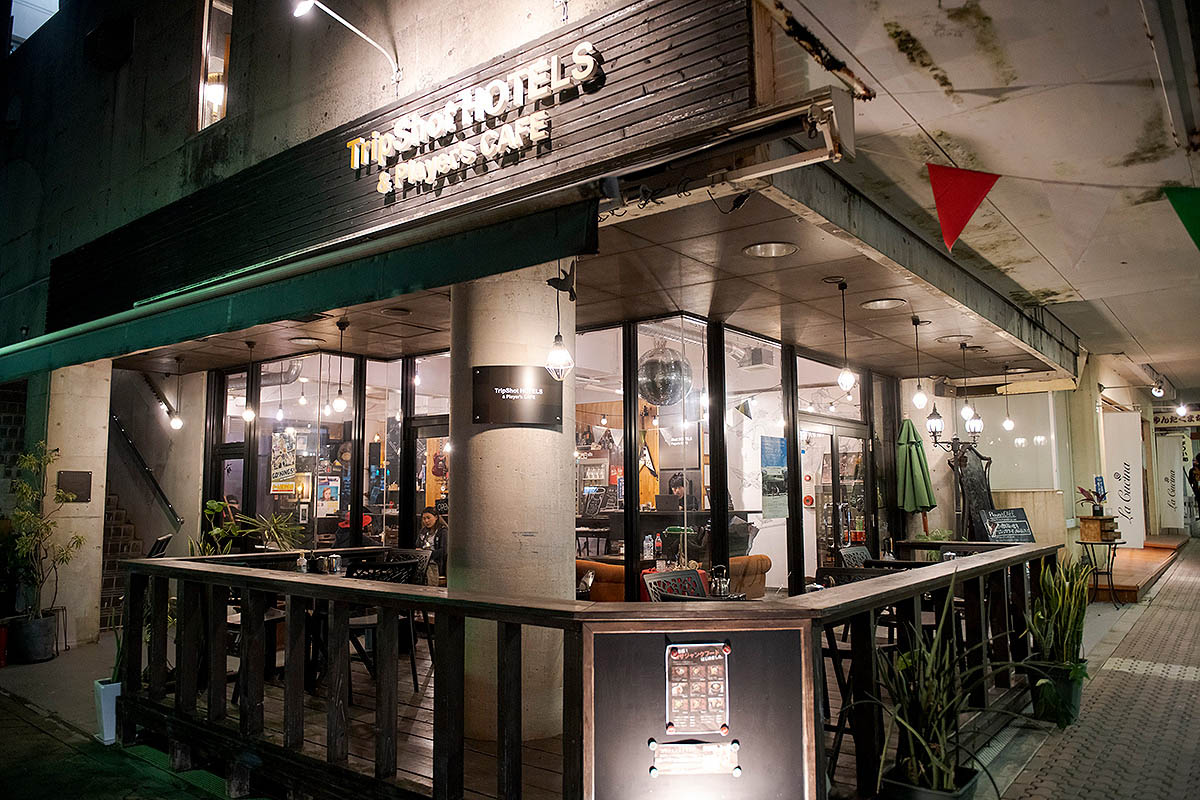 We have only touched on a small selection of what can be found in Koza and there is so much more to discover. Cuisine from seemingly every corner of the earth, dance clubs, live music venues, hidden coffee shops, and even a great little independent cinema, you are not short of choices in this fascinating part of Okinawa. Make sure to put this somewhat chaotic mix of retro-modern fusion culture on your itinerary!
Posted on 2020/2/14
Last updated 2021/12/20
Text by Steve Jarvis
Steve Jarvis is a long-term resident of Japan who has recently relocated to the Okinawa Prefecture.