Okinawa Life
Presenting the Power of Okinawa "Power of Pottery"
In Okinawa, pottery is known as "yachimun" and the beautiful colors and carefree forms make these pieces exciting, guaranteed to make serving food more fun. From Naha, it took about 50 minutes by car to get to Yomitan-son where I met the hands that craft such pottery. Here, my heart was stolen by a large bowl that reflected the deep blue sea of Okinawa and I was also able to meet a Shisa, a type of Okinawan lion-dog statue. Yachimun is born surrounded by the bountiful nature of Okinawa, and is full of a certain charm that can brighten up our daily lives.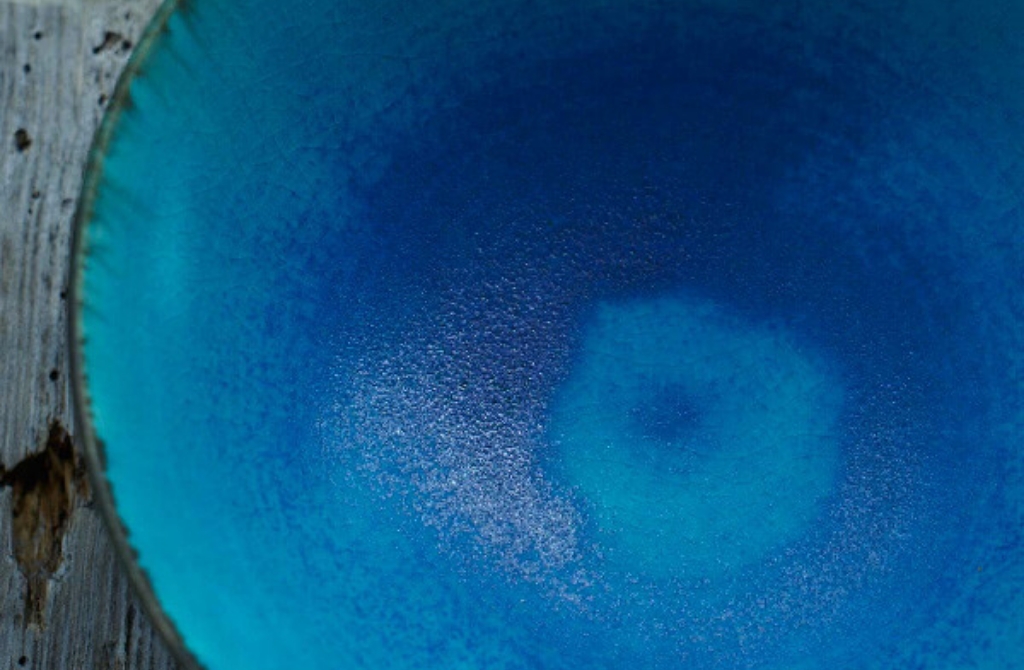 A striking blue bowl by Jissei Omine. This Prussian blue color attracts the sun.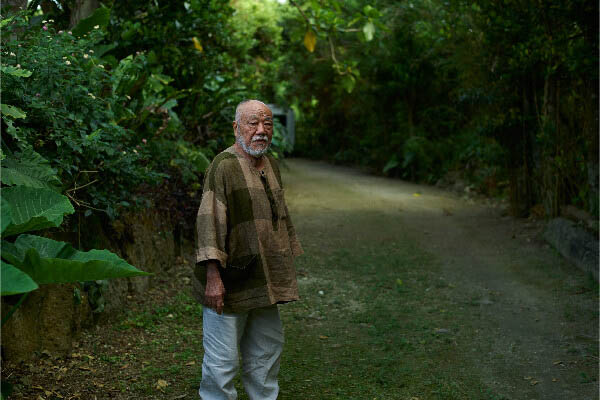 Born in 1933, Jissei Omine is a ceramic artist from Okinawa. In 1970, he established the Ishimine Kiln on top of the northern hill at Shuri Castle, and in 1980, Yomitanzanyaki, or Yomitan Mountain Kiln, in Yomitan. He is also a professor at Okinawa Prefectural University of Arts and has produced numerous works to be displayed in public buildings, such as the lobby of Okinawa's archive building.
Brilliant Color, Sharp form and a Freshness that Reflects Direct Sunlight!
The workshops of 82-year-old pottery and ceramics artist, Jissei Omine, are located in "Yachimun no Sato", an area that spreads throughout Yomitan-son in the central area of Okinawa's main island. 20 kilns and workshops are dotted around throughout this area, and it has now become a popular place for tourists to visit. The first to be built was Nobirigama (climbing kiln) in 1980, established by 4 ceramic artists including Omine. Started by Okinawa's unique community spirit, known as "Yuimaru", this joint kiln is still used today and is where most of Omine's works are fired.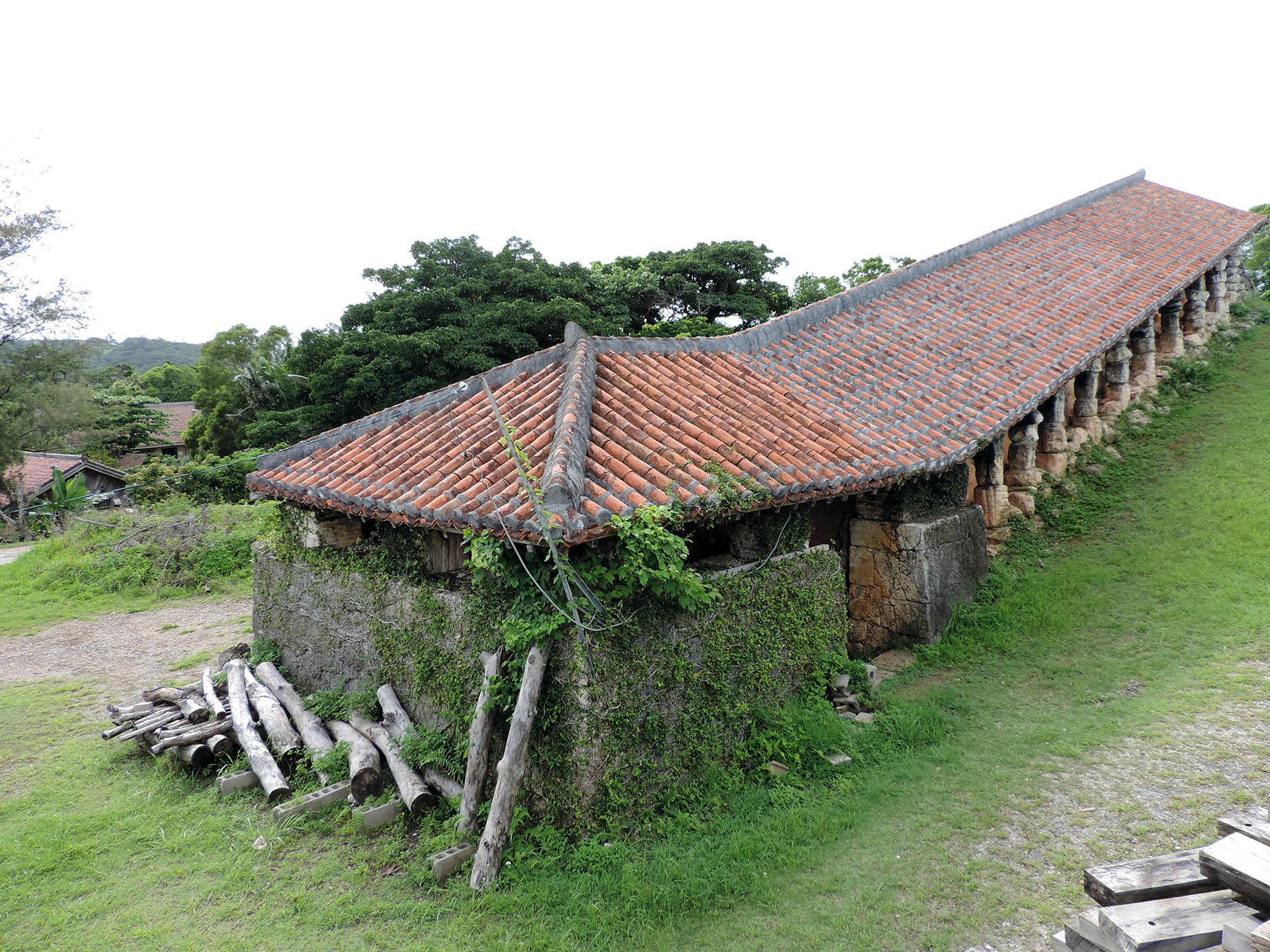 The beautiful red roof of the joint kiln "Yomitanzanyaki", a large climbing kiln with 9 ovens.

"This blue is a nice color, isn't it? But this blue is hard to make. It is possible to build a special kiln so it will always come out, but then it gets boring. It's fun to see whether or not you can achieve the color you want." laughs Mr. Omine, who was deeply involved in the world of contemporary arts until his thirties. He moved to Kyoto in the 1960's to become a painter and was obsessed with the avant-garde movement "Gutai" and legendary ceramics group "Sodeisha", which had reinvigorated the Japanese art scene. After he saw some pottery dating back to the Ryukyu Dynasty era in an old furniture store in Kyoto, he decided to return to Okinawa and begin pottery.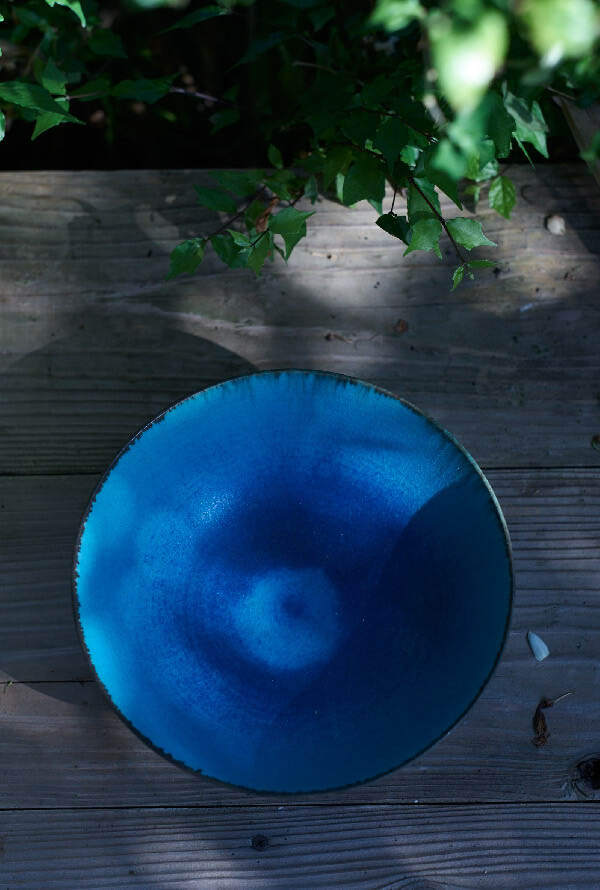 Mr. Omine's bowls are also fascinating for their ability to reflect food, and are used in restaurants that serve beautiful Yaeyama cuisine, similar to Kaiseki.

"I've completely fallen for Okinawa's old-style pottery, but I also learnt about the beauty of Chinese ceramics and Japanese tea bowls while I was in Kyoto. So I thought that I would try and make things that I think are beautiful, without getting caught up in Okinawan traditions." And Mr. Omine still thinks this today. We also discussed the question of how pottery is an art form that inspires life, and how tableware used daily can bring happiness. One of the guidelines to achieve this is to make something inspired by the nature in Okinawa. When painting the pottery, the blue color uses manganese taken from old rocks on the Ryukyu Archipelago and the glaze of white ceramics is primarily made from Ryukyu limestone. Soil taken from within the mountains and at the bottom of rivers is also being used more and more.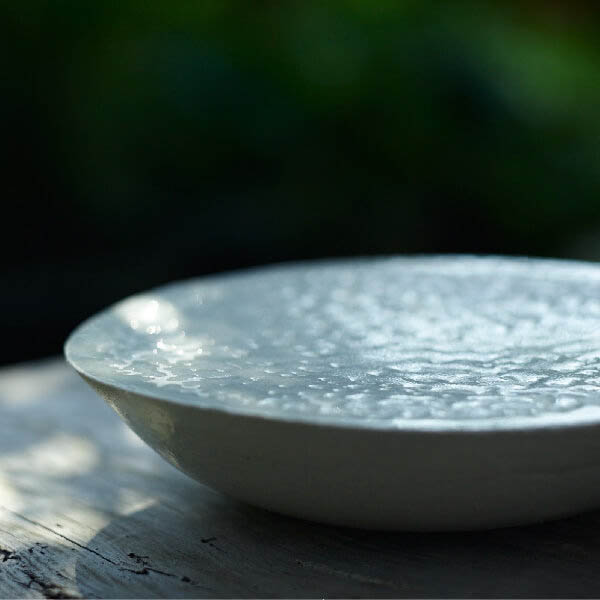 "Ryukyu white" says Mr. Omine, pointing to a pure white dish. Glazes made from Ryukyu limestone have been used since long ago, even in the castles which are known in Okinawa as Gusuku.

"I like soil from grounds which have been weathered over hundreds of years. It's so wonderful that pottery can be made from such soil. I grew up on a small island in Okinawa, and whether its a dense forest, a flowing stream or a thatched roof made of Chinese silver grass, I can feel the island's scenery and smells from long ago in its weathered ground. Perhaps I want to use pottery to leave behind such irreplaceable natural beauty for younger generations."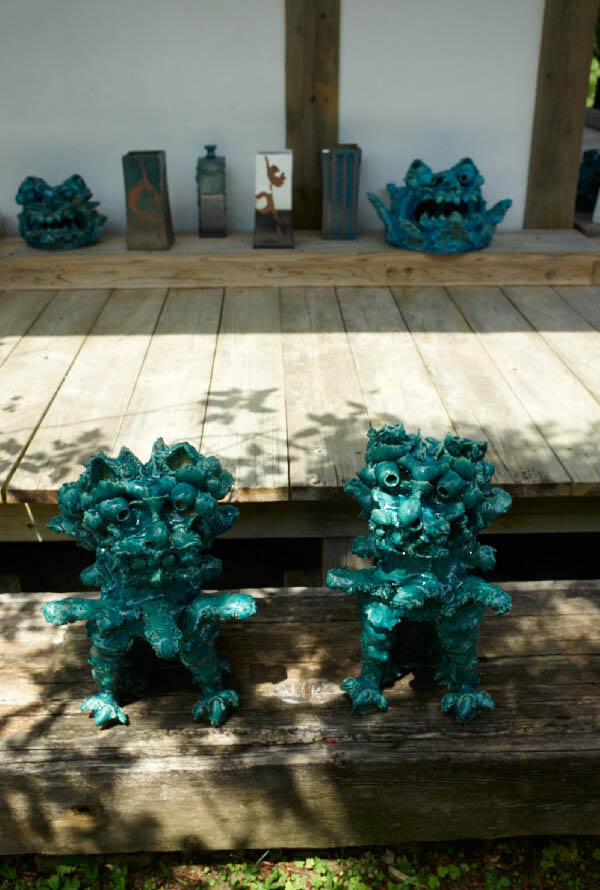 Shisa "lion-dog" statues made by Mr. Omine. With its charming facial expression, this is a popular piece that sells well.
Buy it here!
Gallery Kiya at Yomitanzanyaki, Yachimun no Sato
Address : 2653-1 Zakimi, Yomitan-son, Nakagami, Okinawa
Phone : 098-958-2828
Opening hours: 10:30~18:00
Closed : Irregular holidays
20 minutes by car from Ishikawa Interchange
As well as Mr. Omine's work, visitors can also purchase works by his 3 sons.
Photography : Hiroaki Shinohara
Research / Author : Masae Wako
Editors : Shiro Takagi, Yu Kimura, Tomoko Kotake, Shihoko Kubo
Last updated 2021/12/20

What is "INTOJAPAN"?
INTOJAPAN is a web magazine created by Shogakukan's "Waraku Magazine" editorial department, which provides a gateway into Japanese culture and delivers the charms of real Japan.