Rental Vehicles in Okinawa
Explore Okinawa at your own pace with a car, motorcycle, or RV
Vehicle rentals are a great way to explore Okinawa. They offer the opportunity to get off the beaten path, hit the open road, and make a custom itinerary that fits your schedule. There are many rental companies from which to choose, offering a wide range of plans to suit your needs and budget. Some even offer shuttle services from the airport to the rental agency.
Beyond cars, some companies also offer motorcycle or RV rentals. Motorcycles are great for solo-travelers, and RVs are ideal for families or groups who want to fully enjoy the freedom of travel. But however you decide to travel, make sure to familiarize yourself with Okinawa's traffic rules and road signs.
Nationwide Car Rental Companies
Visit the links below to browse agency locations and rental options in Okinawa.
Rental Car Travel Time to Sightseeing Destinations
Please note that the travel times listed below are estimates, and may vary depending on traffic, road, and weather conditions.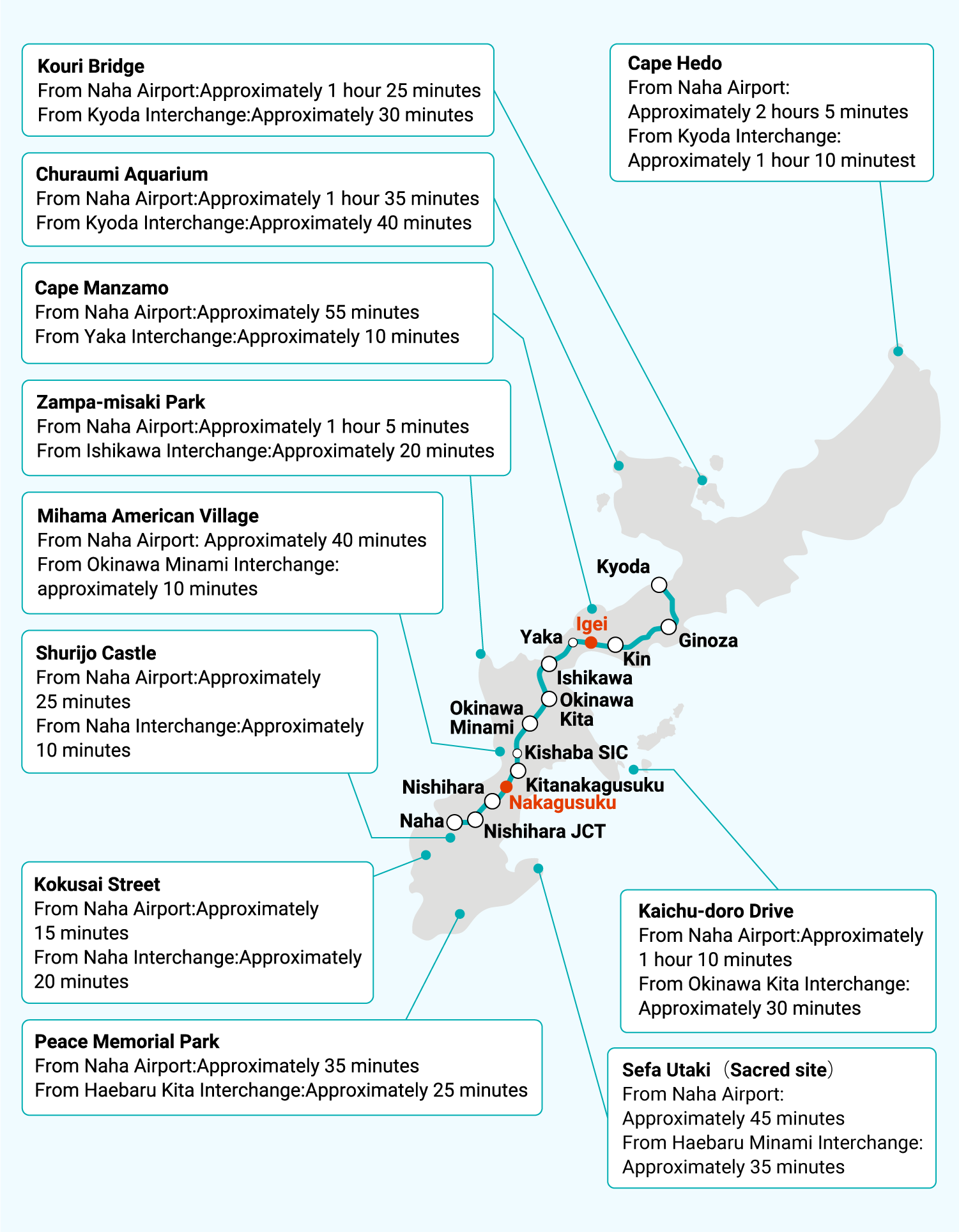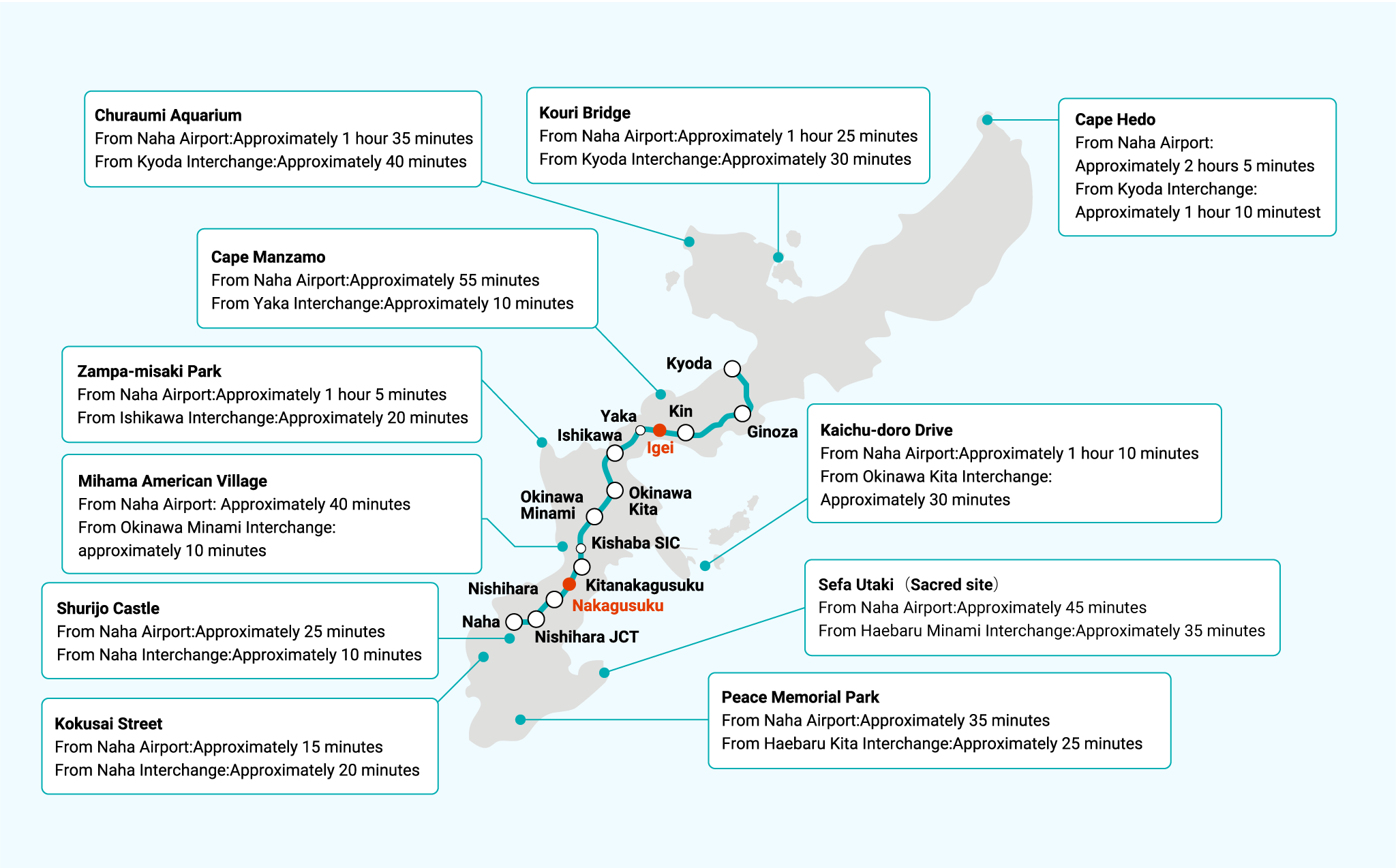 These simple tips can help improve your experience while driving around Okinawa.
Choose a car rental with ETC
While highway toll booths accept cash, electronic toll collection (ETC) cards are a great way to save time while driving on the expressway. Simply drive through ETC interchanges, have your card read, and keep on cruising. ETC cards can be loaded with a set amount of money, or payment can be calculated when you return the car.
Make good use of the expressway
Avoid the traffic of local and surface roads by making use of Okinawa's extensive expressway. There is a fee to use the expressway, but ETC cards allow for hassle-free, contactless payment of tolls. Some rental companies offer ETC cards with rental packages, so be sure to inquire when booking a car.
Know where and how to park
Free or street parking in Japan is rare. Many of the coin parking lots in Okinawa feature locking plates installed in the parking spaces, which can be a bit confusing for first-time visitors. After you park, the plate automatically rises and locks the car in place. When leaving, use the fare machine installed in the parking lot. Enter your parking number into the fare machine to automatically calculate the fee. Once the displayed amount is paid, the locking plate keeping the car in place is released. Note that the locking plate returns to its original position after a fixed period of time, so make sure to move your car from the parking space promptly after paying the parking fee.
Japanese traffic rules and regulations may differ from other countries. For the safety of everyone on the road, please familiarize yourself with the rules, regulations, and road signs encountered while driving.
Left-hand traffic
Be aware that in Japan, vehicles drive on the left side of the road and are right-hand drive.
All passengers must fasten seat belts
It is mandatory for all passengers to fasten seat belts. Driving without a seat belt or carrying passengers without fastened seat belts may incur a fine.
Drinking and driving
Japan has a zero-tolerance policy when it comes to drinking and driving. Driving after drinking or driving with alcohol remaining in your system from the day before is considered driving under the influence.
Using your mobile phone while driving
Talking or texting on a mobile phone while driving is against the law, and subject to fines.
Child seats for children under six
Drivers are required by law to make sure children under six years of age are seated in a child seat. Rental car companies can provide car seats either free of charge or for a fee. Check when making a reservation.
Traffic Lights
Traffic lights in Japan use the green, yellow, red system utilized in many countries. Learn to recognize the following traffic signals you will encounter while driving in Okinawa.
Green light: go
You can go straight or turn left or right (when safe from oncoming traffic) when the light is green.
Yellow light: stop
Yellow means slow down and stop. However, you can continue through the light if you cannot stop at the line or if stopping may pose danger.
Red light: stop
Red means stop. Turning right or left is prohibited when the light is red.
Only right turns allowed
Even when the light is red, if a green arrow is lit, you may go in the direction it indicates.
Only left turns allowed
Even when the light is red, if a green arrow is lit, you may go in the direction it indicates.
Road Signs
There are many different traffic signs drivers will encounter in Japan. Most signs utilize shape, symbols, and colors, so even drivers who cannot speak Japanese can recognize their meaning.
Visit the following links for comprehensive lists of Japanese road signs.
Bus Lanes
Bus lanes alleviate congestion during rush hours. During bus lane operating hours, only buses, taxis, bikes, and designated or authorized vehicles are allowed to use these lanes.The bus lanes are in effect every day during commuting hours in the morning and evening, except for Saturdays, Sundays, and holidays.
Expressways
The speed limit on expressways is 80km/h. It is important to be aware of the speed limit. Speeding and violation of traffic rules can lead to unexpected accidents. Please follow the traffic rules, and drive safely on the expressway.
Sample Expressway Sign

This is a typical expressway sign. It includes the:

1: Name of the interchange
2: Direction of the interchange
Driving Licenses
One of the following types of licenses is required in order to drive in Japan. Be sure to complete the necessary procedures to receive proper documentation before arriving in Japan. Your driver's license from your home country may be necessary as well.
1: A Japanese driver's license (for residents of Japan)
2: A Japan Operator's Permit for Civilian Vehicles (US Forces)
3: An international driving permit based on the Convention on Road Traffic (Geneva Convention), a valid passport, and a driver's license from your home country
Please note that, in addition to a passport and valid driver's license, some countries may also require a Japanese translation of your driver's license. The translation must be from the embassy or consulate in Japan from the respective country, the Japan Automobile Federation, or the East Asia Relations Commission. Find a list of countries that meet this requirement at the Japan Automobile Federation website.
Additional Driving Precautions
The asphalt in Okinawa contains limestone, and the roads can be slippery. They are particularly dangerous after rain, so be careful of your speed.
About 80% of accidents occur in car parks. Take particular care when entering and leaving hotels, convenience stores and other locations.
If you get into an accident, remain at the scene and call 110. Even if it is a single vehicle accident, call 110 to report it. If anyone is injured, please call 119. If you are using a car rental, please be sure to contact the rental company.