Taxis in Okinawa
Get around affordably with taxi fares cheaper than in mainland Japan
Taxis are common throughout Japan, but Okinawa has one big advantage; they are cheaper than other parts of the country. Shuttle taxis are a great way to get directly to your hotel from the airport quickly, and on your schedule. Beyond transportation, there are also guided sightseeing taxis that offer you the chance to learn and experience more as you travel Okinawa's islands.
For a convenient way to reserve taxis in advance, download the DiDi (App Store; Google Play) or JapanTaxi (App Store; Google Play) apps.
Taxis from Naha Airport
A taxi is one of the quickest ways to get to hotels or popular sightseeing destinations from Naha Airport. Below is a list of estimated fares to some of Okinawa's must-visit spots.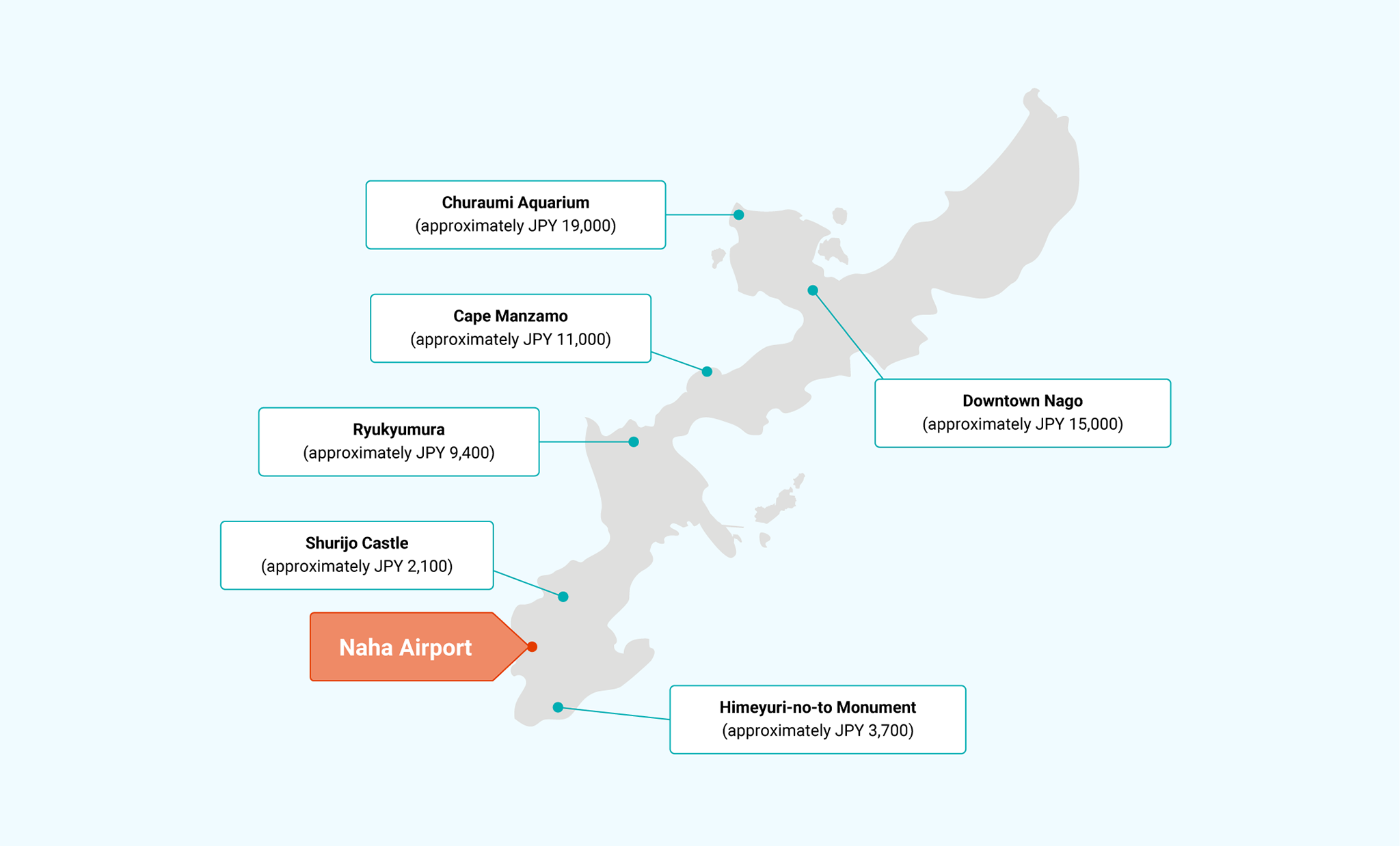 For more information on taxis from the airport please consult the Naha Airport official site.
Shuttle taxis are taxis you reserve in advance. They take you directly from the airport to your hotel. Unlike buses or trains, there is no wait, so you can arrive at your destination even quicker. Check out the table below for an estimate on costs and travel times to different cities on the main island. Please note that travel times are subject to change depending on traffic, road, and weather conditions.
Estimated fare by area
| Area | Travel Time | Fare |
| --- | --- | --- |
| Okinawa City | Approximately 50 minutes | Approximately ¥6,000 |
| Uruma | Approximately 70 minutes | Approximately ¥6,000–9,000 |
| Onna | Approximately 70 minutes | Approximately ¥6,000–9,000 |
| Yomitan | Approximately 70 minutes | Approximately ¥6,000–7,000 |
| Nago | Approximately 80 minutes | Approximately ¥9,000–13,000 |
| Kunigami | Approximately 120 minutes | Approximately ¥15,000 |
Visit the following sites for shuttle taxi information and reservations:
Okinawa Kotsu Group *only in Japanese
DAIICHI KOUTSU SANGYO Co.,Ltd. *only in Japanese