Okinawa Life
Accessible Tourism Thrives in Okinawa
In 2007 Okinawa drafted Japan's first Barrier-Free Declaration, to show its continued commitment to welcoming all tourists
In 2007 Okinawa drafted Japan's first Barrier-Free Declaration to welcome all tourists, regardless of their physical limitations, disabilities, or age. The prefecture continues to make good on that promise to Okinawa visitors, starting from arrival at Naha Airport, where you'll find the Barrier-Free Tour Center and its friendly staff ready to serve.

The center is run by a non-profit organization working in cooperation with the prefectural government to serve visitors with disabilities to the islands. It provides help and information on transportation, accommodations, and activities for guests with physical disabilities or limitations. If you need any special equipment during your stay in Okinawa, such as a wheelchair, the center has the equipment to lend out (reservations in advance are required at 098-858-7760). The center's staff firmly believes that Okinawa has something for everyone to enjoy, and wants to ensure that guests have access to all the information and equipment they need for it to happen.

Okinawa focuses on improving accessible tourism, and continues to add to its growing list of attractions, establishments, and activities that those with physical limitations can enjoy. The Barrier-Free OKINAWA website contains several itineraries made for people with disabilities that include many of Okinawa's most popular sightseeing experiences, such as participating in watersports, exploring nature, visiting historical sites, and of course, enjoying the local cuisine. If you stop by the center, the staff can also make recommendations based on your needs and preferences.

One of the recommended itineraries is a 3-night, 4-day tour around the islands created for people who use wheelchairs. All locations and activities fully support wheelchair use, so the whole family can enjoy the trip together.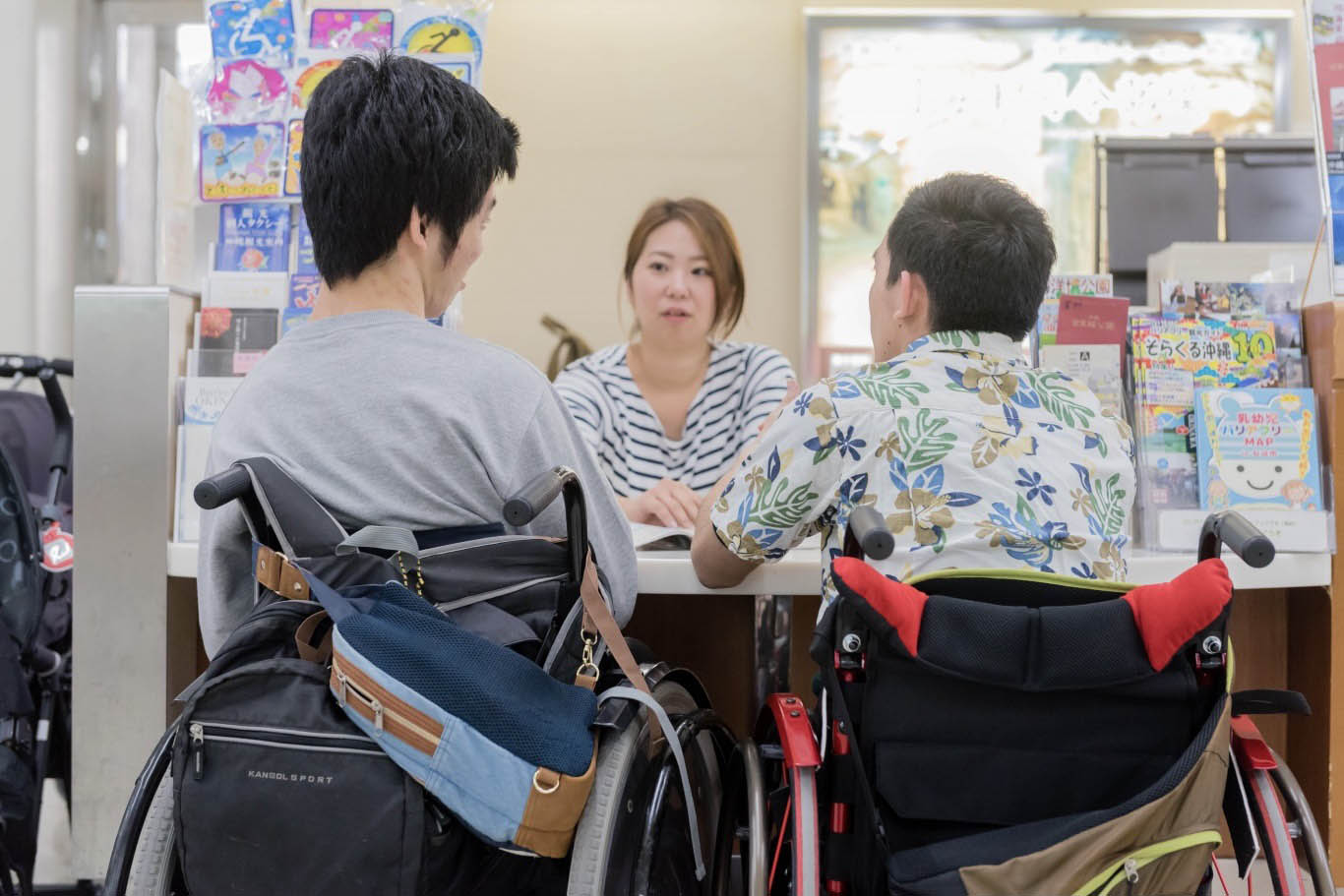 Day 1: Arrive at Naha Airport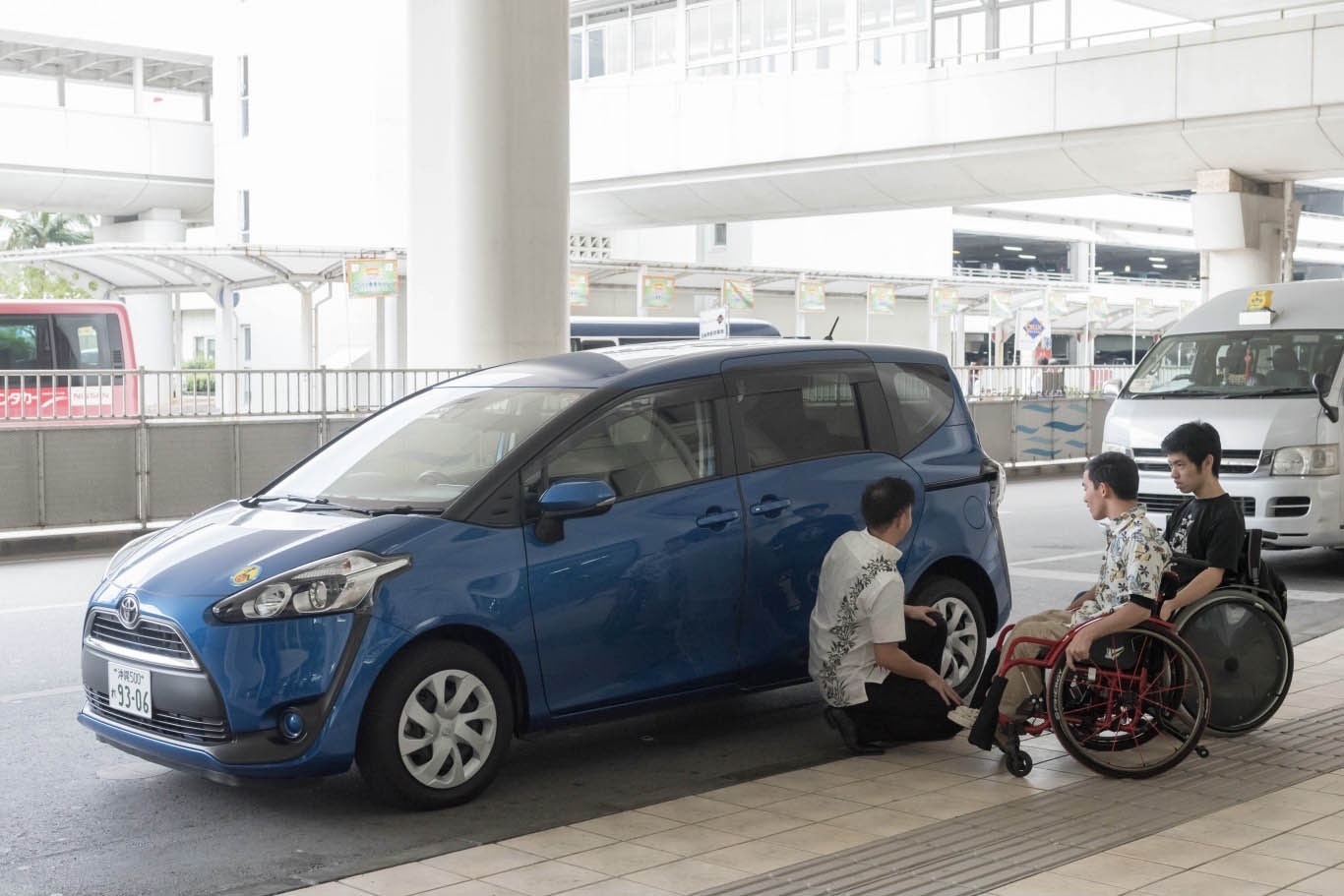 After arriving at Naha Airport, the "Gateway to Okinawa," stop by the Okinawa Barrier-Free Tour Center on the domestic terminal's first floor. Any equipment you reserved in advance will be waiting for you, along with staff to help answer any questions and provide you with tips and assistance regarding transportation, accommodations, and activities. Outside of the center, you'll find the boarding area for people with disabilities, where you can get in your rental vehicle and head for your first adventure.
Day 1: Chura Sun Beach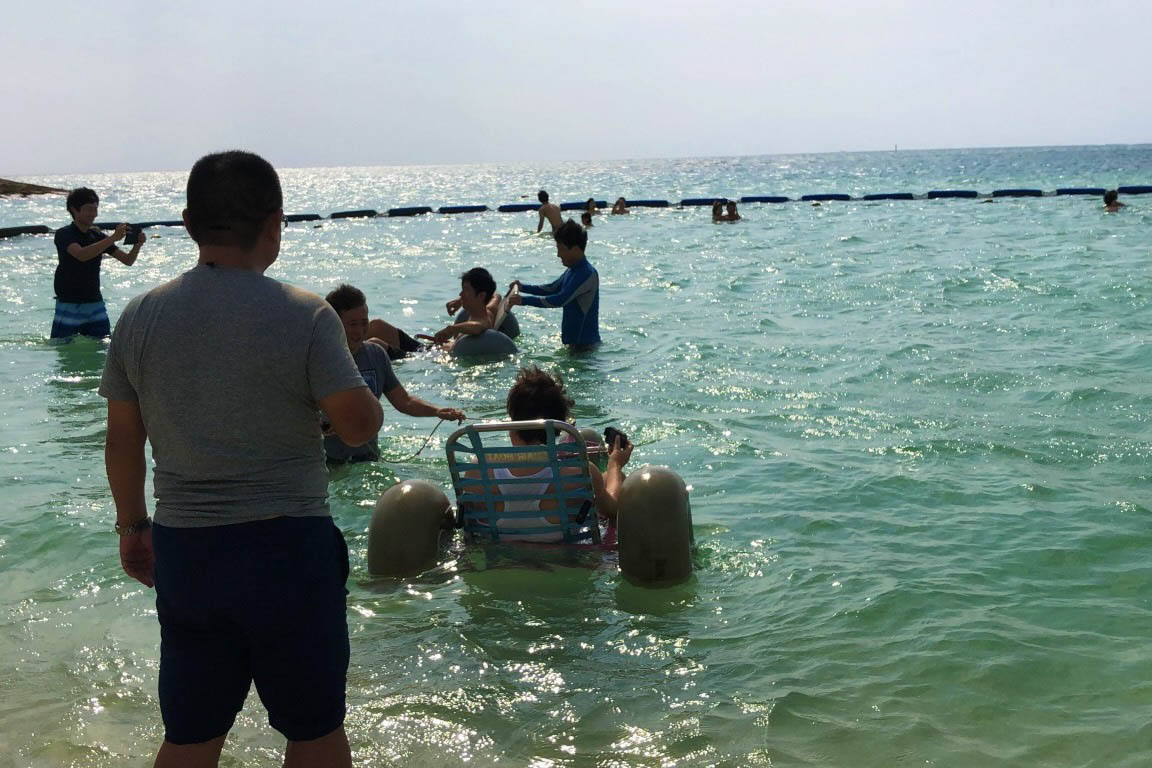 One of Okinawa's largest beaches is also the most accessible. Just a 15-minute drive from Naha Airport, it is possible to rent a beach-friendly "chair boat," which is equally steady in the water as it is on land due to its oversized inflatable tires. Whether lounging on the warm beach or floating gently in the clear blue waters, it's the perfect introduction to a relaxing stay. There are other activities to enjoy, including sea kayaking, snorkeling, and rides on a banana boat, all under the watch of the beach's safety staff.
Day 1 Accommodations: Yanbaru Discovery Forest
You'll explore the wild forests of Yanbaru tomorrow, but for tonight, head to the northern part of the island to Yanbaru Discovery Forest to enjoy one of the four barrier-free rooms available for rent on the site. The barrier-free rooms can accommodate up to three people, but regular rooms and camping facilities are also available. Gender-separated indoor and outdoor baths are on site. At night, the sounds of the forest and the view of the Milky Way provide peaceful entertainment. Your accommodation plan can include breakfast and dinner, or just breakfast.
Day 2: Yanbaru Discovery Forest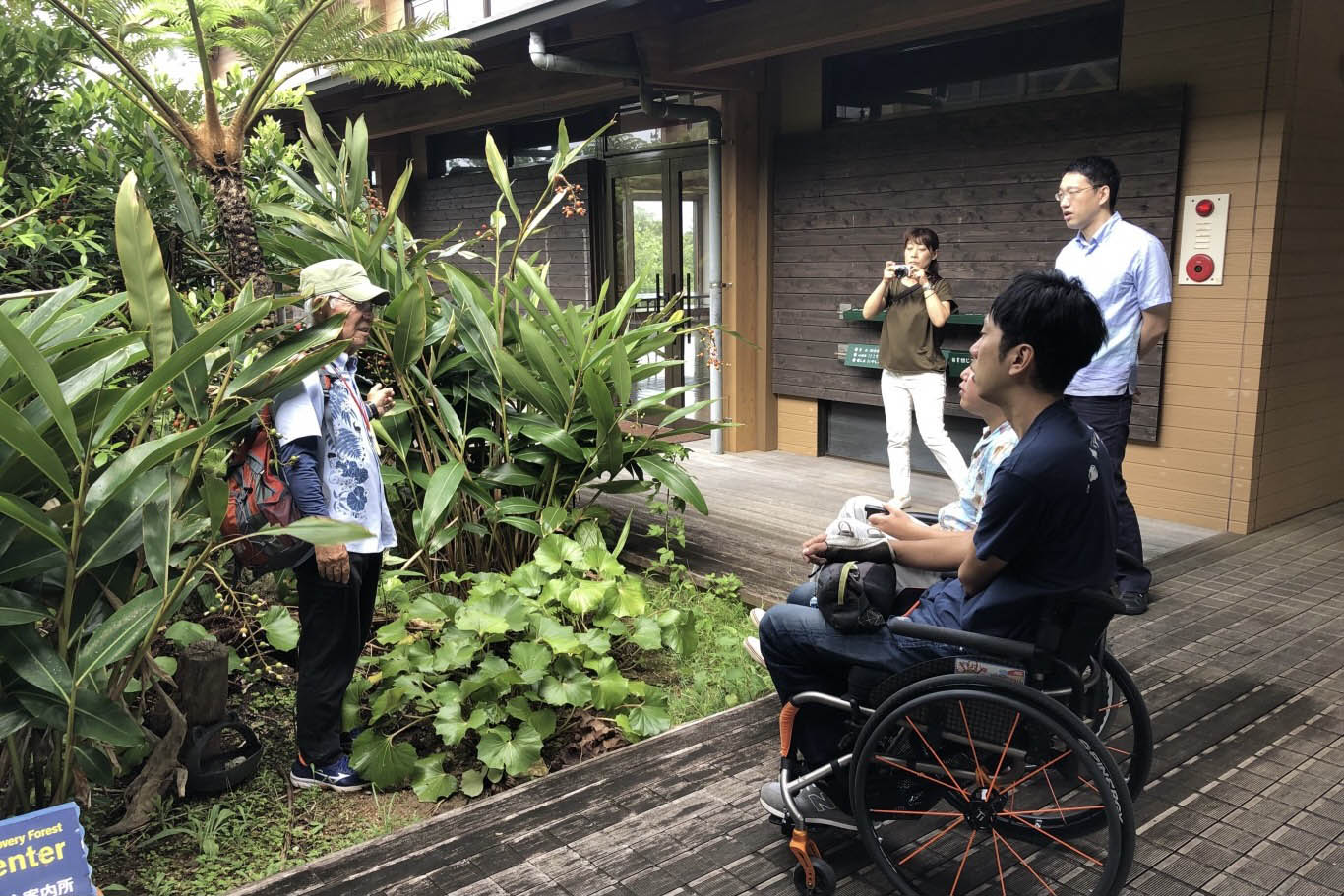 After a relaxing night in the forest, roll out of bed and right into your next activity, a barrier-free educational center surrounded by the Yanbaru forest. A wooden path makes it accessible for wheelchairs and persons with mobility restrictions. Local guides explain the ecology of the forest and its relationship to the people of Okinawa. Take your time traversing the 670-meter-long Yonna Course, where you might spot rare, colorful birds in summer, and hear the mating calls of the many species of frogs living in the swamp during autumn.
Day 2: Bios no Oka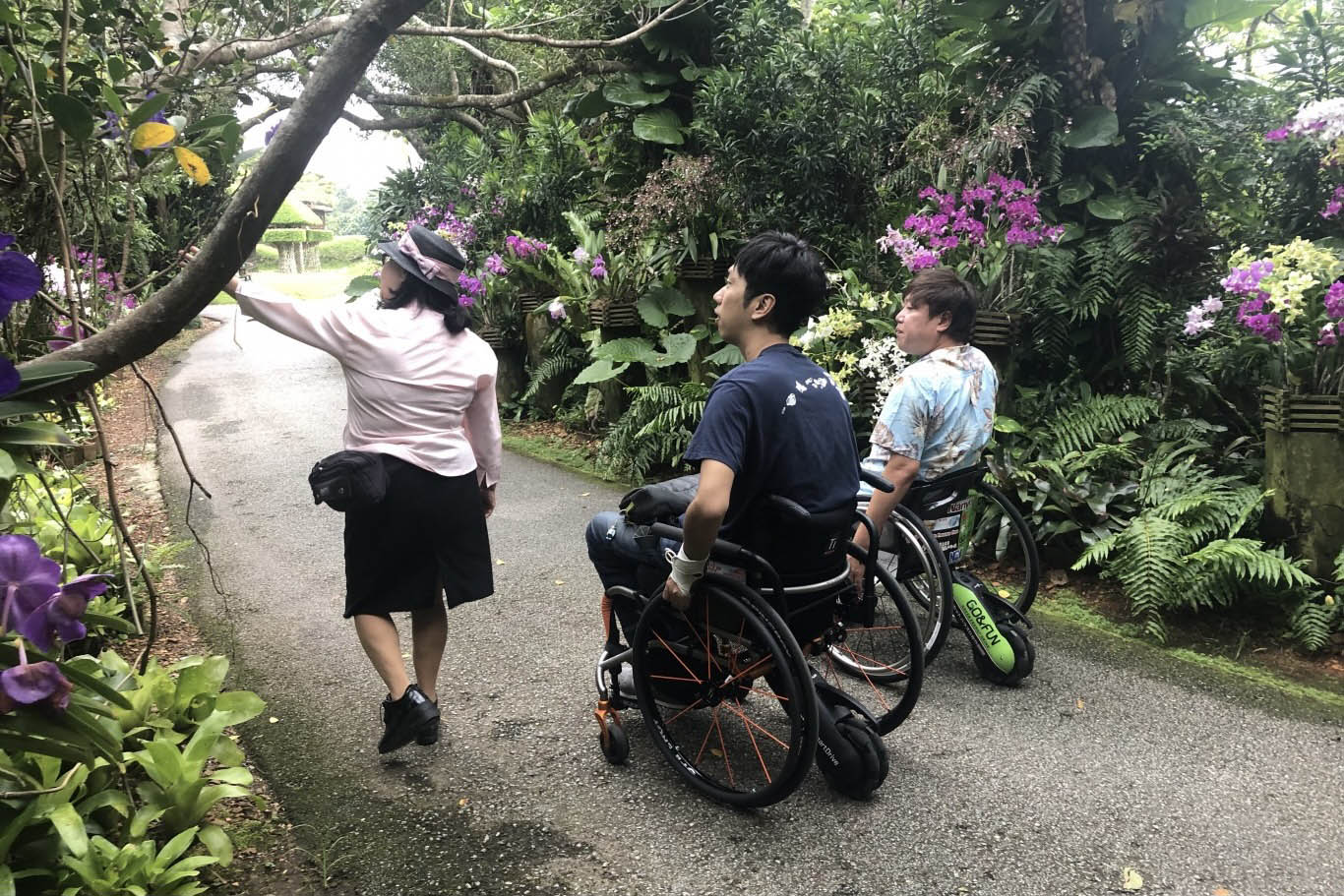 Tucked away behind the Okinawa Royal Golf Course, Bios no Oka (Bios Hill) is a lush nature park centered around a large pond. Large play areas, a petting zoo, and craft-making experiences make it a popular destination for families with children. The entire park is barrier-free, relatively flat (despite its name), and easy for people with mobility challenges to enjoy. A wheelchair-accessible boat provides a guided cruise around the pond, where the captain explains the flora and fauna found in the park.
Day 2 Option: Shurijo Castle Park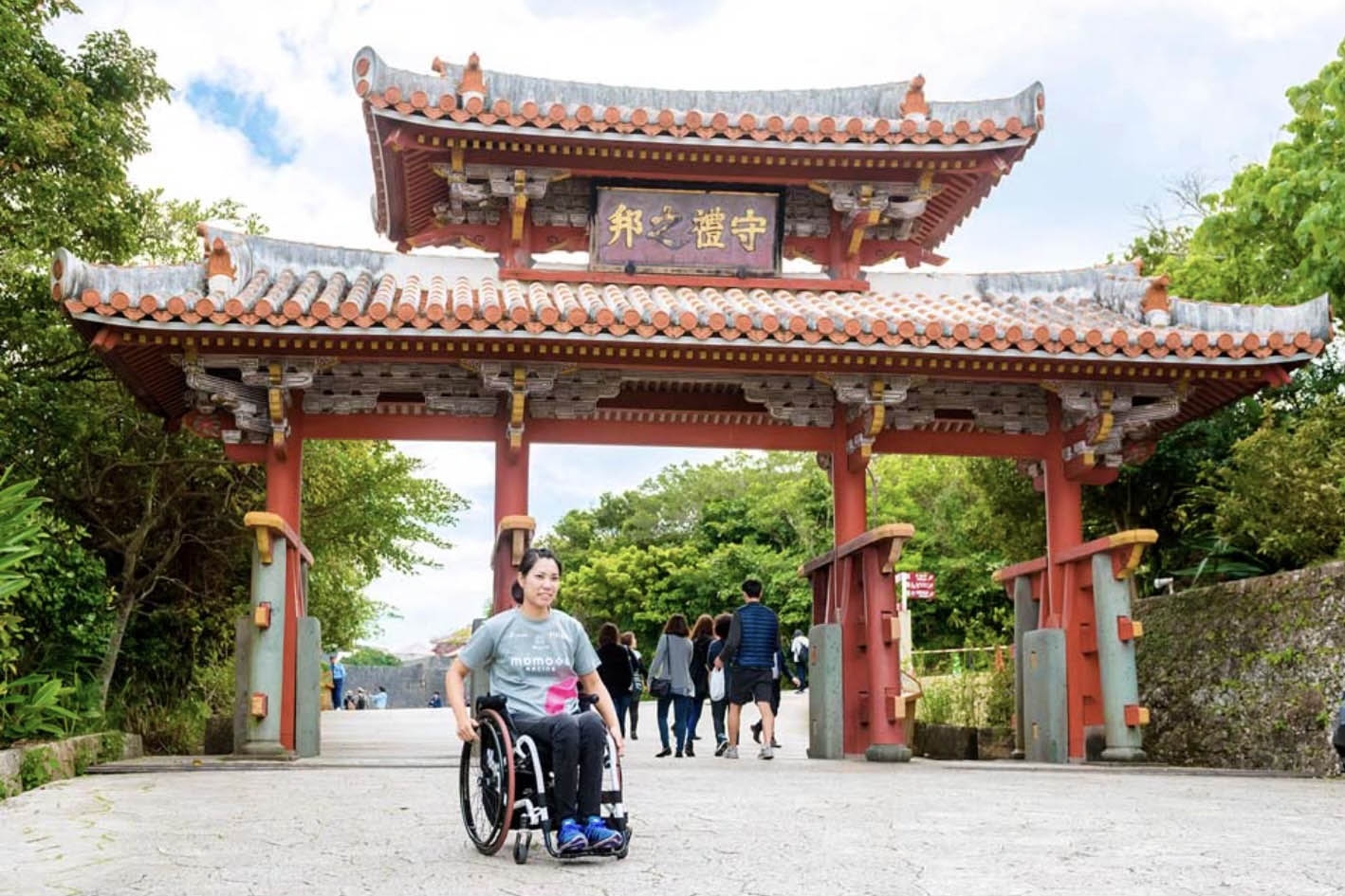 As another option for the day, consider a visit to Shurijo Castle Park. Shurijo Castle is an icon of Okinawa, a UNESCO World Heritage Site originally built in the late 1300s. Though a fire in October 2019 tragically destroyed the main buildings, reconstruction is already underway, scheduled for completion by 2026. Nevertheless, there are plenty of other structures to admire, and the information center is open to teach about the history of the castle. The castle grounds are fully barrier-free, with lifts, slopes, and wheelchair-accessible toilets. Wheelchairs can also be borrowed free of charge from several locations on site.

After finishing your tour of Shurijo Castle Park, stay in one of the many barrier-free accommodations in Naha, as you'll be flying out of Naha Airport to Ishigaki Island the next morning.
Day 3: Naha to Ishigaki Airport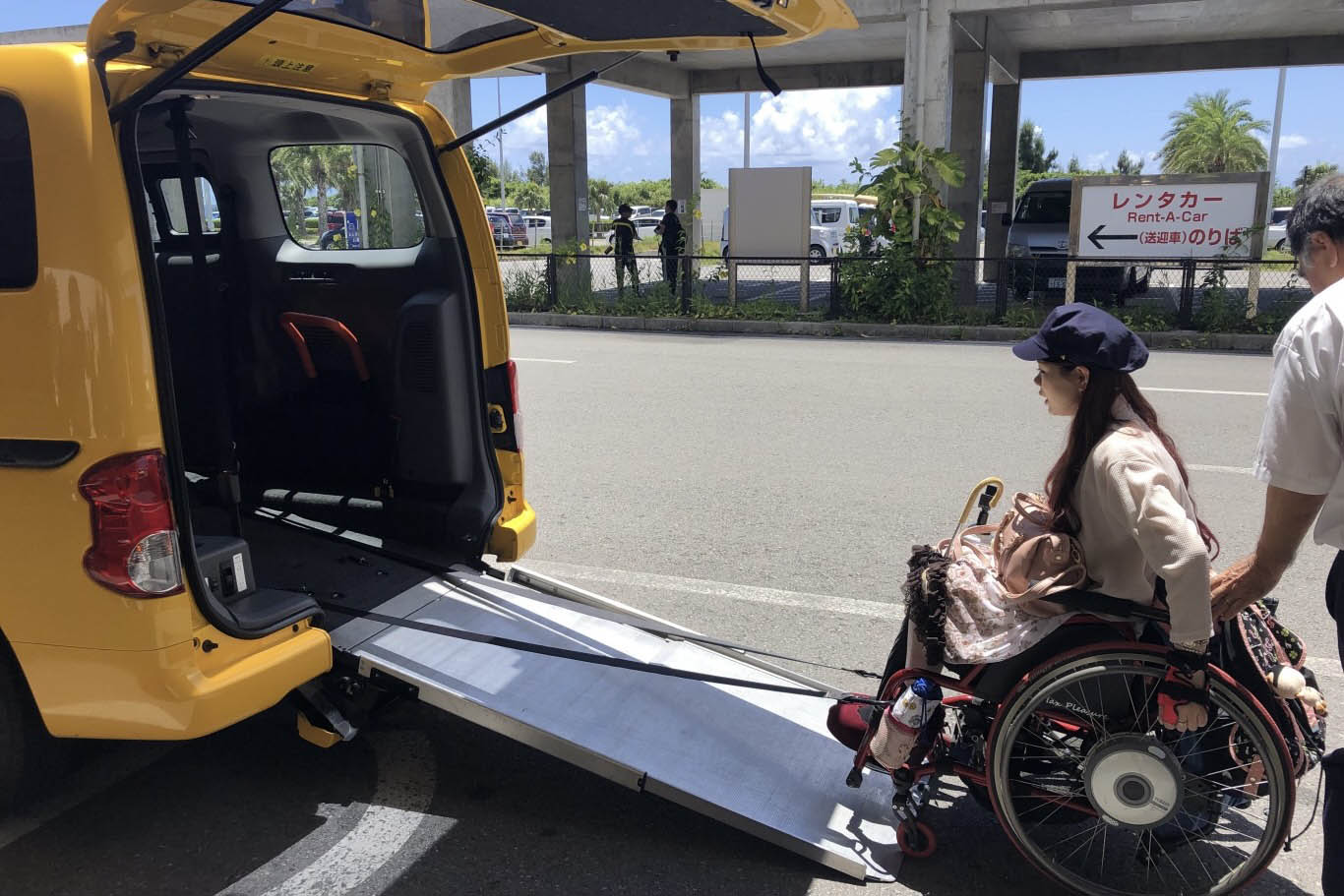 Take an hour-long flight from Naha to Ishigaki Airport. The airport is barrier-free, and you can either rent a welfare vehicle or long-term care taxi for your private use, or use the public non-step airport bus to take you to the center of the island. However, your first destination today will be Kabira Bay, for a bay cruise with a view.
Kabira Bay Cruise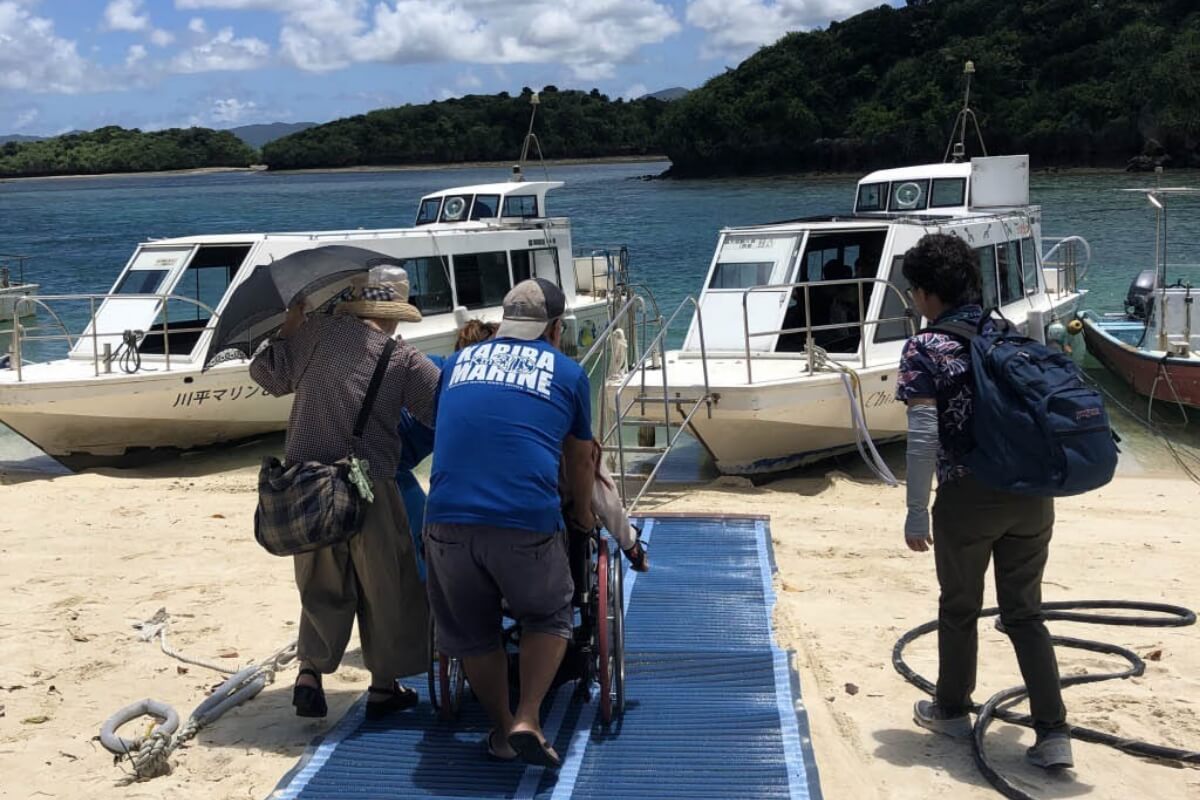 Kabira Bay is a top destination on Ishigaki Island, known for its pristine emerald waters and coral reefs. The current makes it too dangerous to swim here, but there is another way you can enjoy the underwater sights: cruise the waters of Ishigaki Island in a wheelchair accessible glass-bottom boat. The staff is trained to help passengers embark and disembark, and visitors can enjoy a cruise over incredible coral reefs swarming with tropical fish. The design of the boat allows an unblocked view of the underwater scenery even from a seated position.
Day 3 Option: Yaima Village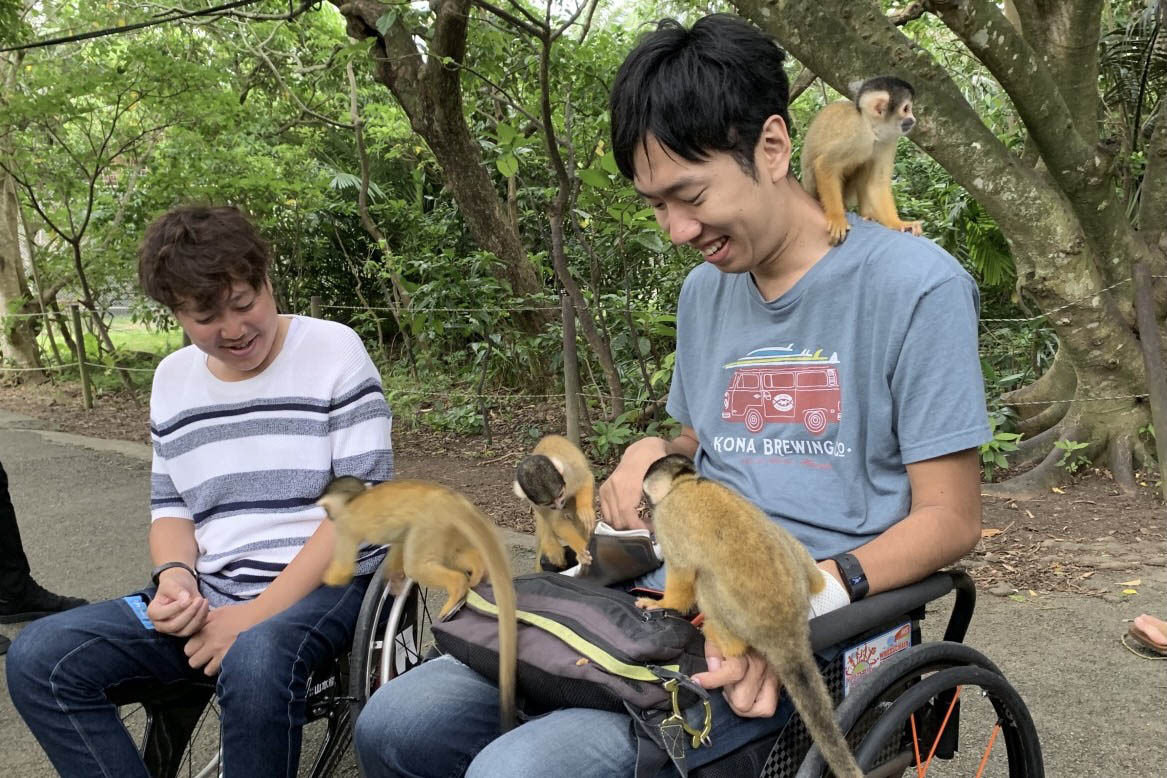 Another option for your day is Yaima Village. Overlooking Nagura Bay on Ishigaki Island, this theme park features reconstructed century-old houses set up as a historic local village. The entire park is barrier-free, and visitors can enjoy learning to play local instruments, painting shisa (the traditional lion character of Okinawa) statues, weaving, and even feeding the friendly squirrel monkeys that live in the zoo. If you arrive around lunchtime, grab a bite to eat at Anparu Shokudo, which includes local favorites like Yaeyama soba. A souvenir shop is attached if you want to pick up a few local goodies for your friends and family back home.

After a relaxing afternoon at Yaima Village, spend some time sightseeing, shopping, and eating around the Ishigaki city center, before retiring to one of the barrier-free accommodations in the area.
Day 4: Ishigaki Port to Taketomi Island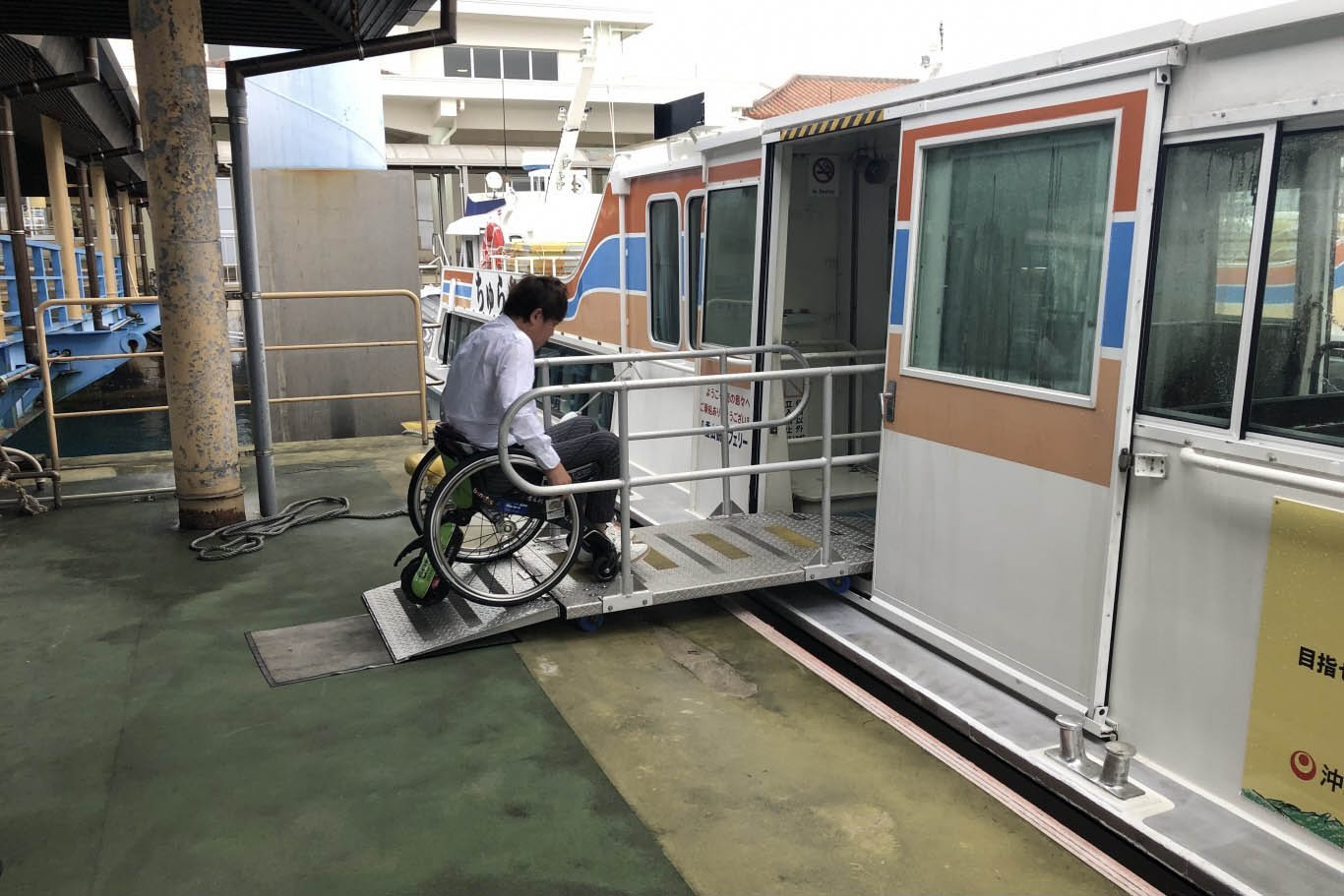 The next morning, catch a boat at Ishigaki Port to head to nearby Taketomi Island. The port terminal is barrier-free, and the boats to the island have gently sloped ramps which are easy for passengers using wheelchairs to get on and offboard.
Day 4: Taketomi Yugafu-kan
The Yugafu-kan opened in 2004 as a visitor center to explain Taketomi Island's nature, arts, and traditional culture. The center also provides the most up-to-date information about the island, so it is a must-stop location.
Day 4: Taketomi Island Sightseeing by Taxi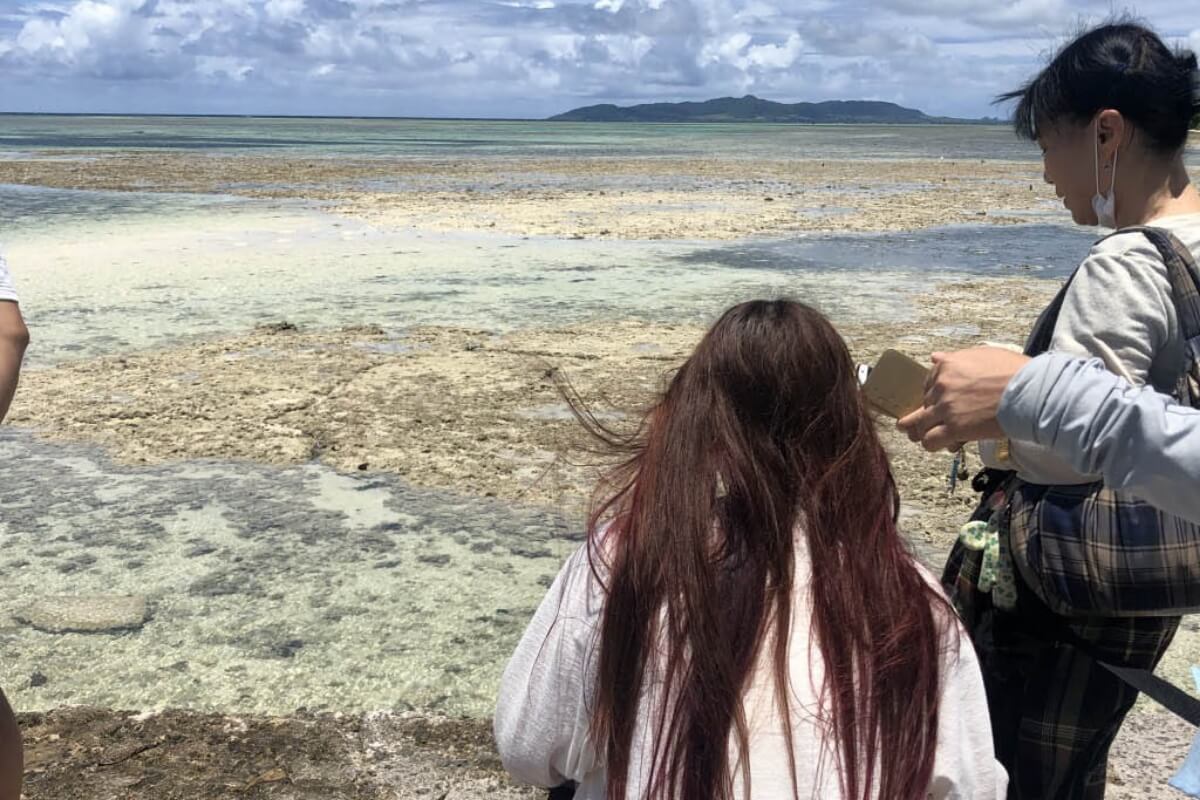 As on the main island of Okinawa and Ishigaki Island, a long-term care taxi is available for transporting visitors with wheelchairs. The beaches of Taketomi Island are great places to visit, shallow and easy to access, or the driver can guide you to some of the island's famous attractions. After spending the day relaxing on Taketomi Island, take a boat back to Ishigaki Island, and fly back to Naha or directly to other destinations within Japan.
If you only plan to visit Naha you can use the monorail from Naha Airport to visit Kokusai Street (Naha's main shopping district), Shurijo Castle Park, local museums, and other attractions at your own pace.

In Okinawa, natural wonders, outdoor activities and relaxing hotels are easy to access by monorail, welfare vehicles, or taxis. This sample course provides just a framework of the many possibilities to enjoy a family trip to Okinawa. For families with travelers with disabilities, Okinawa's efforts toward making your trip easier pay dividends in the quality of time you will spend relaxing and enjoying the welcoming culture of Japan's southern islands.




Photos by ©OPG
Posted on 2021/2/26
Last updated 2021/12/20
Text by Todd Fong
Todd Fong is an American writer and photographer living in Japan who loves exploring and learning more about Japan.