Activities & Experiences
Multicolor Dyeing with Coral Fossils
Dye a rainbow of colors in fossilized coral patterns
Coral is a fundamental part of the history and culture of the Okinawan islands. For example, many areas of Okinawa's main island, as well as the Miyako and Yaeyama archipelagos, are made of Ryukyu limestone formed by ancient coral reefs several hundred thousand years ago. In addition, more than 400 coral species have been identified in Okinawa's coastal reefs, which sustain diverse marine life and the islanders themselves.

Today, coral fossils are often used as raw material in architecture and as amulets. Try your hand at bringing their organic textures to life through a coral dyeing technique done only in Okinawa.
Okinawa's culture of coral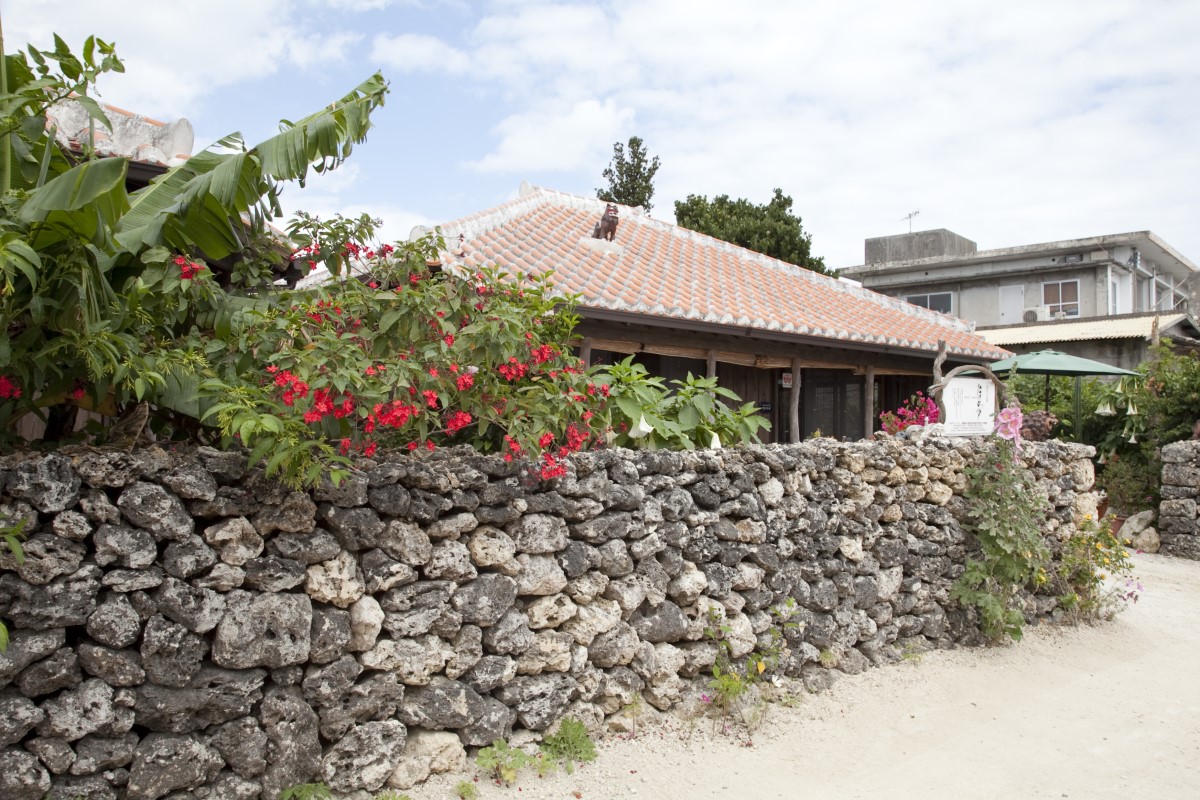 Living coral reefs not only serve as natural breakwaters to protect the island's coastal areas, they also provide valuable habitats for fish and crustaceans. This diverse marine life also attracts many tourists who come to the island to snorkel and dive.

Ryukyu limestone is a soft, porous limestone formed by petrified coral reefs, and has long been used as a building material for stairs, pavements, and stone walls.

Fossilized coral has also been a popular good-luck charm in Okinawa throughout the ages. Thus, up to the present day, coral has been a natural part of Okinawan life. A dyeing experience utilizing this coral is available in Okinawa.
Shuri Ryusen natural dyeing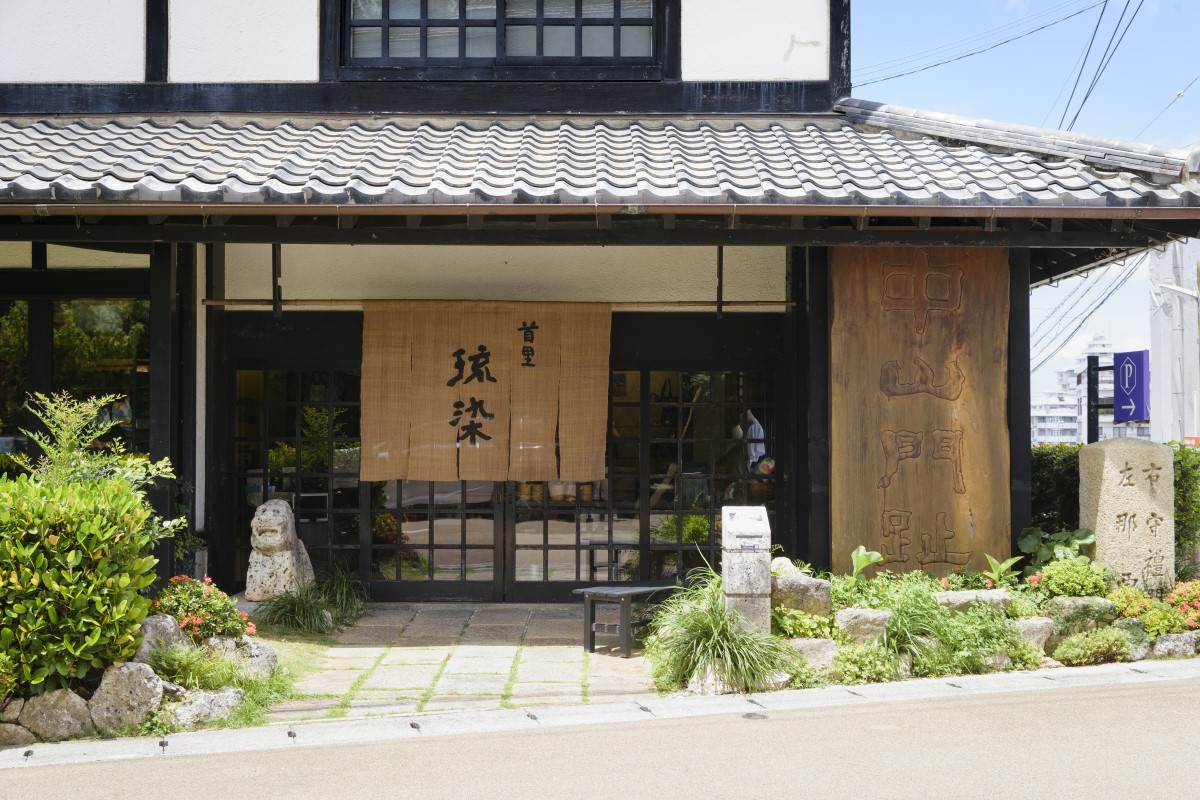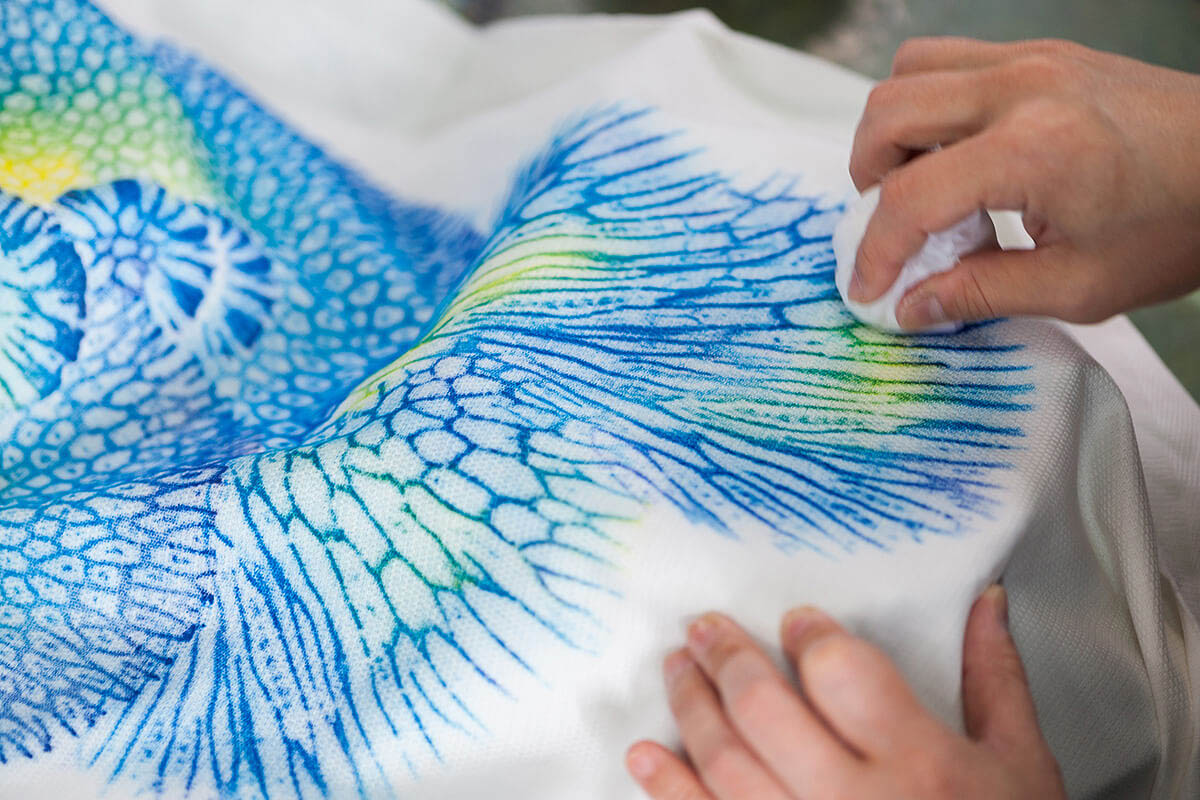 Shuri Ryusen was established in 1973 as the first research institute dedicated to reviving traditional Ryukyu Bingata dyeing using natural plant-based dyes. Aiming to offer an extraordinary and authentic experience of Okinawan culture to as many people as possible, the company also focuses on hands-on dyeing workshops and factory tours, while developing various products using its original coral dyeing technique.

Shuri Ryusen's proprietary technique highlights the gentle textures of natural coral fossils that were personally collected by the company's founder, Mr. Koto Yamaoka, over 50 years ago. He combined his professional experience and knowledge of traditional and natural dyeing to experiment with new designs, eventually refining this technique based on the organic textures of coral. Coral dyeing is something special that can only be seen and experienced here.
Exclusive coral dyeing experience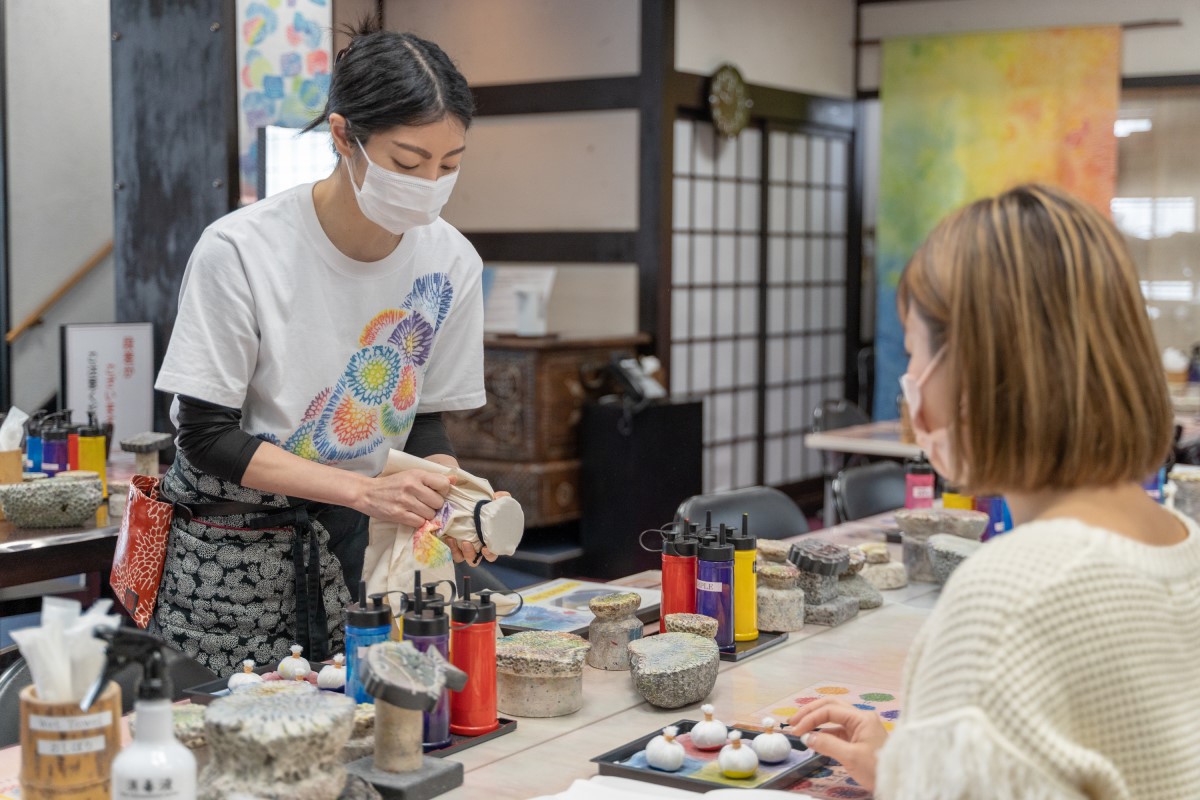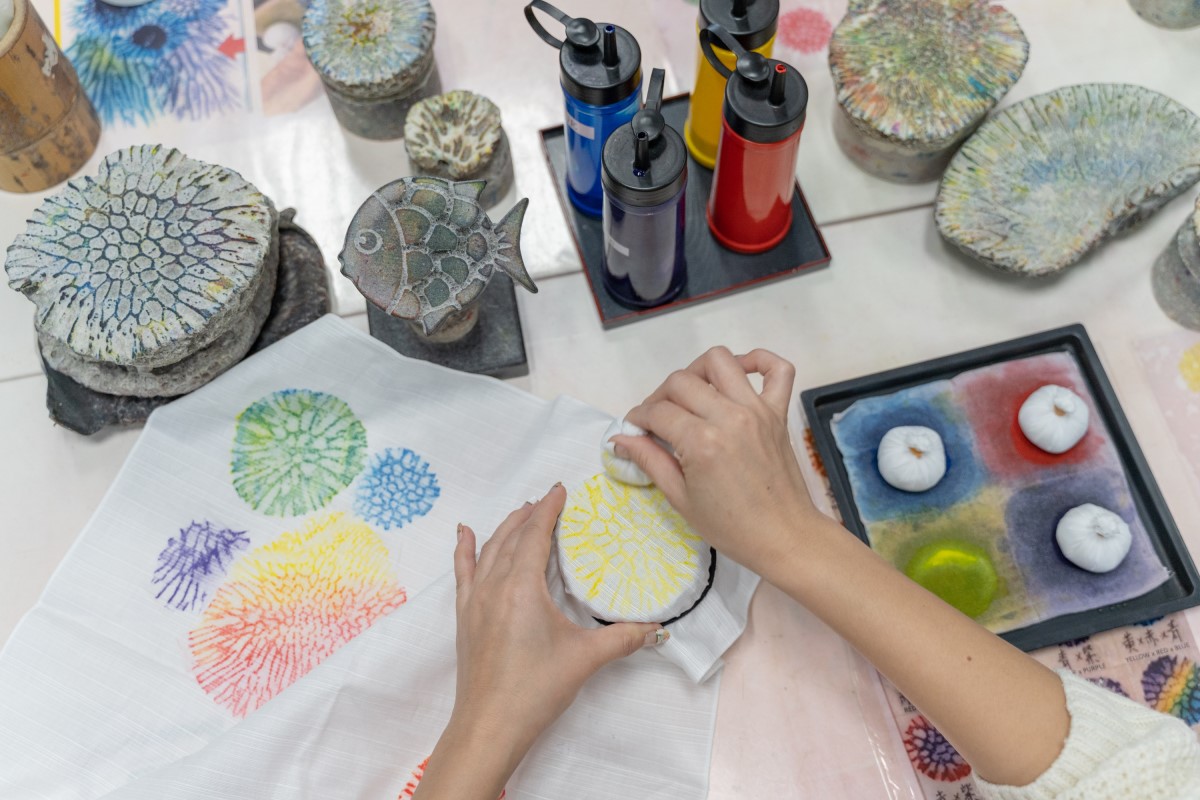 Intrigued by this coral dyeing technique that can only be experienced at Shuri Ryusen, I made my way to their historic shop, steps away from Shuri Castle in Naha. In the upstairs workshop, several coral fossils cut into various-sized pieces with a flat horizontal surface awaited on the tabletops, alongside a dyeing palette of four colors, each with its own dumpling-shaped dabber.

I began with the lightest color, yellow, dabbing the dye on the palette before rubbing it across the surface of the coral underneath the cloth of my blank tote bag. Next, I repeated the process with blue to mix into green, followed by red to fade into orange, and a splotch of purple. Finally, I was delighted to see a rainbow coral texture appear against the pale cotton fabric. This activity is also ideal for families with young children, as no special skills are required.
Protecting our precious coral blessings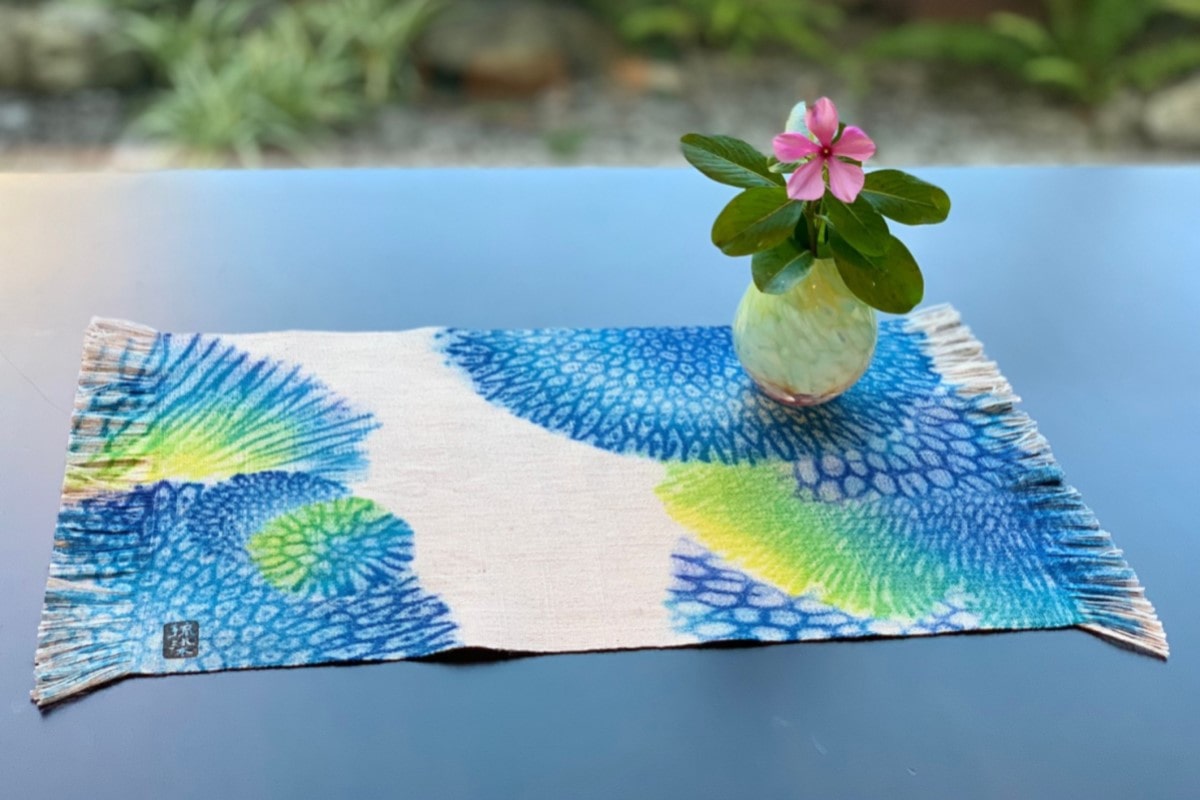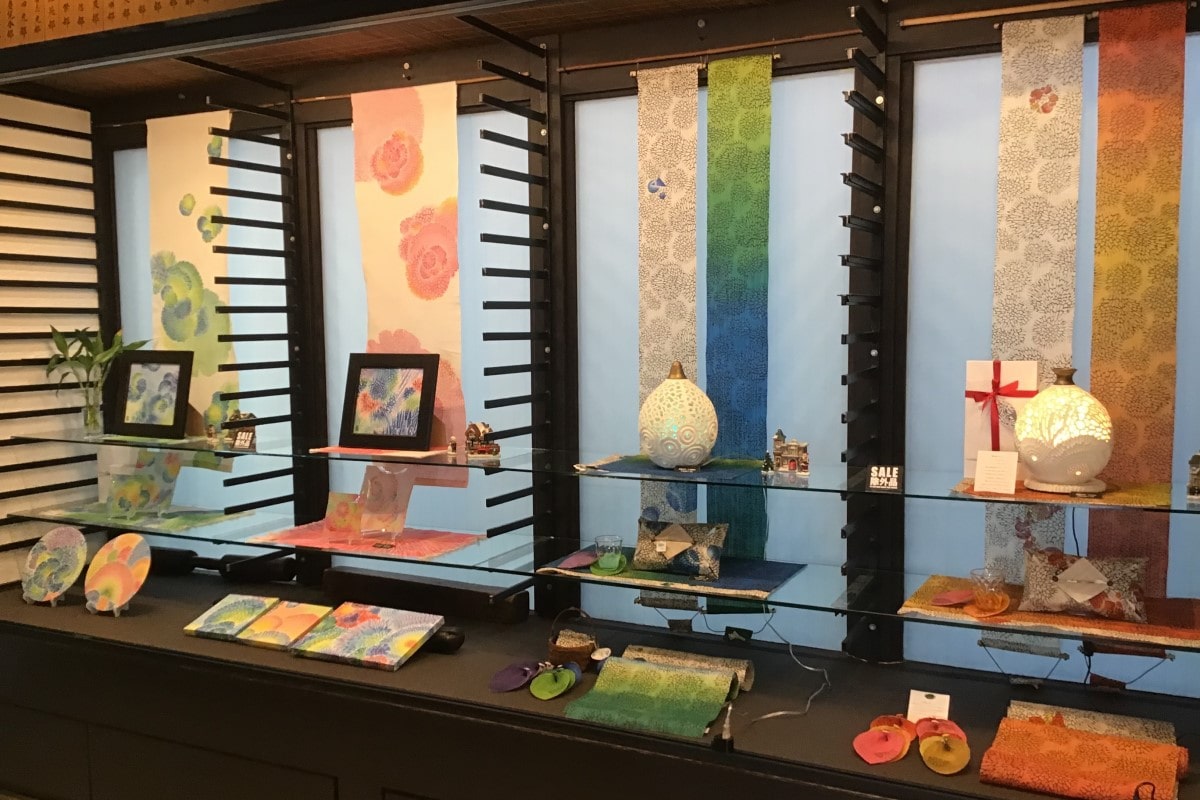 Shuri Ryusen adds special ingredients to its dyes that break down the oil they contain to protect the environment from toxic wastewater. The staff also provide educational context about Okinawa's coral reefs to their visitors.

Corals are very sensitive to changes in their environment, which makes them especially vulnerable to global warming, ocean acidification, pollution, and predators. In recent decades, extreme weather events causing sea temperatures to rise have also led to massive coral bleaching. Several projects now preserve the reefs by cultivating and seeding coral polyps in collaboration with local research institutes.

Other ways to contribute to local coral reef conservation include using Coralily coral-friendly sunscreen and buying 35COFFEE, which donates a portion of sales towards coral restoration activities. Meanwhile, wearing, using, and displaying coral-dyed products helps raise global awareness of the precarious situation of corals and the many threats they face.
Posted on 2023/2/17
Text by Cherise Fong
Cherise Fong is a devoted bicycle traveler and eco-writer currently based in Tokyo.