Activities & Experiences
Okinawa's Top 10 Marine Activities
Discover the best of Okinawa's ocean activities
Okinawa is known for its blue ocean, white sandy beaches, and glittering sun. Spending time at the beach watching the waves crash onto the shore is a wonderful and relaxing pursuit, but Okinawa offers so much more. From underwater adventures like snorkeling and diving, to experiences above the surface like sea kayaking and parasailing, there are endless activities to enjoy. Most activities are suitable for beginners, conducted in a safe and worry free environment.

Here are Okinawa's top 10 marine sports activities.
Flyboarding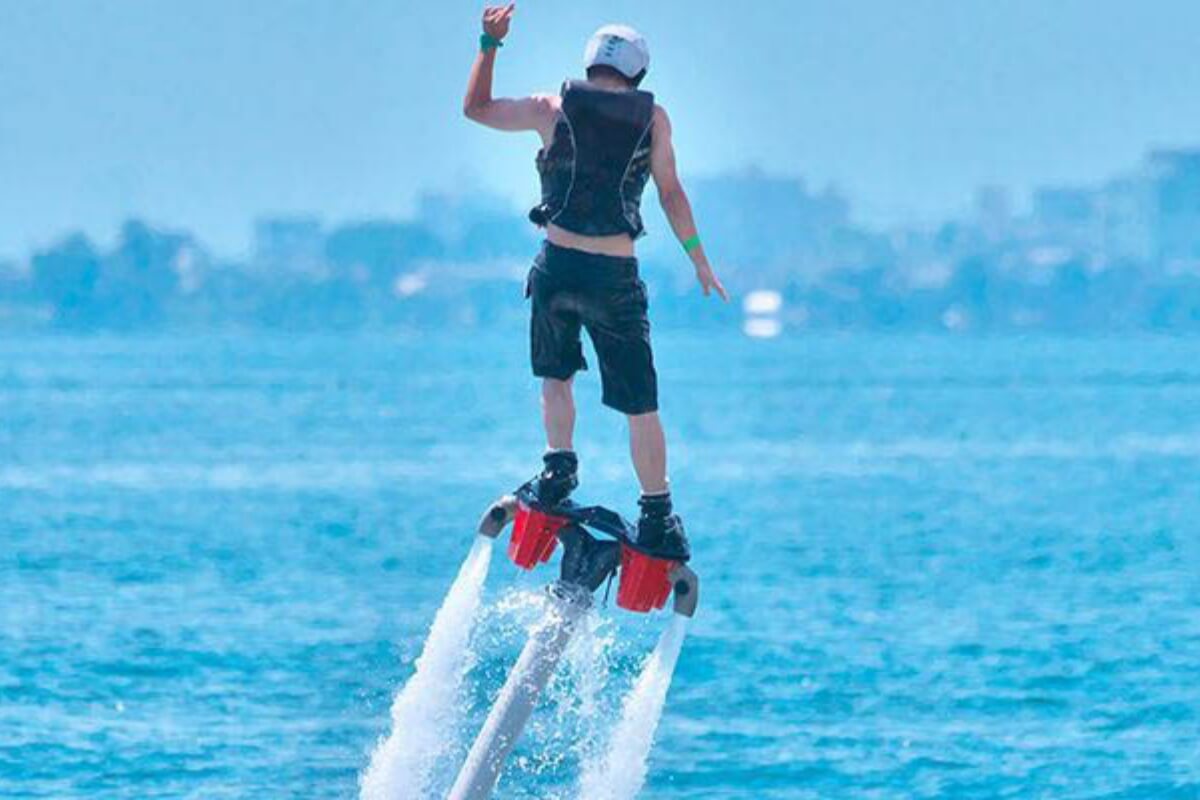 Flyboarding uses water pressure controlled by a jet ski to propel you into the air from the ocean. During flyboarding, participants strap into a board with boots, which is connected to a hose attached to a jet ski exhaust port. Water is sprayed from the bottom of the board on which you are standing, pumped from the ocean by the jet ski through high pressure nozzles. The water spraying from the bottom of the board forces you several meters into the air.

It may be difficult to balance at first, but if you practice you will be able to fly for a few minutes at a height of anywhere between 3 to 5 meters. For those moments, it will feel like you are floating on a cloud.
Parasailing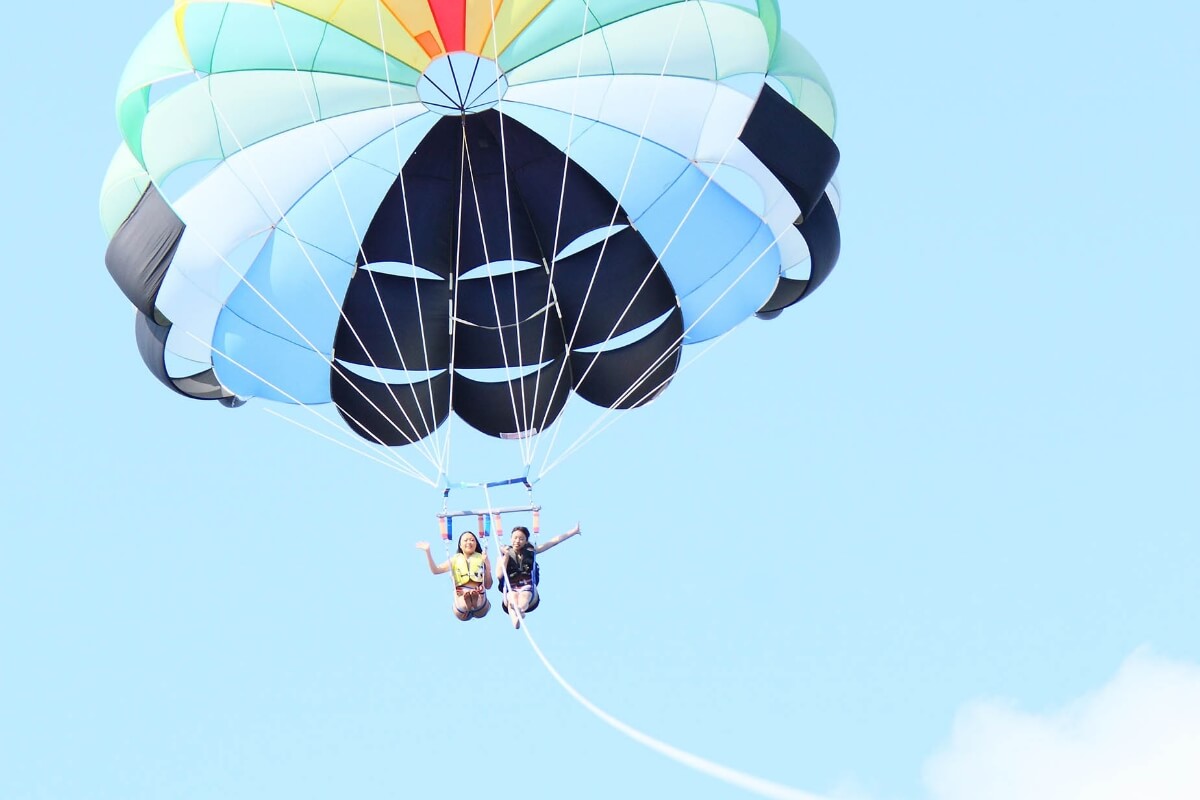 Put on a harness and strap yourself to a parachute, rising around 50 meters above the sea. While being pulled by a motorboat, enjoy the beauty of Okinawa's ocean scenery from the sky. Skilled instructors guide those who are new to parasailing through a simple lecture.
Banana boat rides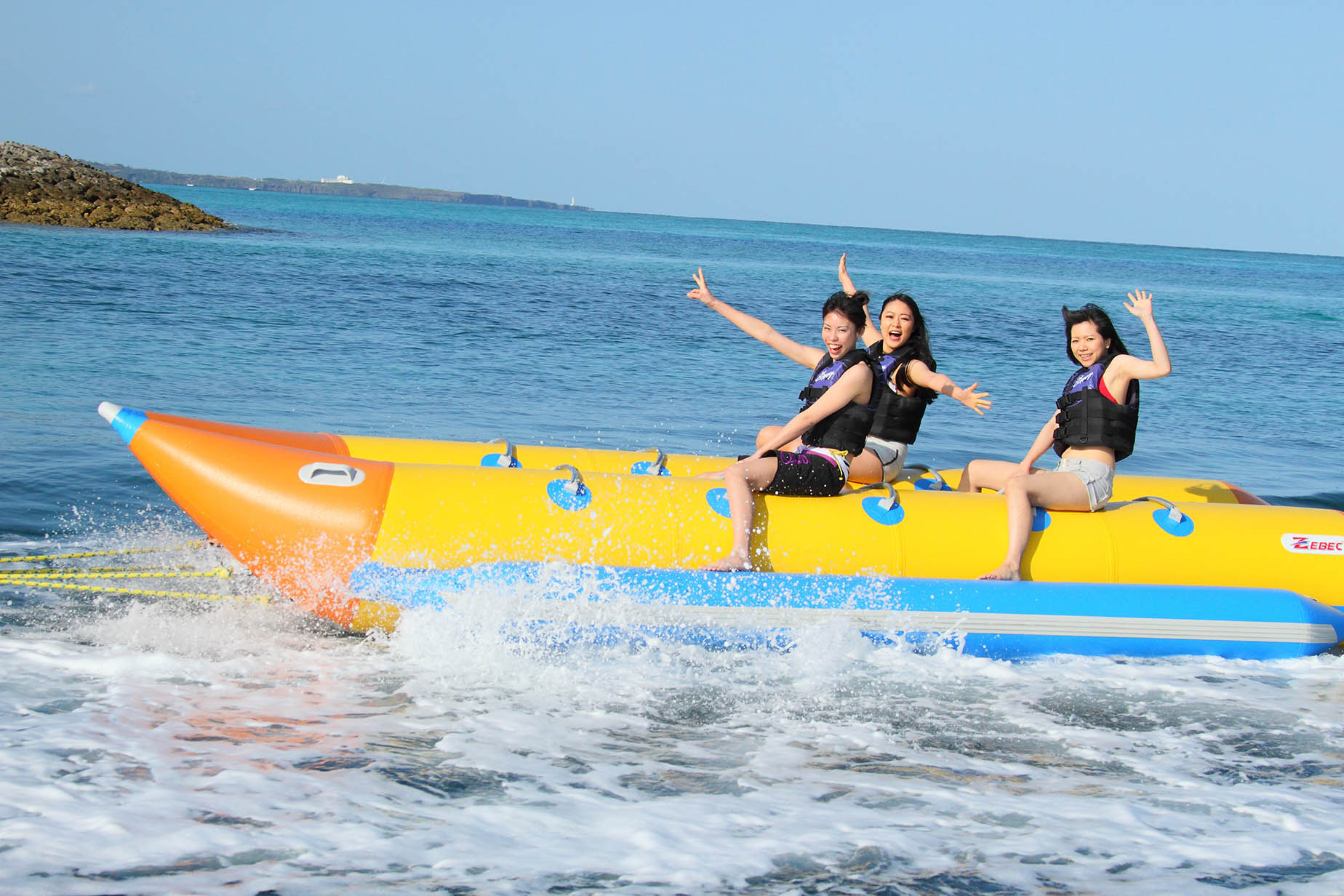 A jet ski or motorboat pulls you on a rubber boat resembling a banana, slicing through the ocean. Banana boats can seat anywhere from 3 to 10 people, so you can share the excitement with a few friends or as a group.

Sometimes you may get thrown into the water as the speed increases, but do not worry—you will be wearing a life jacket. Enjoy the thrill of the ride and not knowing where the next bump is coming from.
Sea kayaking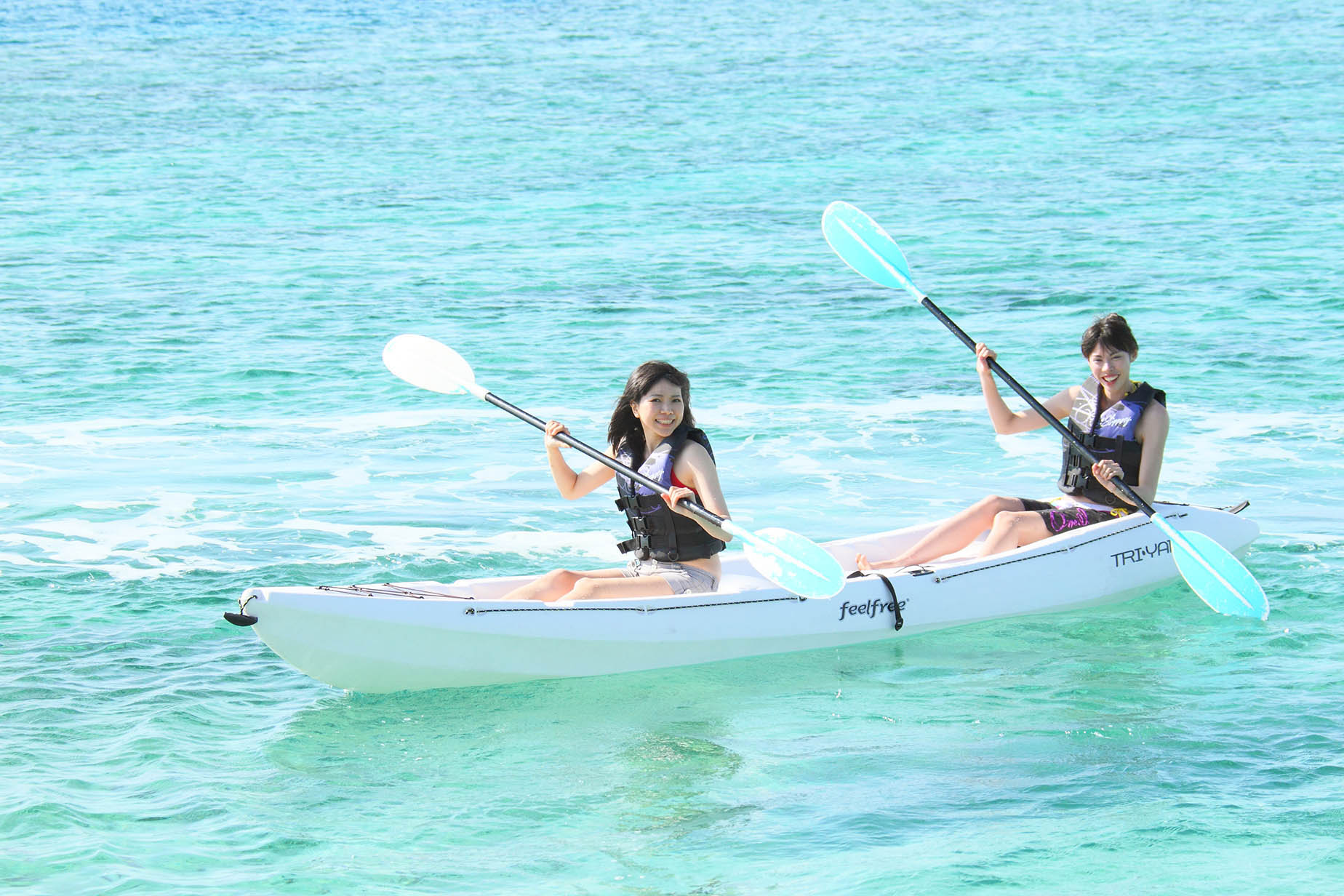 Sea kayaking is a popular, eco-friendly marine activity in Okinawa. Paddlers can enjoy scenes of coral reefs and tropical fish swimming below the surface of Okinawa's clear waters. A variety of tours are available, from trips to uninhabited islands to exploring mangrove forests. Guides will always take you on the safest route, so by the time you are out in the ocean you can manage the paddle easily. Kayaking is a great activity for beginners and pros alike.
Maritime athletics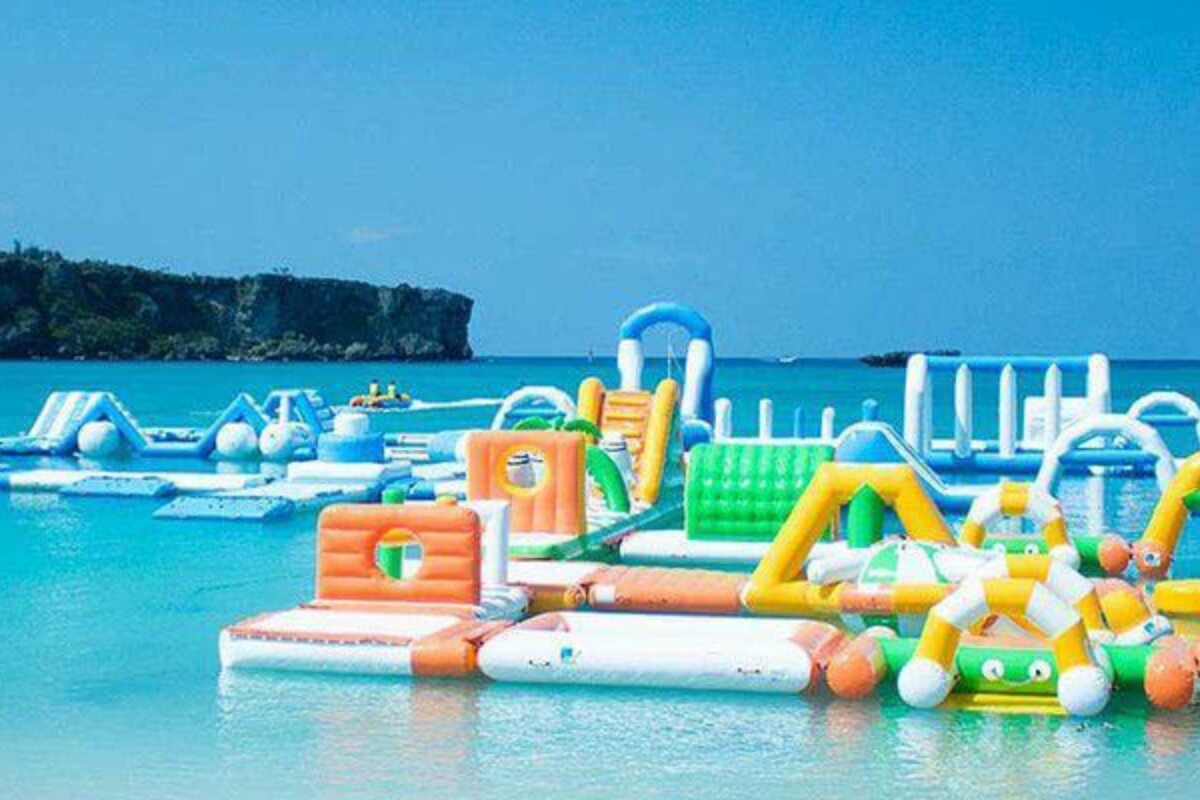 Depending on the venue, these playgrounds on the ocean may be called ocean parks, aqua parks, or marine parks. These parks feature inflated slides, jungle gyms, trampolines and seesaws. All participants wear life jackets for safety and injury prevention.
Stand-up paddleboarding (SUP)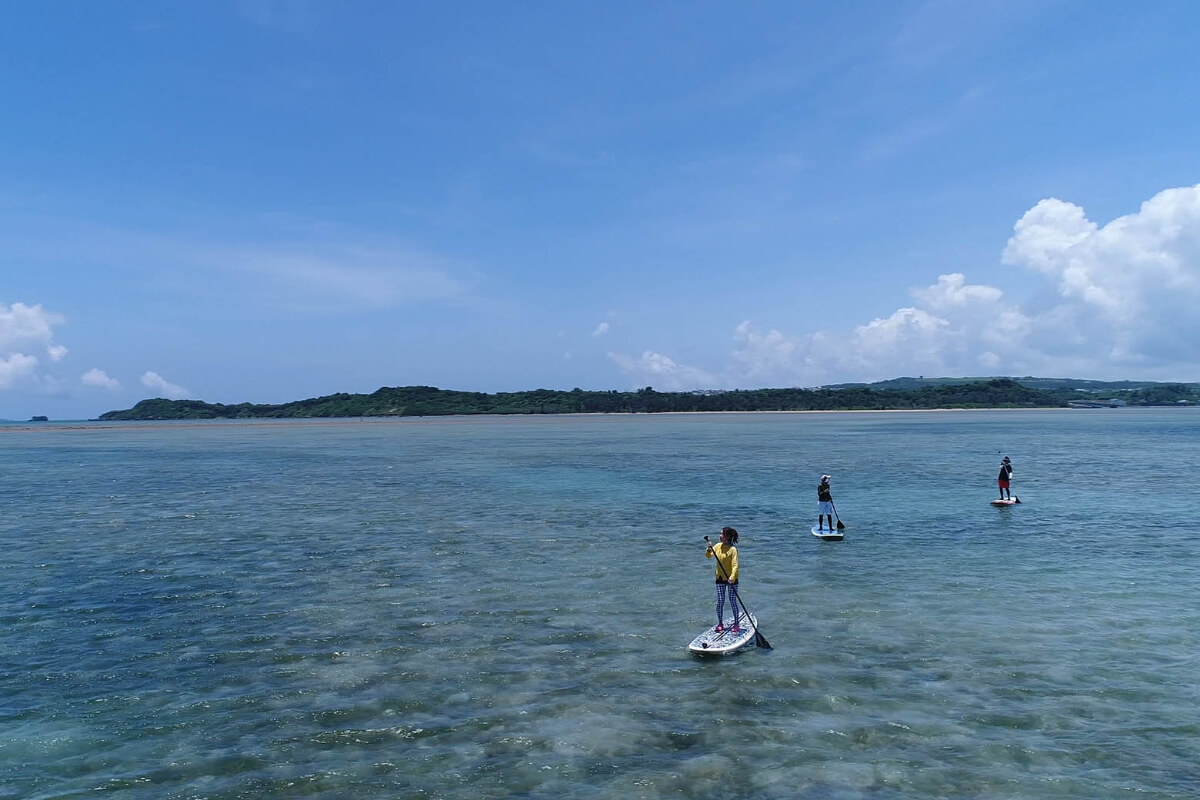 Stand-up paddleboarding (SUP) involves standing or kneeling on a flat, 2-meter long board while using your hands or a paddle to propel yourself. The board is very buoyant, so you can ride the waves or enjoy gliding gently above the water's surface. It feels similar to a canoe, but your eye level is higher, giving you the sensation of walking on water. SUP is a popular way to enjoy the ocean in Okinawa and can be enjoyed by all ages. Because you do not have to get wet, you can enjoy SUP in all seasons.
Snorkeling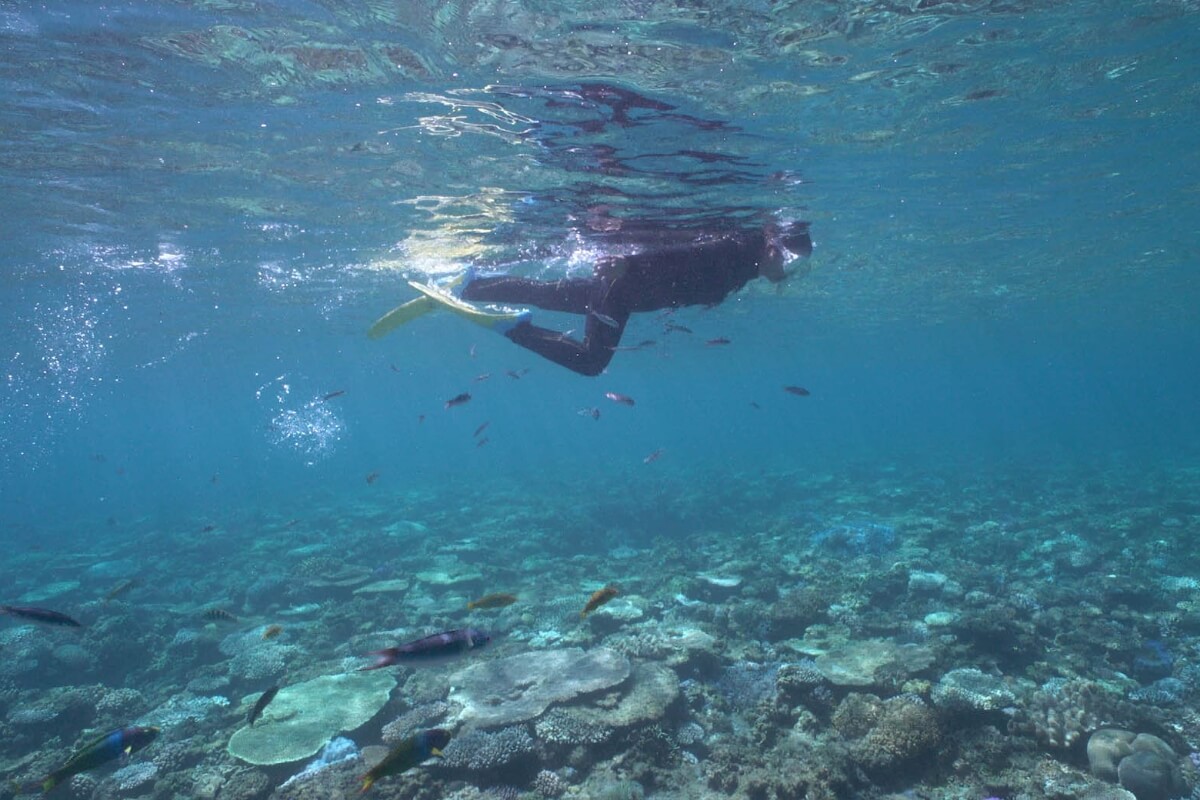 Snorkeling is one of the most popular marine activities in Okinawa, and can be enjoyed by anyone, including even the most novice swimmers. It requires a minimum amount of gear, making it a carefree option for exploring under the sea. Most of the coral in Okinawa is located inside the reef (circular coral reef), and in general, the waves are not very strong. Anyone can enjoy snorkeling as long as they wear a life vest.
Discovery diving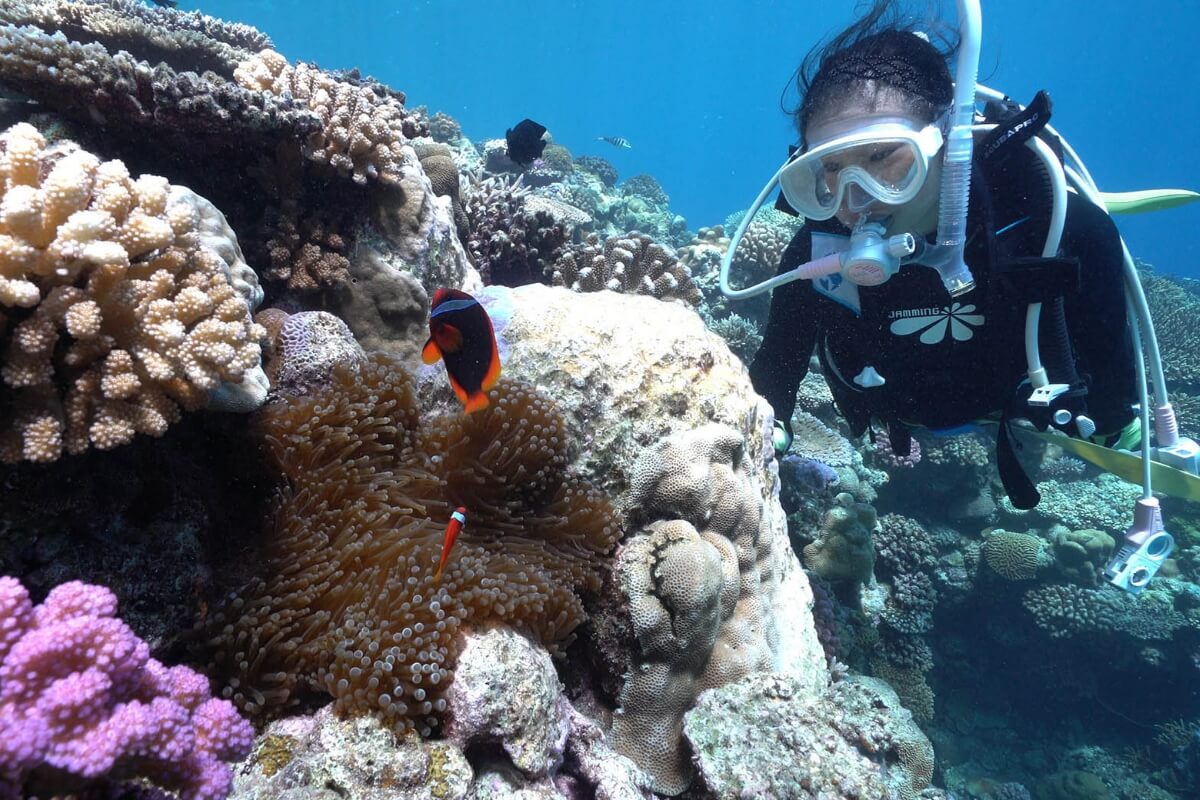 Get an introduction to diving with a discovery dive. Normally, scuba diving requires a license, leading many people to believe that it might be difficult just to try it out. However, there are some diving shops that offer "discovery dives." These introduce you to the basics of diving without requiring a license. An instructor dives with you and supports you all the way. Many become hooked on the fascinating world of diving after their first experience and decide to aim for a license.
Sea walking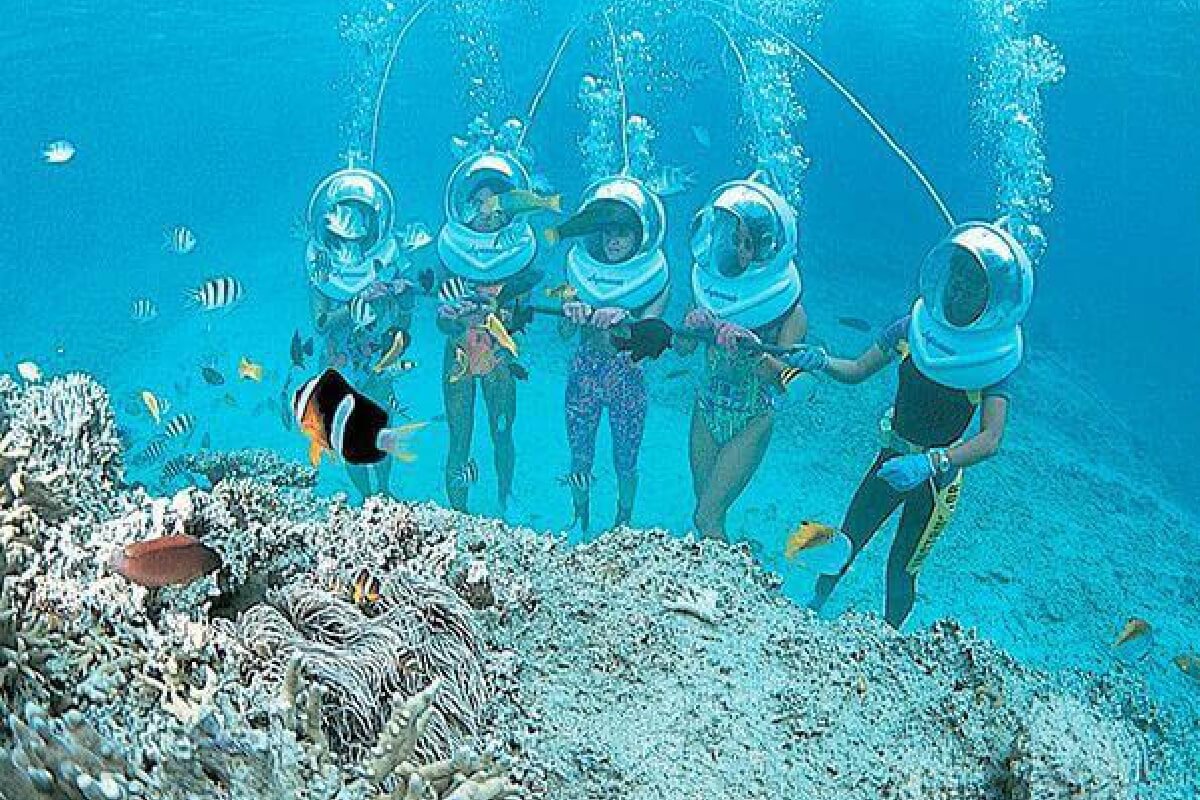 Sea walking allows you to explore from 5 to 10 meters under the water, something you cannot normally do while snorkeling. Depending on the place, this activity can be called sea walking, marine walking, or ocean walking. While wearing a large-size, specially made helmet connected to an oxygen tube on a boat, participants can enjoy an underwater stroll. Sea walking is different from diving and snorkeling in that your face does not get wet. You can even wear makeup and sunglasses while you walk. Inexperienced swimmers can feel safe and secure while walking along the ocean floor because you can breathe just like you do above ground.
Fishing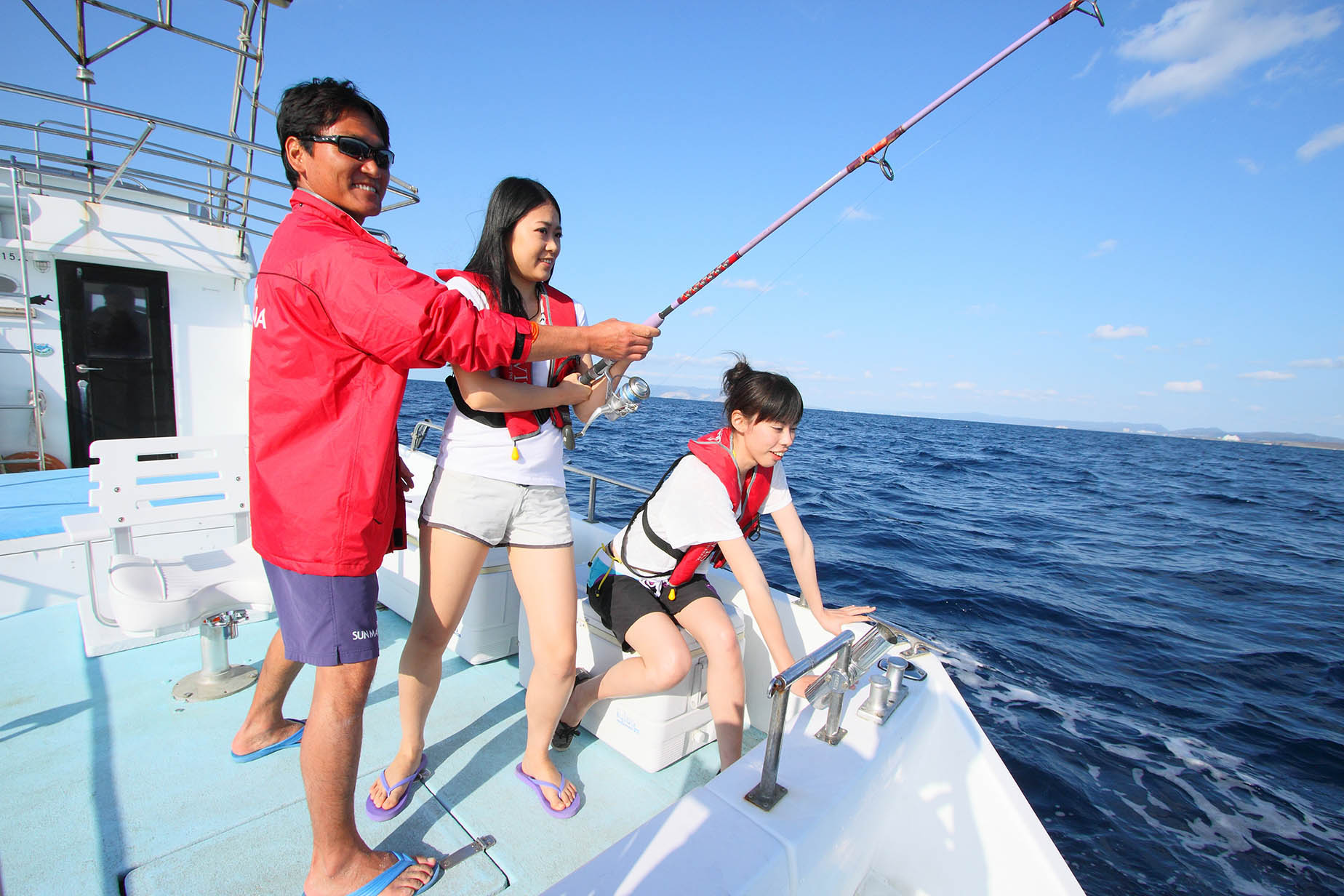 Many fishing shops and resort hotels in Okinawa rent out fishing sets with a fishing rod, traps and bait included, so you do not have to worry about bringing any gear. Fishing for squid from a raft is a popular activity, as the rafts are very stable. The rafts are usually equipped with a tent and a toilet, and some places rent barbeque equipment.