Shopping & Relaxation
Relaxing Retreats in Northern Okinawa
Find out why northern Okinawa is the perfect place to get off the beaten path in a post-COVID world
As we carefully plan travel in a post-COVID world, personal health and safety have become our top priorities. Okinawa's subtropical climate makes it an ideal place at any time of year to take a peaceful workcation. Stay focused and relax with your family in a private villa, then enjoy socially distanced outdoor activities such as trekking through the forest, exploring ancient castle ruins, or cycling along quiet coastal roads in northern Okinawa.
Workcation in a peaceful private villa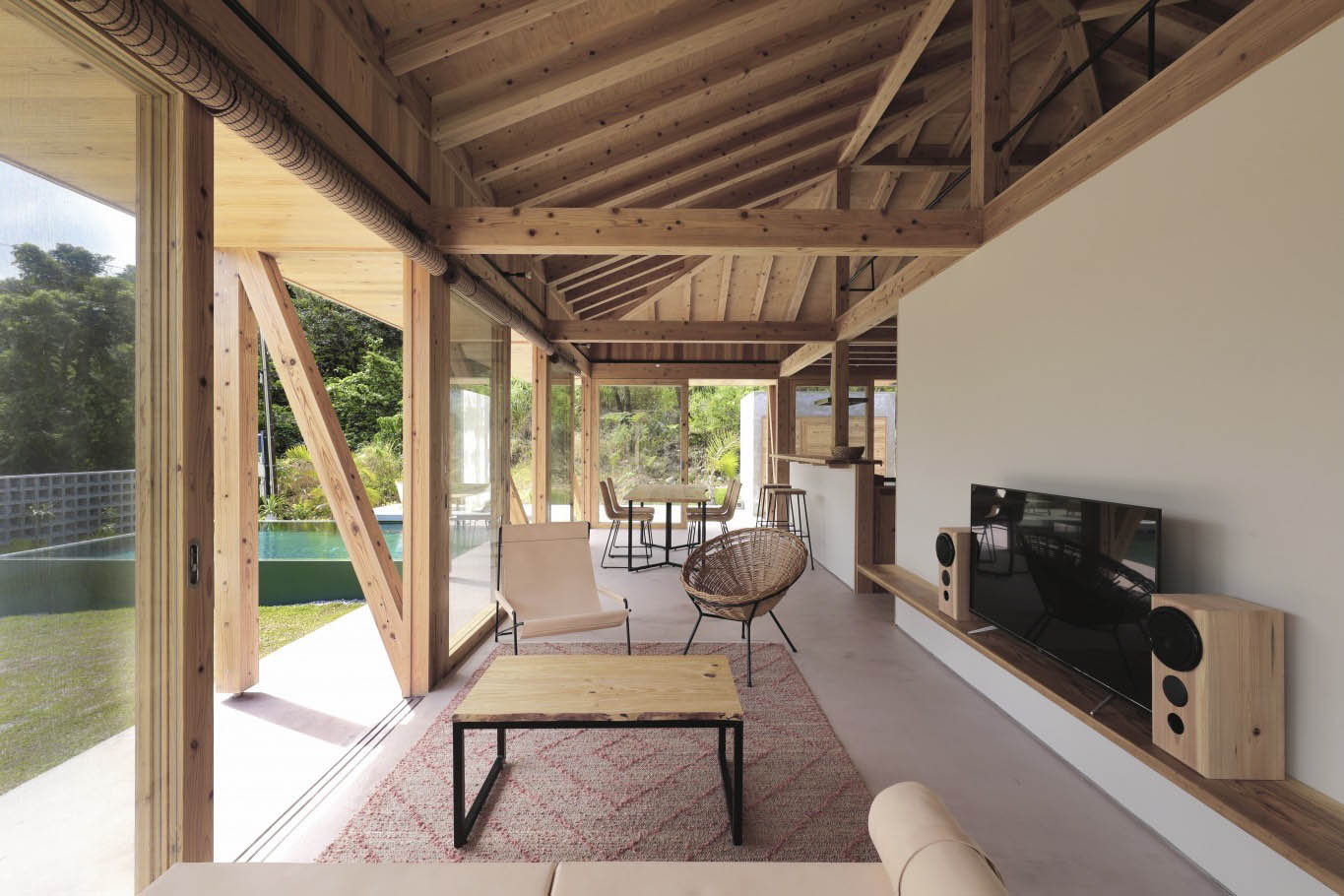 For a safe and productive working retreat, Okinawa has a wide range of private accommodations in secluded locations where you can set up the office while remaining close to nature. From Shinminka Villa, you can rent an entire villa on the Motobu Peninsula with a private garden surrounded by trees. Each villa is fully furnished with a deluxe kitchen and an outdoor barbecue, so you can shop for fresh produce at local food markets and enjoy slow-life within the local village community. Make use of the broadband Wi-Fi, lounge in the hammock with a fresh-squeezed juice, or even request a house call for a professional Thai massage.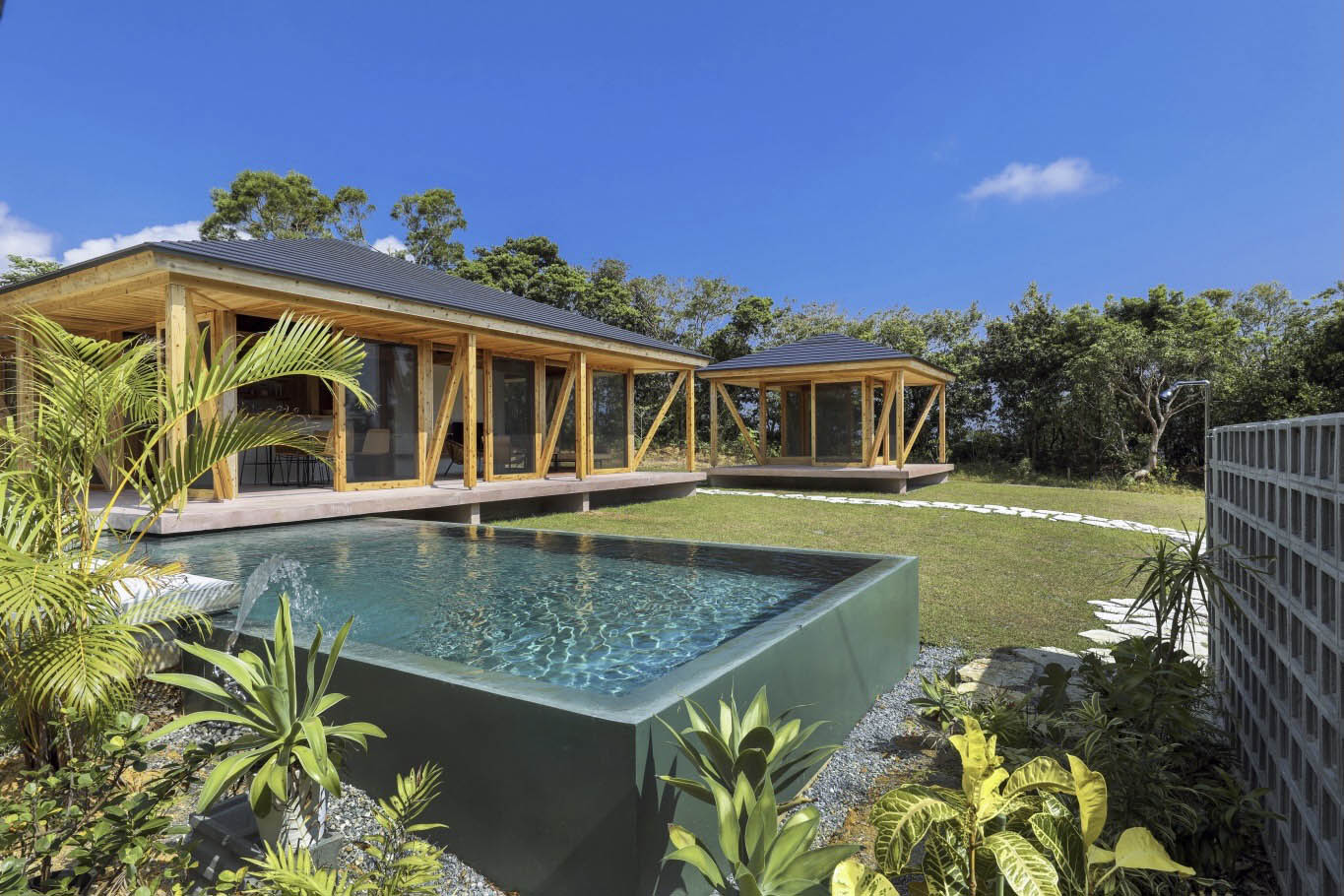 The new wooden buildings are modeled after traditional Okinawan minka folk houses but redesigned with contemporary architecture—the outer walls are entirely transparent to give you a 360-degree view of your immediate surroundings, and by extension, an intimate connection with the natural environment. As this open approach reflects Okinawa's traditionally holistic way of life, it will hopefully also help you to balance work and play during your stay.

Shinminka's Tamashiro Villa is situated in Nakijin Village, and comprises two wooden house structures, as well as a small pool where you can cool off in the garden. Their Gushiken Villa is within walking distance of the beach, and just a short ride away from Churaumi Aquarium to the west or Nakijin Castle Site to the east.

SHINMINKA villa
Explore deep Ryukyu culture in Nakijin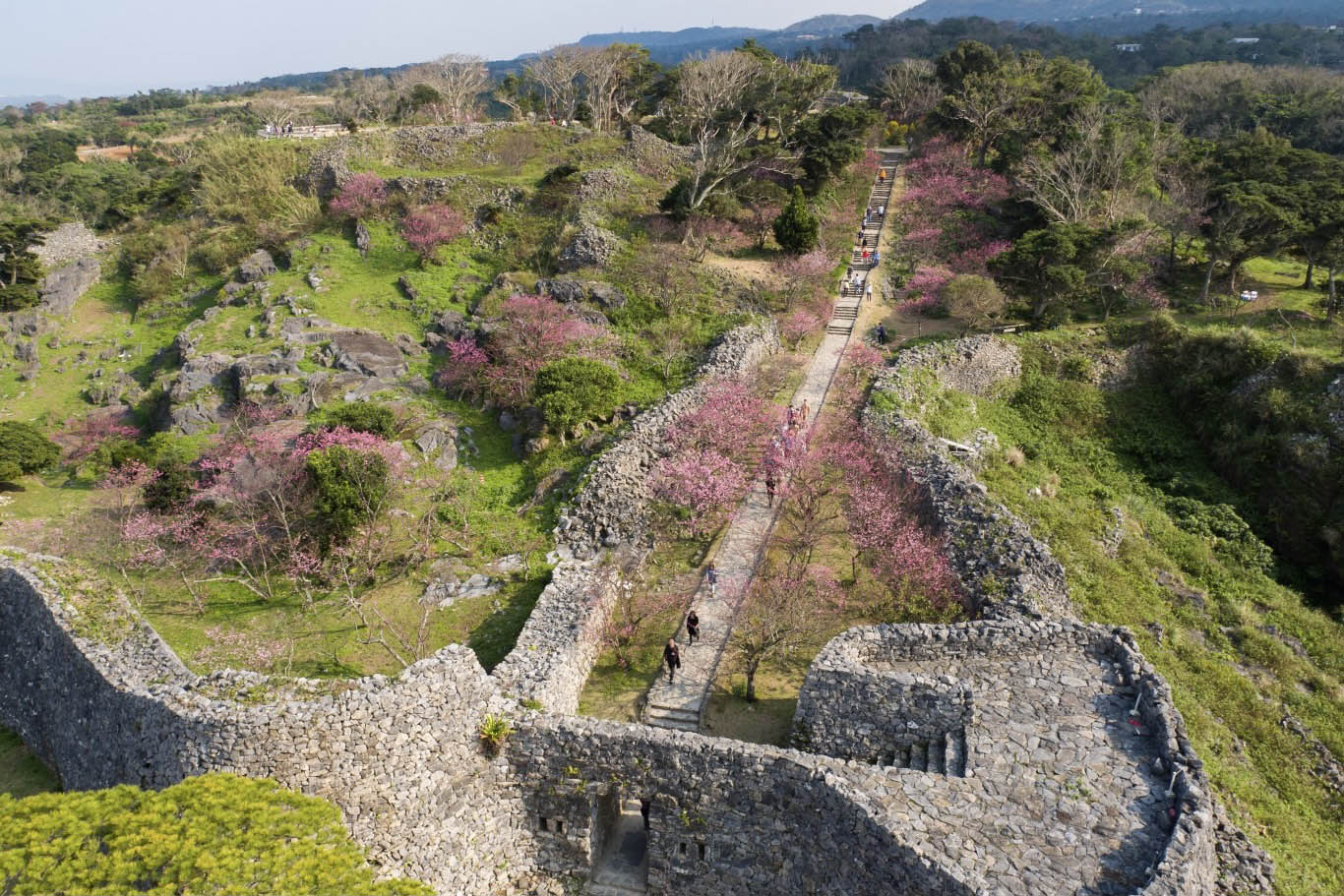 The Nakijin Castle Site is one of the nine Gusuku Sites and Related Properties of the Kingdom of Ryukyu, collectively designated a World Cultural Heritage Site, representing five hundred years of Ryukyu culture and history. Built in the late 13th century, Nakijin Castle was once the stronghold of Hokuzan, the nation that comprised the region of Northern Okinawa and beyond. After a military campaign finally unified the northern, central, and southern kingdoms, the Ryukyu Kingdom was born in 1428.

Unlike most other castles built with the softer coral-based Ryukyu limestone, Nakijin Castle was constructed with unearthed rocks of grey Ryukyu limestone. The sprawling fortress is also a prime example of nozura-zumi, an ancient construction technique that piles rocks according to their natural shape to build strong walls. Many fossils and other artifacts that have been excavated over the years are exhibited in the nearby Nakijin Village History and Culture Center.

You can easily spend half a day exploring the ruins, walking across the undulating walls as you admire sweeping views of the surrounding forest and sea beyond while reflecting upon the deep history of Ryukyu culture. If you come in late winter, don't miss the cherry blossoms!
Hike through the primeval forests of Yanbaru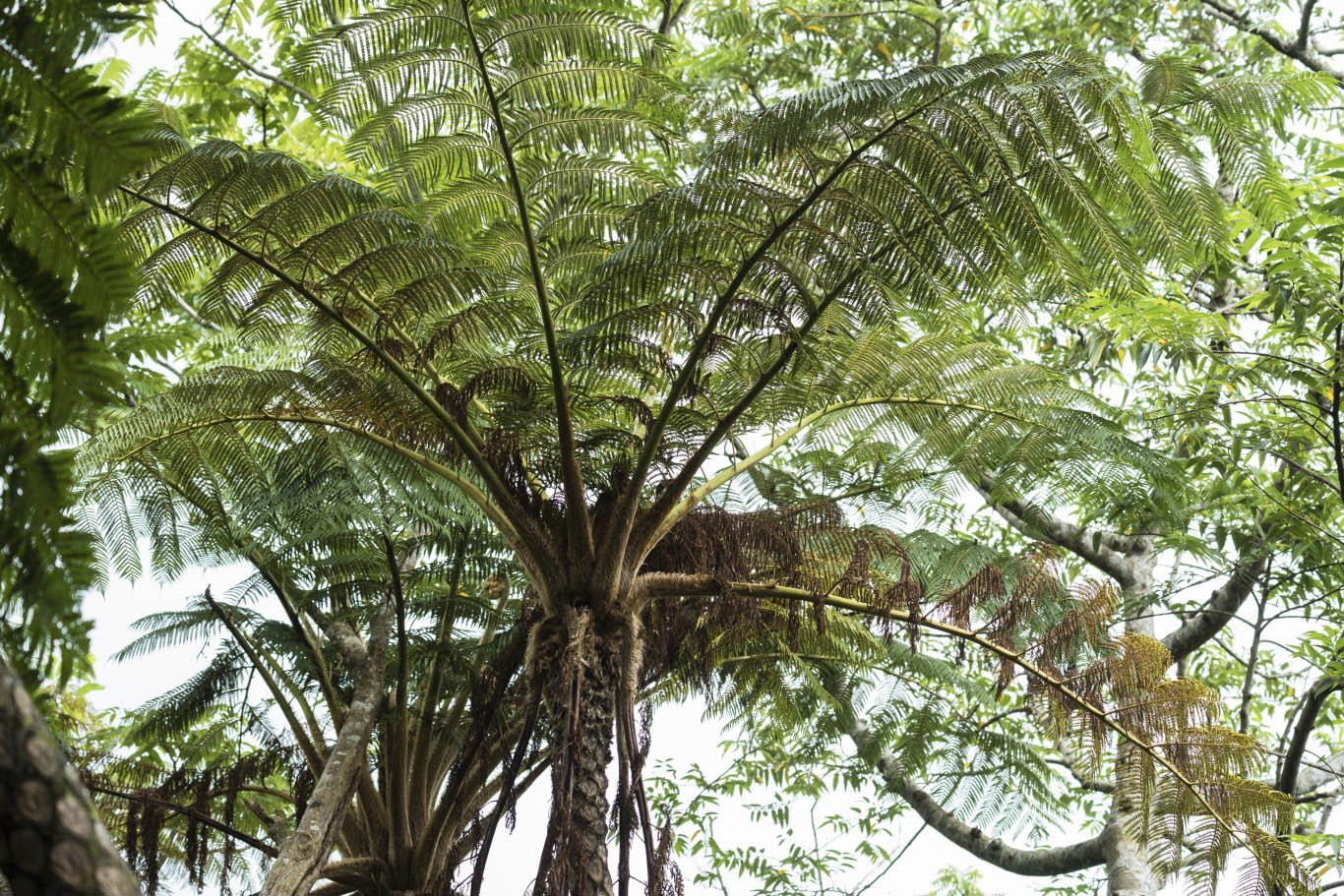 The 13,600-hectare Yambaru National Park is ideal for socially distanced outdoor activities while immersing yourself in nature. A registered Natural World Heritage Site, Yanbaru is northern Okinawa's mountainous region of ancient forests and rare endemic wildlife. Among its native subtropical flora are epiphytic ferns and orchids, living fossil cycads, giant banyans, evergreen itajii trees, and the famous towering Okinawa urajirogashi tree on Mt. Ibudake.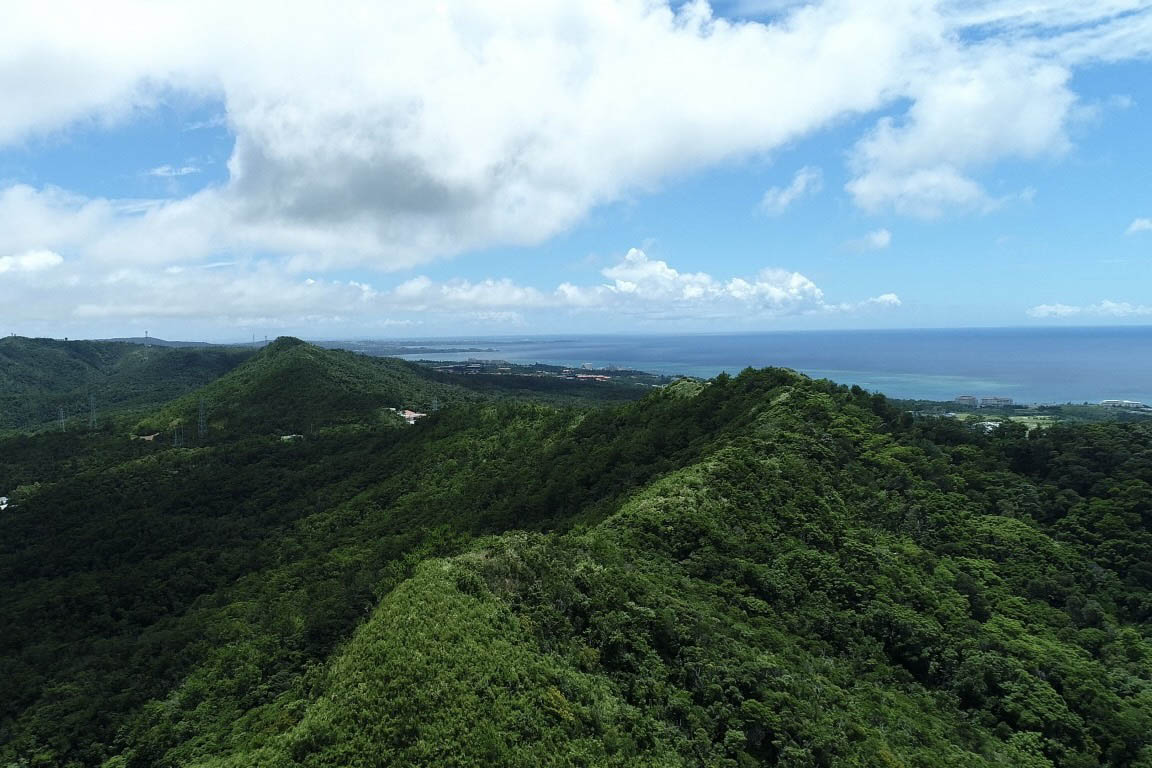 Endemic species of fauna include the iconic yanbaru kuina (Okinawa rail), noguchi gera (Okinawa woodpecker), ryukyu yamagame (Ryukyu black breasted leaf turtle). It's also a birdwatcher's paradise, but be aware, the flightless Okinawa rails are particularly shy in the wild—if you don't spot one on your hike, you can always observe them up close at the Okinawa Rail Ecology Center.

On the southern end of Yanbaru is the Mangrove Forest of Gesashi Bay, where you can explore more native wildlife, such as the tidal flat fiddler crab, from the water-level perspective of a kayak. Deeper into the mountains, hike up to cloud forests on Mt. Yonahadake, admire spectacular views from limestone cliffs overlooking Shioya Bay, or follow a scenic trail leading to the 26-meter drop of Hiji Otaki Falls.
Discover the romance of Kouri Island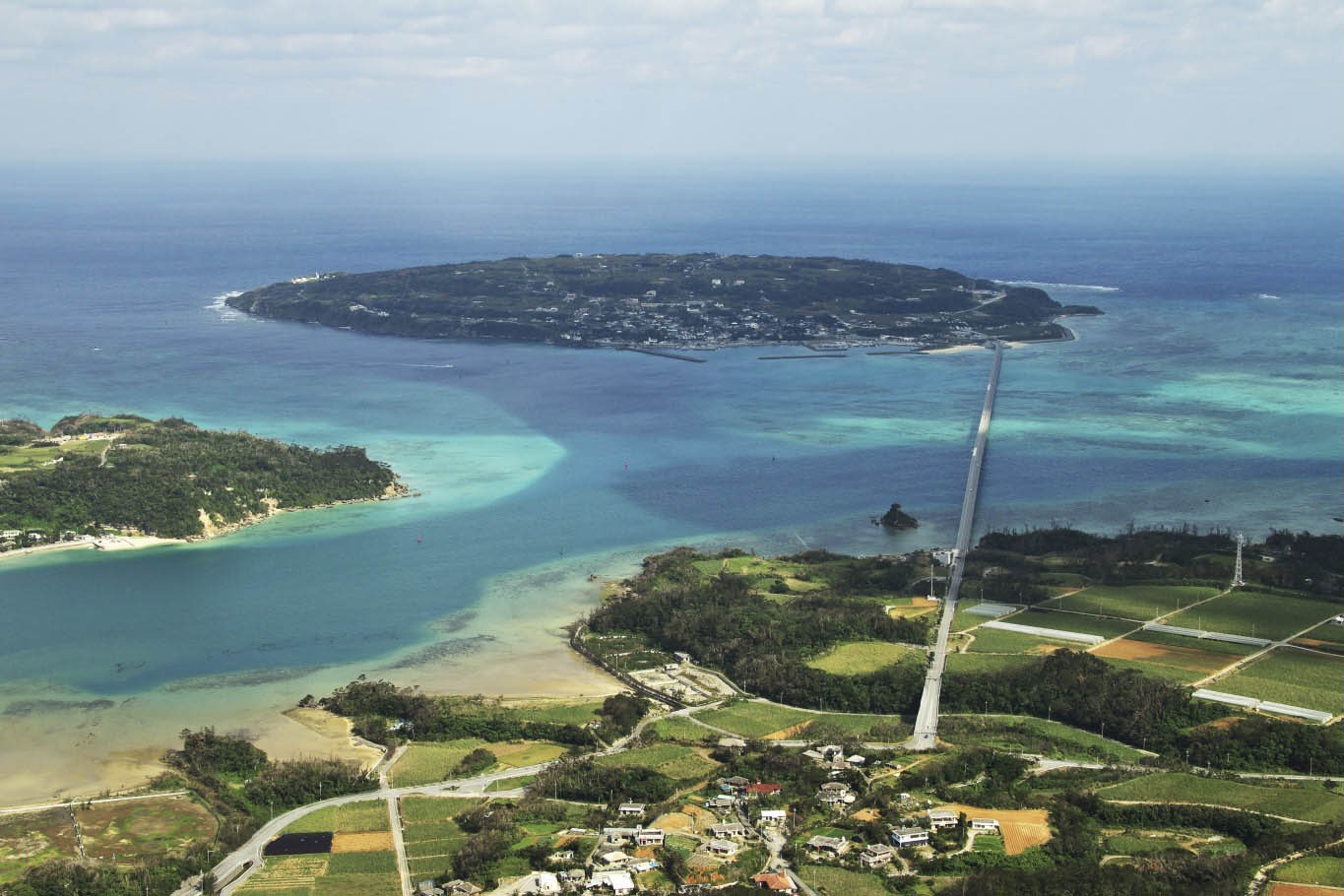 If limiting interaction with others while slow traveling is your goal, consider renting a bicycle in Nago and going for a refreshing ride along the coast. The further north you venture, the more you will be rewarded with quiet roads, remote seascapes, sparsely populated villages, and the thrill of independent adventure on two wheels.

You might begin with an easy excursion to Kouri Island. It's a popular destination for couples, featuring the timeless attraction of a coralline rock formation in the shape of a heart, which is also the setting of Okinawa's own Adam and Eve legend. From Nago, turn off Route 58 onto Yagaji Island, then continue across to Kouri Bridge (1,960 m long). Be sure to savor each scenic minute of the clear turquoise waters as you cross the bridge. On the other side, enjoy touring the coastline with more sea views around Kouri Island.
Retreat to the reefs of Cape Hedo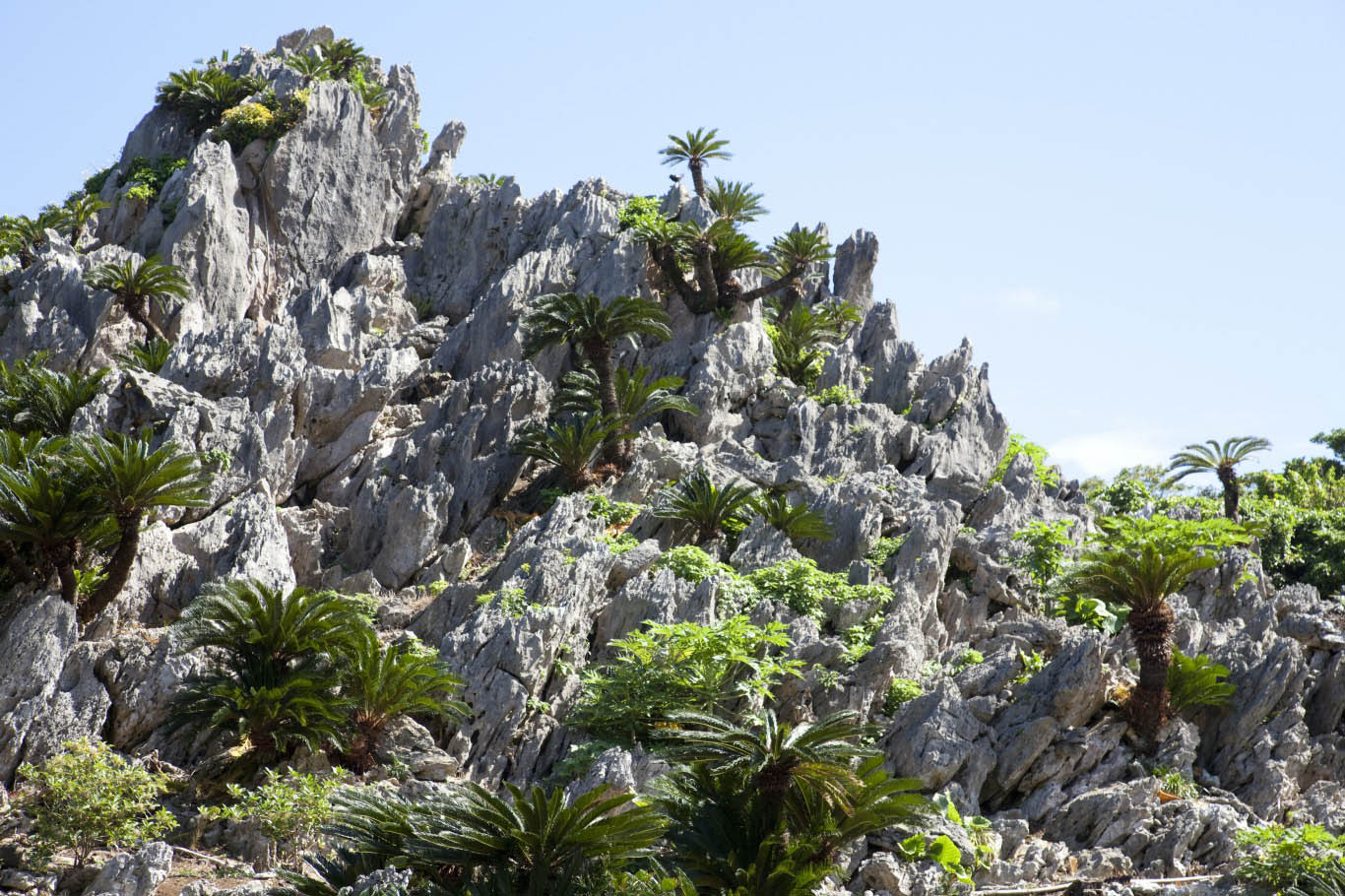 Another option is to cycle northward along the wild west coast of Kunigami, up to the northernmost tip of the island. While Yambaru National Park was established in 2016 to promote eco-tourism to this more remote area, Kunigami is still off most tourists' radars, and offers a unique seaside journey for adventurous cyclists.

Head north on Route 58, which incorporates a paved sidepath for bicycles and pedestrians, of which you will encounter at most a handful going in either direction. Along this scenic, mostly flat road, you will ride past jagged sea walls made of concrete stars, above stage-like steps down to sandy shores, around sharp guard-railed bends, through rocky mountain tunnels, all the way up to the raised coral reefs of Cape Hedo.

From Cape Hedo, you can see the four rocky peaks of Ashimui, Okinawa's ancient sacred site. Ashimui, where Daisekirinzan is situated, is the Earth's northernmost tropical karst of eroded limestone, formed by crustal movements in the ocean some 250 million years ago.

Wherever and however you choose to travel through the islands, keep in mind that the less populated, more wild region of northern Okinawa offers various secluded retreats and safe activities for a socially distanced workcation or splendid vacation.
Posted on 2021/2/26
Last updated 2021/12/20
Text by Cherise Fong
Cherise Fong is a devoted bicycle traveler and eco-writer currently based in Tokyo.