Shopping & Relaxation
Fun in the Sun on Miyako Island
Explore the incredible scenery, history, and culture of the Miyako Islands
Boasting superb natural beauty, the Miyako Islands are famous for the spectacular colors of their crystal-clear waters, which range from azure to emerald green in a shade often referred to as "Miyako Blue." The laid back atmosphere unique to remote islands, and an incredible array of scenic locations, make them an ideal destination to tour around.
Starting from Hirara Port on Miyako Island, head to the neighboring Kurima Island to discover the gems that the place has to offer, from savoring tropical fruits to exploring its cultural sides. Departing from the port is convenient if you have arrived on Miyako Island via boat or cruise ship. It takes about 25 minutes by taxi from the port to Kurima Island.
Ryugu Castle Observatory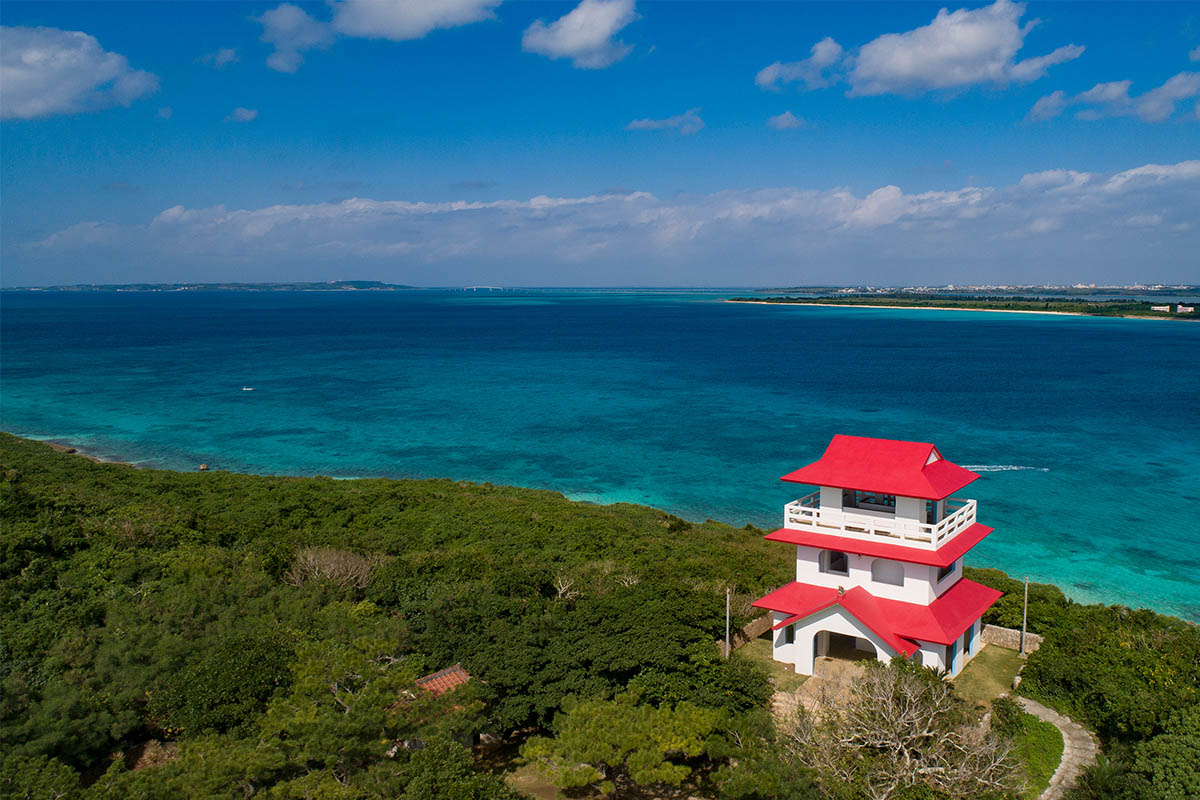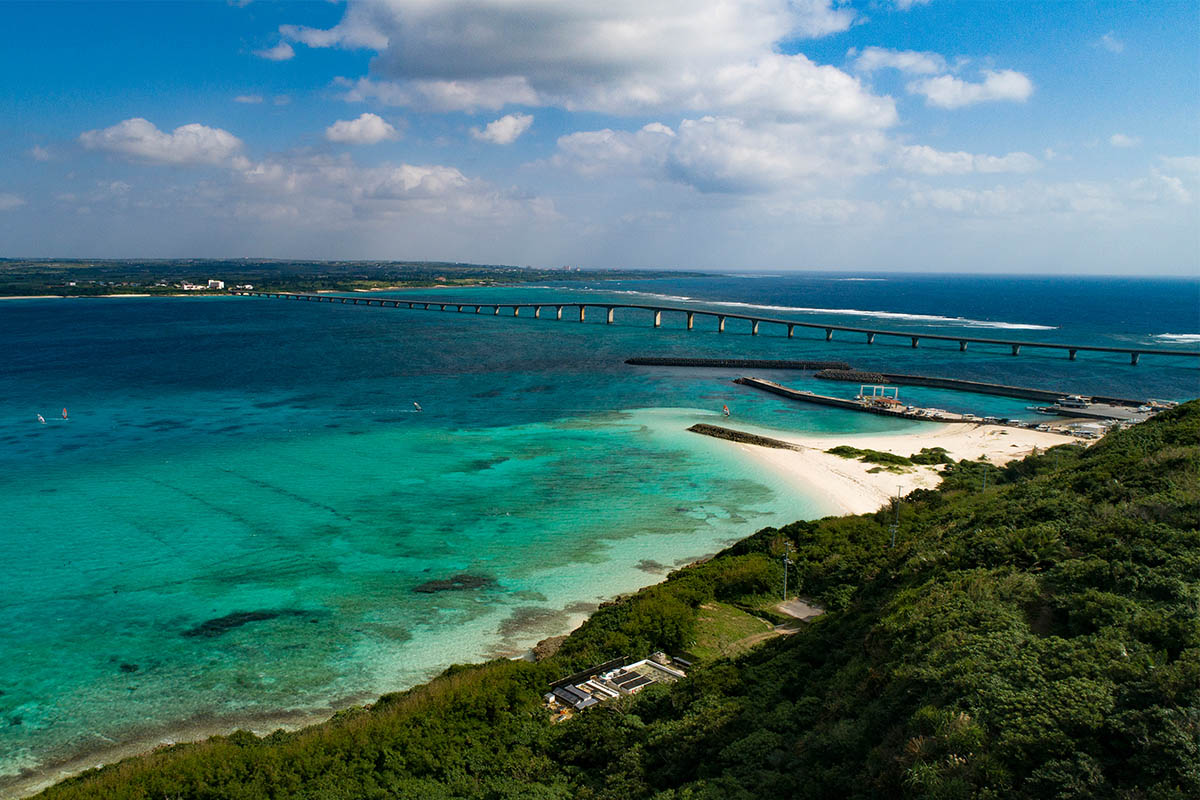 The small yet charming island of Kurima is connected to Miyako Island by the Kurima Ohashi Bridge, a 1,690-meter road stretching over the shiny Miyako Blue waters. On the way to your first stop, you will be welcomed by stunning views on both sides of the bridge. Situated on a hill, the three-story Ryugu Castle Observatory boasts one of the greatest vistas in the area. Built to emulate Ryugu Castle, the legendary underwater palace depicted in Japanese and Chinese myths, the building itself is a picture-worthy sight. Take in the breathtaking view of the endless blue ocean and the bright white sand of the Yonaha Maehama Beach spreading in front of you.
Kurima-ga Historic Wells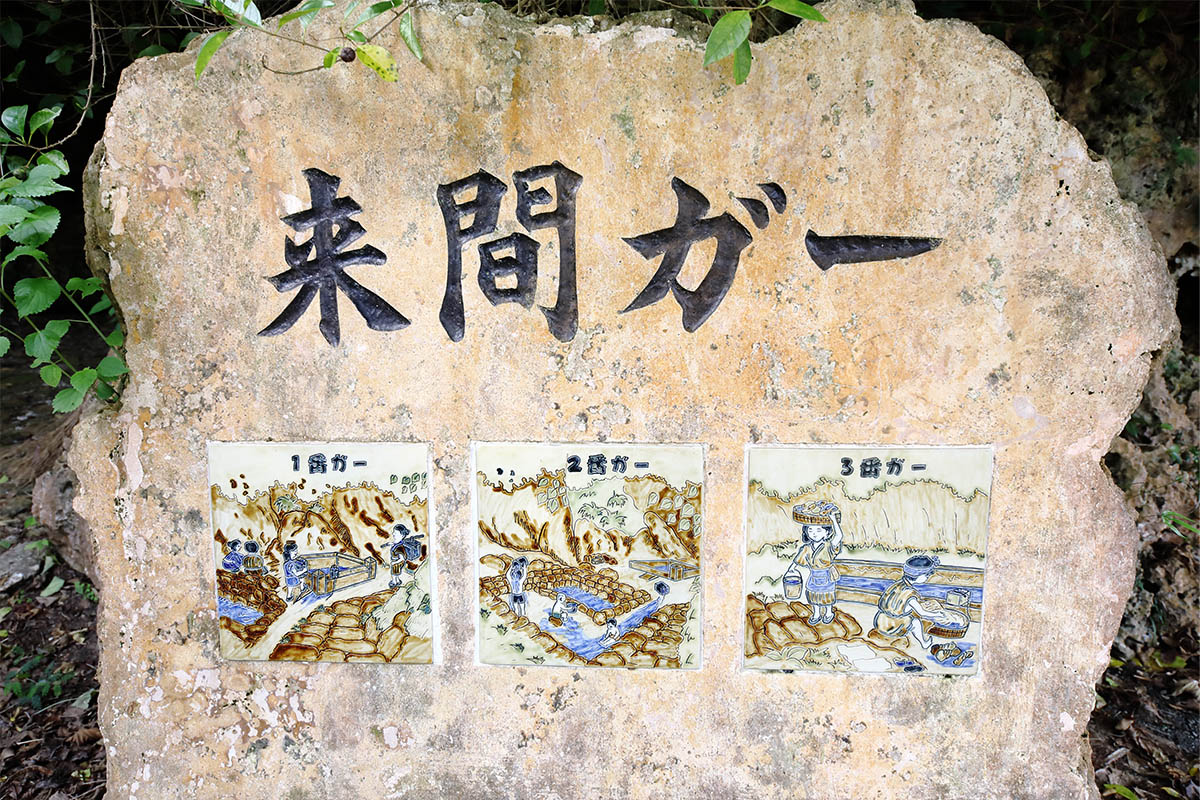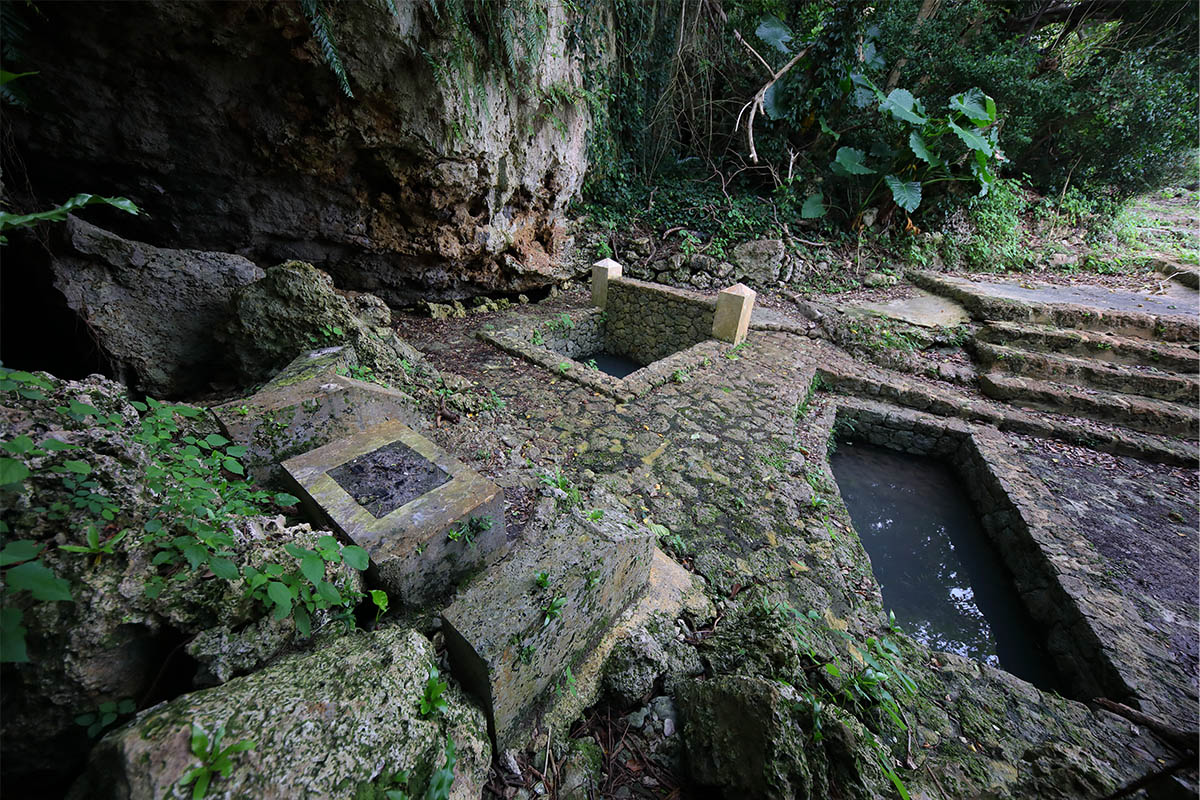 After admiring picturesque views, how about a detour into Kurima Island's history? About five minutes on foot from the observatory, stop at Kurima Island's old wells to get a glimpse of how life on the island used to be.

Made up of upthrust coral reefs, Kurima Island has no mountains and rivers and before the modern water supply system started in 1975 people used to use groundwater for their daily needs. A set of old wells (ga is the local word for "well" or "spring"), Kurima-ga was the only water source in the area, which locals still cherish as a sacred spot and as the island's "spring of life."

Here, you can see three consecutive wells: the first was for drinking, the second for bathing, and the third for laundry. Observe the ingenious way the water flowed from the first well through the third, and then into the sea, to make the most of the limited supply. Look up at the cliff right behind the wells and note the steep stone steps that people from the village climbed every day just to get water. You will get a more vivid sense of the past than any history book.
Rakuen no Kajitsu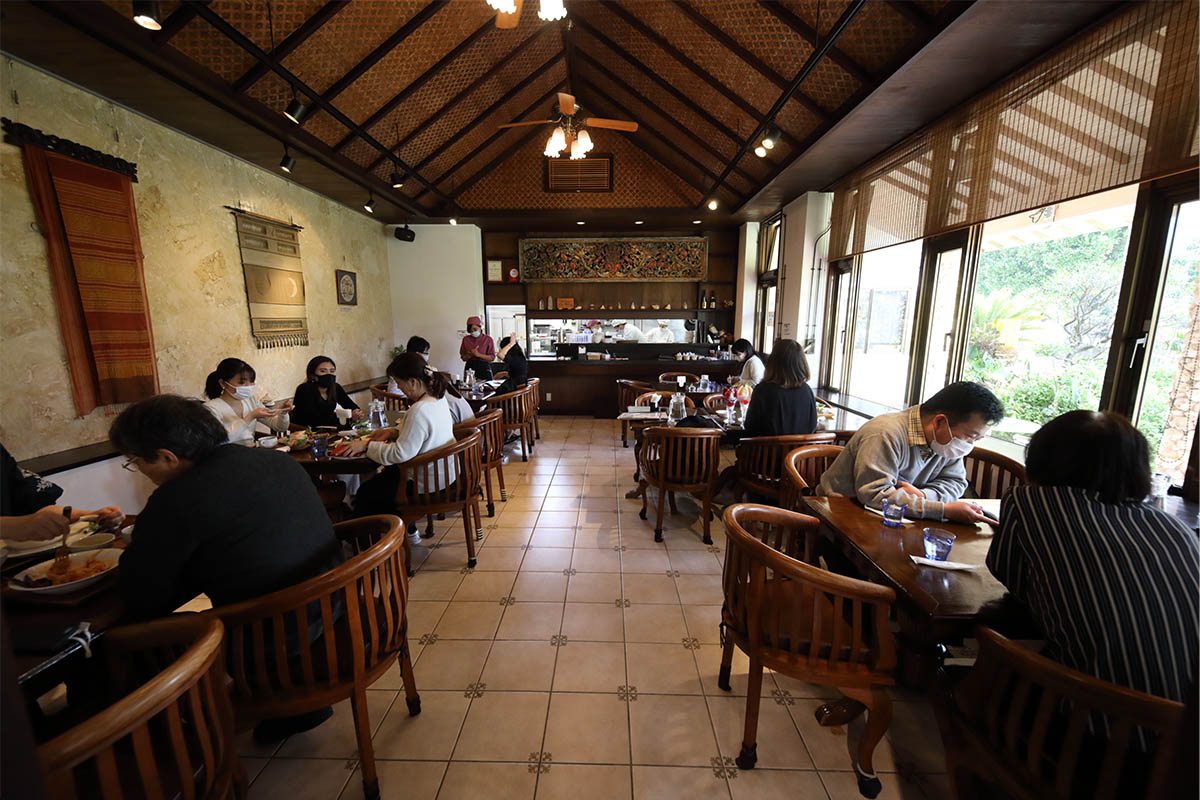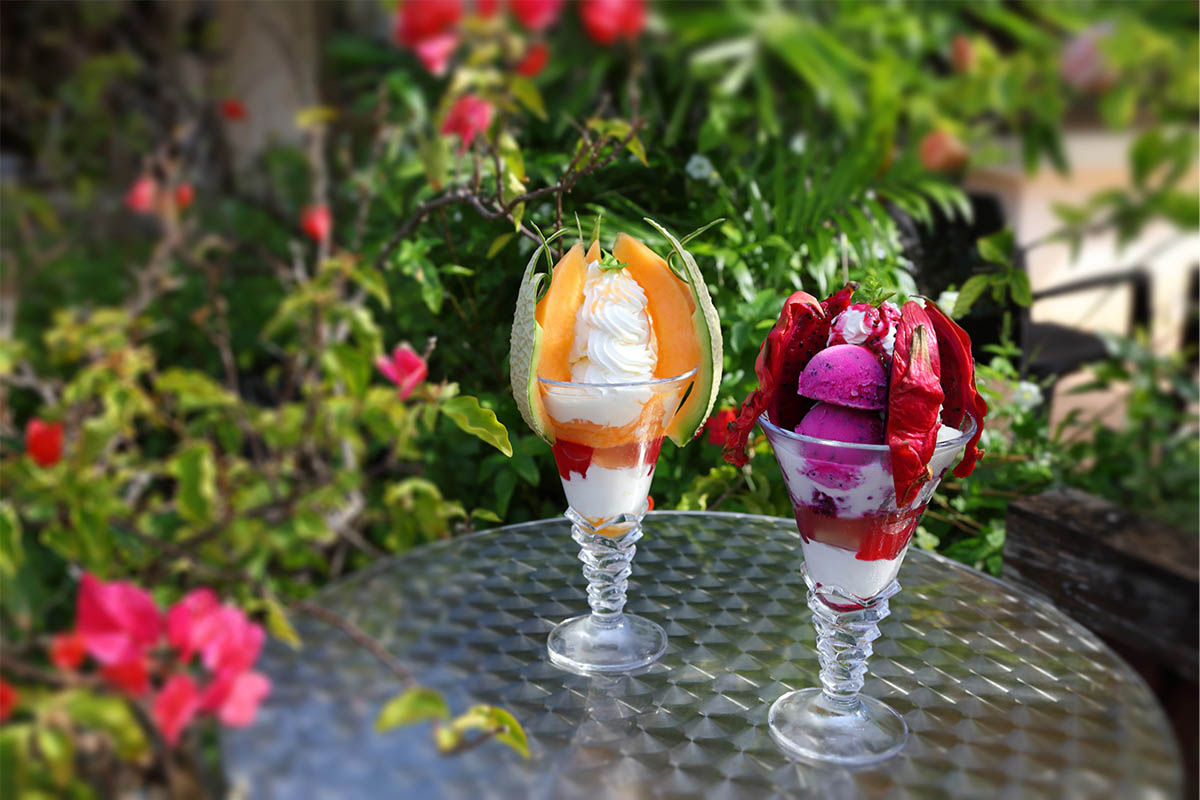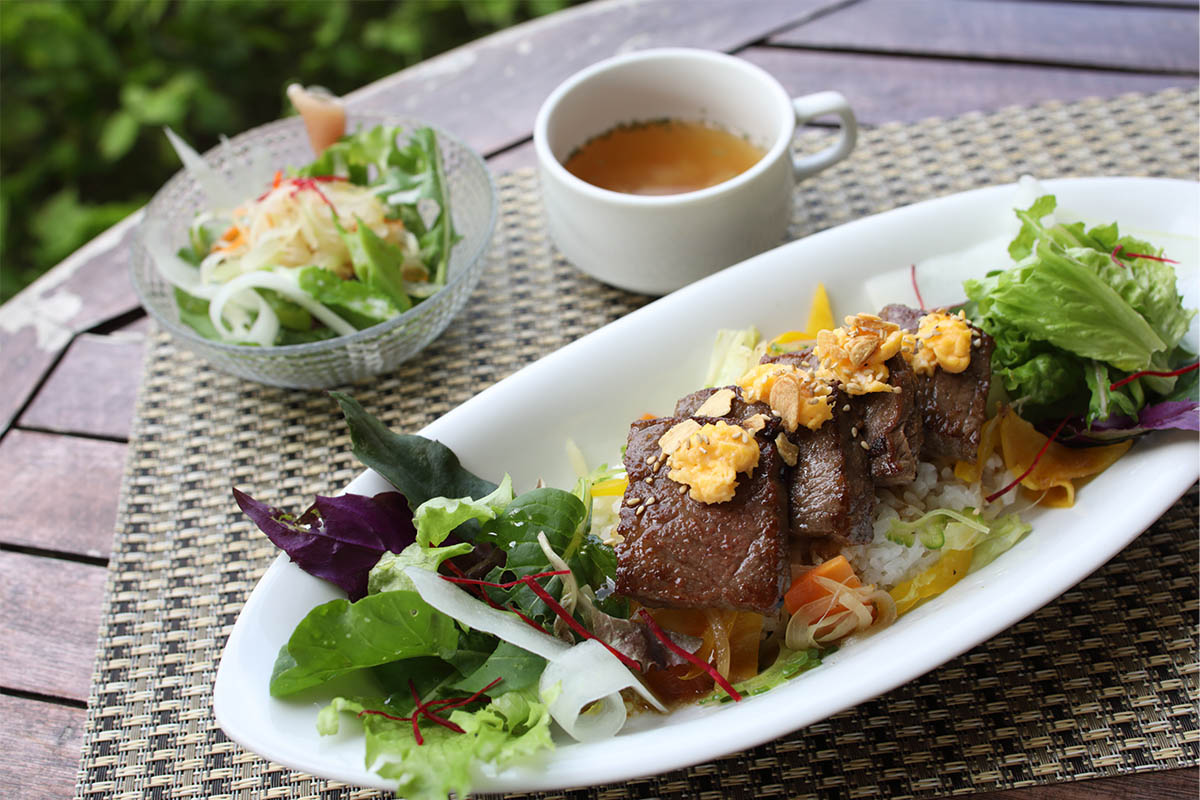 Now it's time for a delicious lunch and a refreshing dessert. Featuring cozy and stylish decorations and Okinawa's traditional red-tile roofs, Rakuen no Kajitsu is a cafe with a warm ambiance where you can savor tasty dishes made with quality local ingredients from Kurima Island and the surrounding islands. It takes about five minutes on foot from the Kurima-ga Historic Wells.

Since the peak season for tropical fruits is from mid-June to September, you can relish fresh-picked produce at its best if you visit during summer. The most popular summer special is the mango parfait prepared with a whole, fully-ripe mango. Try the Miyako-bred beef, served as steak rice bowls and hamburger steaks, for a flavorful and hearty lunch.

If you have a small appetite, a few scoops of gelato or a cup of fruit juice will add a perfect bit of sweetness to your trip. On sunny days, eating on the terrace gives an opportunity to relax and enjoy Okinawa's beautiful weather. Before you leave, do not forget to stop by the shop next door. From homemade baked goods and tropical fruit jams to T-shirts and cute knick knacks like shisa guardian lions, you will find a wide range of products that will make great souvenirs.
Mahina Island Naturals—Sun printing experience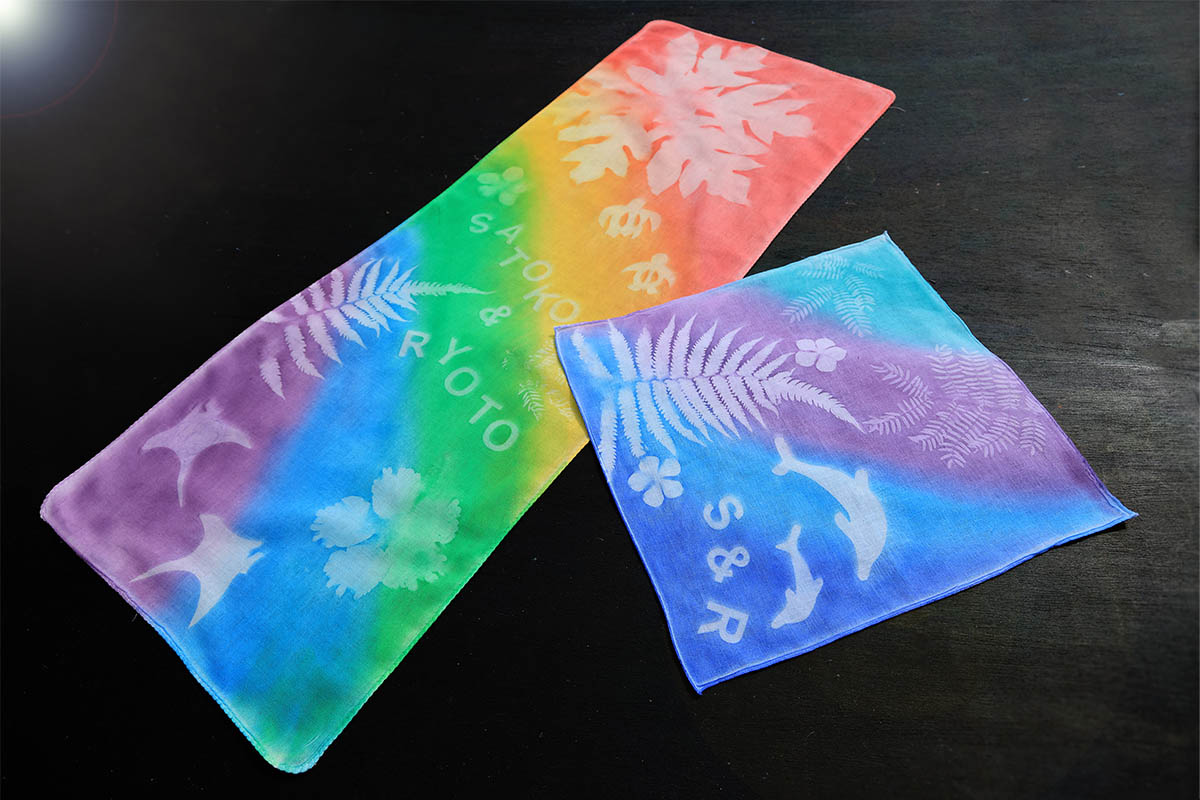 For the finale, how about trying your hand at fabric sun-printing and making your own memorable piece? Heliography is a Polynesian-born technique that uses sunlight to stencil the shape of plants on fabric to create iconic floral patterns.

At Mahina Island Naturals, you can try this fascinating printing method for yourself. First, pick a cloth item, from handkerchiefs to furoshiki (Japanese traditional wrapping cloth), and choose tropical flowers and leaves to use as your stencils. Then, decide on the coloring and place the natural materials in a pattern of your choice. The sun will do the rest for you, so you can go out to enjoy a peaceful time on the nearby beach or at a relaxing cafe. About two hours later, the piece of cloth you worked on will have turned into a one-of-a-kind work of art. You can also purchase handmade products from local materials, so don't forget to browse before heading back to the port. The trip back to Hirara Port takes about 25 minutes by taxi.
Posted on 2021/3/31
Last updated 2021/12/20
Text by Silvia Telloni
Based in Tokyo with Okinawa in her heart, Silvia Telloni translates and writes in Italian, English and Japanese.