Heritage & Tradition
Shurijo Castle's Road to Recovery
Shurijo Castle's road to recovery is long, but visitors can witness every step of progress
On October 31, 2019, a large fire at Shurijo Castle destroyed nine structures, including the Seiden (Main Hall). Following the tragic event, Okinawa received enormous support from mainland Japan and from abroad. Restoration work is underway, and visitors are welcome to view the progress as Shurijo Castle is restored to its former glory.
Local volunteers at work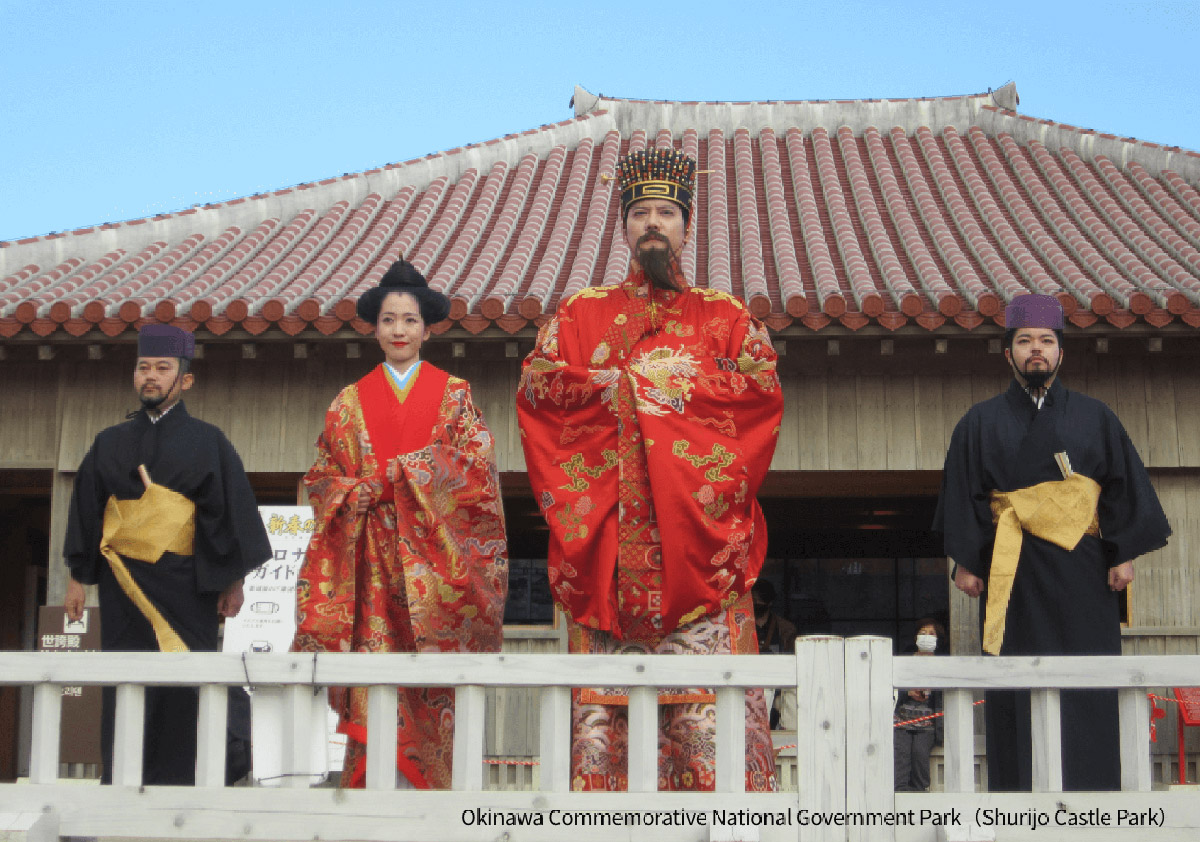 Shurijo Castle Park opened additional areas to the public the year the fire broke out. In 2020, the first year of reconstruction, New Year's Celebrations were quite solemn. But even faced with the added challenges of COVID-19, work at this important World Heritage Site continued. By February, the remains of the Seiden were cleared, and the area reopened to the public.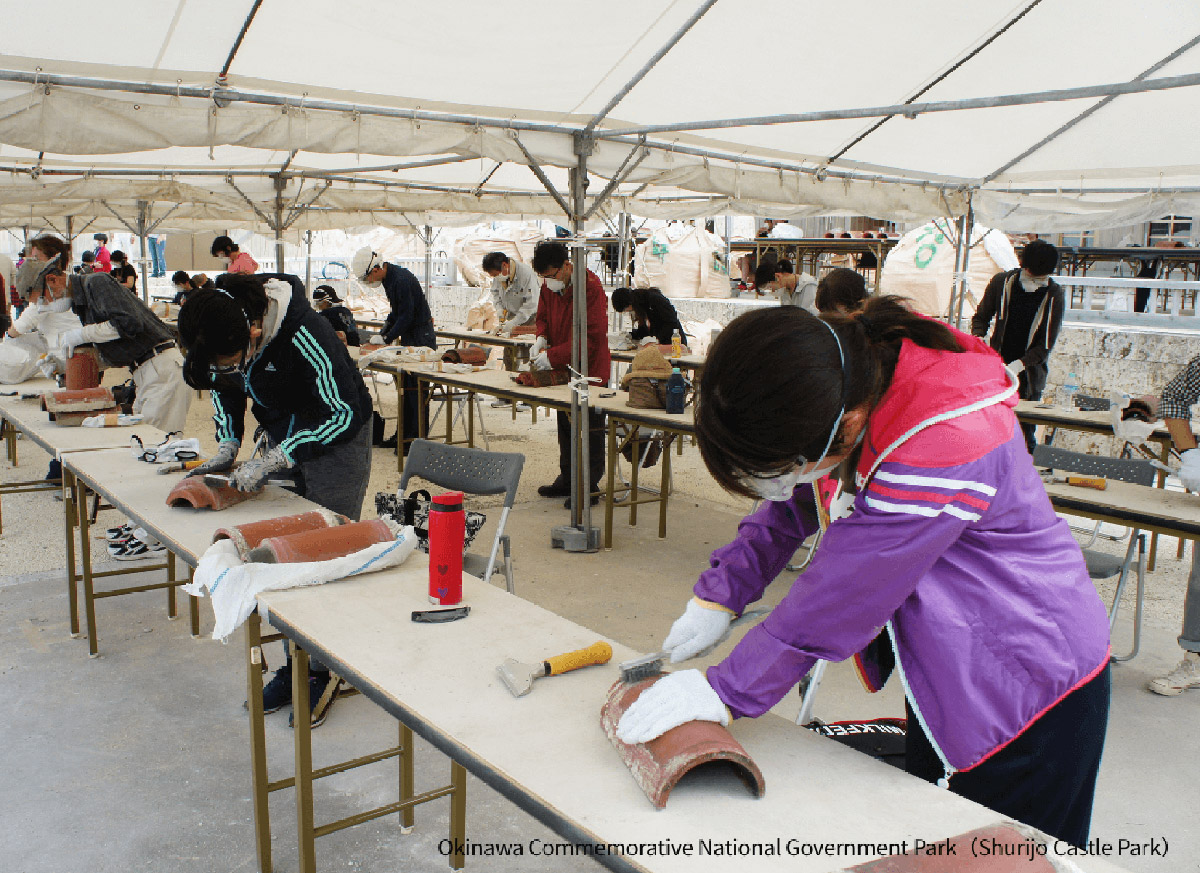 The concept of "reconstruction on display" is not limited to just viewing the repairs of structures onsite. With limited resources, local volunteers also play an important role, and perform tasks such as removing fire damage from red roof tiles. Some of these red tiles are also being reused in shisa-making craft activities for children. These kinds of activities help to unite the community, as they help in the reconstruction of Shurijo Castle.
Shared information generates new ideas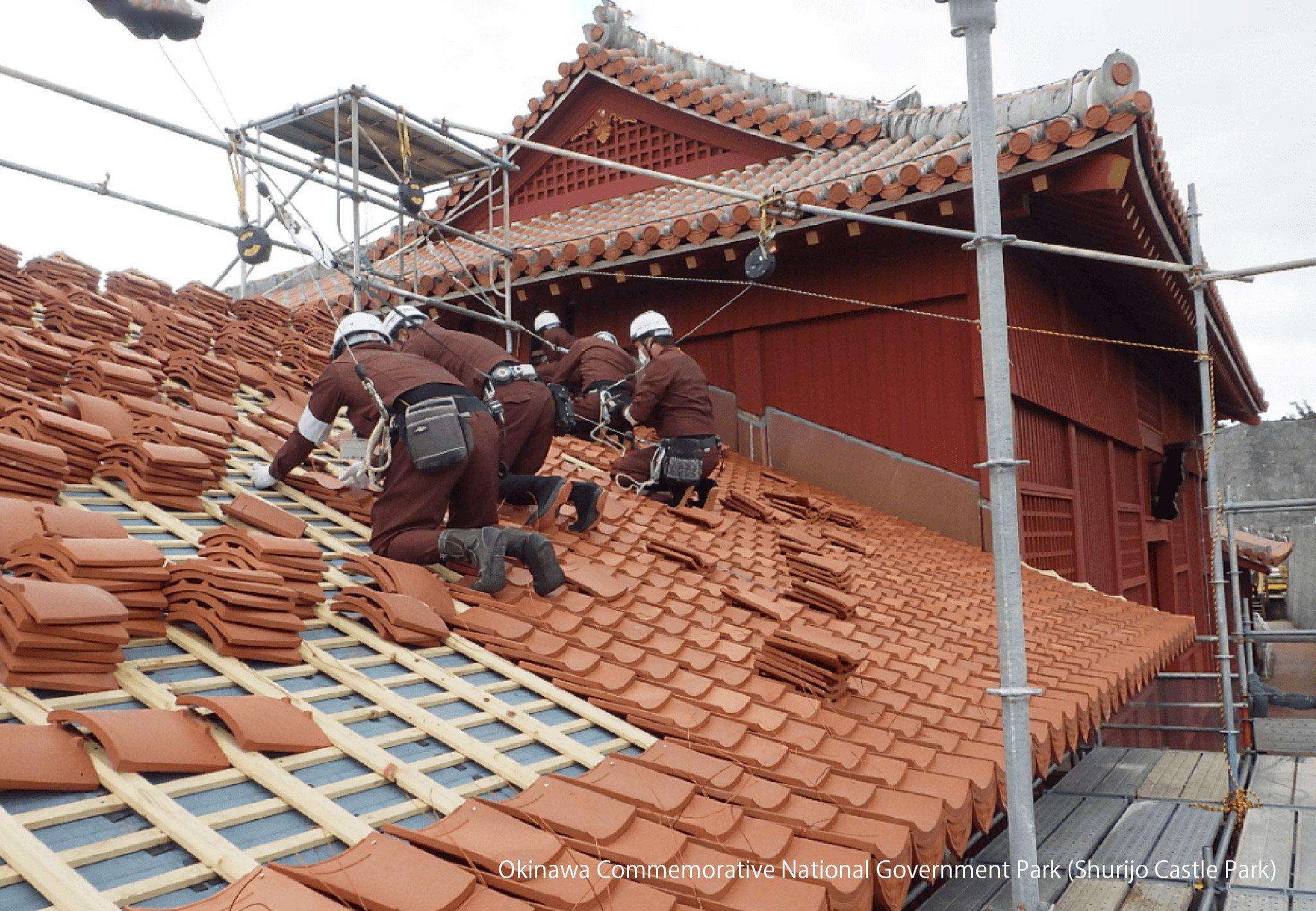 Reconstruction of Shurijo Castle's Seiden is expected to begin in 2022, with the goal of completion by 2026. The reconstructed building will have disaster-prevention equipment, a hard-learned lesson from the fire, and feature modern construction techniques that have been developed since its previous restoration in 1992.
The road to the castle's reconstruction is clear, but new questions have been raised. Should the Great Dragon Pillars that stand in front of the main building be facing forwards, rather than facing each other as they were before the fire? Regarding the surroundings of Shurijo Castle, there are many subjects to discuss, including the preservation of the 32nd Military Headquarters Trench Remains. Okinawa Prefecture is also considering historical town development alongside the reconstruction of Shurijo Castle. Shurijo Castle may not be exactly the same after reconstruction is finished, but it will be equally as grand.

For around 450 years, Shurijo Castle was the site of the royal government of the Ryukyu Kingdom. It has a history of destruction by fire and war, but also of rebirth. Donations of more than five billion yen came from all over the world. This money will be used for the reconstruction of the buildings, and to collect, restore, and preserve nearly 400 precious arts and crafts that were destroyed by the fire. If you wish, you can contribute your own donation via the links on this page.
Posted on 2021/4/5
Last updated 2021/12/20
Text by Kei Itaya
Magazine editor, writer, newspaper journalist in Tokyo and NYC for more than 15 years. Returned to her hometown of Okinawa in 2019.