Arches, caves, and caverns define dives around the Miyako Islands
The Miyako Islands are a mecca for cave dives and exciting underwater topography. Swim through caverns, investigate crevasses, and enjoy the way the light plays off the walls at sites like Satan's Palace. Dives around the Miyako islands are typically boat-entry dives, and some require an advanced license.
Sea Life in the Miyako Islands

Diving Sites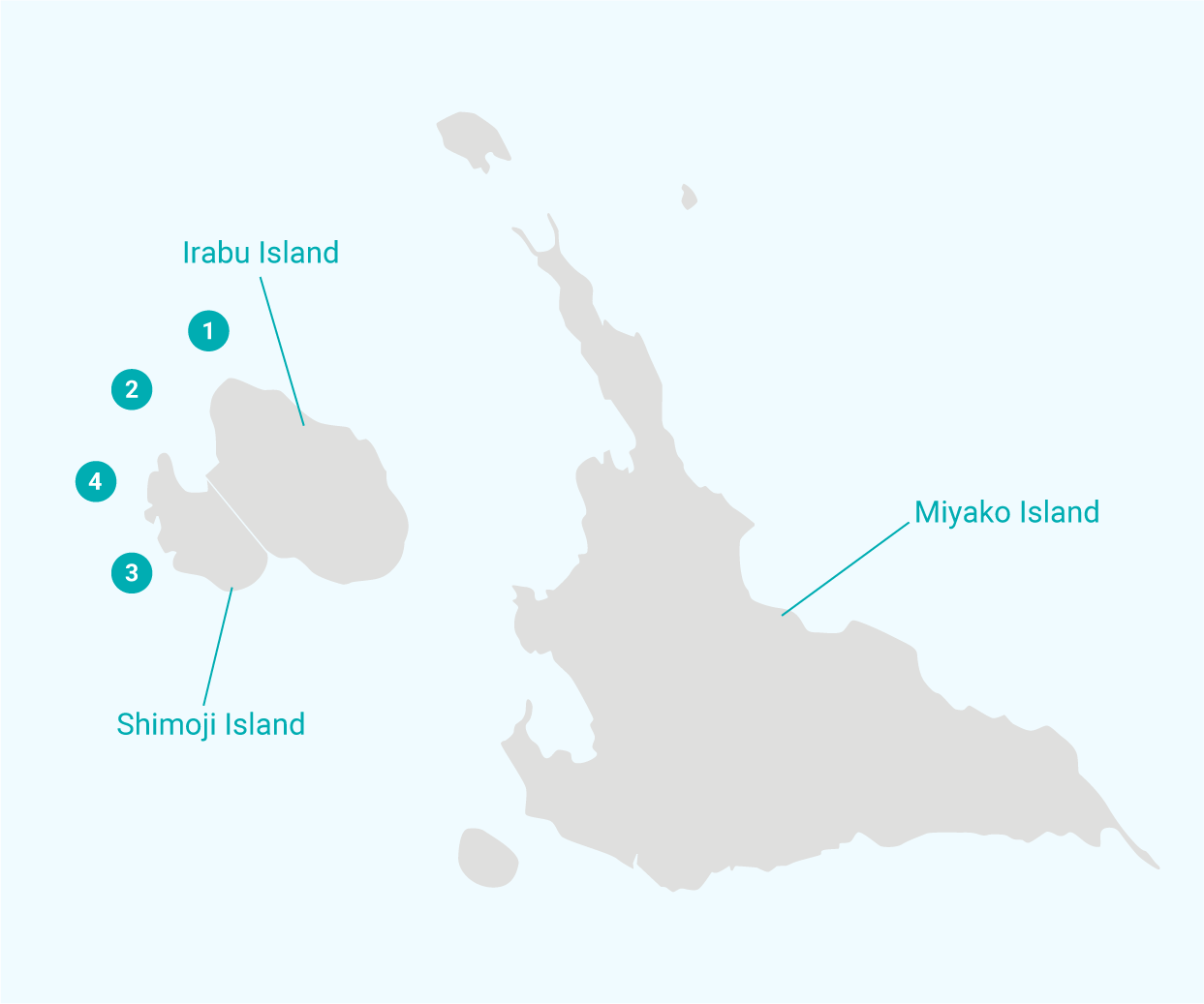 Enjoy large and small arches at relatively shallow depths on the reef edge at this stunning point. Viewed from beneath, the large main arch appears heart-shaped. W-Arch is a great site for divers new to cave diving.
Entry

Boat
Depth

18 m
Current

Moderate
Level

Beginner
License

–
2. Satan's Palace
(Shimoji Island)

The name of this site is derived from its large size, complex topography, and the advanced skills necessary to navigate narrow tunnels and arches. Divers enter a large cavern with openings in the ceiling that allow sunlight to filter into the space.
Entry

Boat
Depth

27 m
Current

Moderate to strong
Level

Intermediate/advanced
License

Advanced
3. Antoni Gaudi
(Shimoji Island)

Several caves intricately linked with arches and other delicate formations give this dive site its name, which conjures up images of works by legendary Spanish architect Antoni Gaudí. It is important to keep neutral buoyancy at this site which has maximum depths of around 30 meters.
Entry

Boat
Depth

33 m
Current

Occasionally strong
Level

Intermediate/advanced
License

Advanced
4. Toriike
(Shimoji Island)

Swim through a tunnel that connects the sea with a large cavernous pond near the shore. The combination of freshwater close to the surface of the pond and seawater at lower levels creates a chemocline phenomenon, which can create a multicolored, shimmering effect in the water.
Entry

Boat
Depth

45 m
Current

Occasionally strong
Level

Intermediate/advanced
License

Advanced