Kume Island offers dynamic dive sites for all skill levels
Kume Island has a wide range of dive sites that cater to all skill levels. They cover dynamic drop-offs, underwater caverns, sprawling reefs, and big-fish locations where you can see schools of barracuda and dogtooth tuna.
Sea Life in Kume Island

Diving Sites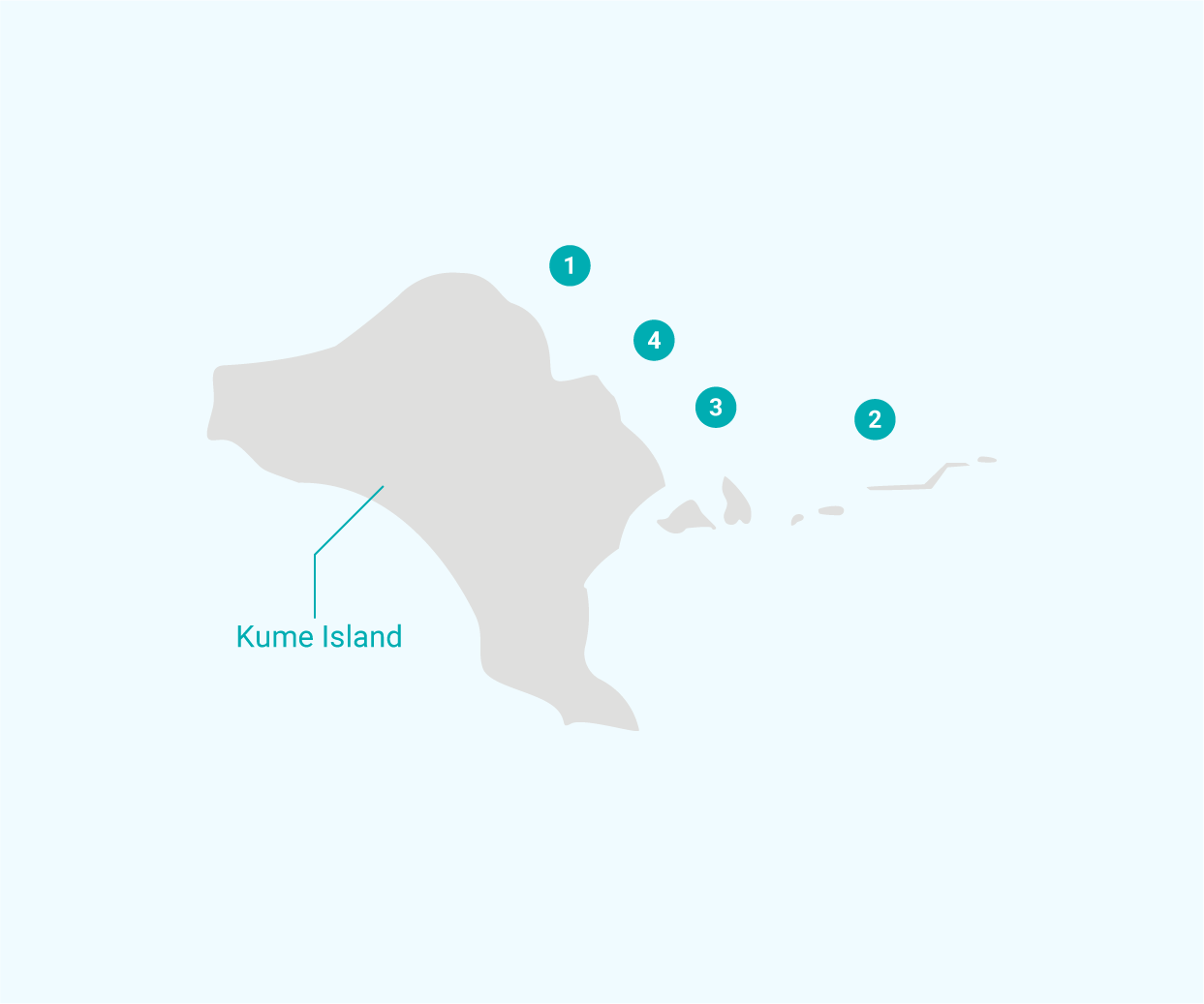 1. Imazuni

This is one of the best diving spots around Kume Island. You can enjoy an undulating topography of holes, drop-offs, and crevasses, and may encounter pelagic fish such as arrow barracuda, bigeye trevally and dogtooth tuna.
Entry

Boat
Depth

25 m
Current

Moderate
Level

Beginner
License

–
2. Tonbara

Tonbara is a huge rock that rises from the seafloor. Explore the dynamic underwater landscape of this site and see schools of large fish such as giant trevally, dogtooth tuna, barracuda, and hammerhead sharks.
Entry

Boat
Depth

35 m
Current

Occasionally strong
Level

Intermediate/advanced
License

Advanced
3. Shichugama

Explore caves, holes, and arches at this prominent dive site, teeming with macro marine life. When the sun is shining, light filters beautifully through the water.
Entry

Boat
Depth

40 m
Current

Minimal
Level

Beginner
License

–
4. Umagai

Dive along a dramatic reef wall at Umagai. The reef drops off at a depth of around seven meters, and the sheer wall extends for 40 meters. Marine life around the wall includes Randall's anthias, redfin anthias, and leaf scorpionfish.
Entry

Boat
Depth

40 m
Current

Moderate
Level

Beginner
License

–