Shopping & Relaxation
Family Fun in Chatan
Enjoy a sightseeing cruise, luxury shopping, local food, and more in central Okinawa
Chatan is a town located in the central part of Okinawa's main island, a place where Okinawan, Asian, and American cultures all mix. A standout destination here is the Mihama Town Resort American Village, a trendy entertainment spot with an exotic cityscape. American Village has a theme park feel to it, with fast-food restaurants, familiar chain stores, and high-end shops and restaurants for those with refined tastes. With such variety, it is a place the whole family can enjoy. Make the most of your time in this fun-filled seaside area with dining, shopping, and sunset cruises.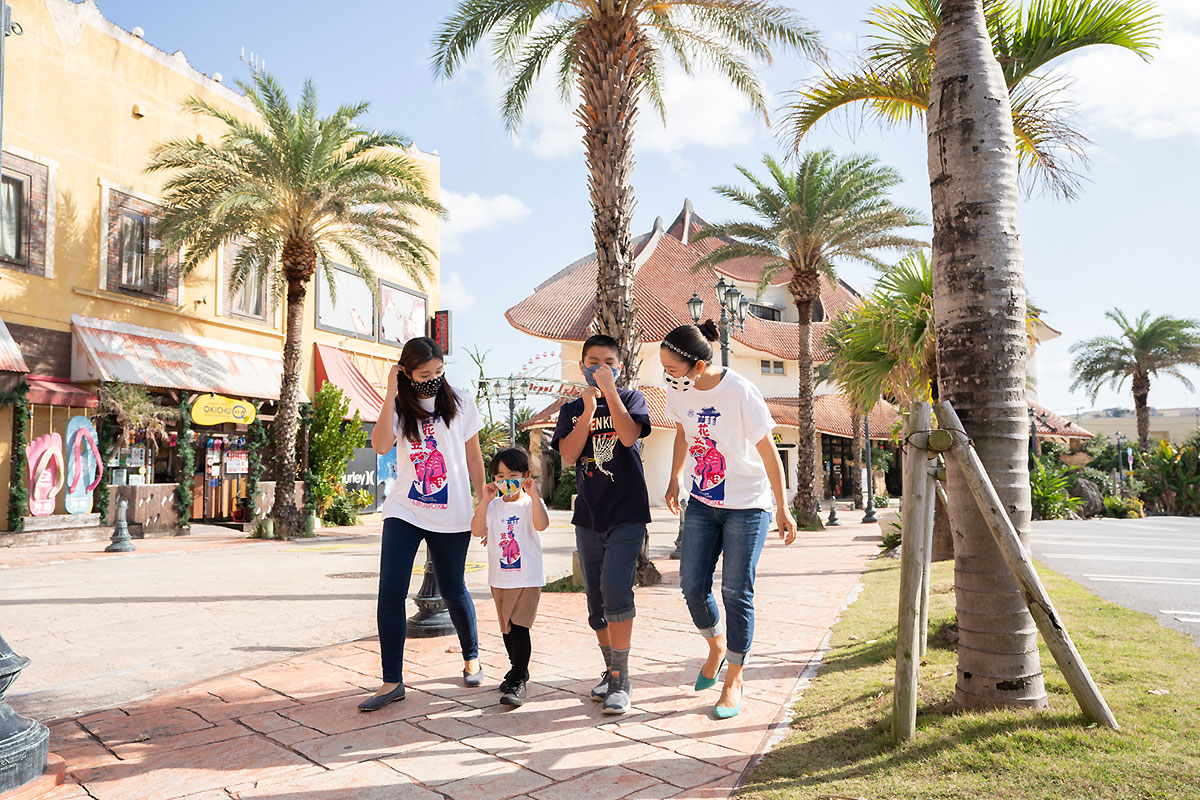 Champuru entertainment town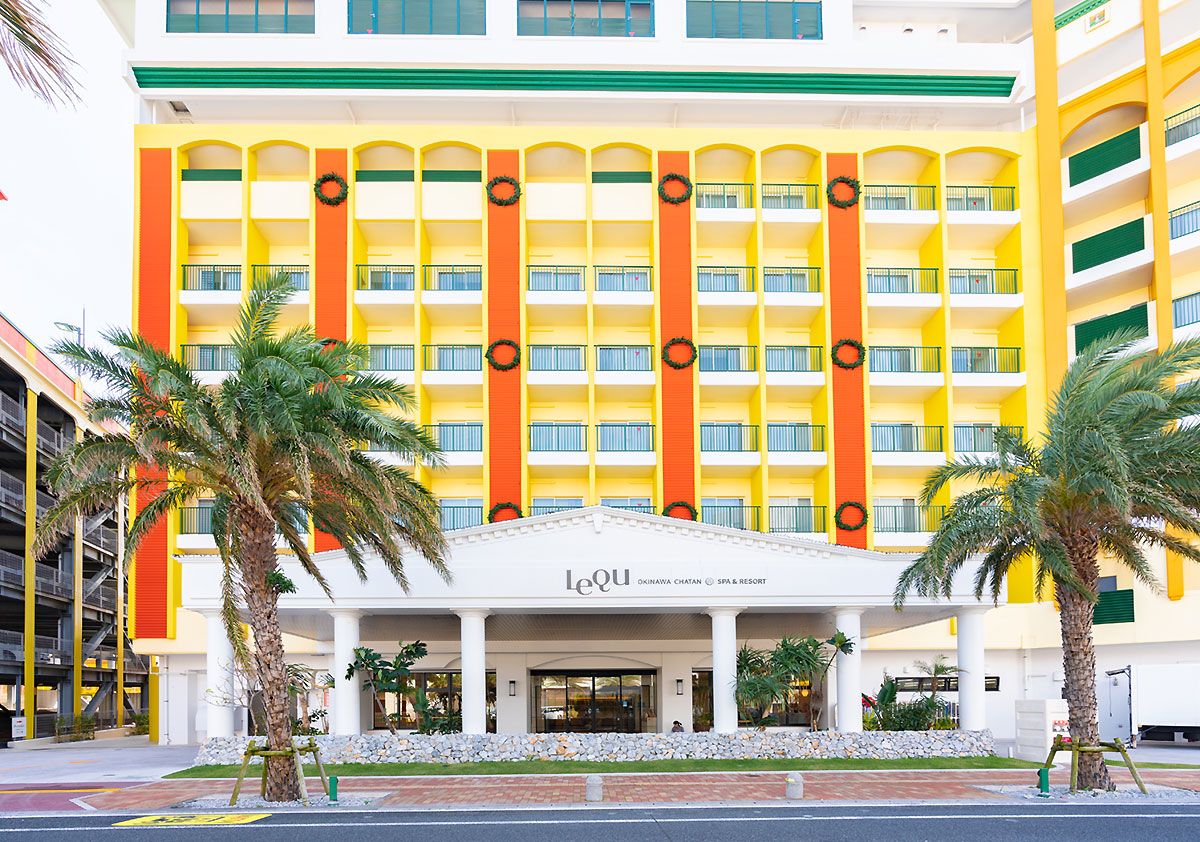 One of Okinawa's charms is its distinctive champuru (meaning "mixed" in Okinawan) culture, which traces back to the Ryukyu Kingdom, when the islands prospered as a maritime trading nation. Champuru has its roots in the idea that "good things come from the outside," and for hundreds of years, Okinawans have absorbed ideas, technologies, and goods from abroad, and improved and adapted them to local conditions to come up with something new and unique. This spirit of welcoming cultural diversity is a defining feature of being Okinawan, and is the foundation of champuru culture. When you visit American Village, you may be surprised at first by the jumble of buildings and stores lining the streets, and the amount of variety they contain. However, you will soon find yourself enjoying every one of them.

Chatan is the perfect place to enjoy the stunning west coast seaside from morning till evening, and make the most of the surrounding area. Many families stay a few nights in American Village, using it as a base in the central part of the island to easily travel around. The area is also attractive because it has ample accommodation facilities, many of them along the coast. It is also very convenient to return to your room and relax between shopping, eating, and drinking. This time, we picked Lequ Okinawa Chatan Spa & Resort, which opened in the summer of 2020, and features natural hot spring facilities.
A stroll through American Village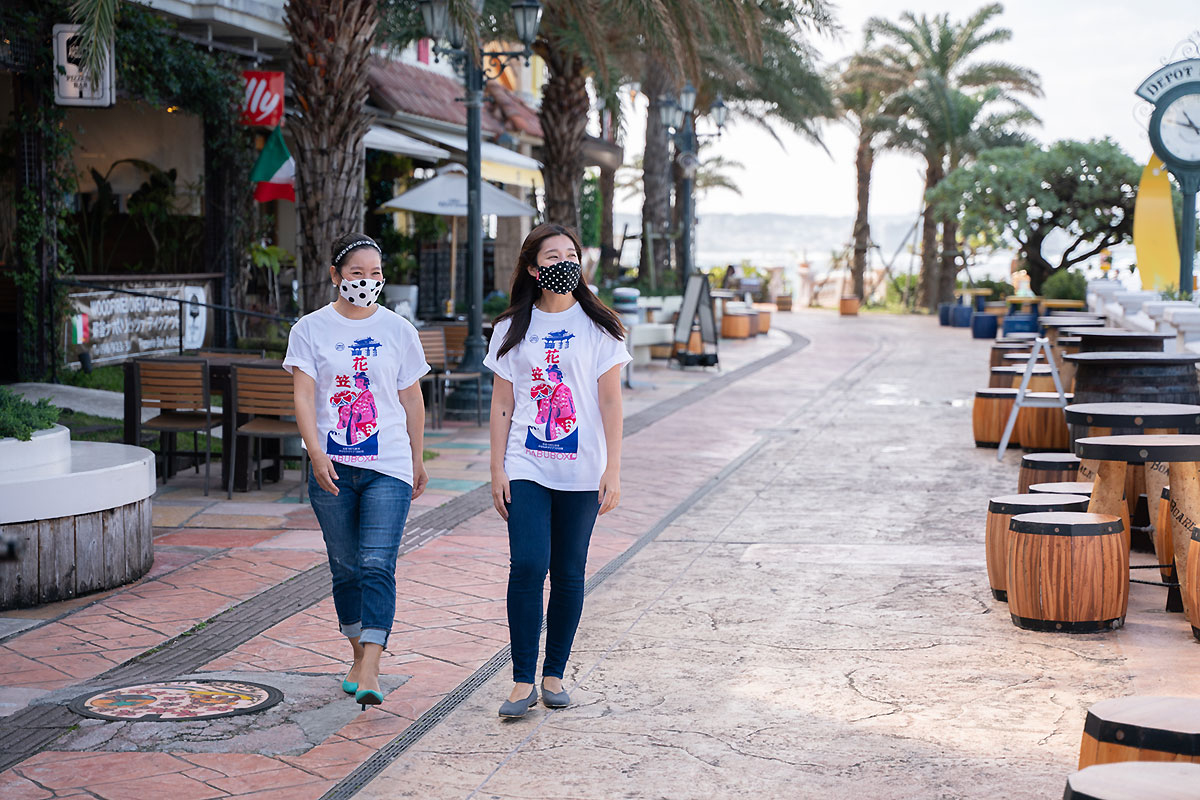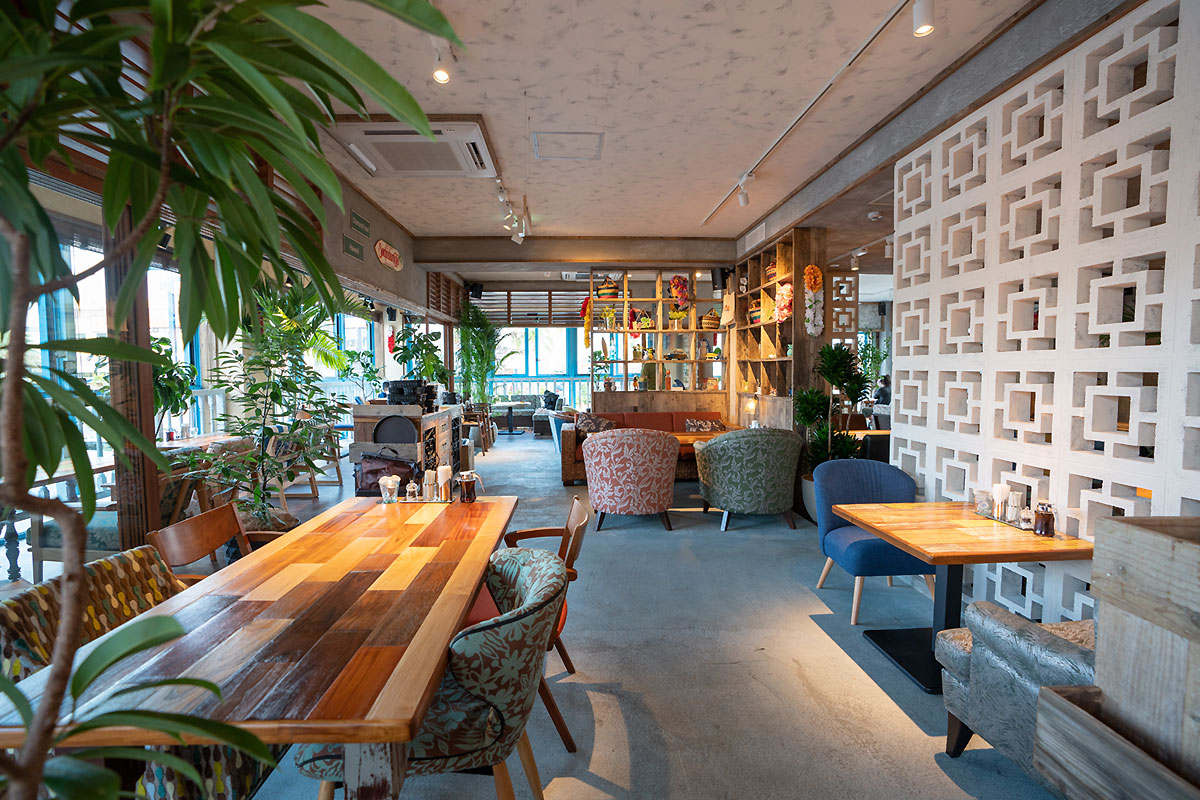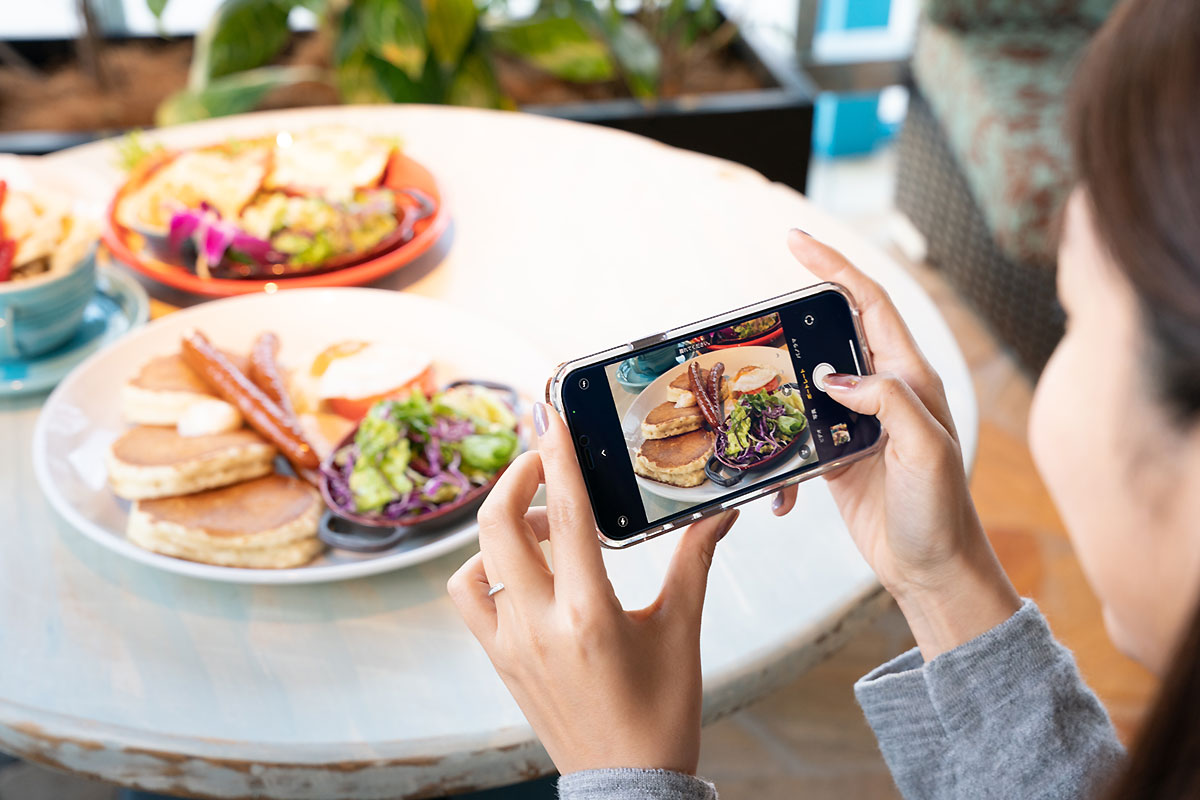 One of the biggest draws of American Village is that you can enjoy many eating, drinking, entertainment, and shopping options within walking distance. About 50 restaurants are in the area and range from izakaya-style places, where you can enjoy local Okinawan fare, authentic American steak houses, restaurants serving Indian, Mexican, and mainland Japanese cuisine, to Hawaiian pancake shops.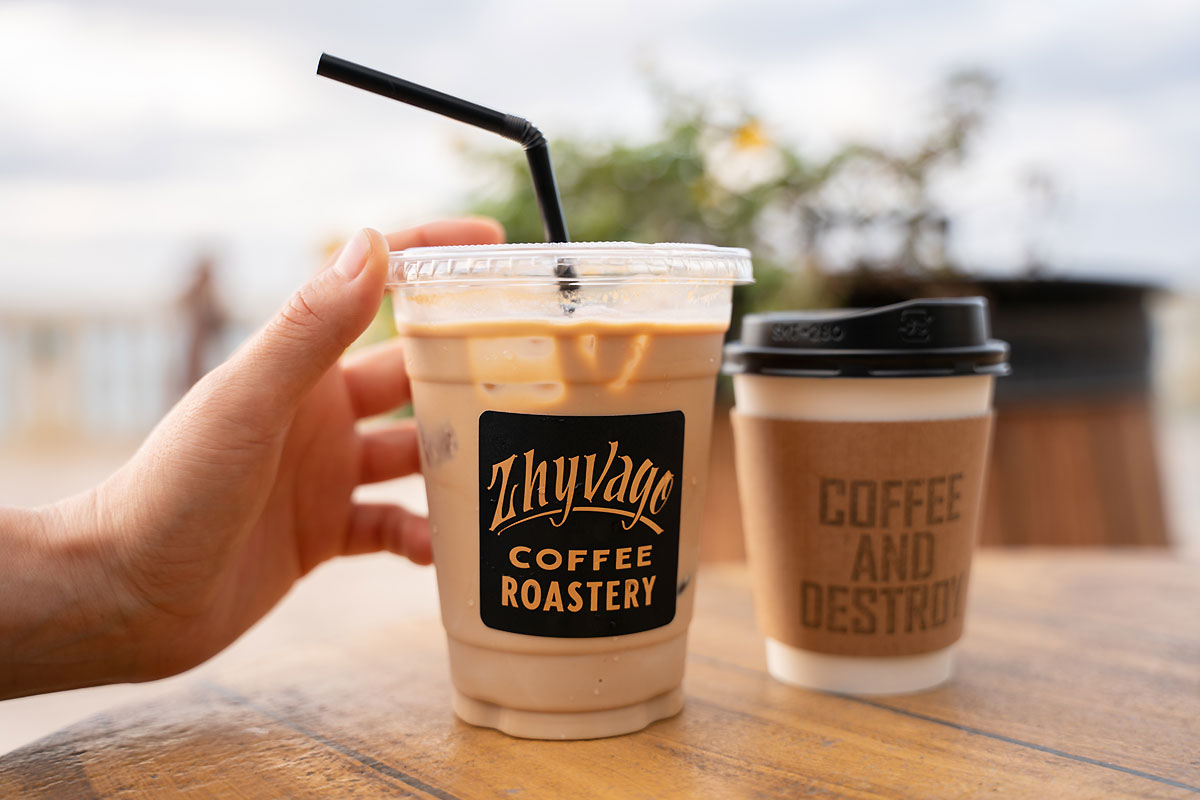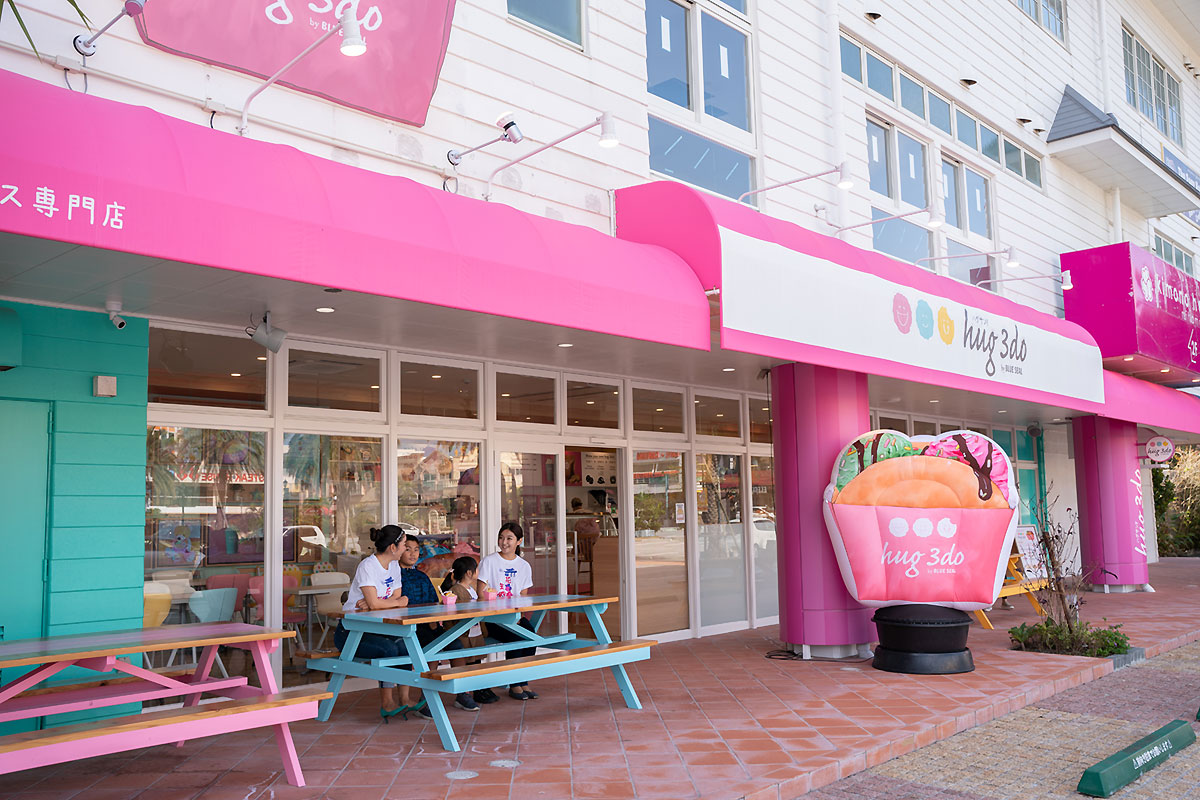 Good news for coffee-lovers! Zhyvago Coffee, founded on the west coast of Okinawa, has three stores in the area to make sure you can get your caffeine fix with a bit of style. Another island icon, Blue Seal Ice Cream, known for its "Born in the US and raised in Okinawa" slogan, has opened an ice cream sandwich shop called hug3do, a play on the Japanese word for sandwich, sando. In addition to the ice cream sandwiches, the pastel-colored store itself is also very photogenic, so if your sweet tooth starts calling while you walk around town, snap a memorable photo on the side.
Find the perfect photo spot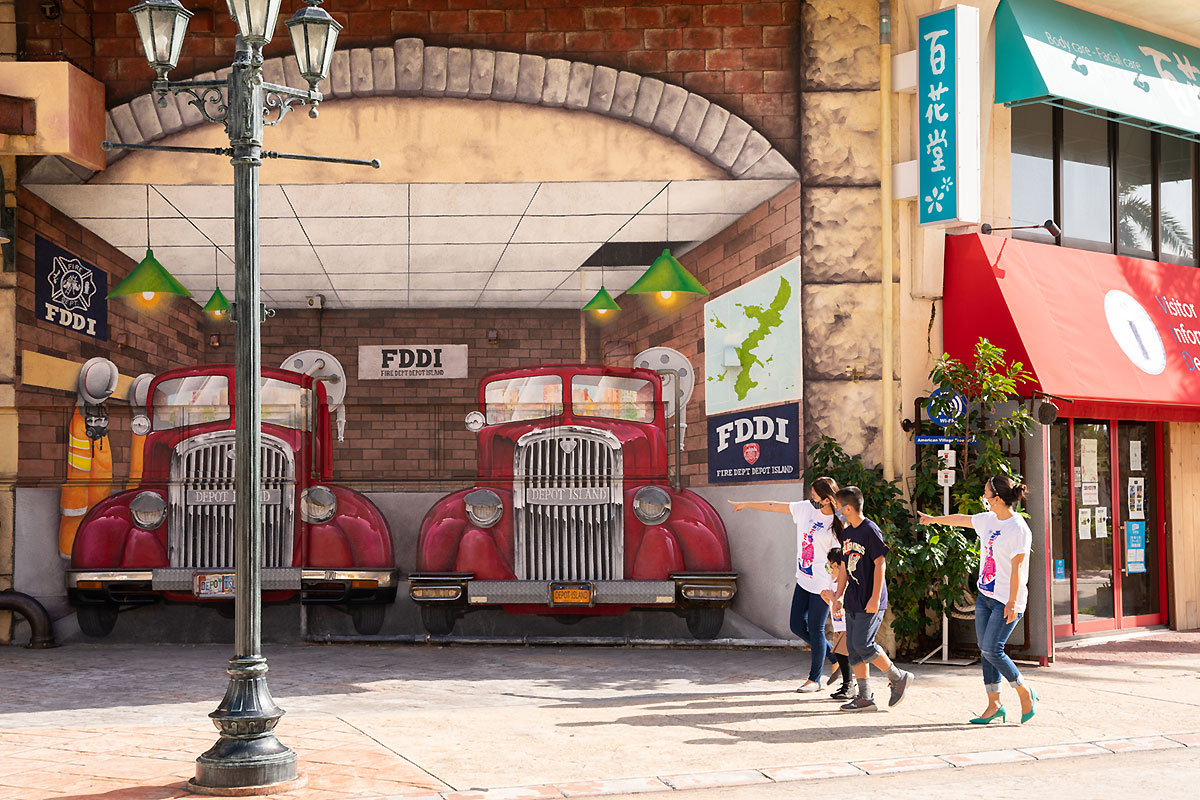 As you walk through the exotic and otherworldly streets, look for great photo spots, such as mural paintings and buildings with a playful theme park-like atmosphere. It's sure to be a memorable experience.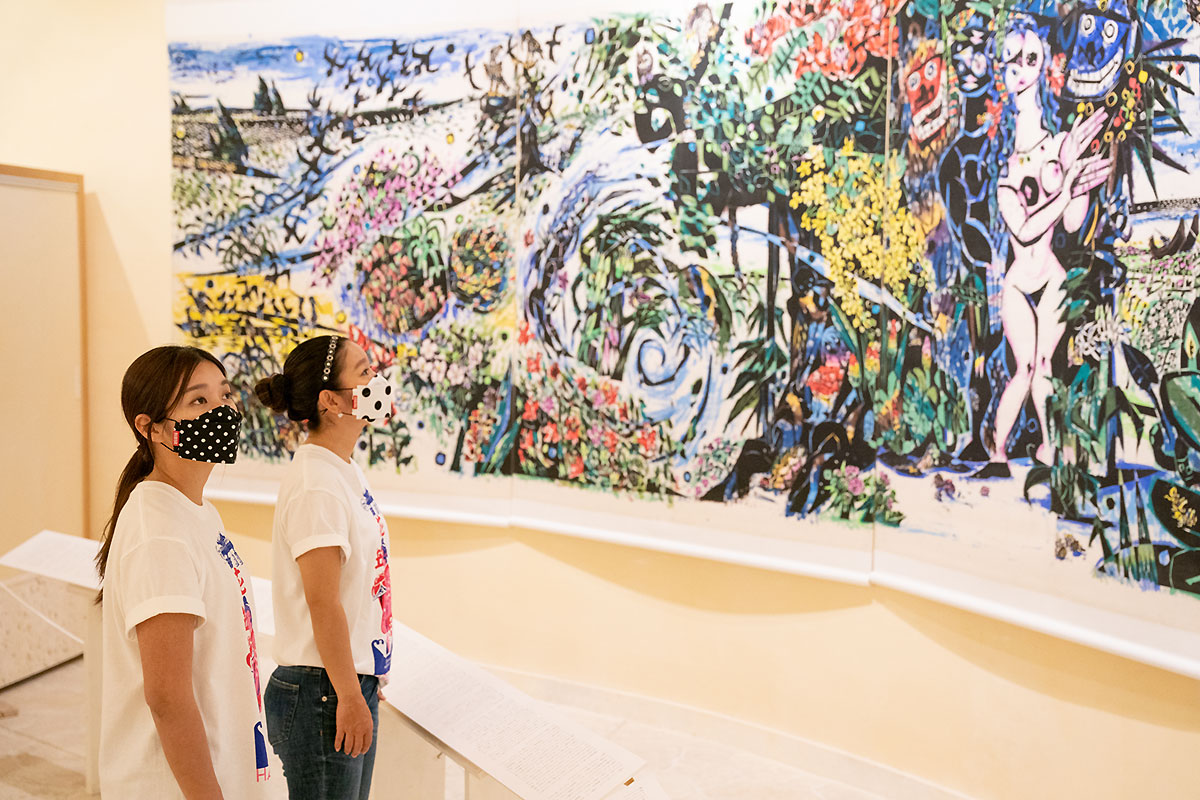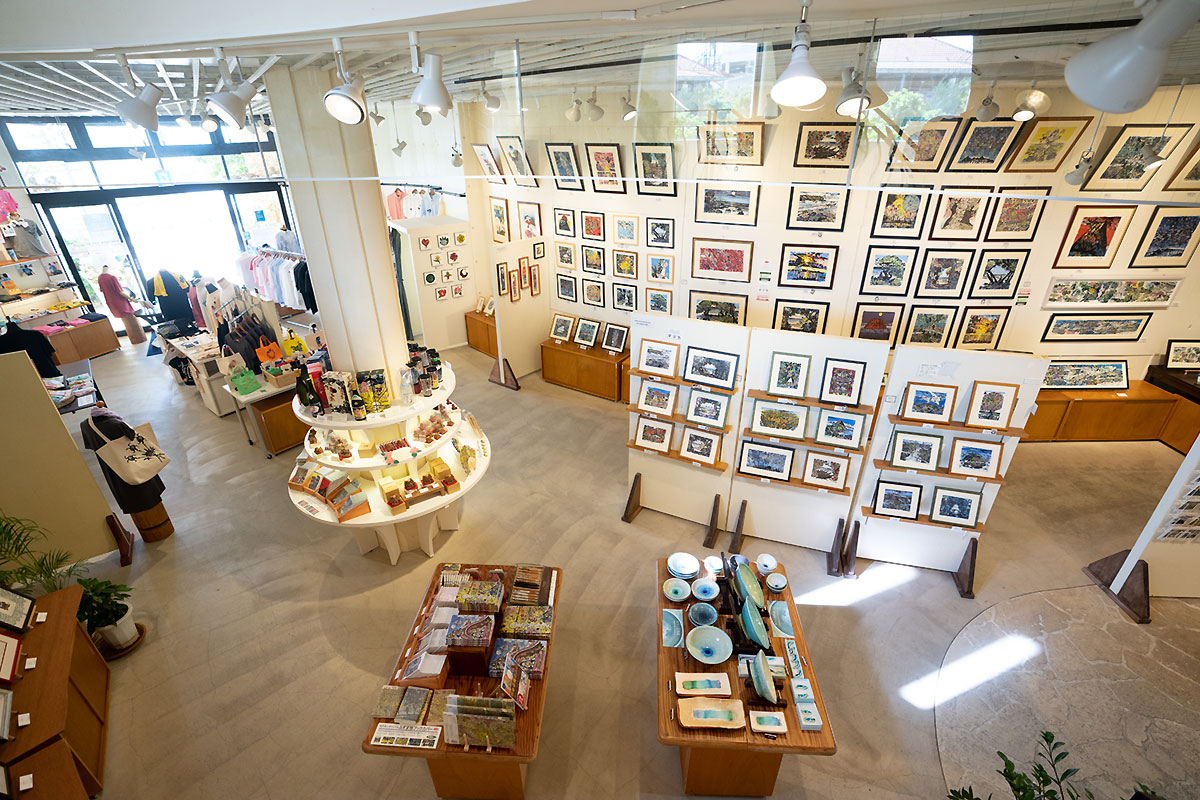 As you walk down the street, you will notice a structure with an undulating red-tile roof that stands out from the rest of the area. It is the Bokunen Museum of Art opened by Bokunen Naka, a wood-block print artist from the prefecture. In addition to viewing his powerful and colorful prints, the museum also has a store selling Okinawan handicrafts, making it a great place to pick up souvenirs typical of Okinawa.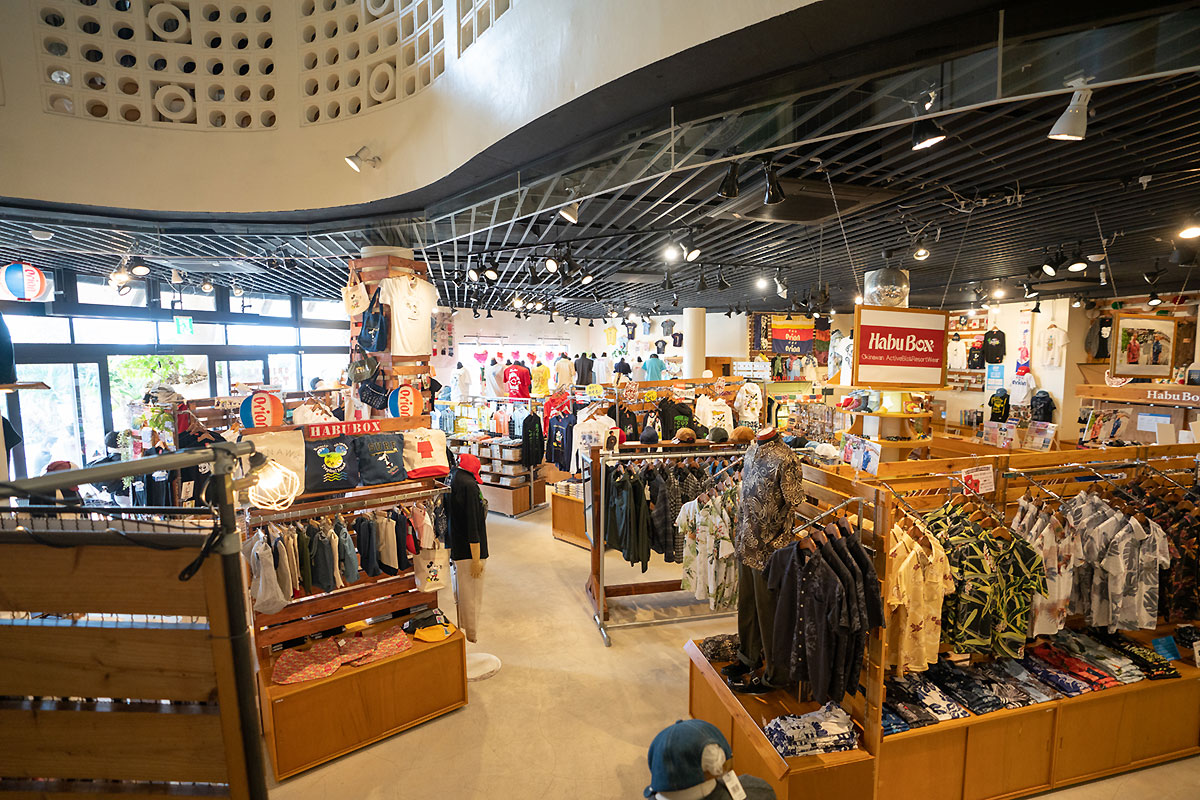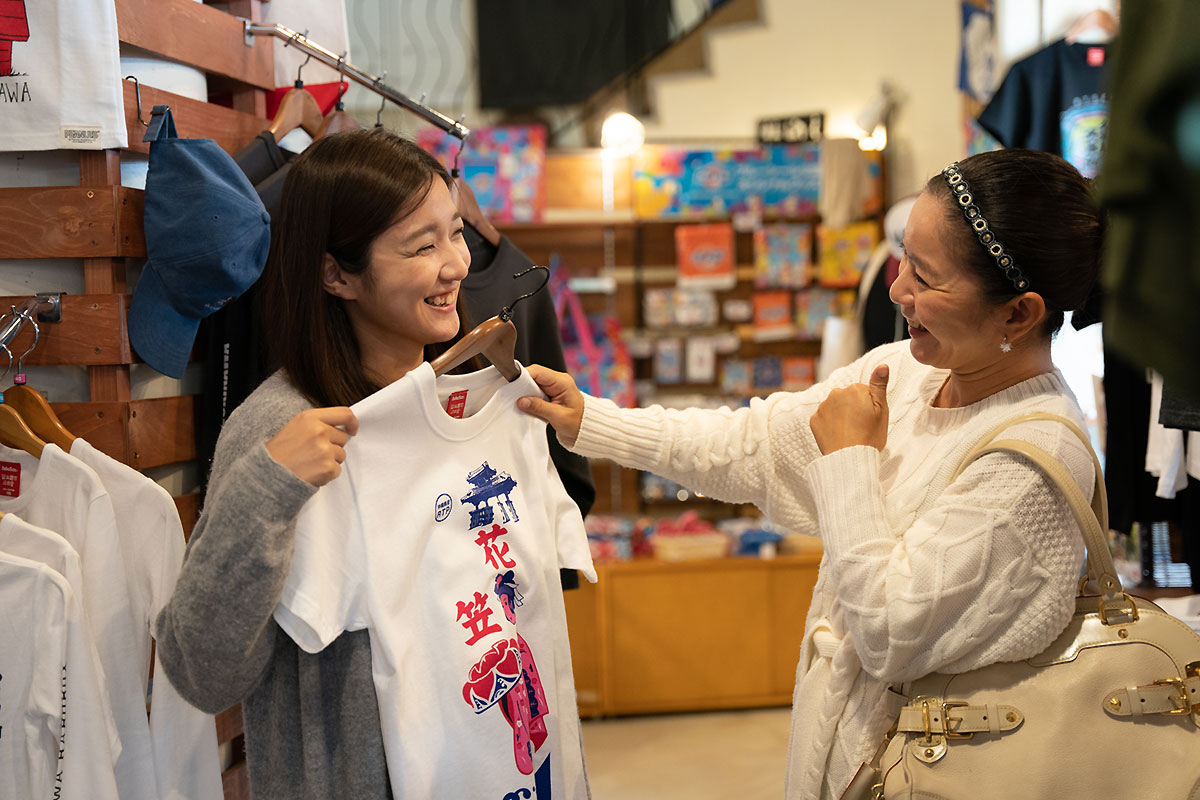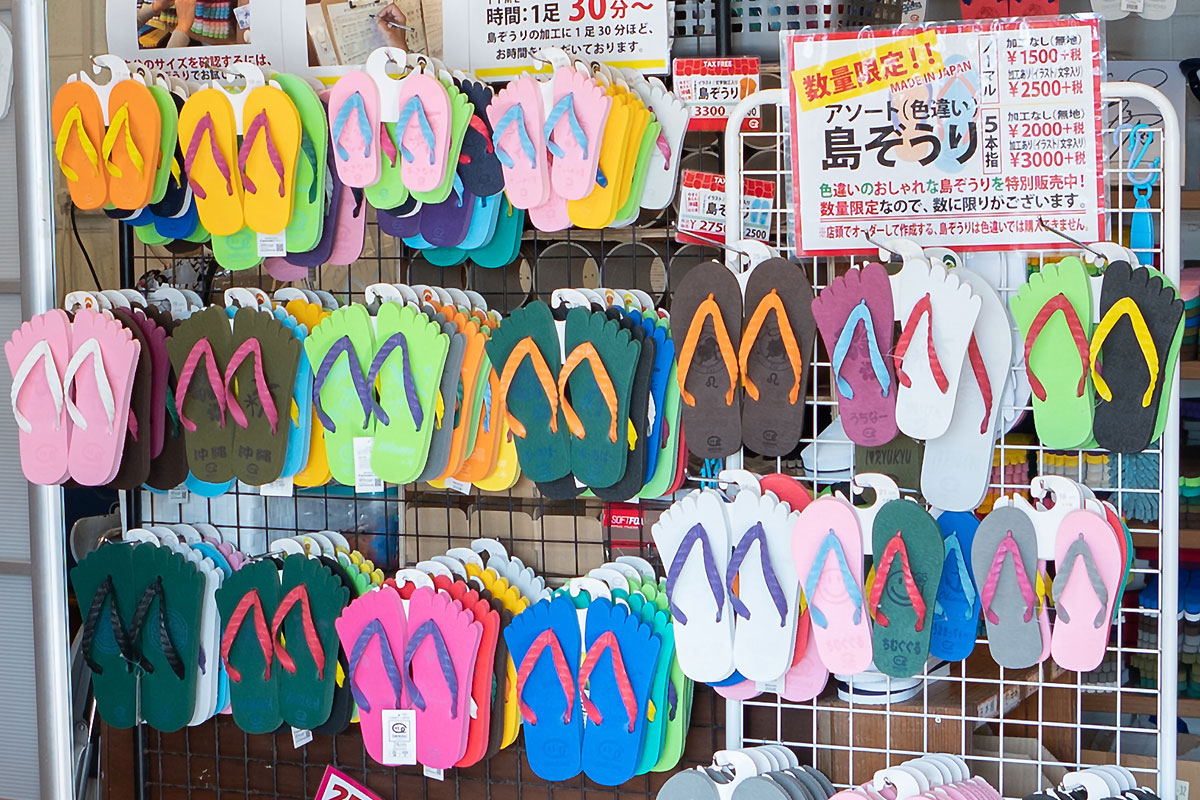 Next to the museum is the Habu Box store. This brand offers original T-shirts with a playful and unique design based on Okinawa, and many people buy matching T-shirts for their friends and family to wear as they enjoy their island trip.

Our next destination Oki-chu sells shima-zori (Okinawan flip-flops), one of Okinawa's most famous fashion items. Here you can create your unique pair by mixing and matching different colors for the sole and straps. Their specialty is a rare five-toed sole, so be sure to check it out.
Soak in the scenery on a cruise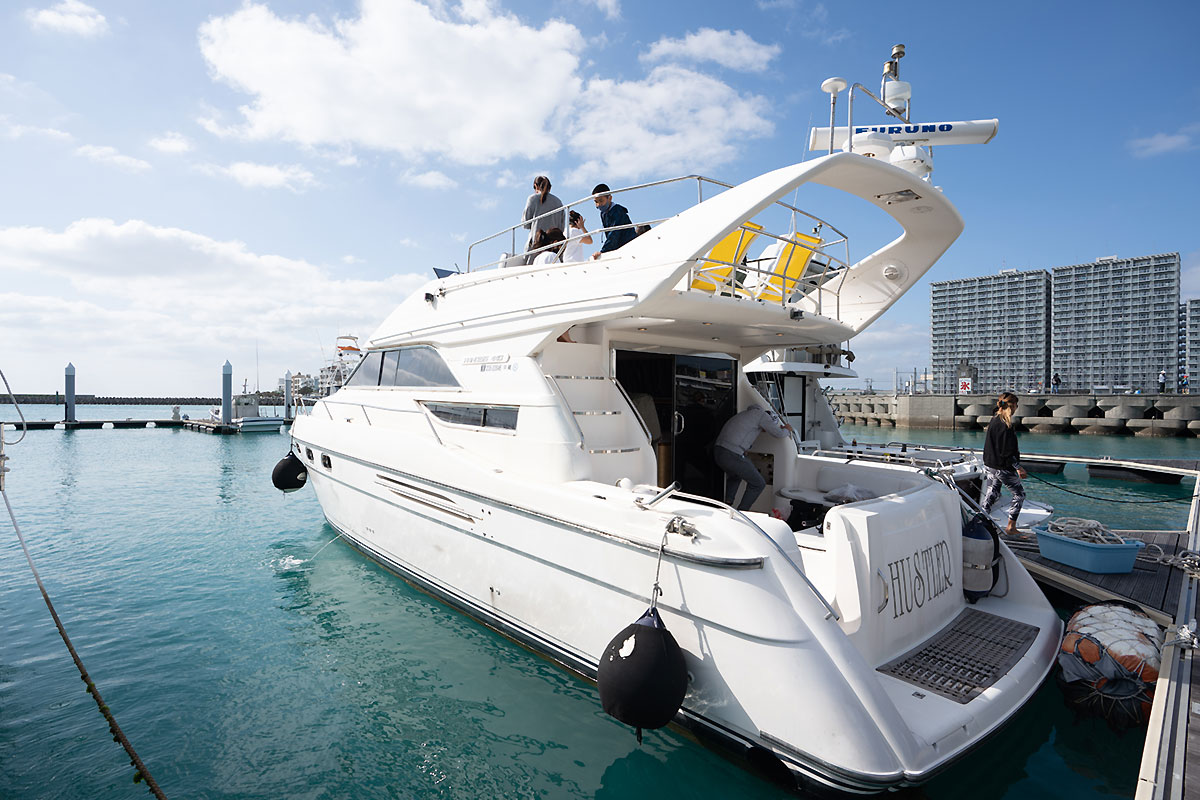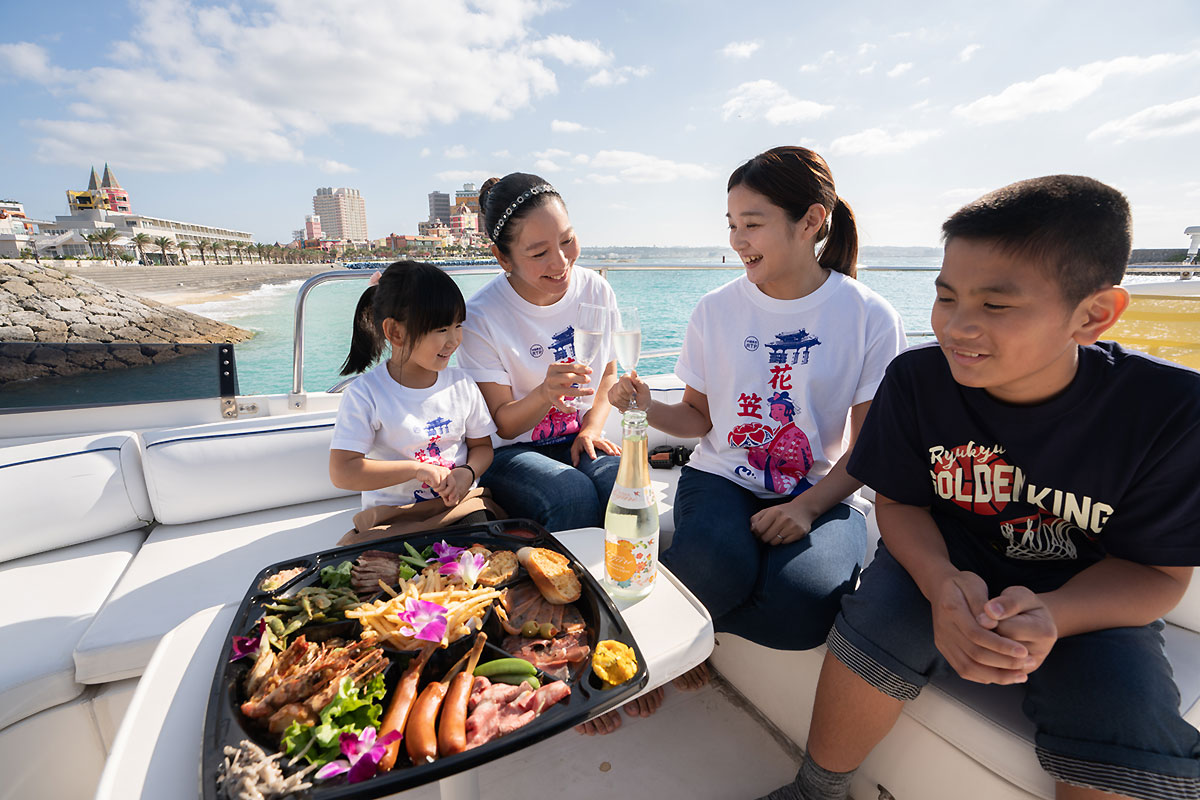 The absolute best part of the location is that it's on the coast. The beach and harbor are within walking distance, so you can enjoy marine sports and cruises. Given its location on the west coast, the sunset cruises are a big draw. It's also fun to enjoy the city from the seaside on a yacht cruise. The boats have a catering service for lunch or snacks while at sea.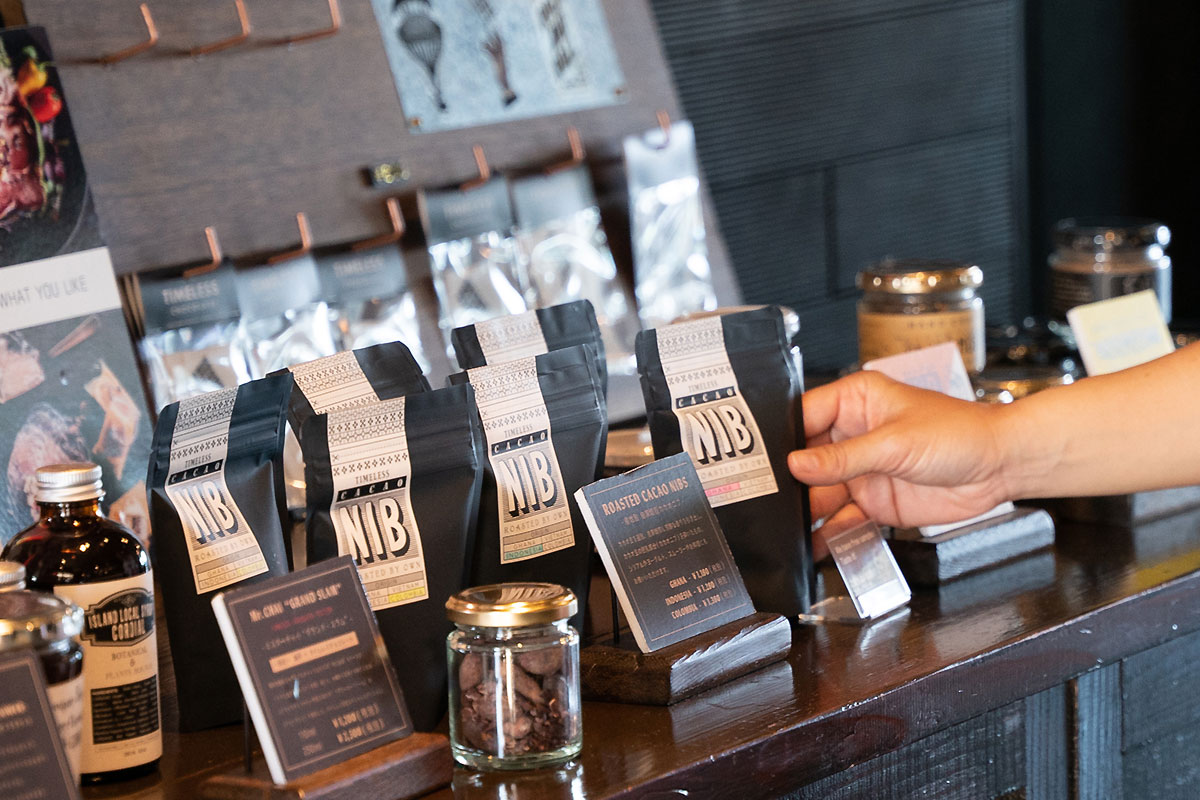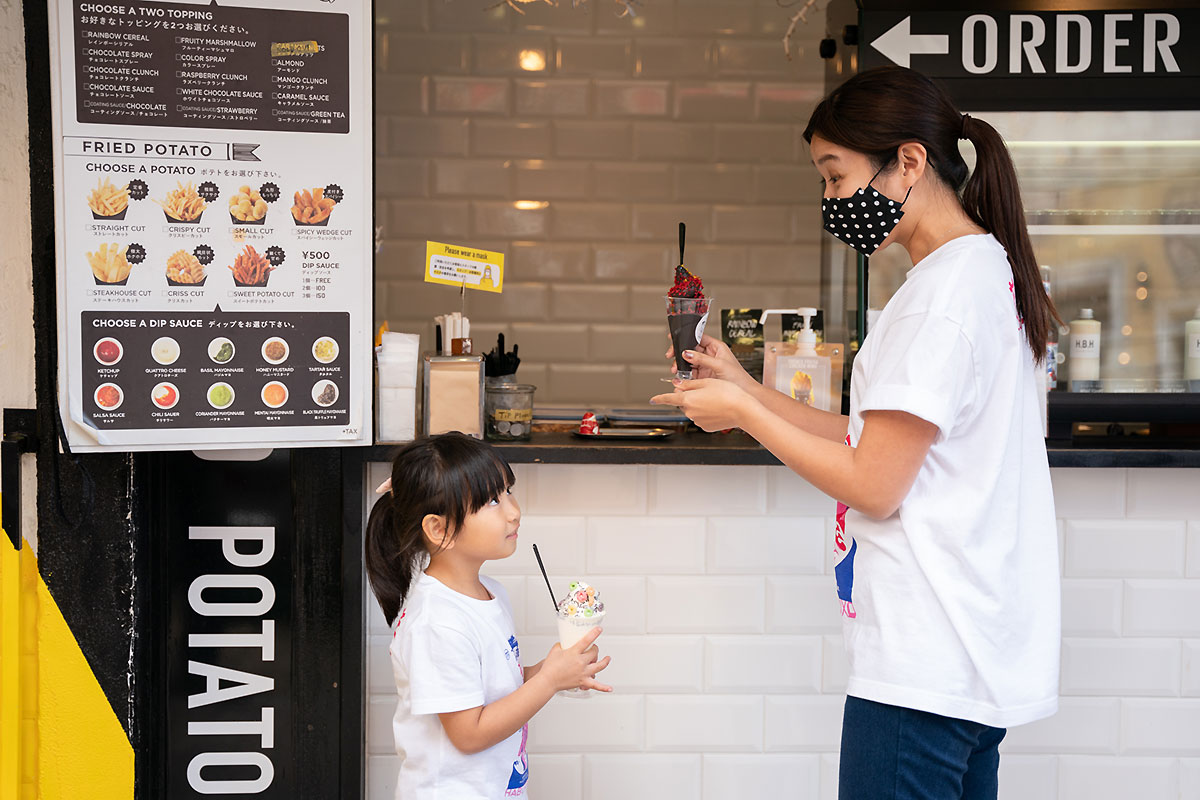 Coffee shops and restaurants line American Village's seaside boardwalk, making it an ideal place to take a break and relax with an ocean view. Pick up a snack at Timeless Chocolate, a well-known chocolatier that uses local brown sugar and carefully selected cocoa. Or pop in at Hold By Hand, where you can enjoy ice cream, tapioca milk tea, and French fries. We are sure you will enjoy your time along the waterfront.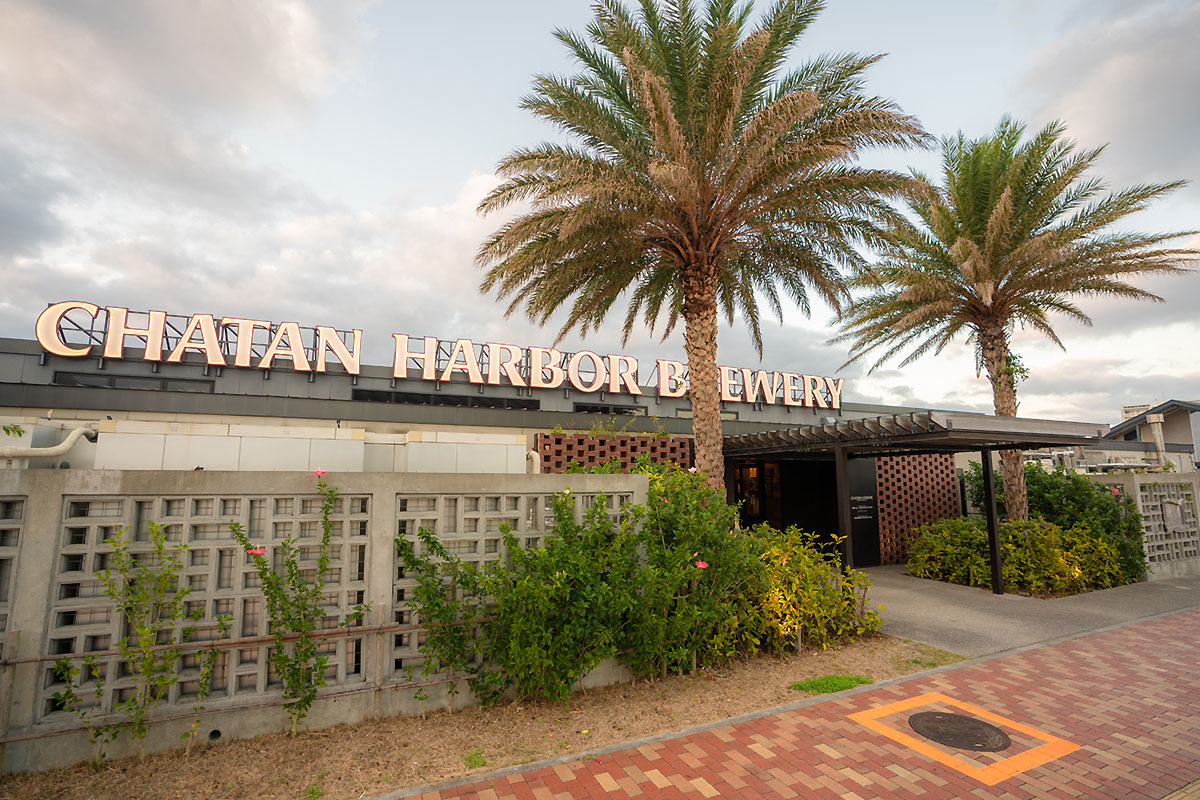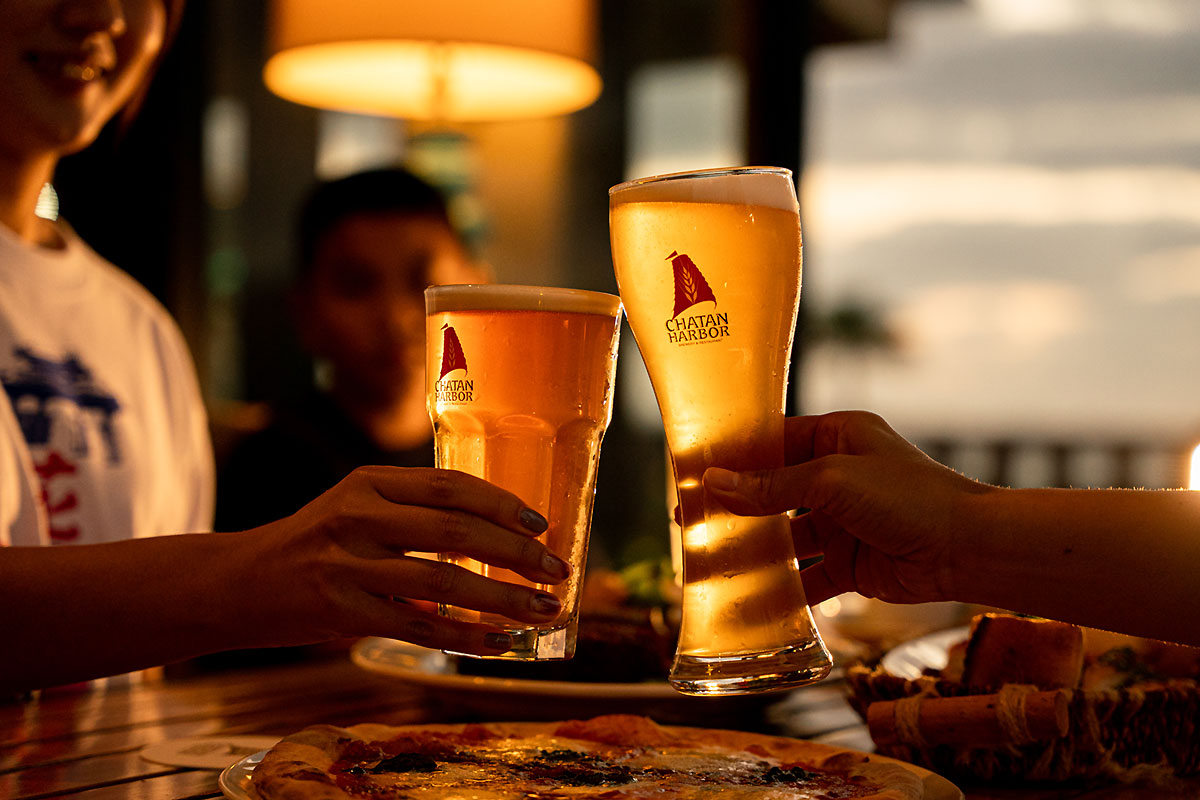 The Chatan Harbor Brewery & Restaurant has a huge brewing tank that is a sight to behold. At the end of your day at American Village, sit down with your family around the table. Enjoy a steak, spareribs, or pizza, and a toast with the local beer of Chatan while watching the sunset over the horizon.
A delightful sunset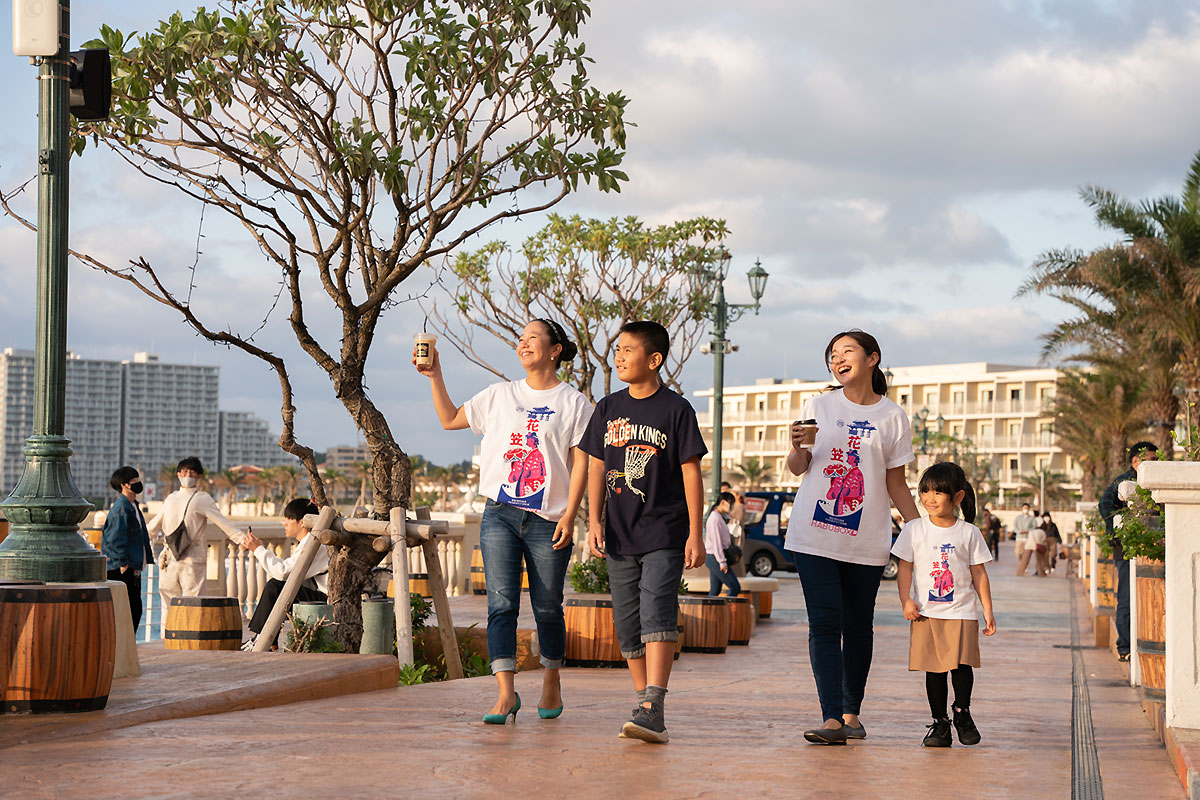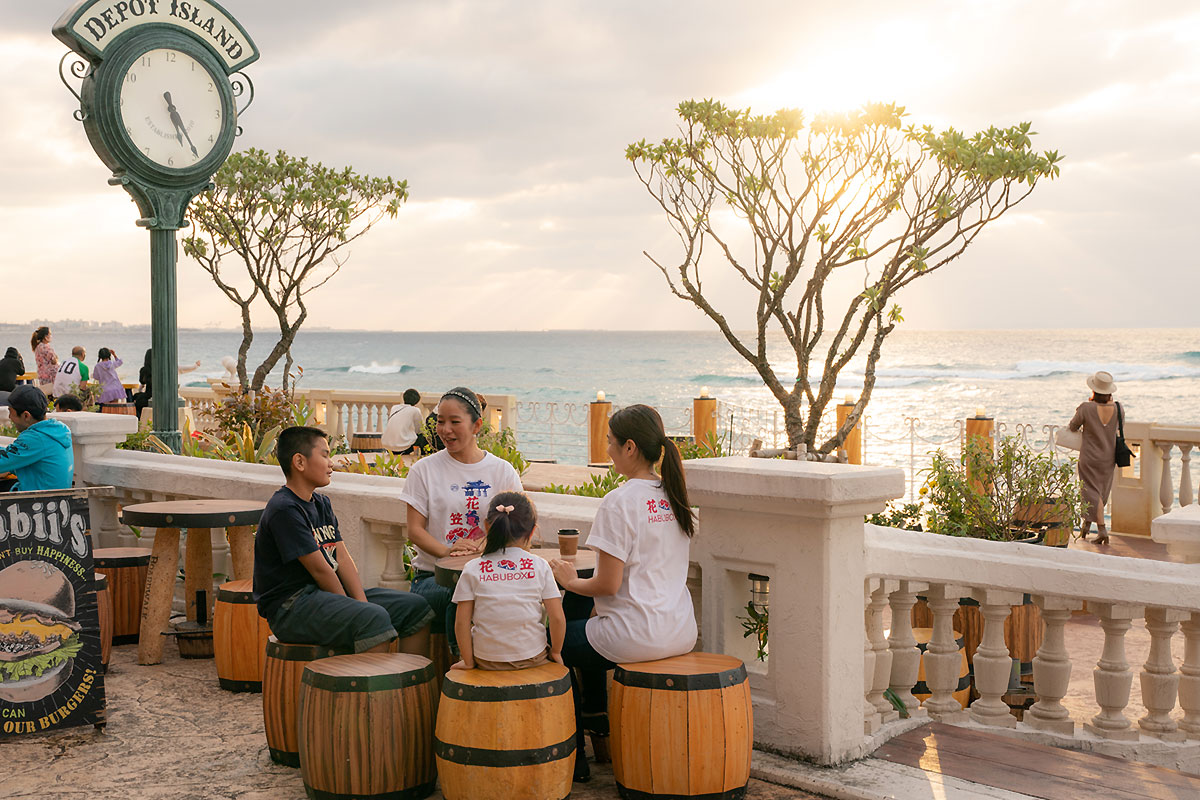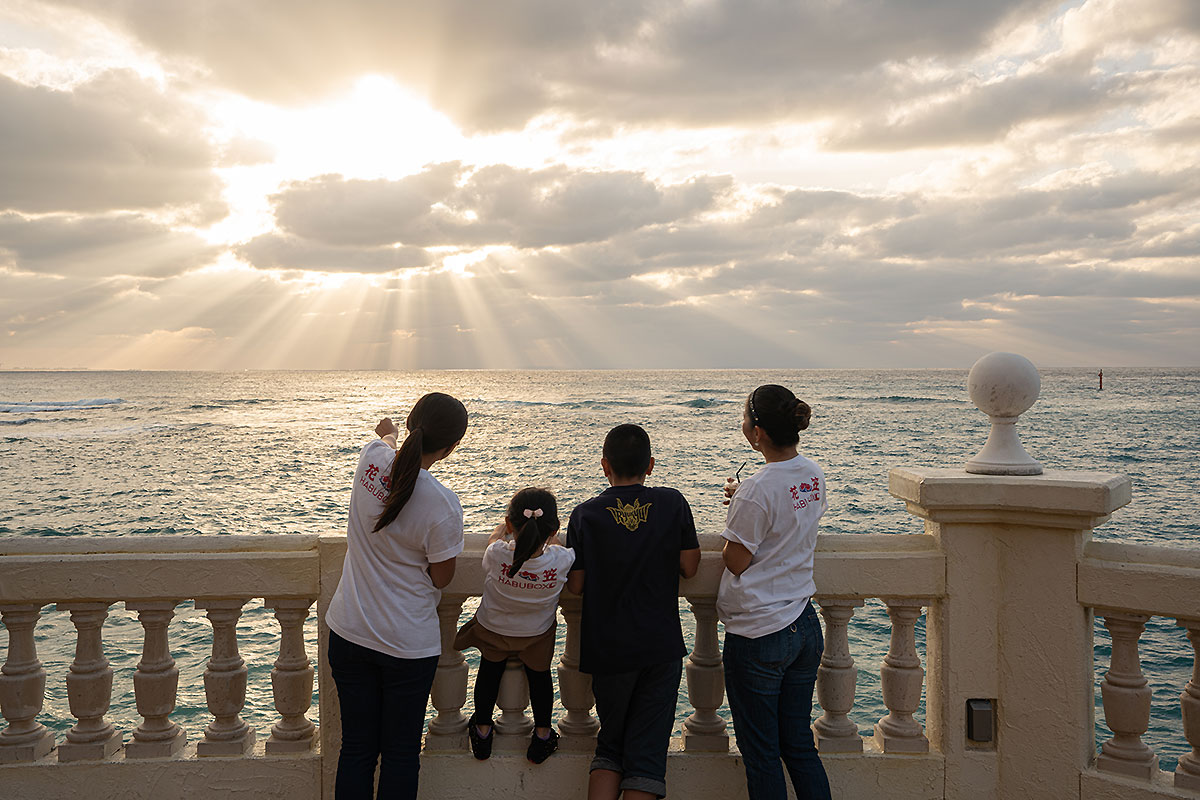 Head over to the Depot Island Boardwalk to catch the moment when the sky turns shades of gold. Relax and enjoy the sunset and the ever-changing colors of the sky and the sea.
Posted on 2021/3/10
Last updated 2021/12/20
Text by Kei Itaya
Magazine editor, writer, newspaper journalist in Tokyo and NYC for more than 15 years. Returned to her hometown of Okinawa in 2019.