Shopping & Relaxation
Relax and Explore Ie Island
Spend some time on Ie Island, a great place for relaxation or adventure
Ie Island is just a 30-minute ferry ride from the main island of Okinawa, and a perfect place to spend a day or weekend exploring and relaxing. You can discover the island by car, bicycle, on foot, or horseback. There are plenty of things to do and great souvenirs to buy to remember your latest adventure.

The town of Motobu, on the main island of Okinawa, is home to Okinawa Churaumi Aquarium and Expo Park, and its port is the northern gateway to many of the outer islands. The closest of these is Ie Island, known locally as Iejima. The earliest ferry from Motobu is at 9 AM and the last ferry back departs Ie Island at 4 PM, so it is possible to explore the island as a day trip. To really enjoy the tranquility and sunsets, opt for staying a night or two. One possibility is to take your own vehicle on the ferry, but you can also rent bicycles, scooters, or a small car once you get to the island.
Flower-filled ocean vistas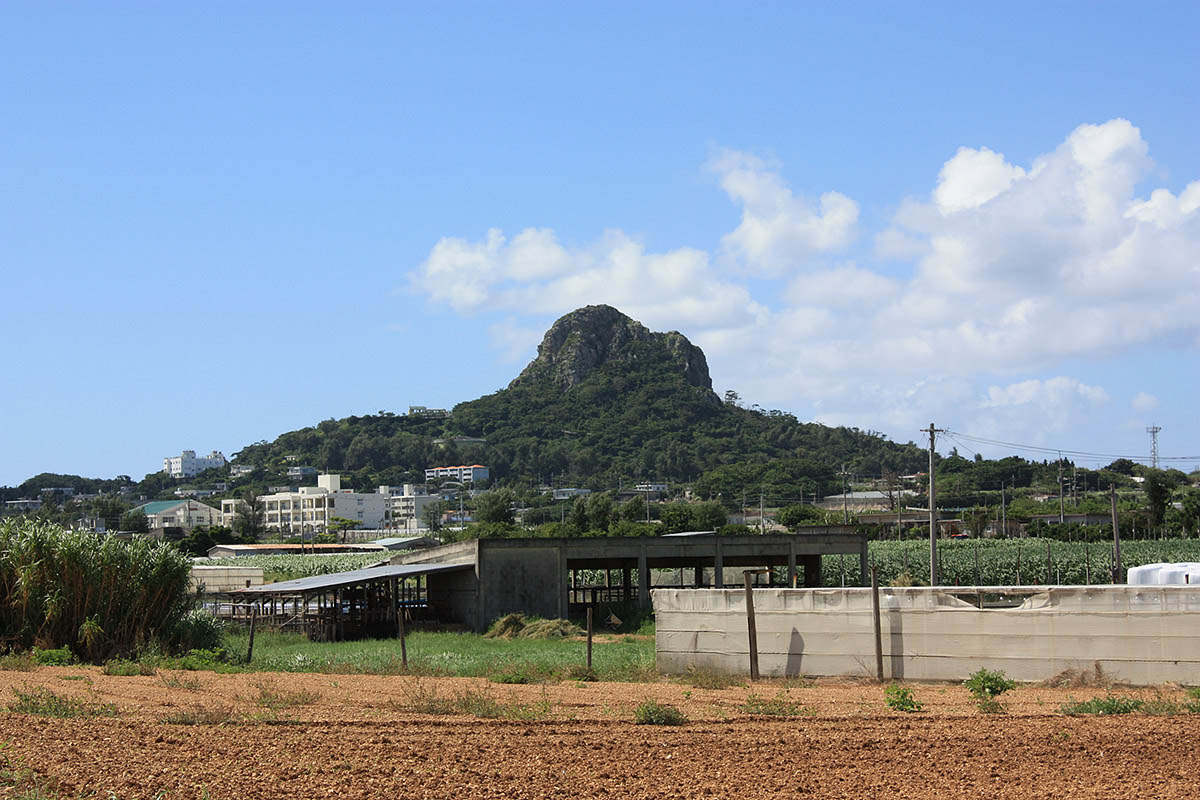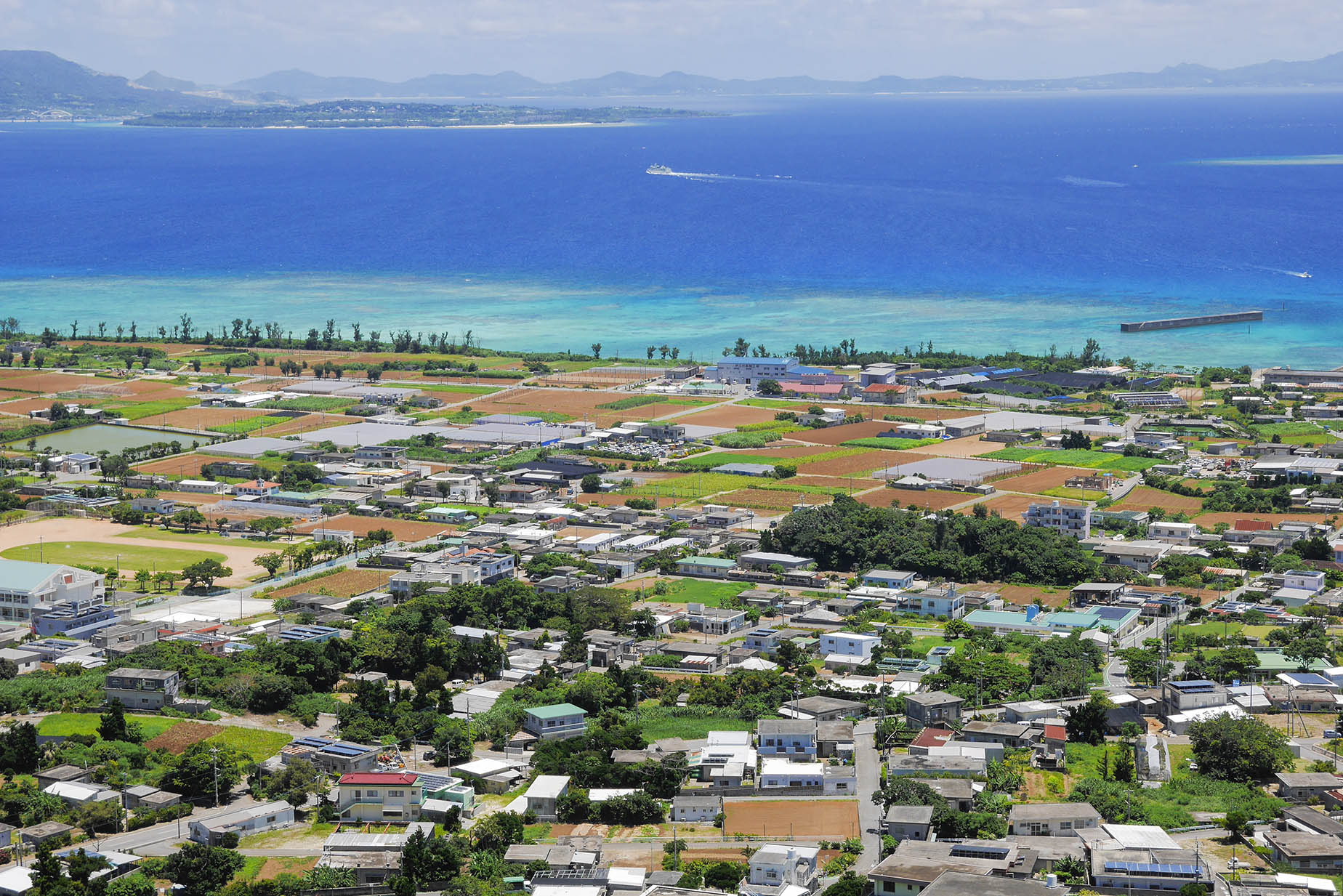 As you approach Ie Island on the ferry, you will see the jagged peak of Mt. Gusuku, which the island's residents call Iejima Tacchu. With its summit just 172 meters above sea level, it only takes about 15 minutes to reach the top, from where you can admire a spectacular 360-degree view.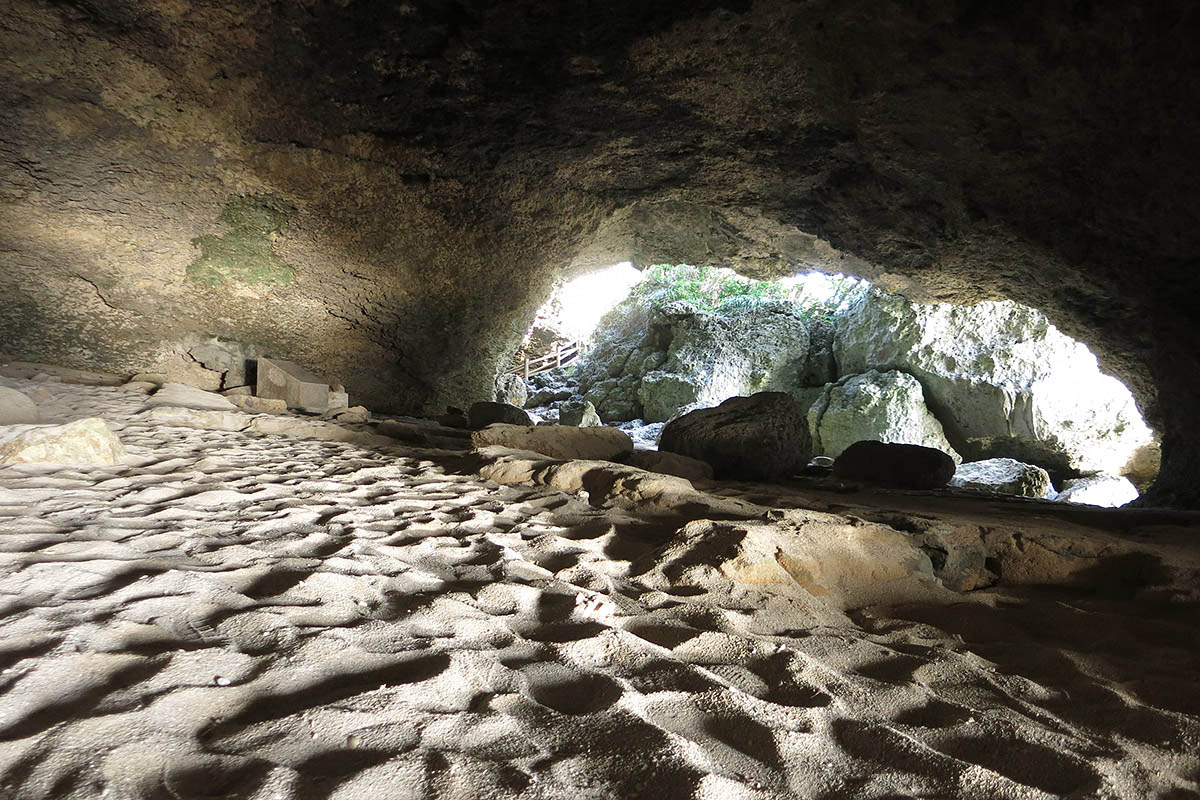 On the south coast, a little more than a kilometer west of the port, is the Nya-tiya Cave. So many people sought shelter in the cave during the aerial bombardments in WWII that it was nicknamed Sennin-gama, literally "thousand-man cave." The cave's history goes back even further as a local power spot. The locals believed that if a woman could hold up the cave's heavy vigil stone, she would be blessed with a child.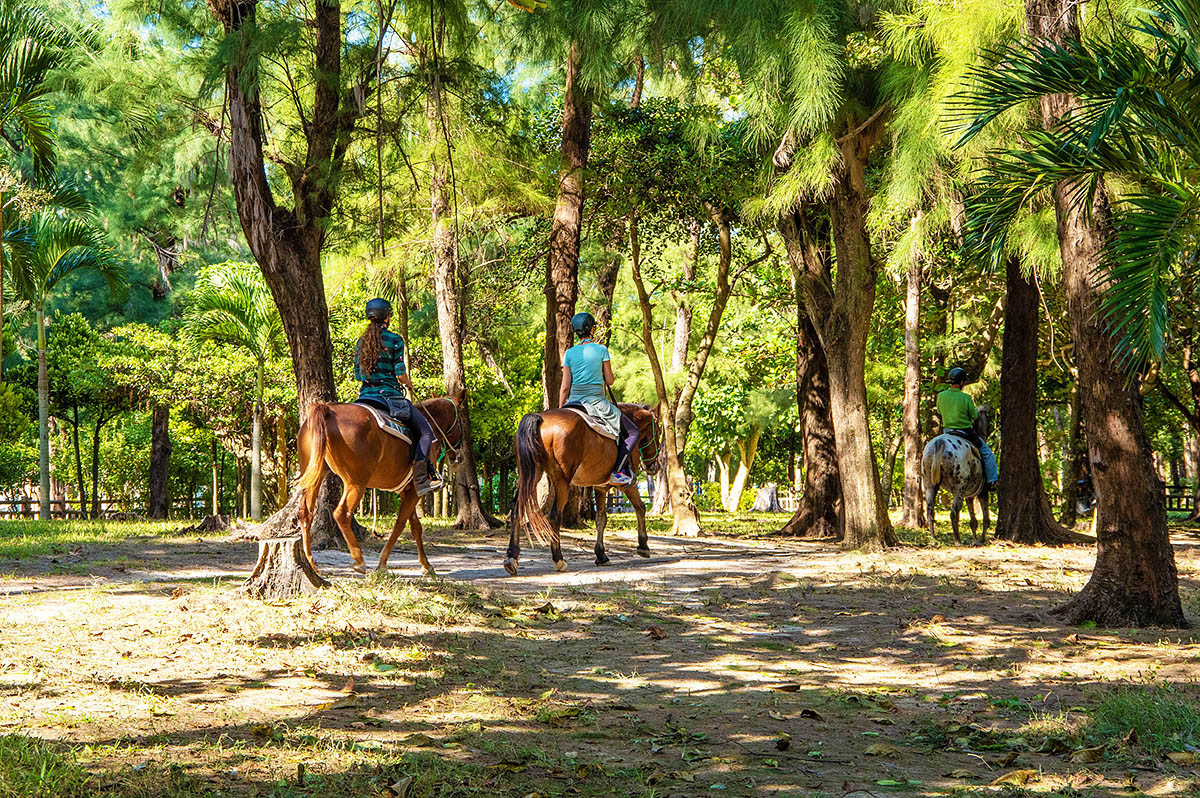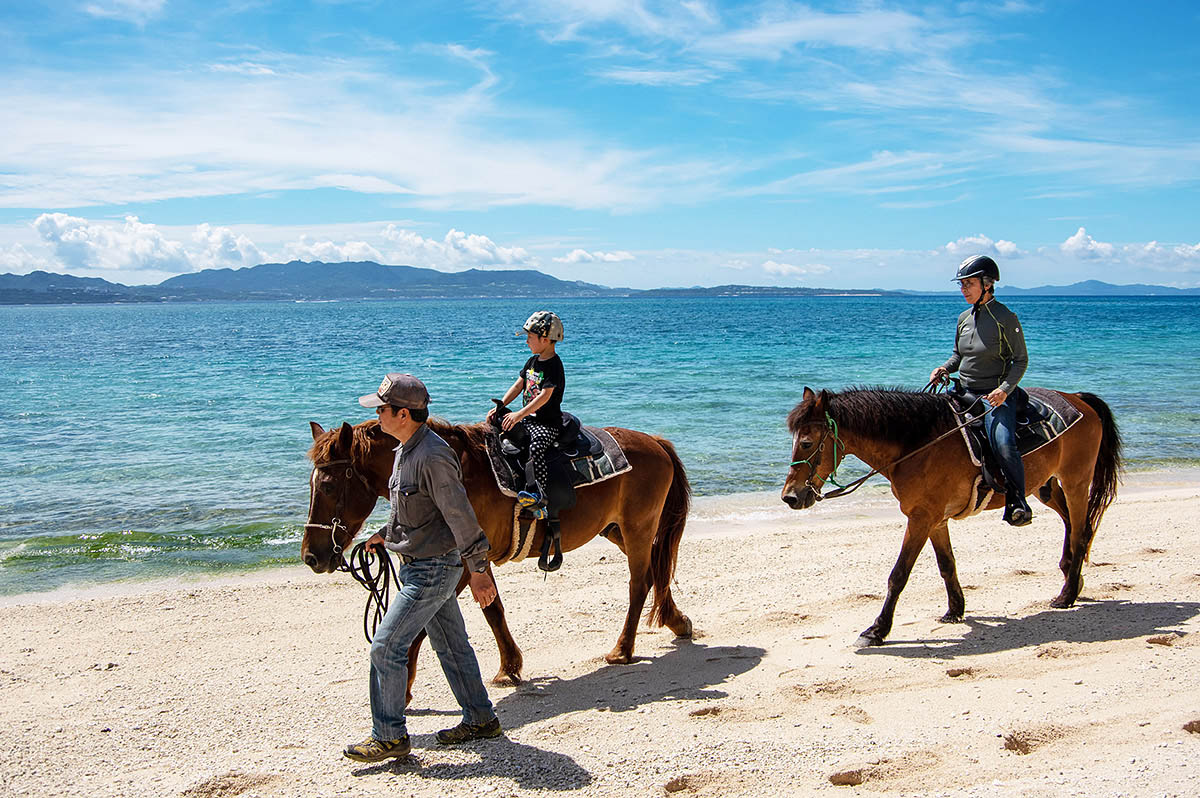 Iejima Beachside Horse Park offers 60- or 90-minute horse rides along beautiful beaches, and through the island's countryside. No prior riding experience is necessary, but complete beginners need to take a 20-minute beginner lesson for an additional fee. During summer months, when the East China Sea is warm, you can select the "Swim-with-Horse" option to ride and then swim with the horse as it plays in the ocean.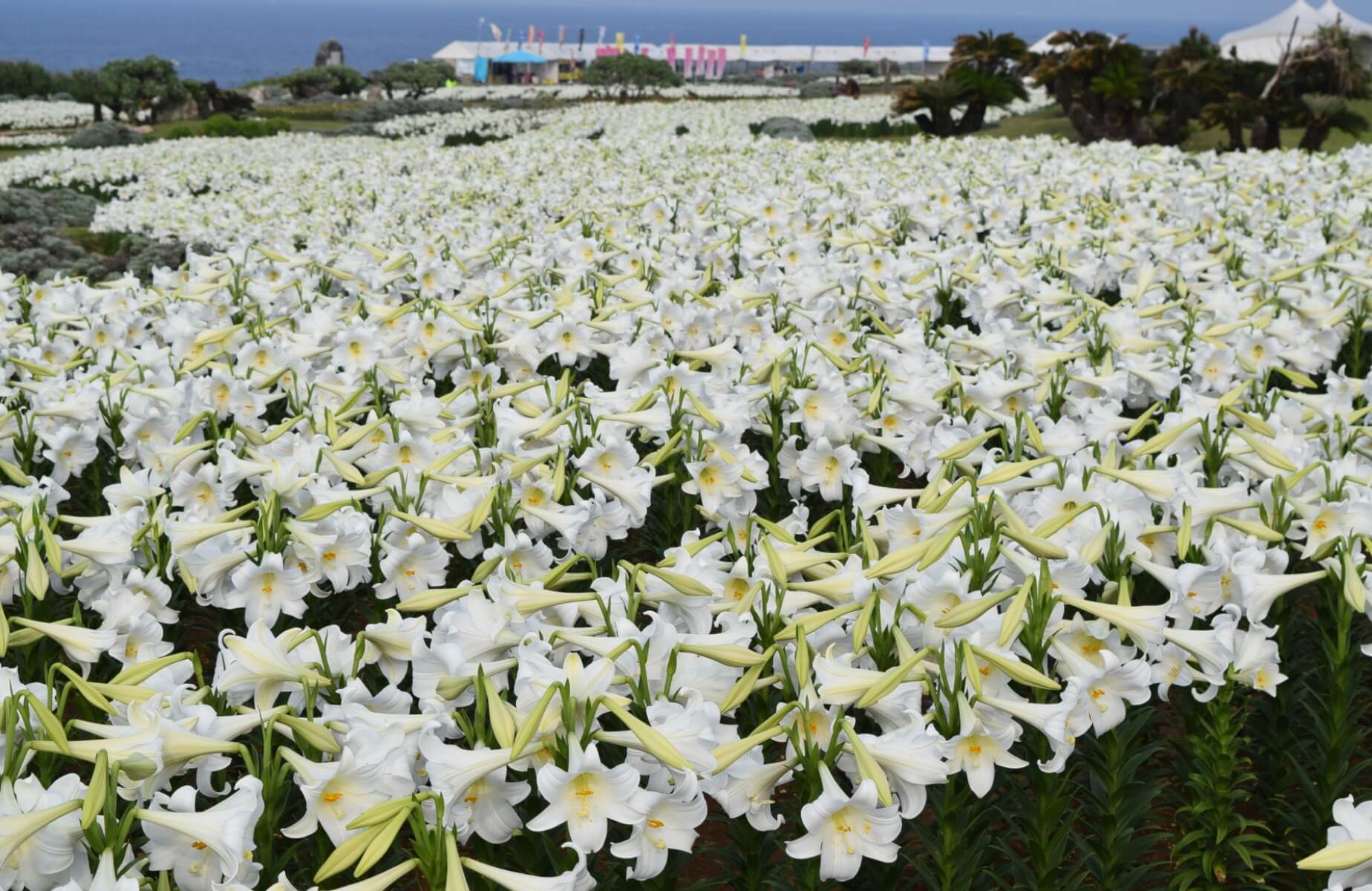 At the end of April, the Ie Island Lily Festival takes place at the Lily Field Park. Elegant snow-white Easter lilies cover the park, along with colorful varieties from around the world. During the festival there are fireworks, sky lanterns, and evening illuminations.

The Ie Island Hibiscus Garden is open all year round. It allows visitors to learn about one of Okinawa's common flowers, as more than 1000 different varieties of hibiscuses grow in the garden. Worth checking out are the giant Hawaiian hibiscus measuring 30 centimeters across and the hybrid varieties the facility creates on the island.
Must-buy souvenirs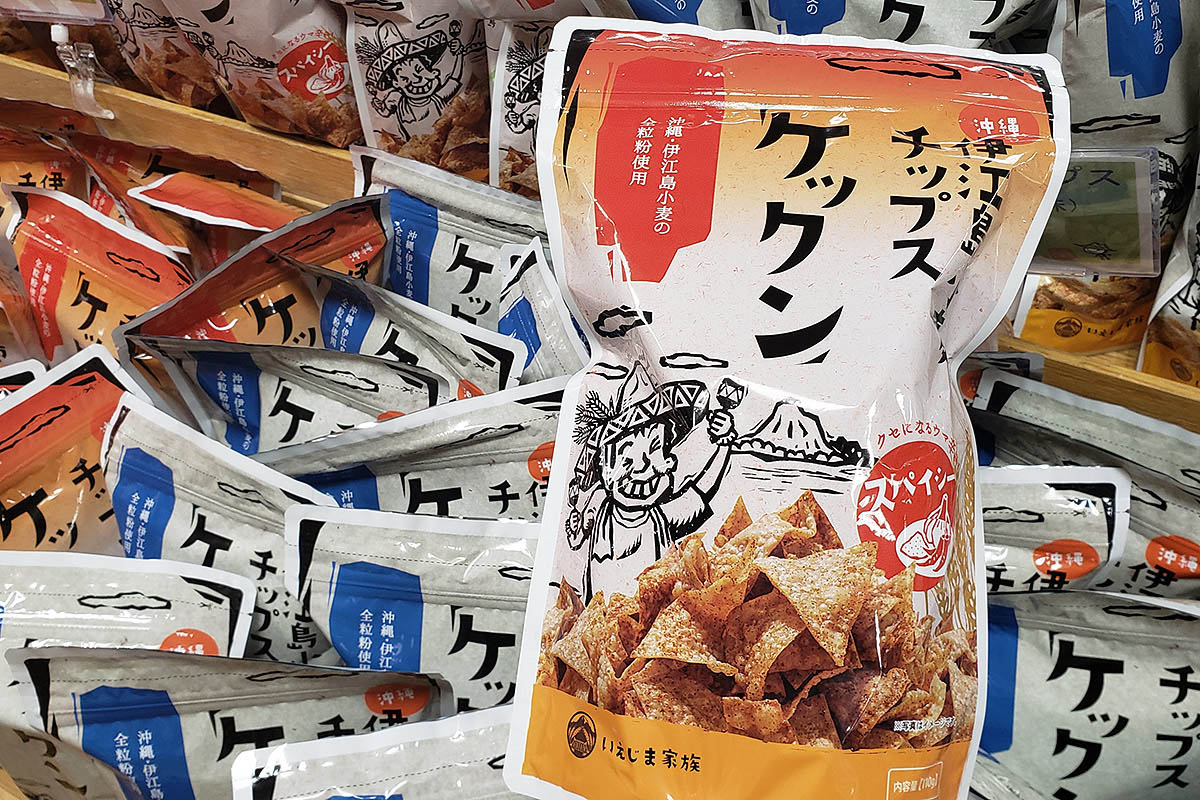 If you're looking for local snacks or souvenirs, then a visit to the Ie-Jima Product Center at the port terminal is in order. Ie Island produces peanuts called jimami in Okinawan, which are the main ingredient of the traditional specialty, jimami tofu. Unlike soy-based tofu, jimami tofu is made from peanuts and sweet potato starch. It has a smooth texture, a delicious taste, and is packed with vitamins. Kekkun chips are a popular new snack. Made from wheat grown on the island, they have a crispy, light texture.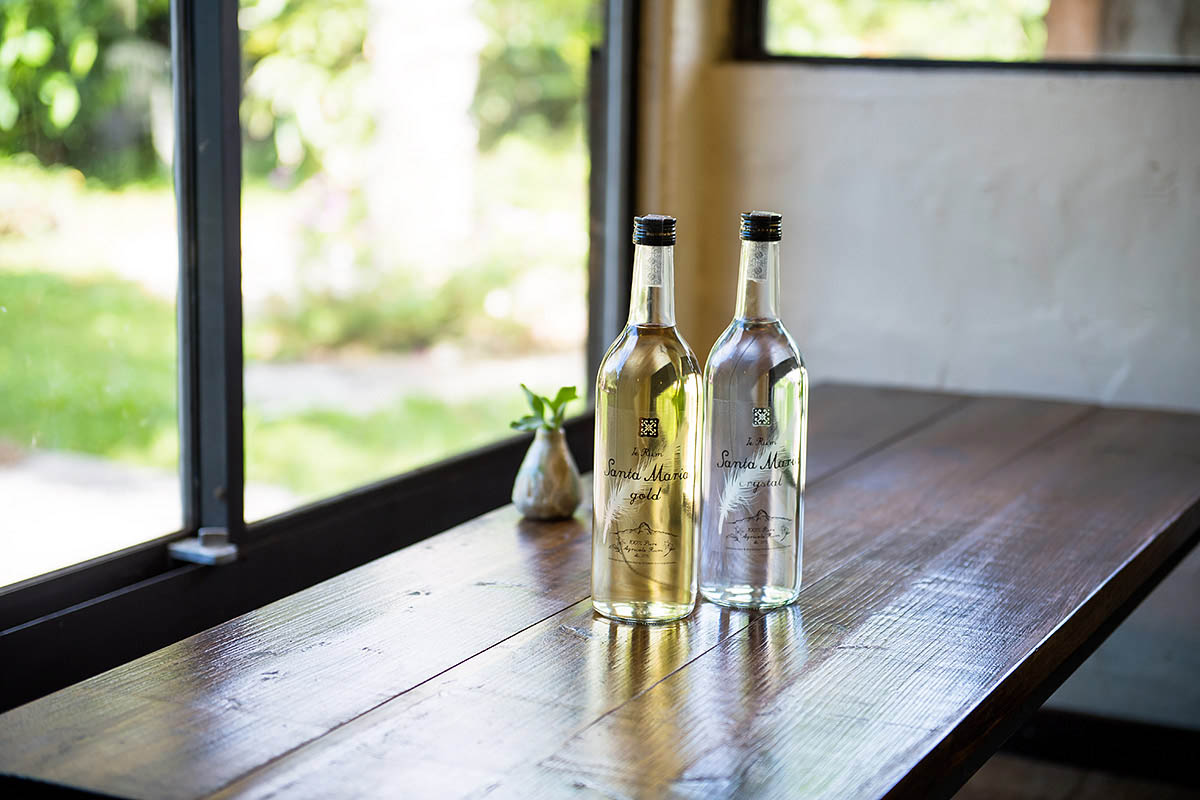 Ie Soda is a local beverage made of spring water and brown sugar from the island's sugarcane plantations. Various flavors utilize local ingredients such as red dragon fruit, shikuwasa citrus, and sea salt.

Ie Island's most celebrated souvenir is Ie Rum Santa Maria, an award-winning spirit made from the island's sugarcane. The drink's fine taste and reputation are the result of using fresh sugarcane juice rather than molasses. The rum's name comes from the island's white Easter Lilies, which are associated with Saint Mary.

Although small at only 23 square kilometers, Ie Island is well worth a visit. With fantastic ocean views, floral celebrations, and unique local crafts, it's the perfect place for a mini-adventure just 30 minutes from the main island of Okinawa.
Posted on 2020/3/5
Last updated 2021/12/20
Text by Chris Willson
Chris Willson is a British photographer, videographer, and travel writer based in Okinawa for over 20 years.