Heritage & Tradition
Ishigaki Island—Traditions Inspired by the Sea
A guide to the rich traditions and vibrant culture of the Yaeyama Islands
Ishigaki is one of the Yaeyama Islands, and home to the southernmost city in Japan. In addition to picture-perfect beaches and beautiful subtropical forests, the island is home to its own unique culture just begging to be explored. Discover the unique crafts and cuisine that help make this small island such a memorable travel destination.
Ishigaki Island is the economic and transportation hub of the region. If you're visiting from any of Okinawa's other islands, your journey will begin at Ishigaki Port. Our first destination on our dive into island culture is about 10 minutes away by taxi.
Minsah Kogei Kan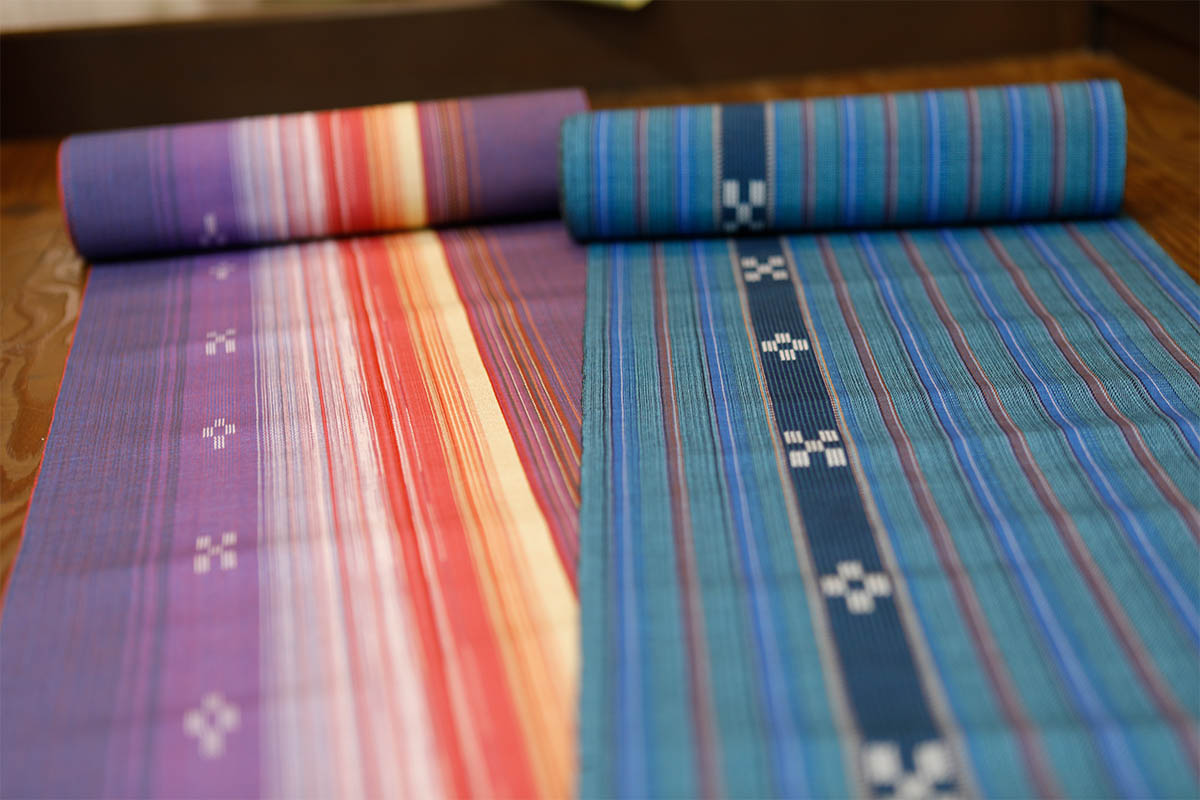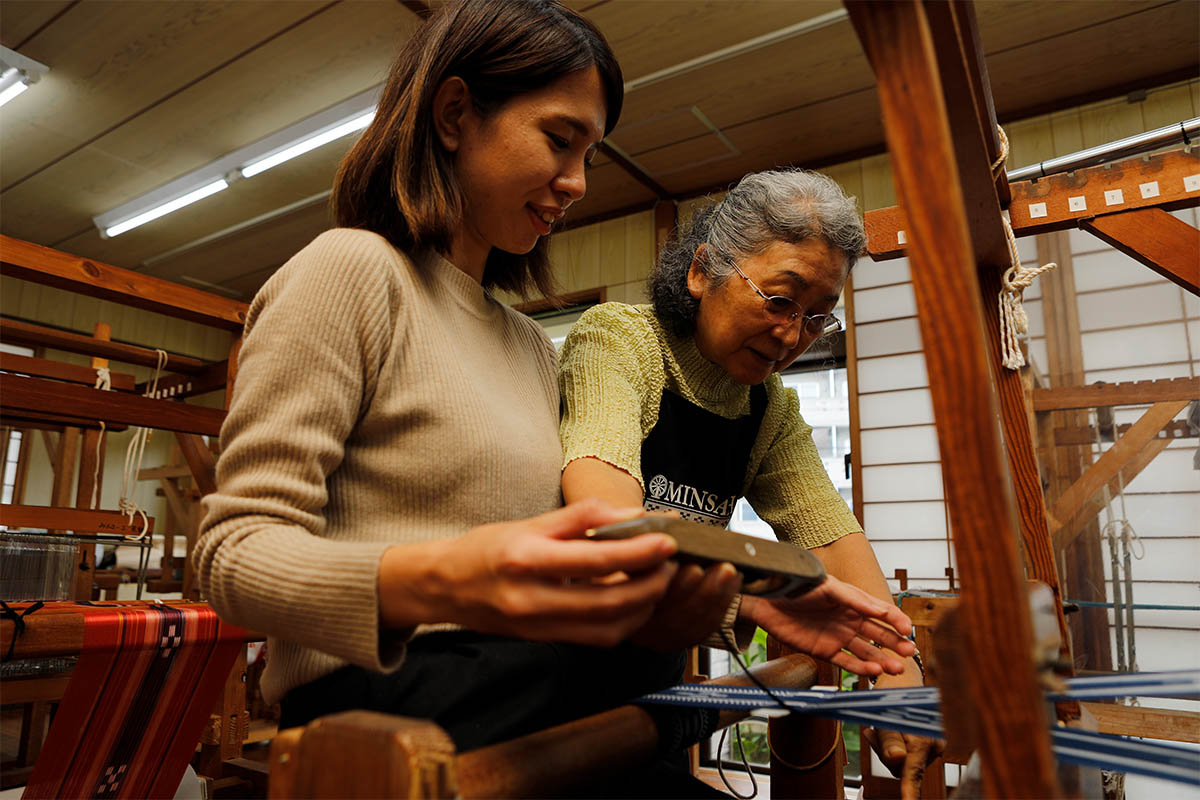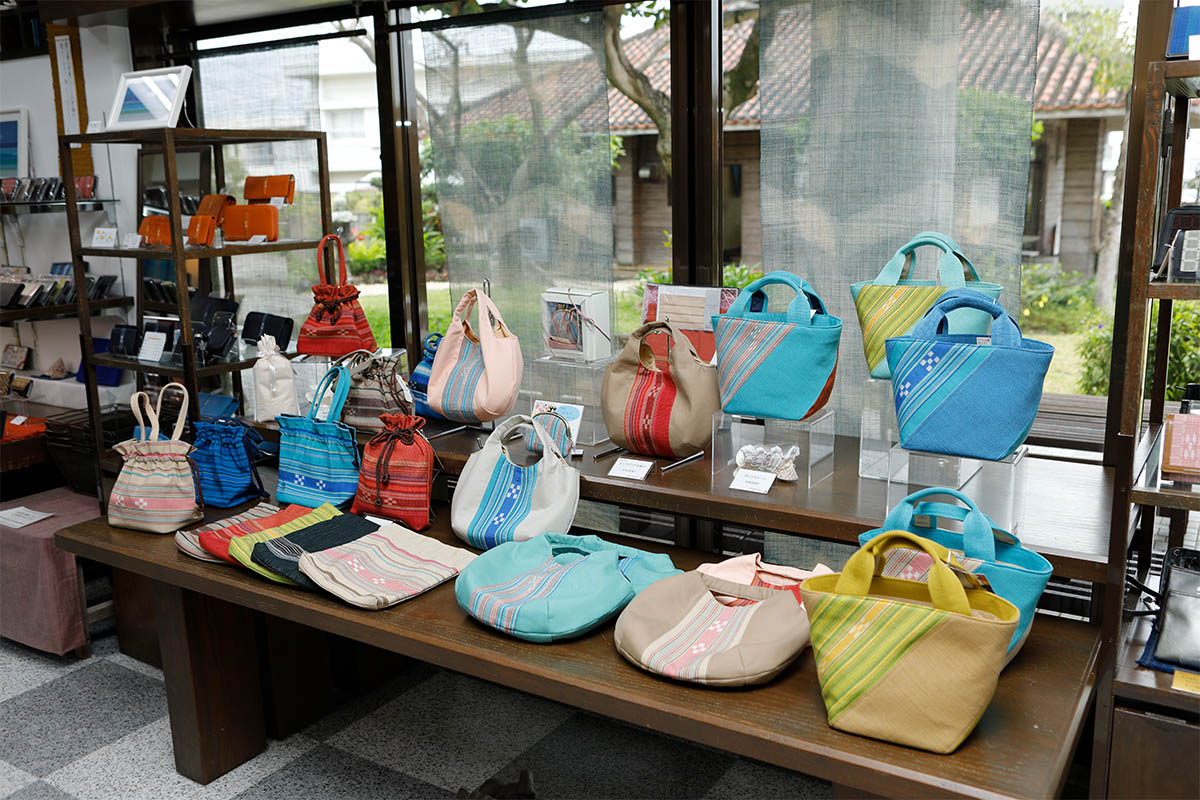 Yaeyama minsah is a traditional textile produced on both Ishigaki and Taketomi Island. Minsah is a plain-woven cotton fabric that was originally used to make narrow belts given to men by women when they were betrothed. It is characterized by an alternating pattern of five squares and four squares called kasuri.

The Minsah Kogei Kan offers you the chance to learn about the history and manufacture of this unique textile. At the workshop located on the first floor, you can observe each step of the weaving process and, if you want to feel like an artisan, even try your hand at it. Exhibits relating to the history of Yaeyama minsah are on display on the second floor, as well as the works of famous artists. At the shop, you will find bags, neckties, and many other skillfully crafted minsah items that make for a great souvenir. Our next stop is about 15 minutes away by taxi.
Ishigaki-yaki Pottery Studio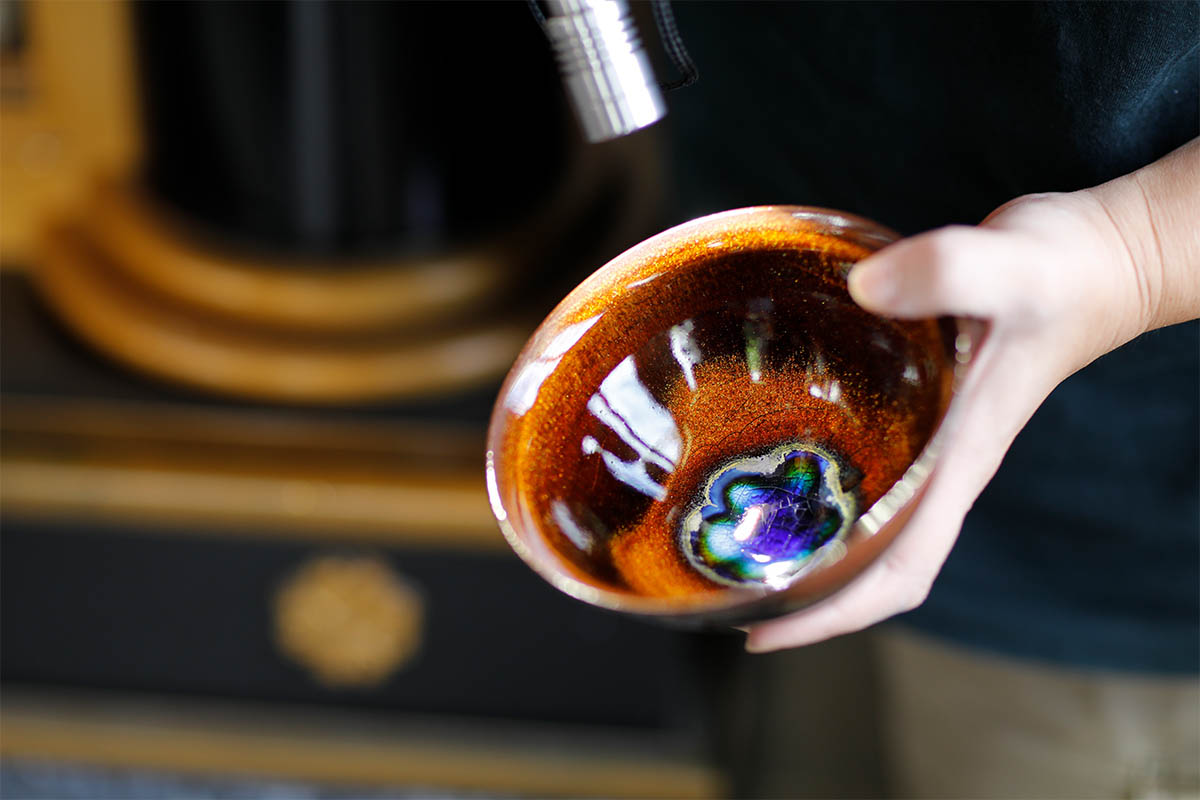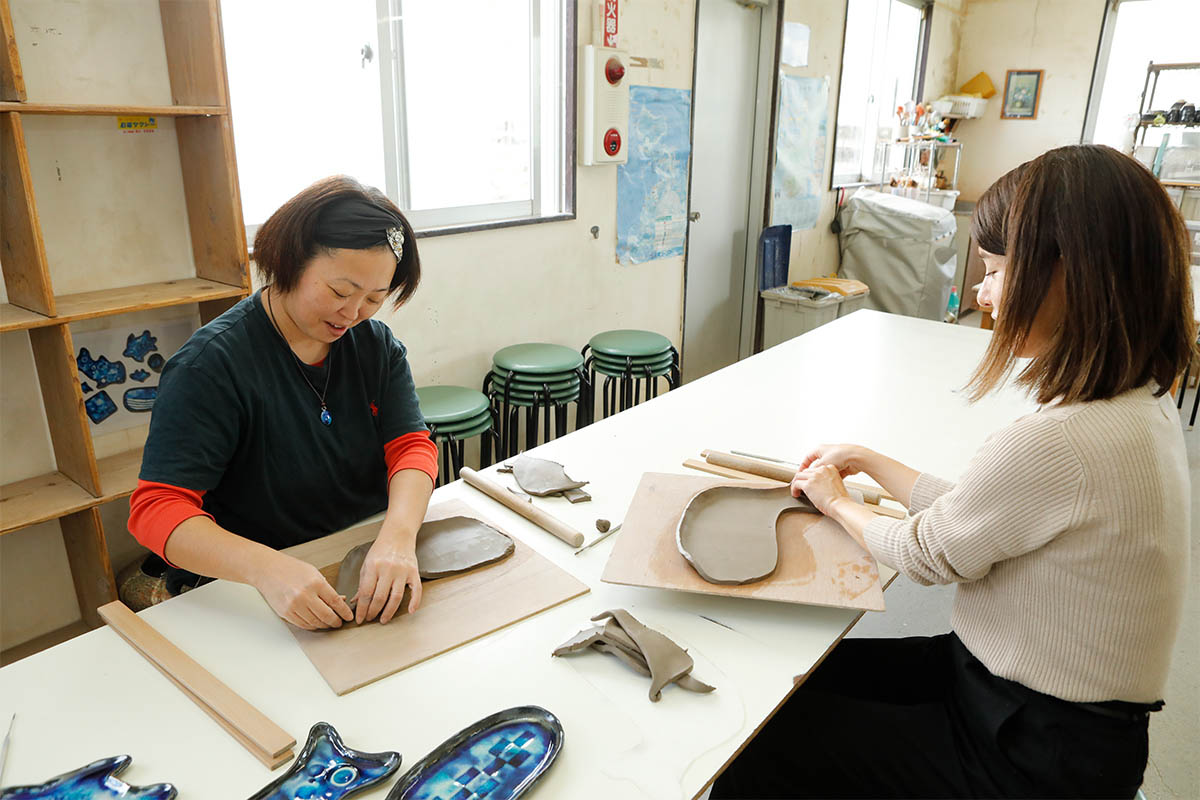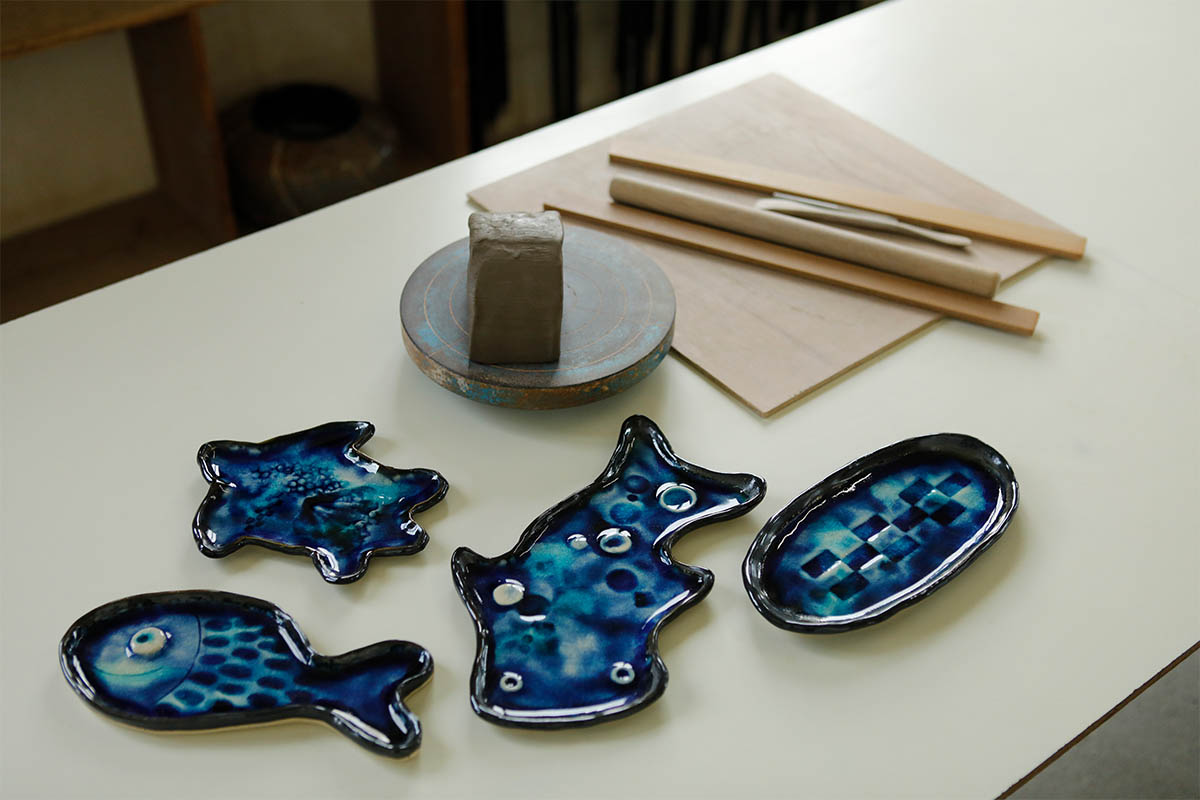 If there is something that truly defines Ishigaki Island, it is the mesmerizing blue color of the waters that surround it. A relatively new craft that combines glass and pottery, Ishigaki ware is a type of pottery characterized by a black glaze speckled with silver spots, and a rich blue hue. This blue glaze that resembles the shades of the Okinawan sea is the result of combining mineral ore with translucent glass.

Ishigaki ware has been showcased at events and exhibitions around the globe. You can admire this enchanting craft at the Ishigaki-yaki Pottery Studio, which features a gallery and a workshop to make your own original creations. At the workshop, a teacher explains the entire production process, from shaping the clay to drawing patterns before firing. Let your soul speak through your hands to make a one-of-a-kind piece of art. Its founder and owner learned the technique of fusing glass and ceramic material from his father, and seeks to capture the diverse nuances of Ishigaki Island into his artwork. Each piece here is unique, so if anything catches your eye, you may only have one chance to pick it up!
Smoked Ishigaki Beef Steak Kabiratei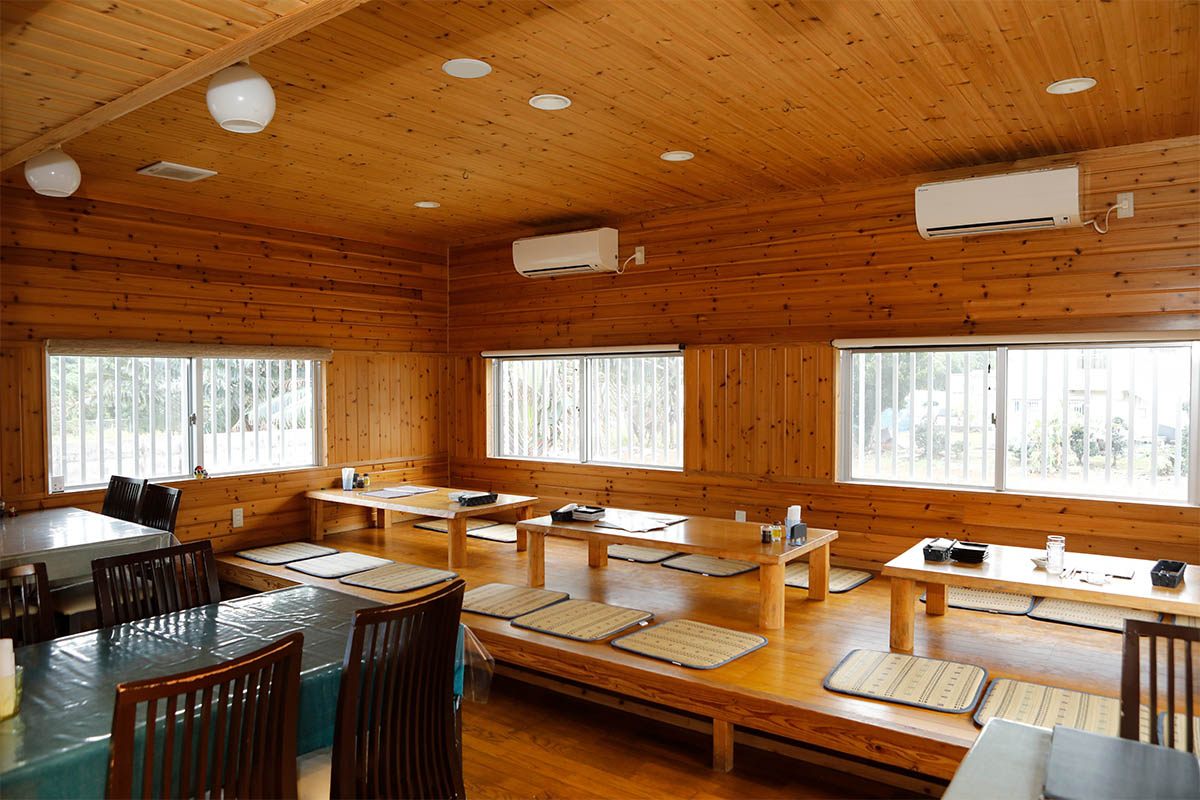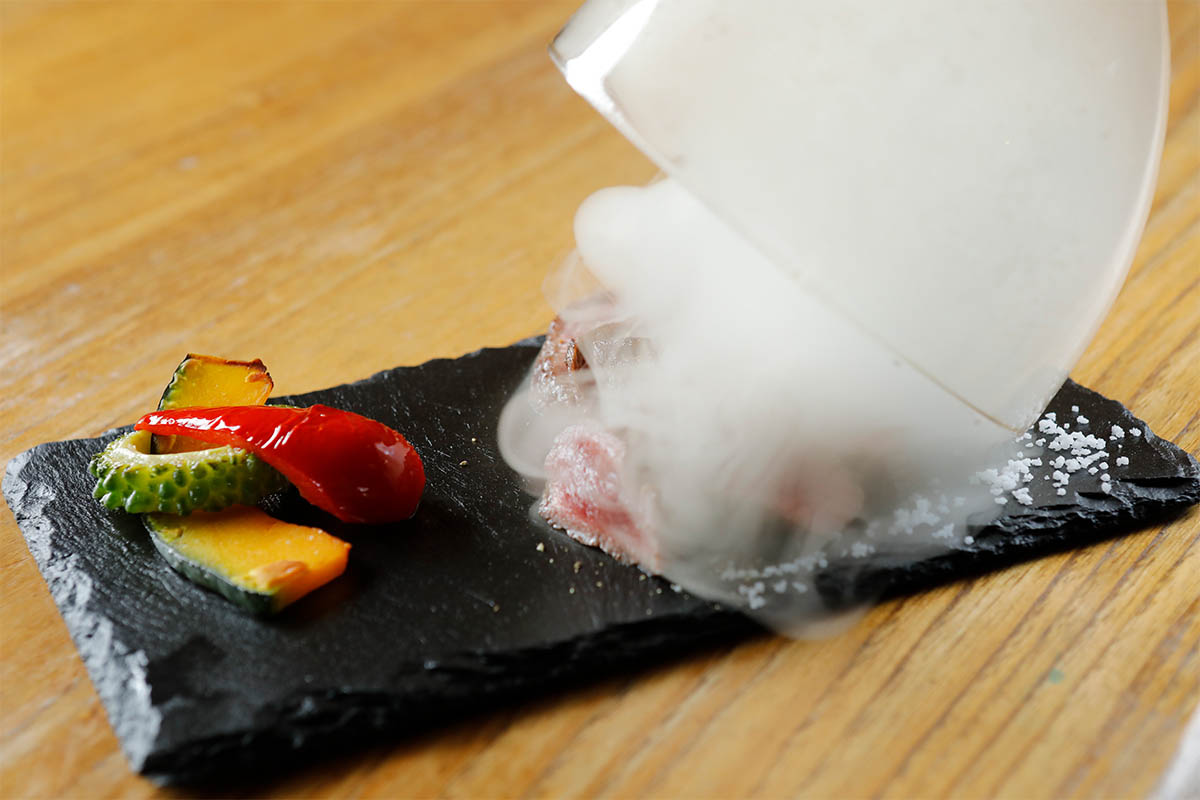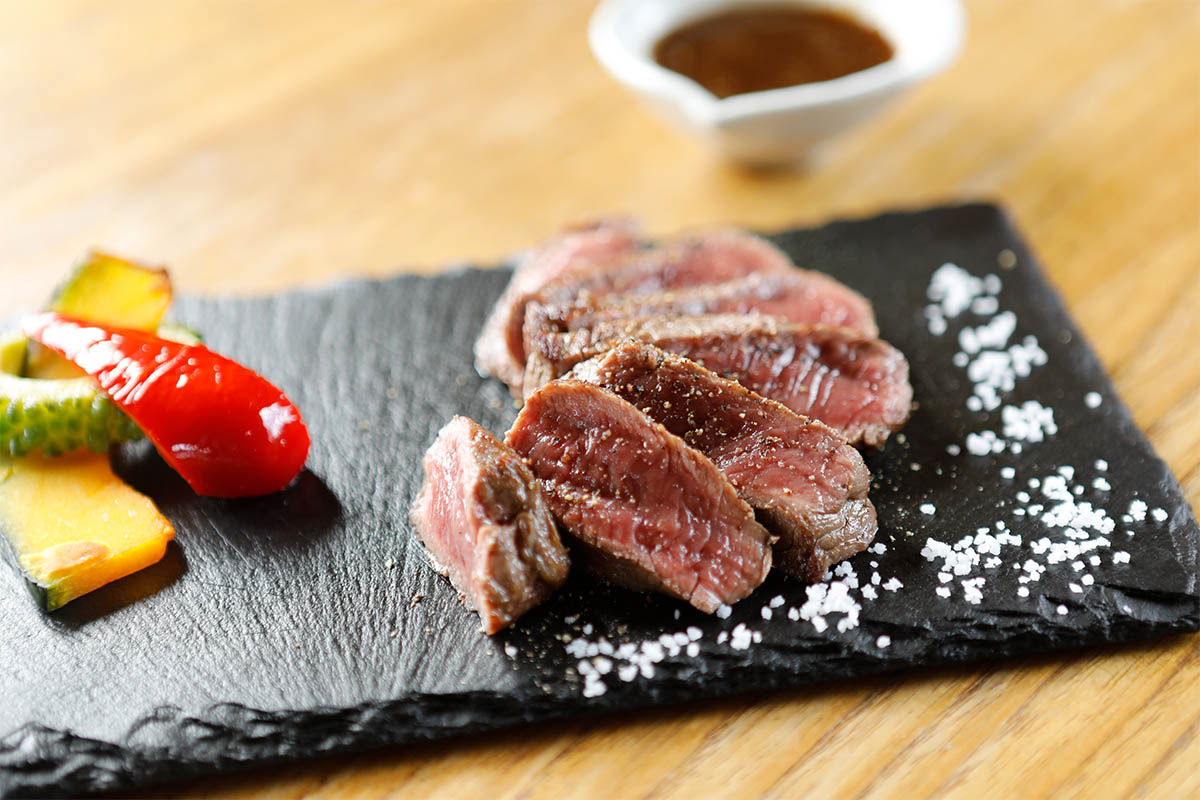 Ishigaki Island's beautiful environment not only inspires local crafts, but also provides delicious ingredients for world-class gourmet food. Raised under the warm island sun, the black cattle of Ishigaki Island graze in wide open spaces and produce top-grade beef known for its tender texture and excellent flavor. Considered one of the best brands of wagyu (Japanese beef), Ishigaki beef was even served to the leaders of the G8 countries during the 2000 Kyushu-Okinawa Summit.

Treat yourself to a meal fit for a prime minister at Kabiratei, which offers creative dishes made with premium cuts of Ishigaki and Misaki Beef. It is about 15 minutes by taxi from the pottery studio.

Specializing in instant-smoked cuisine, Kabiratei will surprise you with steaks served under a glass dome filled with aromatic smoke, which gives the meat an incredibly deep and luxurious flavor. As the dome is lifted, the smoke billows out to reveal your steak, in an artful presentation that will surely enhance your culinary experience.
Takamine Distillery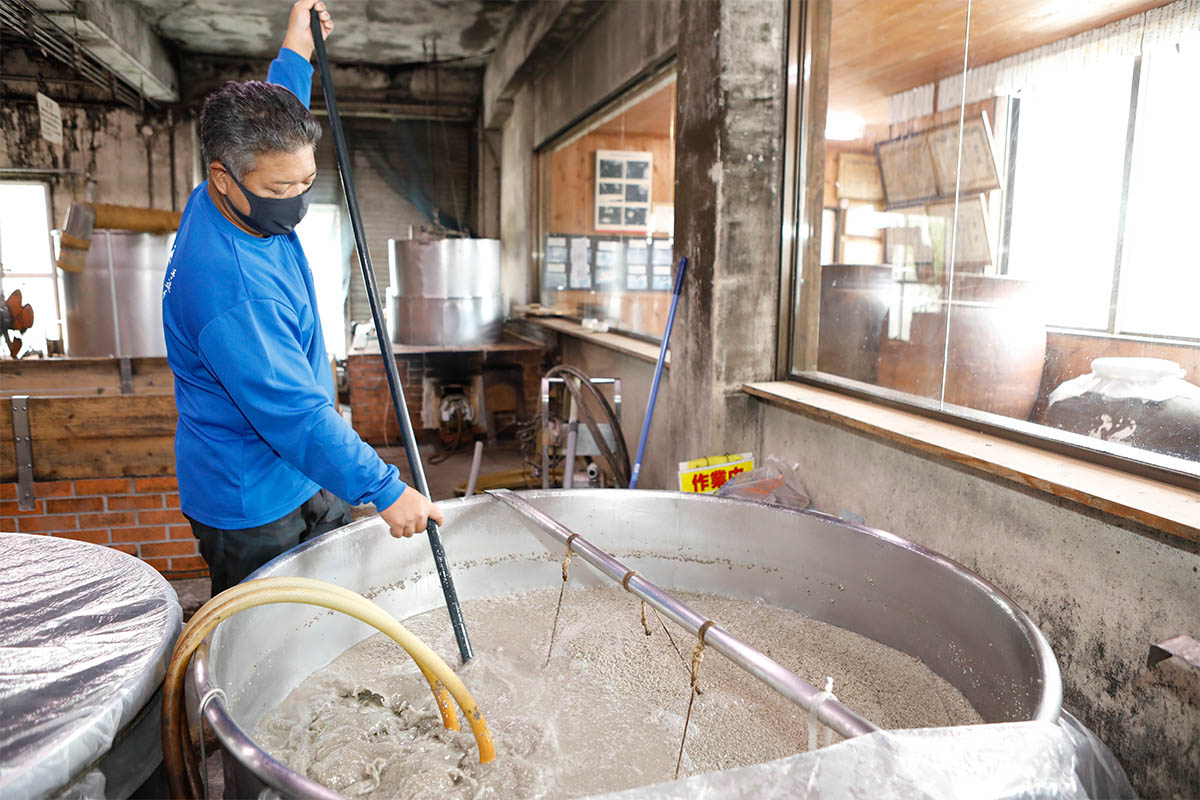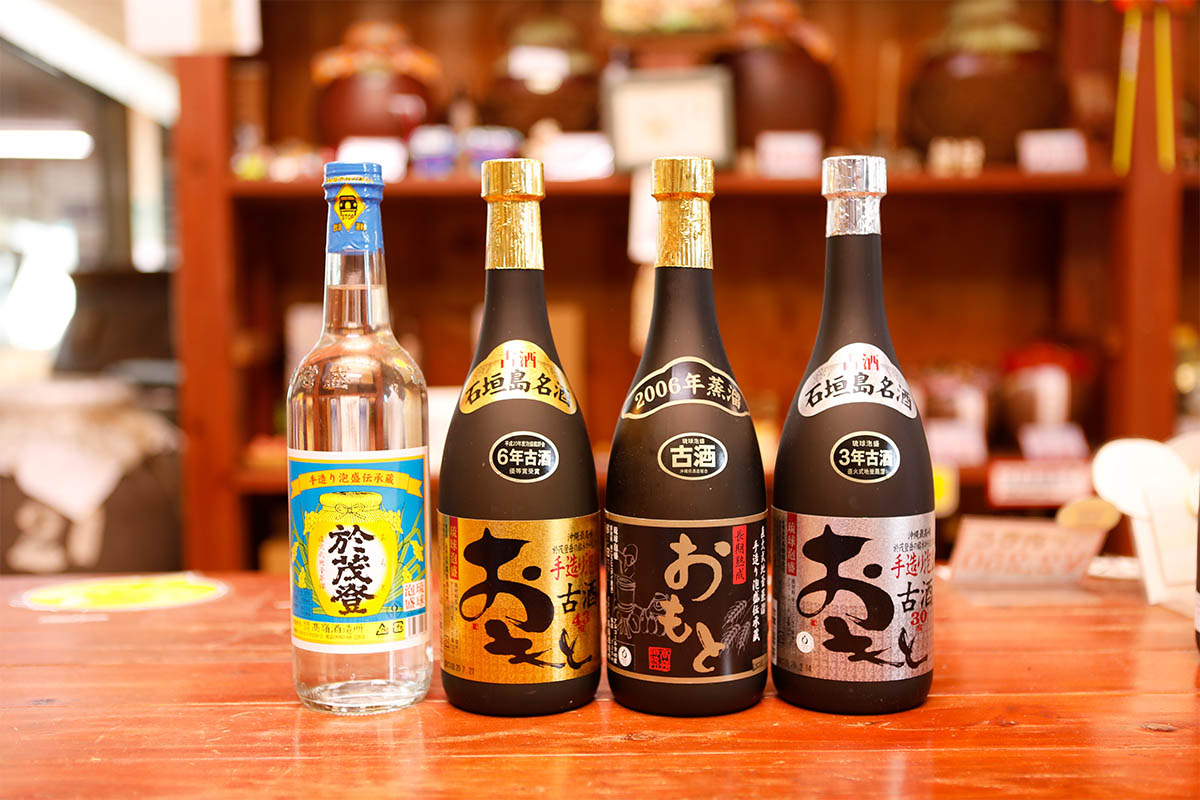 Tradition can take many forms, and can sometimes even be distilled and poured into a cup. Round off your day in Ishigaki Island in the best way possible with a taste of awamori, Okinawa's signature liquor. Overlooking Kabira Bay, one of Ishigaki Island's most iconic views, Takamine Distillery (just 10 minutes on foot from Kabiratei) has been making awamori the traditional way since 1949.

Each and every bottle at this quaint brewery is crafted by hand from start to finish, exclusively utilizing spring water from Mt. Omoto, Okinawa's highest mountain. Traditional brewing techniques such as direct flame distillation and manually kneading the koji mold ensure Takamine products achieve their trademark excellence. Observe the distillers from the viewing gallery to see how much dedication and care they put into their work. Several kinds of awamori can be found at the shop, all available for sampling. Try their kusu, a three year old awamori that will tantalize your senses with its rich, mellow taste. Raise a glass, and toast an unforgettable Ishigaki Island trip.
Posted on 2021/3/31
Last updated 2021/12/20
Text by Silvia Telloni
Based in Tokyo with Okinawa in her heart, Silvia Telloni translates and writes in Italian, English and Japanese.