Nature & Wildlife
Discover Okinawa's Indigenous Horses
Get to know the Yonaguni pony, an essential part of life on Yonaguni Island
On the westernmost island in the Ryukyu Archipelago live the indigenous Yonaguni ponies. Since ancient times, these small horses were treasured by the islanders, and used to carry rice and sugarcane around the rugged island. As years passed, larger horses and vehicles arrived. The Yonaguni ponies were superseded, and their numbers dwindled. The future, however, is bright, as the Yonaguni Pony Society promotes these special horses as a key part of Okinawan tourism, education, medicine, wellness, and agriculture. Experience this unique aspect of Okinawan life with a beach ride or a friendly equine encounter.
Strong and good-natured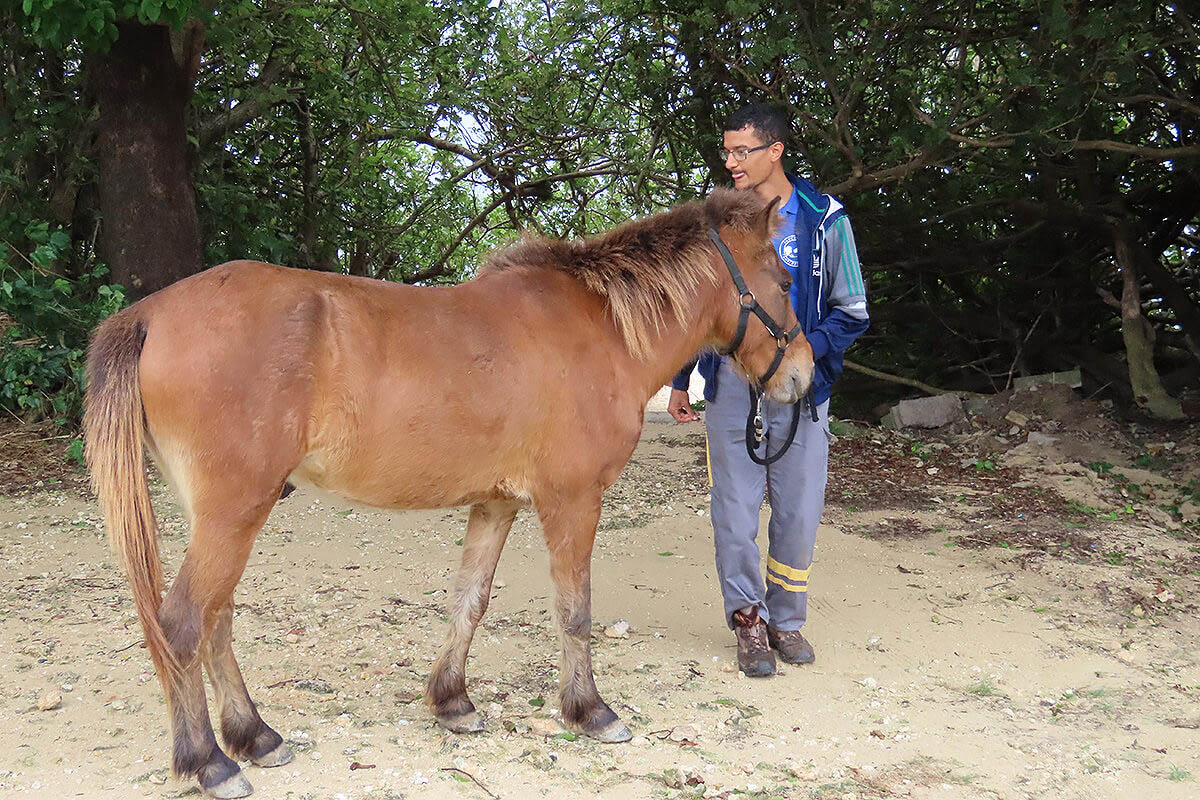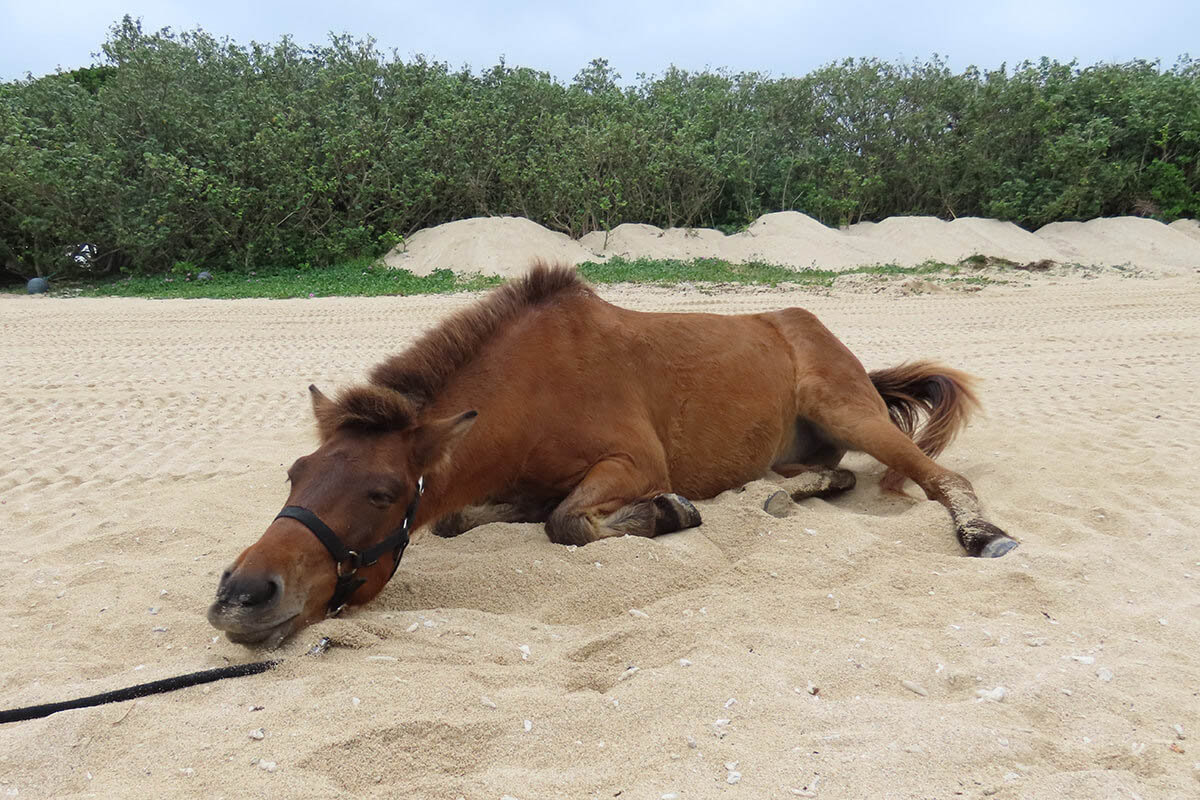 The Yonaguni pony is one of eight horse breeds native to Japan. It is also known as the shima uma (literally "island horse") or Ryukyu horse. With a height ranging from 110–120 centimeters, and a weight around 200 kilograms, they are much smaller than standard racehorses, which are typically 160 centimeters tall and weigh about 500 kilograms.

As of 2020, there are just 130 Yonaguni ponies alive (according to the Japan Equine Affairs Association). Most of the population lives semi-wild on Yonaguni Island. Historically, the Yonaguni ponies were essential for farmers; their strong legs are capable of supporting heavy loads, and they also have calm personalities. Trainers of the Yonaguni pony describe them as tranquil, kind, and very easy to handle. They are also full of personality; their eyes are very expressive, and they sometimes roll around on the beach after a ride.
A new bond with humans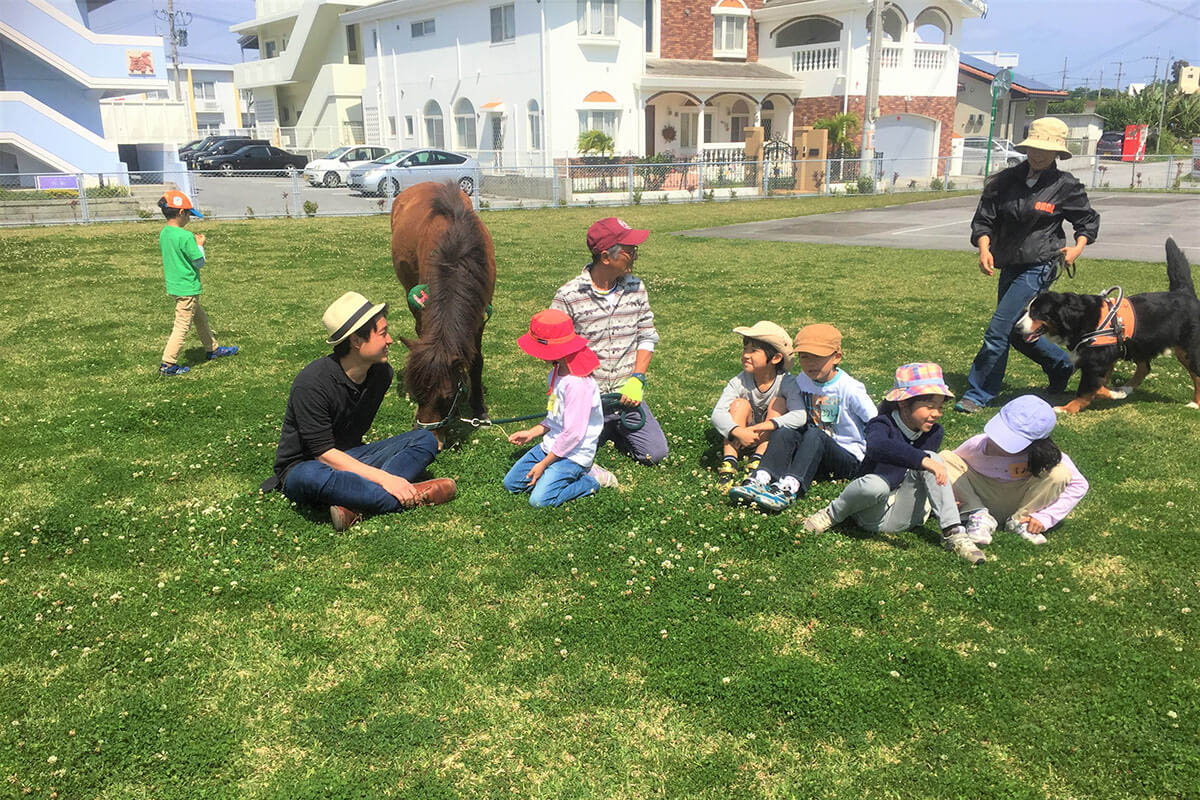 Advances in mechanized agriculture means farmers no longer rely on Yonaguni ponies, but these diminutive horses are finding new roles in modern society. Founded in 1982, the Yonaguni Pony Society promotes their conservation and importance to the community. Stables homing Yonaguni ponies have been established on Okinawa's main island, Kume Island, and Ishigaki Island. These three locations offer pony rides, and help to spread awareness to a wider audience than just Yonaguni Island.

Ms. Nakagawa of the Yonaguni Pony Society explained, "I want to bring to reality a society where the gentle and clever Yonaguni ponies can live together with people." At Umikaze Horse Farm, in the south of the main island of Okinawa, the Yonaguni ponies are introduced to local children from nursery and elementary schools. It gives the children an opportunity to discover and interact with the ponies. They are also working towards developing the Yonaguni ponies as therapy animals. The horse manure is utilized for local farming.
Experience the ocean on the Yonaguni pony
The best way to learn about horses is to interact with them. The Yonaguni Pony Society has various fun programs based around the theme of "Let's play with Yonaguni ponies!" Popular activities include a pony ocean experience during summer (from May to mid-October) and enjoyable rides along the beach.

Umi-uma-asobi (literally "water horse play") is the name for the pony ocean experience program. Riding on the back of a pony in the water is special, but for many, the highlight is swimming with the ponies as you hold on to their tails. Even if this is your first encounter with a horse, or you're not a strong swimmer, the experience is a delight due to the calm gentle nature of the Yonaguni ponies. Other options include rides along the idyllic Okinawan beaches, or up to one of the local castle ruins.

Along with Umikaze Horse Farm, you can visit Kumejima Uma Bokujo on Kume Island, and Ishigakijima Umahiroba on Ishigaki Island, which also offers a variety of enjoyable activities. Take this amazing opportunity to get up close with Okinawa's indigenous horses, the adorable Yonaguni ponies.
Posted on 2020/1/31
Last updated 2021/12/20
Text by Chris Willson
Chris Willson is a British photographer, videographer, and travel writer based in Okinawa over 20 years.