Katsuren-jo Site (Katsuren Castle Ruins)
勝連城跡
Explore the hilltop ruins of a grand castle that was home to a Ryukyuan hero
The Katsuren Castle Ruins lie atop a commanding limestone hill, overlooking the seaside of nearby Minamihara Fishing Port. It was a teikakushiki-style castle, where the central fortress (or honmaru) was separated from other sections of the castle by kuruwa enclosures, and protected by the surrounding landscape of steep cliffs. The remnants of many buildings, walls, roof tiles, and other features provide valuable insight into life within the castle, and the prosperity it enjoyed in its heyday.
An enormous stone ship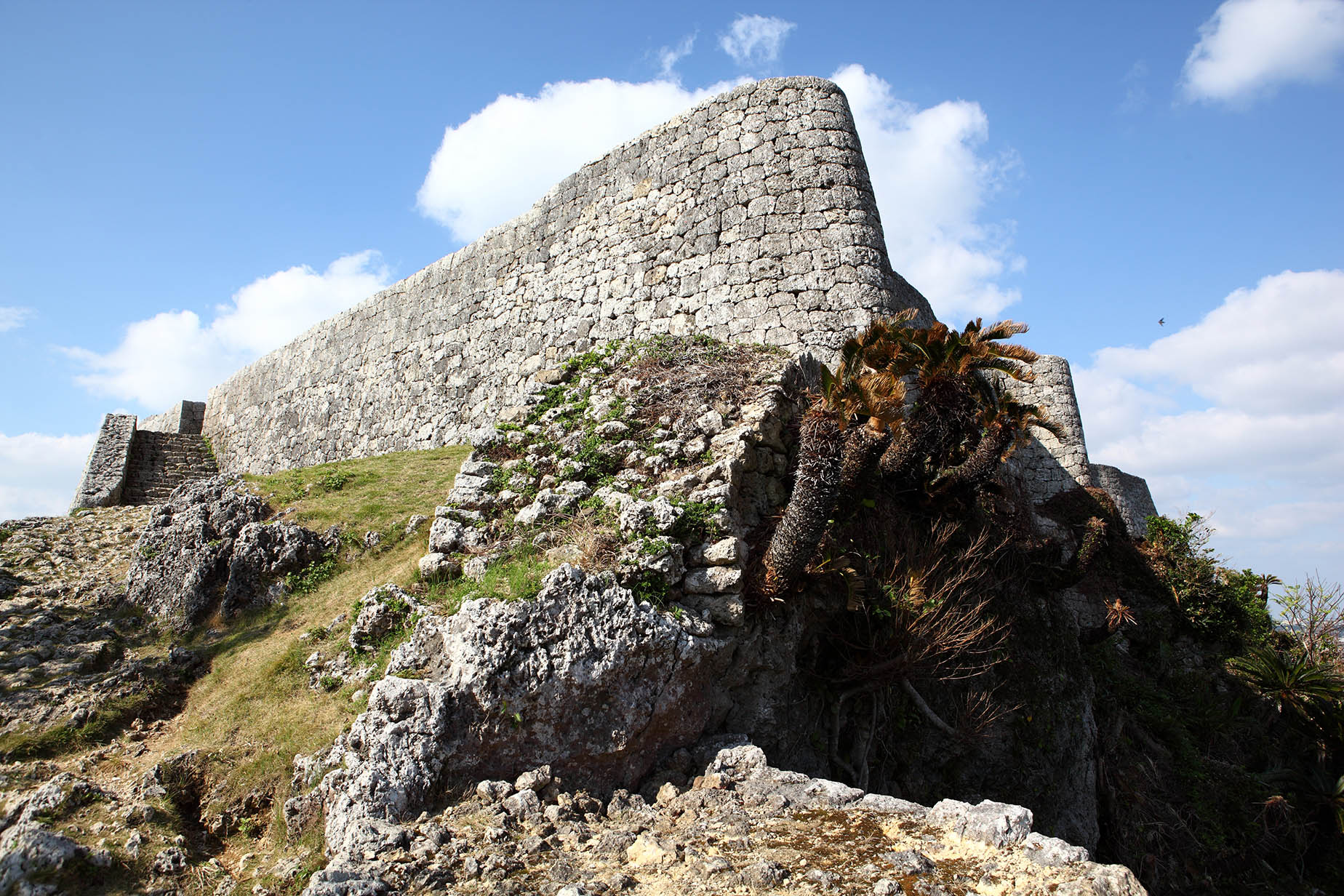 The open path leading up to the Katsuren-jo Site provides a full view of the structures that remain. The smooth, stone walls atop the hill contrasted against the blue sky almost make the remnants look like an enormous stone ship. The site stands 98 meters above sea level, and visitors can climb steep, clockwise stairs meant to tire out would-be attackers. Be careful, because the steps can be slippery. From the top, visitors can admire the stonework and enjoy a panoramic view of the surrounding area.
The legend of Amawari
Katsuren Castle was the residence of Aji Amawari, a peasant who rose up and seized the domain from its original ruler and led it to prosper through overseas trade. After the death of Sho Hashi, the unifier of the Ryukyu Kingdom, he instigated a rebellion to take control of the Ryukyu throne. The rebellion was thwarted, and Amawari lost his life when Katsuren Castle was destroyed in 1458. While Amawari is portrayed as a traitor in some historical texts, in others he is praised as a wise and well-liked king. His achievements and deeds have also been reexamined in modern Kumiodori theatrical performances.
A tragic queen
While Amawari is regarded by some as a folk hero, his beautiful wife Momoto Fumiagari has a more tragic tale. The daughter of Sho Taikyu—the seventh son of King Sho Hashi—she was forced to marry Amawari for political reasons. When her husband rose up against her father after the death of Sho Hashi, she returned to Shurijo Castle with the help of her protector Uni-Ufugusuku. After Amawari's death at Uni-Ufugusuku's hands, she and he were married. But he too lost his life as the result of a power struggle. Momoto Fumiagari's grace under hardship has been the subject of many novels and dramas.
Transportation information

The Katsuren-jo Site can be reached by bus or car. Take a bus from Naha Bus Terminal to Katsuren Danchimae. The bus takes about 1 hour 40 minutes. From the bus stop, it is about a five minute walk.
Get more information at Transport Navi Okinawa.
Contact information

Katsuren-jo Site (Katsuren Castle Ruins)

3908 Haebaru Katsuren, Uruma City, Okinawa Prefecture

098-978-7373