Heritage & Tradition
Explore the Crossroad of Okinawa's Past & Present
Experience the rich history of the Ryukyu Kingdom at Shurijo Castle
The Ryukyu Kingdom emerged about 600 years ago, when the Ryukyu Islands (which make up present-day Okinawa) were unified by a single king. The kingdom flourished by trading with Ming China, mainland Japan, and countries in Southeast Asia, and by integrating aspects of their respective cultures. The capital of the kingdom was on Okinawa's main island, and the political and cultural heart was Shurijo Castle.

Shurijo Castle is one of the Gusuku Sites that was awarded World Heritage Status by UNESCO in 2000. Despite the devastation to the Seiden main hall caused by a fire in October 2019, the castle park is one of Okinawa's must-visit destinations, and a great place to take a deep dive into Okinawan history.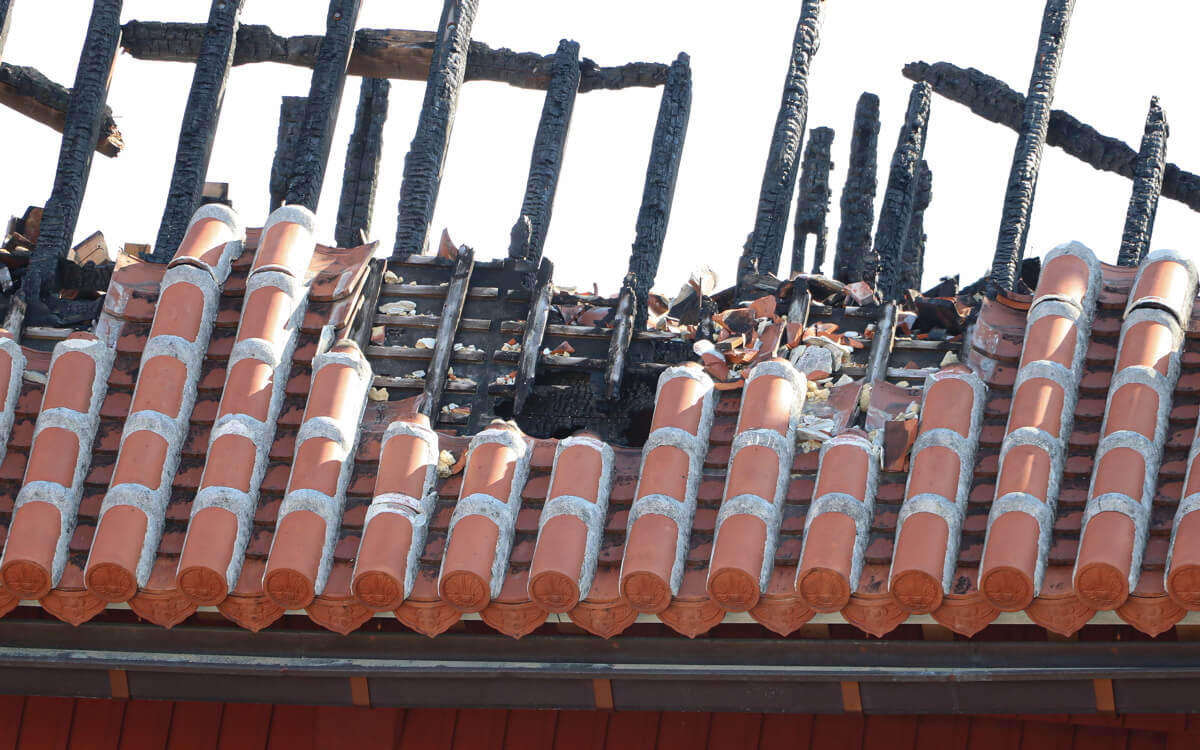 The closest train station to Shurijo Castle Park is Shuri Station, which is served by the Yui Rail monorail. From there, it is just a short walk to the castle. Along the way, you may notice traditional buildings with red roof tiles and fences.
Shurijo Castle Park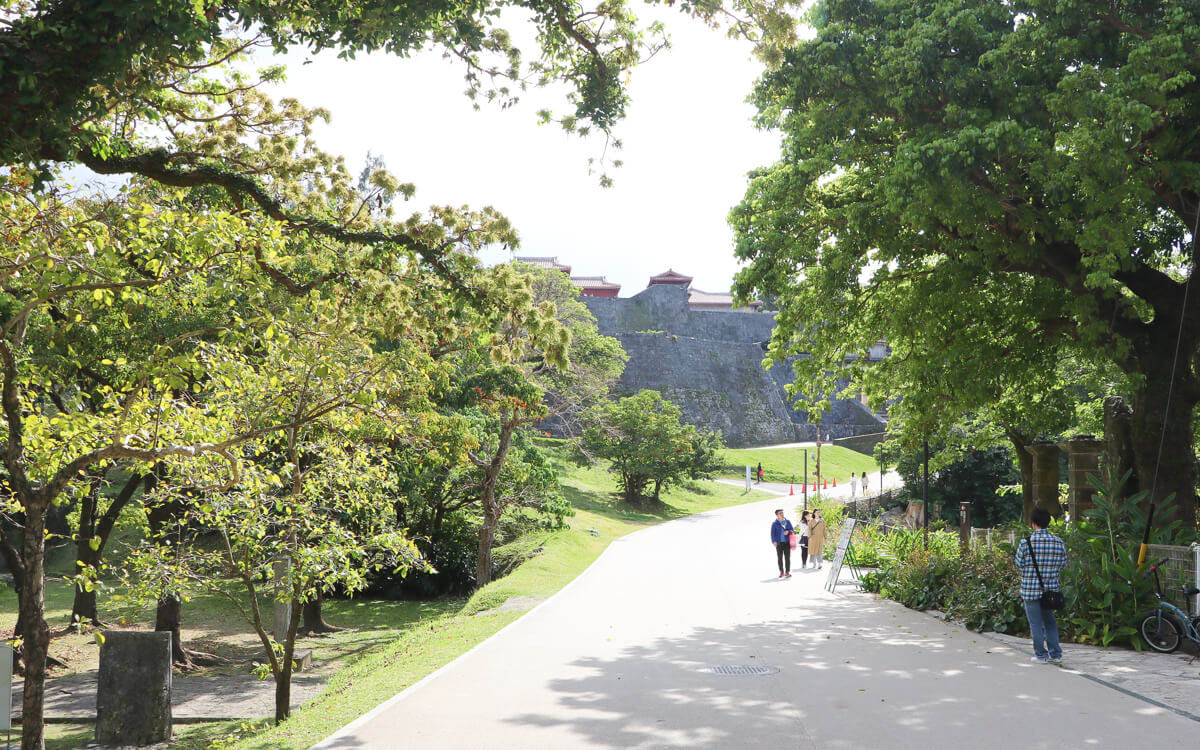 One of the best ways to learn about the unique features and history of Shurijo Castle is to join in a guided tour, led by a certified guide from the Okinawa Interpreter Guide Association. They offer support in English, Chinese, and Korean, and can cater tours to visitor needs.

There are many points of interest within Shurijo Castle's expansive grounds. One such sight is Enkakuji, a Buddhist temple constructed in the 1490s. Buddhism was practiced by the Ryukyu royal family, as well as warriors, and Okinawa's traditional eisa dance is thought to have evolved from traditional Buddhist dances.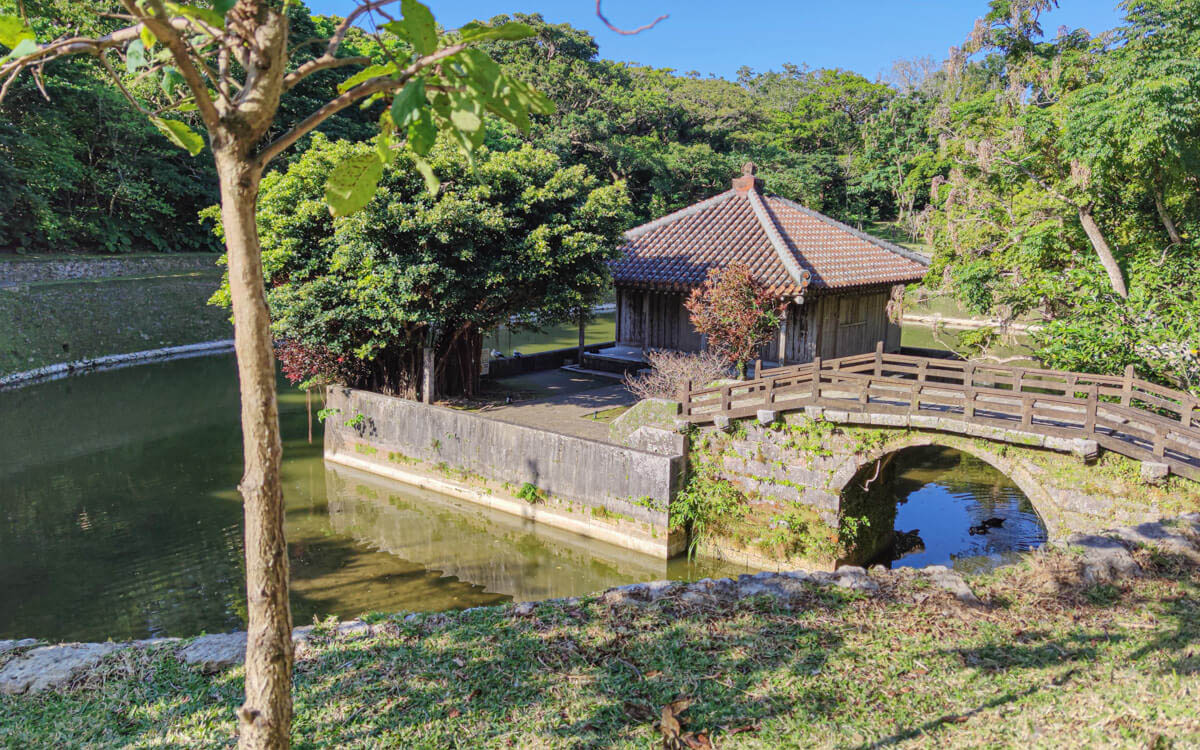 Enkakuji was home to many National Treasures, which were unfortunately destroyed during the Battle of Okinawa (1945) in WWII. Some features, such as its elegant main gate, have been restored.

Across from Enkakuji Temple lies Benzaitendo Hall, a structure on an island in the middle of Enkachi Pond where the goddess of sea voyages is enshrined.
Sacred Shurijo Castle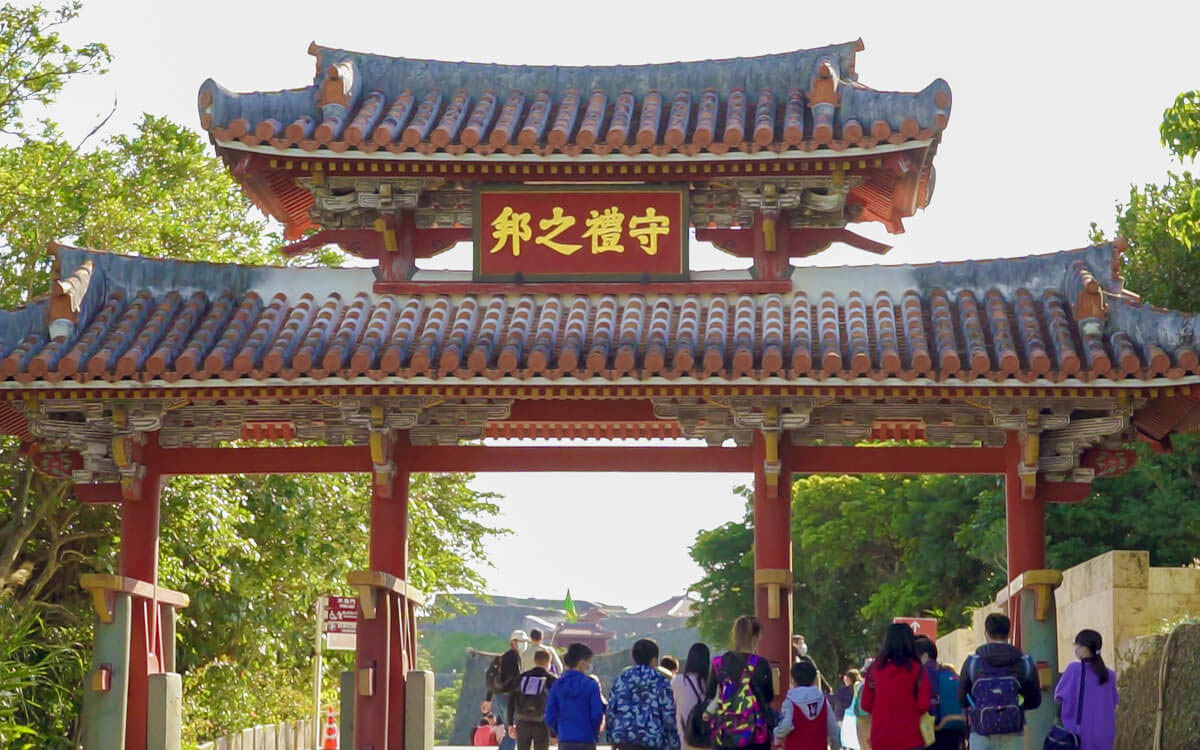 Through the colorful Shureimon Gate lies the Sonohyan Utaki Stone Gate, a stone gate that is a World Heritage Site. Utaki are sacred areas in Okinawa. This limestone gate was built in 1519, and the royal family would pray here for a safe journey when the king went outside the castle.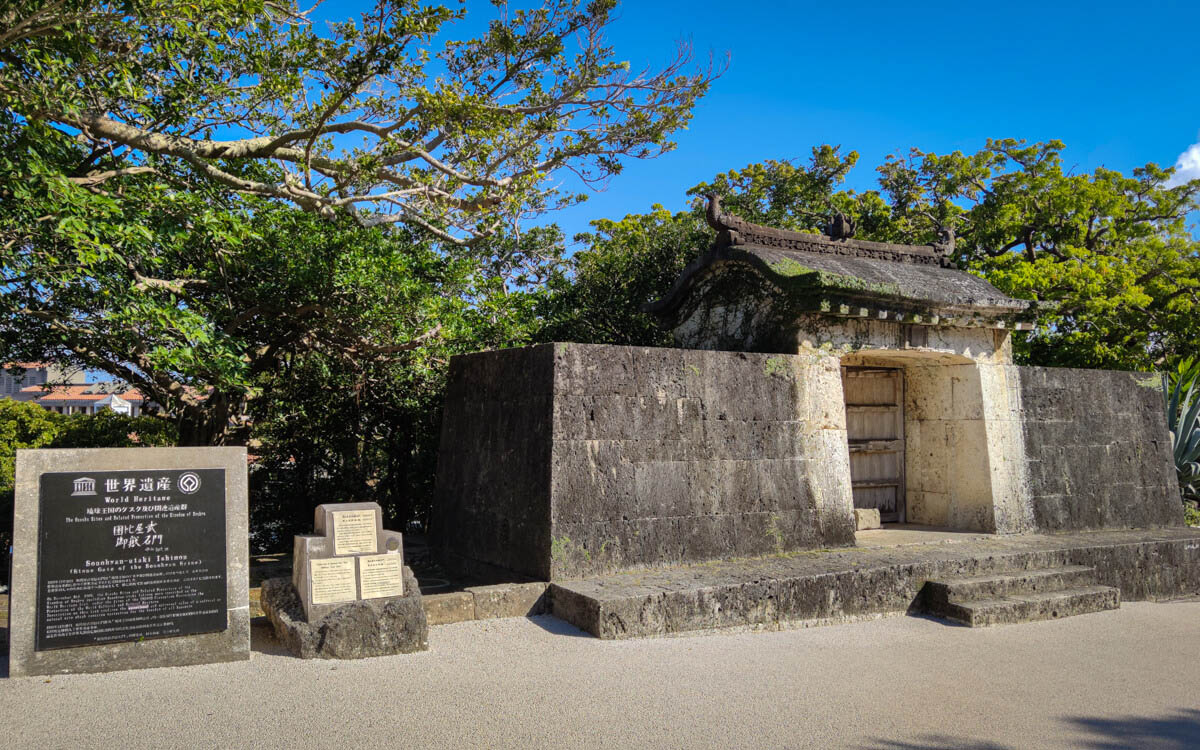 Ryukyuan castles are called gusuku, and are somewhat distinct from castles that might be seen on the Japanese mainland. Where both are royal residences and political centers, in the Ryukyu Kingdom they were also places for prayer and worship. They are also traditionally made of limestone, which Okinawa has in abundance.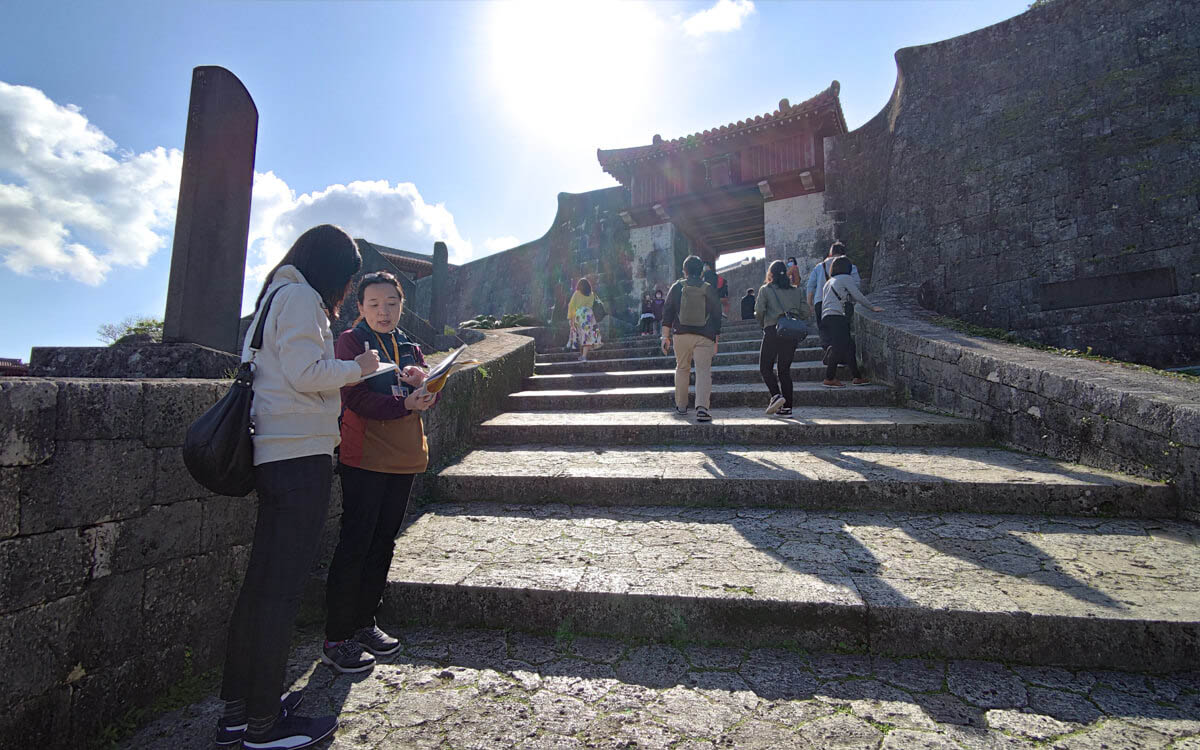 On the way to the inner grounds of Shurijo Castle, through the castle's gates, there are many notable features. Visitors may notice shisa statues, Okinawa's ubiquitous guardian lions that ward against evil, as well as castle staff in traditional dress. There is also a ryuhi, a dragon-shaped fountainhead from which spring water used to flow. This is actually the original, sent with envoys from China in 1523, and the surrounding monument is carved with their words of praise. One gate, the Zuisenmon Gate, is topped with a distinct vermillion turret, covered in traditional red tiles.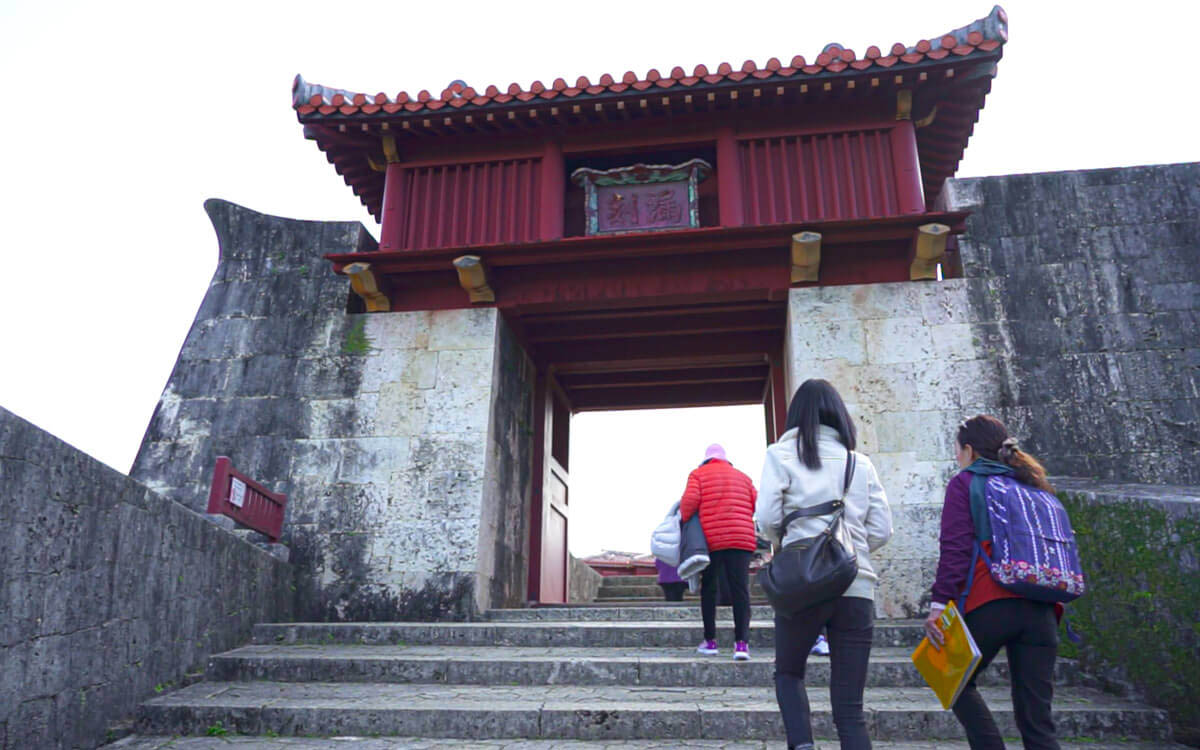 Past the Rokokumon and Hoshinmon gates, visitors can enter the main square of the castle.
The colors of Shurijo Castle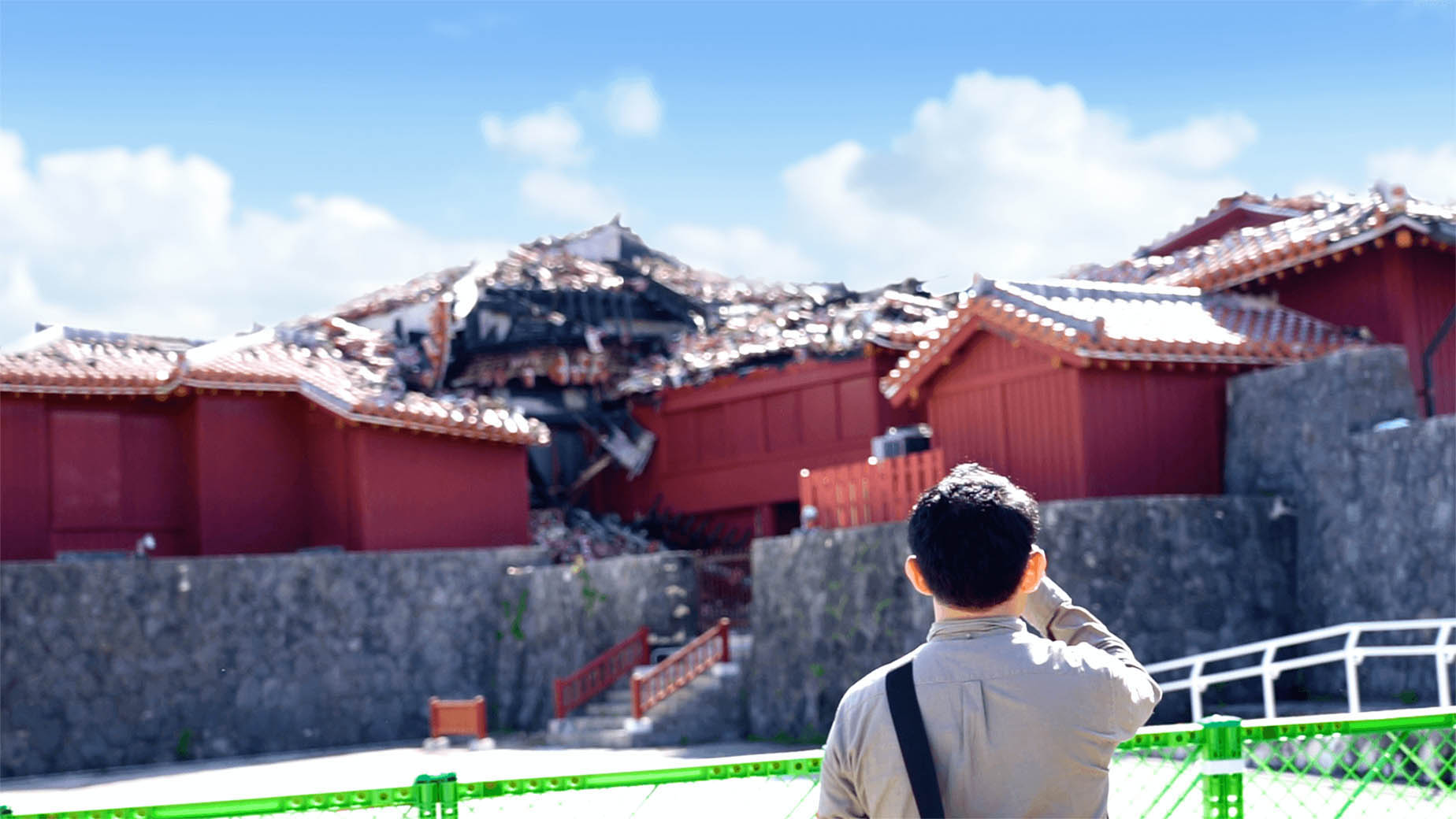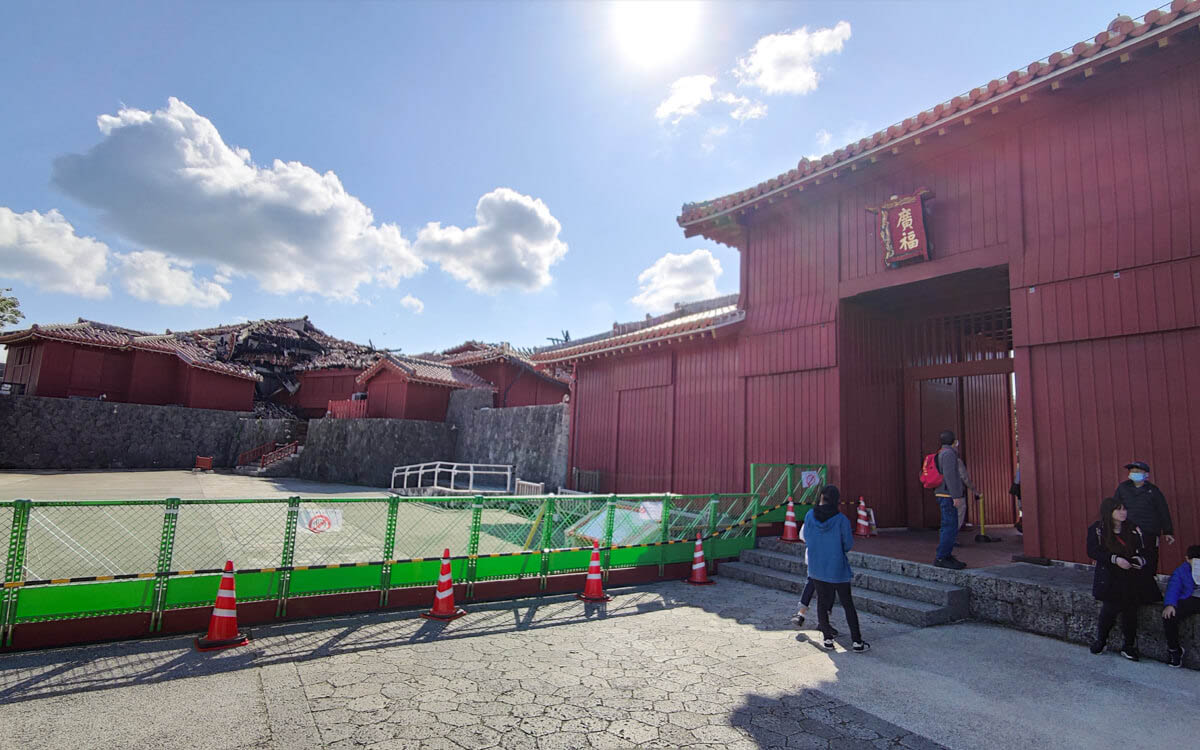 There is a lookout on the outer edge of Shurijo Castle's main square that offers a commanding view that stretches to the horizon. On clear days, visitors can see the castle grounds, the city of Naha, and the Kerama Islands in the distance.

The main square is the location of the Seiden main hall. The brilliant red-lacquered building was destroyed by the fire in 2019, but reconstruction is scheduled to be completed by 2026. The unique architectural style of the building is indicative of Okinawa's champuru (mixed) culture, and blends Japanese and Chinese aesthetics.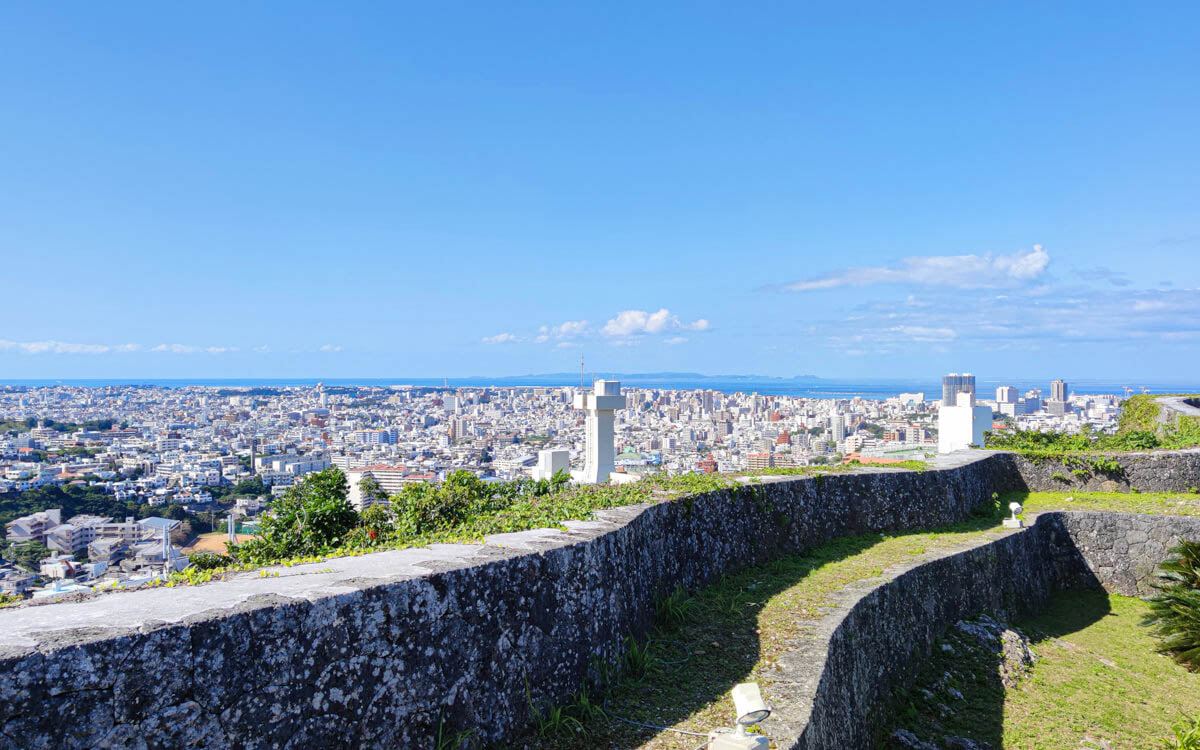 The fire in 2019 is not the only occasion in which Shurijo Castle has needed repairs. The castle was completely destroyed in WWII, and did not reopen to the public until 1992. Even now, different sections of the castle continue to open for general admission, indicating a bright future for this iconic Okinawa landmark.
Sample Okinawa's regional tea
Strolling the castle grounds and soaking in the sights is sure to work up a thirst. The Karisanfan teahouse is a short walk from Shureimon Gate, and serves a unique Okinawan refreshment; buku-buku cha.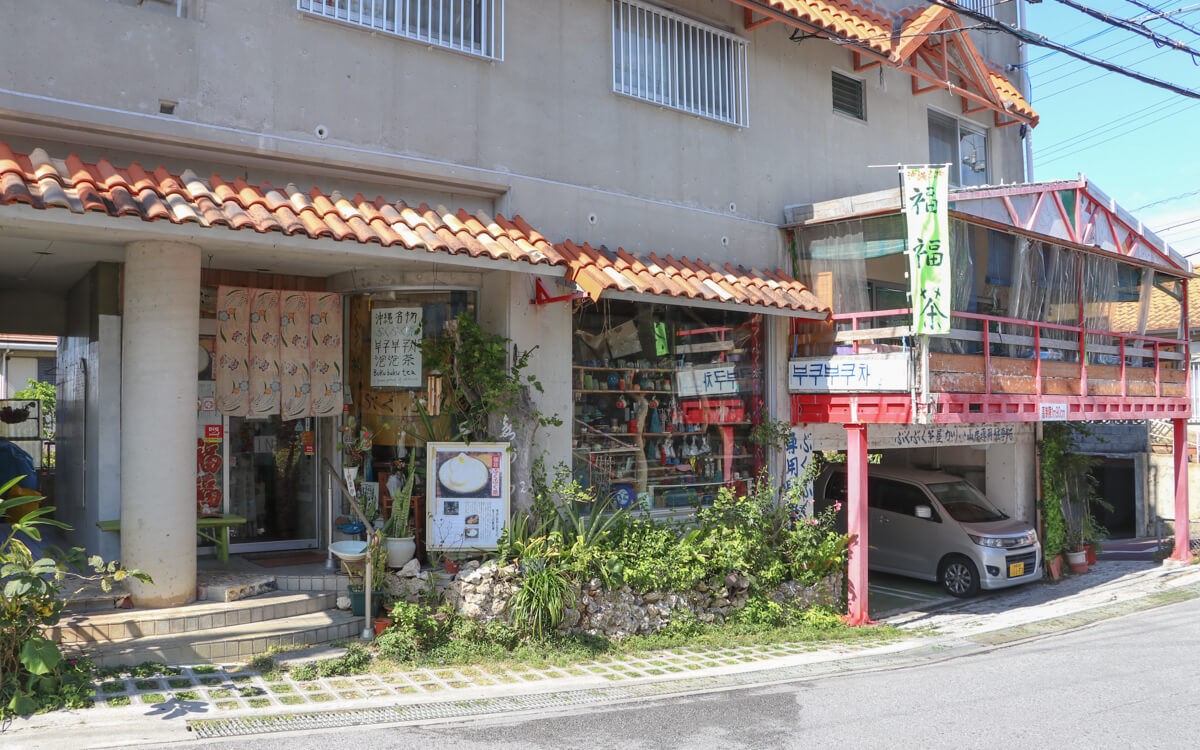 Buku-buku cha is a blend of roasted rice, water, and either green tea from northern Okinawa, or jasmine tea. It is mixed in a large wooden bowl with a 20-centimeter-long bamboo whisk to create a generous amount of foam. Then, it is served in a glass and topped with crushed peanuts. Customers can try their hand whipping the foam themselves for a fun culinary and cultural experience.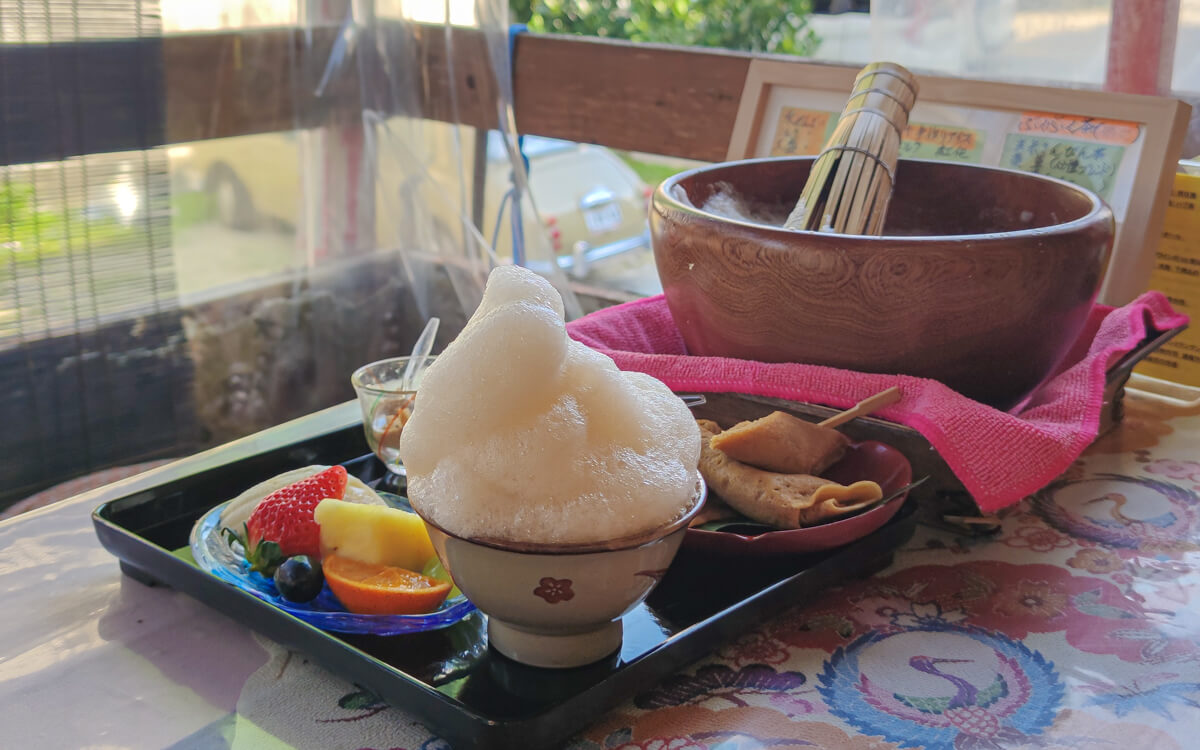 An order of the tea comes with snacks; chinsuko cookies, Okinawan crepes, shikuwasa citrus jelly, or seasonal fruits. Historically, buku-buku cha was served to wish someone good luck and a safe voyage, so be sure to drink plenty during your trip!
A modern twist on traditional tofu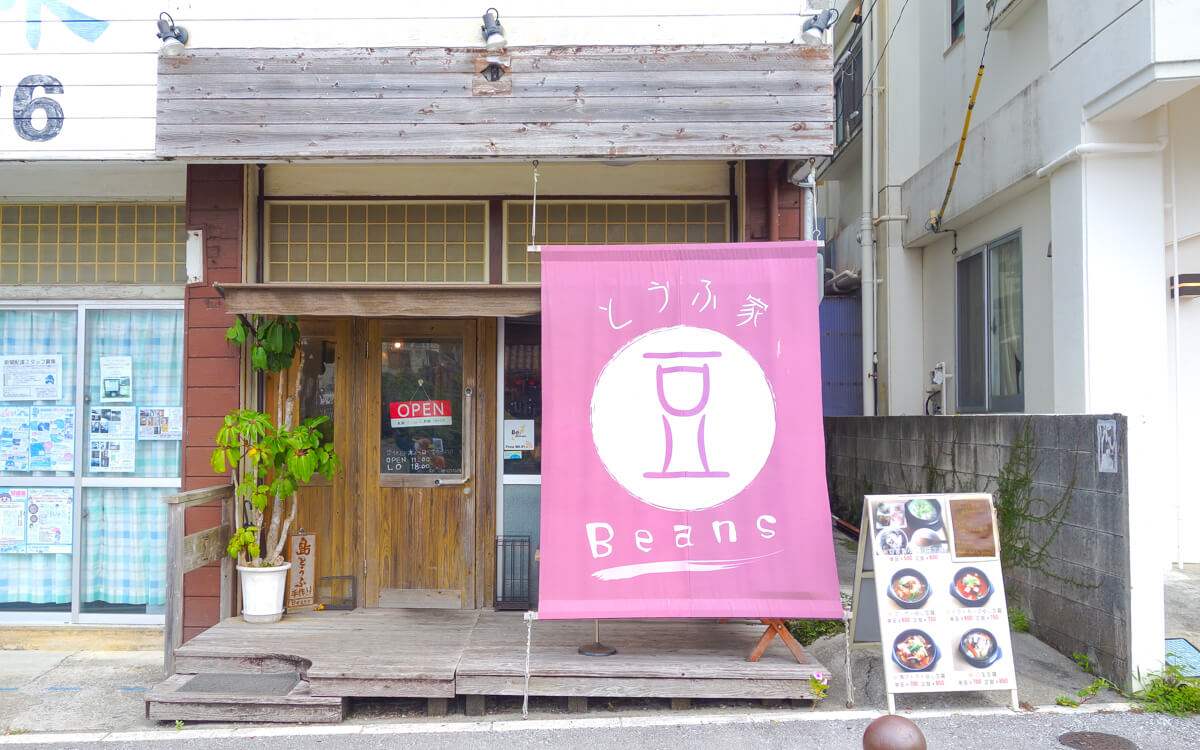 Okinawa has a signature tofu known as shima-dofu (literally "island tofu"), a protein-rich tofu that has a slightly firm texture, and a rich, salty taste. Visitors can sample interesting variations of this tofu at Tofuya Beans, a tofu restaurant on Shuri's Ryutan Street. They make tofu fresh at the restaurant each morning, which is then used in a variety of dishes.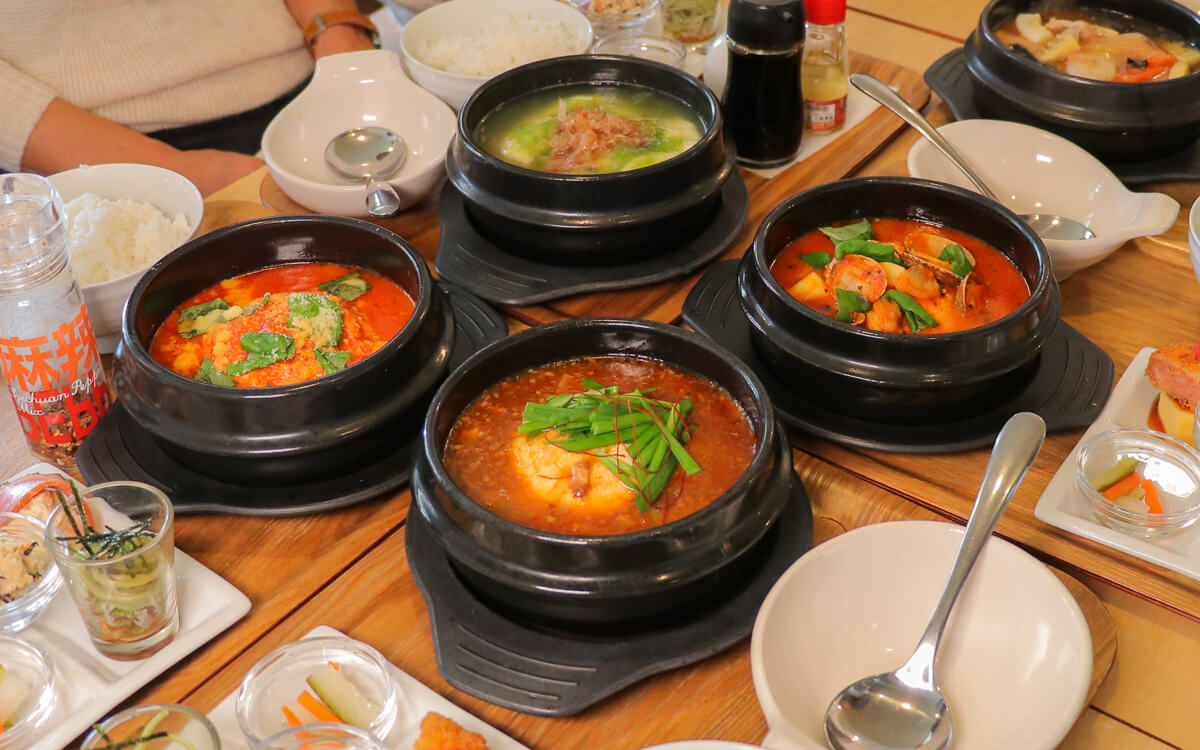 Beyond Shurijo Castle, there are many interesting sights in the city. There are awamori distilleries, which produce Okinawa's original liquor, bingata textile workshops where visitors can create one-of-a-kind souvenirs, and more. Round out your visit to Okinawa's hub of history and culture by getting hands-on with it.