Keep up to date with the latest COVID-19 measures, recommendations, and guidelines for a safe vacation in Okinawa
Okinawa Prefecture has implemented preventative measures to protect the safety and security of its citizens and travelers to the region. For a safe and positive travel experience, we kindly request both visitors and residents to adhere to the following safety protocols:
Ensure good
ventilation
Avoid crowded
spaces
Check your
temperature
Wear a mask
Wash your hands
Use alcohol
disinfectant
Practice social
distancing
Helping you have a safe stay in Okinawa
Look for the shisa sticker
Okinawa Prefecture issues a sticker with a shisa (lion-dog) design for businesses complying with COVID-19 guidelines. Look out for the sticker during your visit.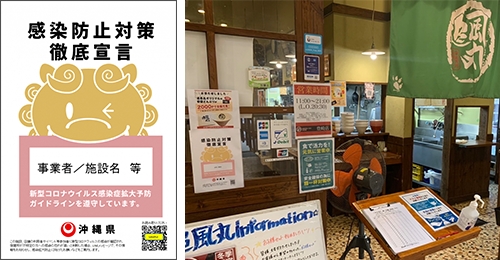 Stickers are only issued to businesses that strictly adhere to the industry-classified guidelines on the Cabinet Secretariat's COVID-19 Information and Resources home page and/or the guidelines detailed on the Okinawa COVID-19 Infection Preventative Measures Accreditation (*only in Japanese) home page.
Free medical consultation line
There is a free, 24-hour medical consultation service for international visitors in case of sudden illness or injury. Resident nurses will ask you about your symptoms and offer advice and information on clinics with foreign language-speaking staff on hand.
Available languages: English, Chinese (Mandarin and Cantonese), Korean, Spanish, Portuguese, Thai
Useful Resources
JNTO Multilingual Visitor Hotline
Okinawa COVID-19 Information Website
Coronavirus (COVID-19) Advisory Information