Browse seasonal highlights and monthly guides to learn about the weather in Okinawa and find the best time to visit for you
Okinawa has a humid subtropical climate, gloriously long summers, and mild winters. Summer is long, but the seasons are diverse and each has its own charms, from whale watching in winter and vibrant hari festivals in spring, to sagaribana flowers in summer and cultural events like karate celebrations in autumn. Discover recommendations for each month, tips on what to pack, and information about the weather in the monthly guides and seasonal overviews below.
Okinawa Weather
The climate is humid and subtropical. It is hot during the day for much of the year, with cooler weather in the morning and evenings, and during the winter months. Coats and sweaters are occasionally needed in winter when northerly winds can make it feel colder than it actually is. The average sea temperature ranges from around 21 degrees Celsius in February to nearly 30 in August, making it possible to enjoy marine activities throughout the year. The rainy season is typically between mid-May and late June. Sudden showers are common but it rarely rains all day. There is a chance of typhoons from June through September.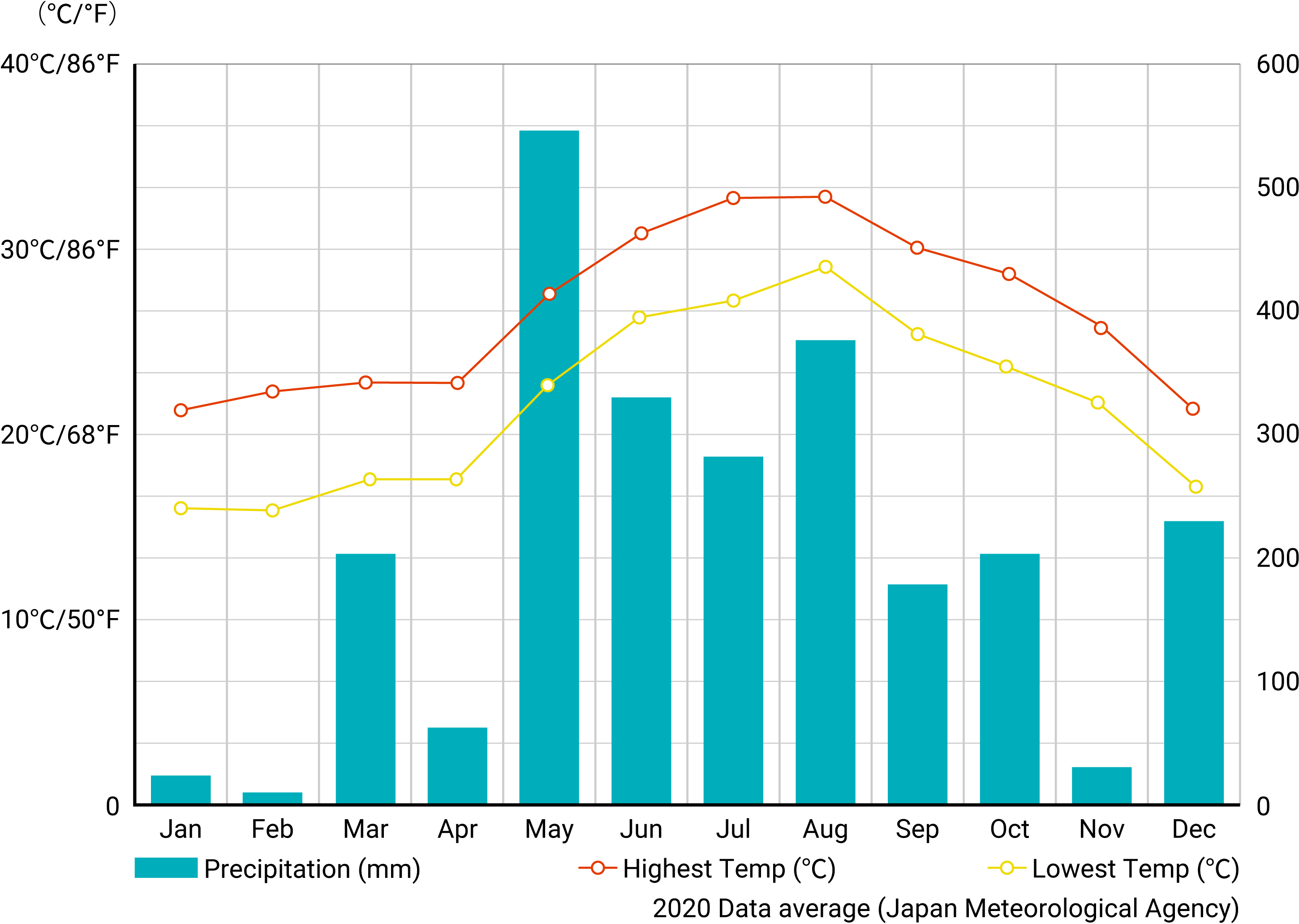 Spring
Spring brings beach season, with many of Okinawa's most popular resort beaches opening for swimming in March. The days are generally hot, with notable temperature dips in the evenings. Enjoy a variety of seasonal events throughout Okinawa in spring, from energetic hari boat races to lilies in bloom on Ie Island and fireflies on Kume Island.
Summer
You can dive and snorkel year round in Okinawa, but the hot summer weather makes underwater adventures and marine activities like paragliding and kayaking extra pleasant. Sea turtles and manta rays are just some of the amazing sea creatures you can expect to see on dives in the pristine waters of islands like Ishigaki Island and the Kerama Islands. Summer events include fireworks and traditional eisa dancing.
Autumn
Autumn is typically a time for cultural events in Japan, and Okinawa is no exception, with tradition-rich tug-of-war festivals held in Naha and around the islands. Consider exploring Okinawa's traditional crafts, from bingata dyeing to Ryukyu glass-making and yachimun ceramics. The weather is still hot during the day, and the beaches and the ocean remain very inviting.
Winter
Winter in Okinawa is not to be overlooked. With whale watching and Japan's earliest blooming cherry blossoms, the cooler months have their own special appeal. Stroll the grounds of the Nakijin Castle Ruins during sakura season, take a tour in the Kerama Islands to spot humpback whales, or dive in Yonaguni Island to see hammerhead sharks. Seasonal events include pottery festivals and floral displays.